Vegan Strawberry Ice Cream
Make your own dairy-free ice cream at home with this vegan strawberry ice cream. Made with just 5 ingredients for a delicious and refreshing summertime dessert. 
Did you make this recipe? Leave a comment and rate it below.
If you made any substitutions, let us know how it turned out!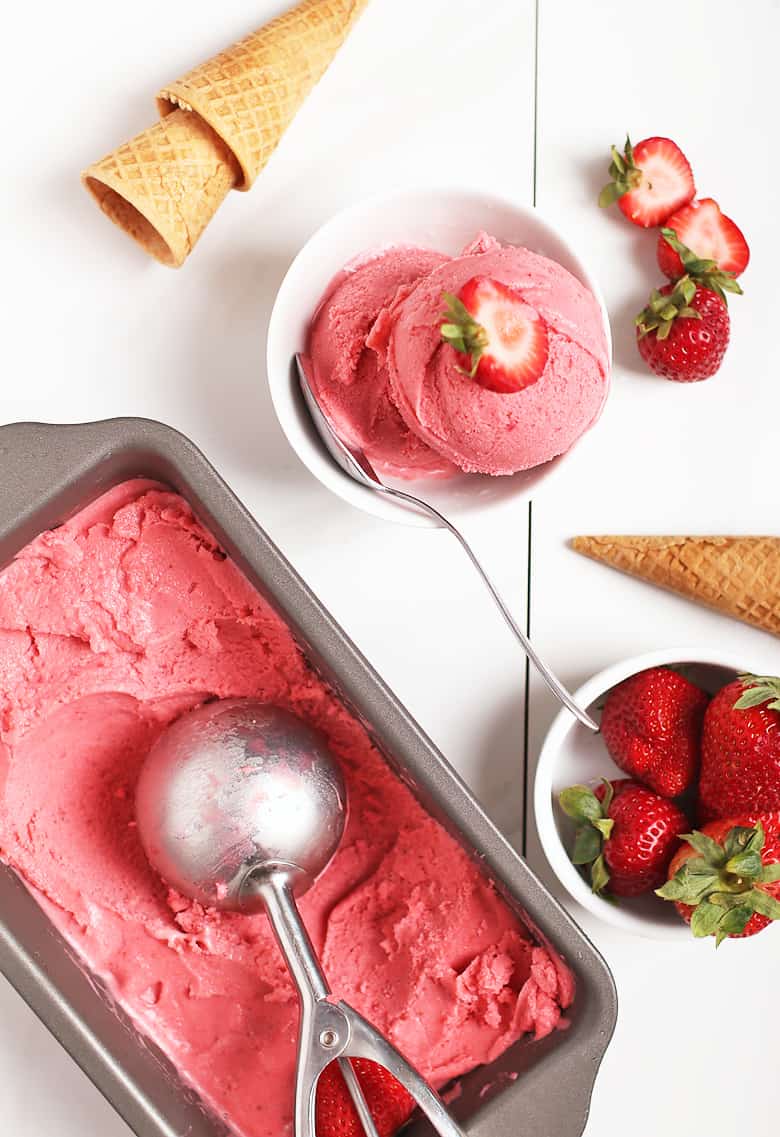 Course:
Dessert
Cuisine:
Vegan
Keyword:
Vegan Strawberry Ice Cream
Servings
:
4
servings
Calories
: 142 kcal
Author
:
Sarah McMinn
The night before place the bowl of your ice cream maker in the freezer to freeze all the way through.

De-stem the strawberries and cut them in half. Sprinkle 2 tablespoons of sugar over the strawberries and set aside for 20 minutes to allow the juices to be released.

Measure out 1/2 cup of coconut milk and set aside.

Add remaining coconut milk, sugar, and salt to a small saucepan. Place over medium heat and whisk until sugar is dissolved. Add the vanilla extract. Stir in the cornstarch to the reserved 1/2 cup coconut milk until well combined. Add cornstarch/coconut milk mixture to the saucepan and bring to a boil, stirring frequently.  Boil for 5 minutes, stirring frequently, until the cornstarch is completely cooked and ice cream base has thickened. Remove from heat.

Blend the strawberries in a food processor or immersion blender until no large pieces remain. Stir in the strawberries into the coconut milk mixture until well combined. Transfer to a shallow container, cover, and refrigerate for at least 2 hours. 

Add chilled ice cream base to frozen ice cream bowl and churn according to manufacturer's instructions. Church until it becomes thick and resembles soft serve.

You can serve now or transfer to a pint-size container and store in the freezer until ready to serve. Allow 5-10 minutes to thaw when removing from the freezer. 

Serve with chocolate ganache or strawberry jam.
Serving and Storing - Store the ice cream in an airtight container in the freezer for up to 1 month. I store my ice cream in pint-sized ice cream tubs to keep them fresh and avoid freezer burn. Serve your ice cream slightly thawed. Allow the ice cream to thaw 10-15 minutes before serving. Serve ice cream with fresh strawberries, chocolate ganache, or chocolate shavings.
Frequently Asked Questions
Can I make this recipe without an ice cream maker? While I totally recommend getting an ice cream maker ASAP, you can make a creamy custard without the machine. To do this, make your ice cream base as outlined above. Once it's ready, transfer it to a baking sheet and place in the freezer. When the ice cream is frozen, break it into chunks and blend it in a food processor until it becomes smooth and creamy. This may take up to 10 minutes. Transfer to a loaf pan refreeze. You won't get quite the same creaminess, but it works in a pinch!
Do I need to use fresh strawberries? While you can make this recipe with frozen strawberries, I highly recommend fresh because fresh strawberries add so much to the taste. However, if frozen strawberries are the only option available, let them thaw to room temperature before sprinkling with sugar. Once thawed, follow the instructions for fresh strawberries.
Can I use other berries? Yes! I have tried this recipe with blackberries and raspberries and loved them both. If you experiment with other berries, let us know how it goes in the comments below!
Calories Per Serving:
142
% Daily Value