Vegan Philly Cheesecake
Vegan Philly Cheesesteaks made with marinated portobello mushrooms, sautéed onions and peppers, and homemade vegan cheese sauce for a healthier spin on this classic sandwich.
Did you make this recipe? Leave a comment and rate it below.
If you made any substitutions, let us know how it turned out!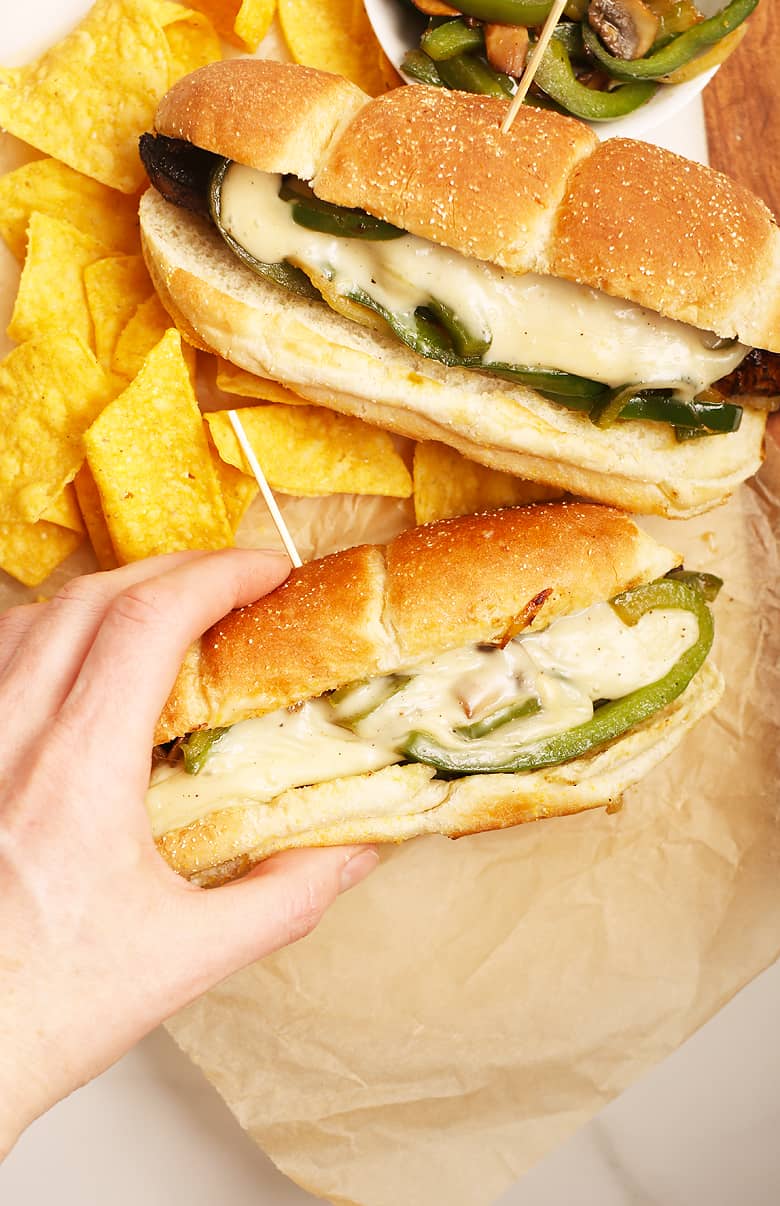 Course:
Main Course
Cuisine:
Vegan
Keyword:
Vegan Philly Cheesesteak
Servings
:
4
sandwiches
Calories
: 351 kcal
Author
:
Sarah McMinn
Philly Cheesesteaks
4

hoagie rolls

2

tbsp. cooking oil, divided

4

large portobellos

1

small yellow onion, thinly sliced

1

small green bell pepper, thinly sliced

1/2

poblano pepper, thinly sliced

1

cup

button mushrooms, sliced
salt and pepper, to taste
Destem and wipe clean the portobellos. Cut them into 1/2" strips and set aside. Whisk together the ingredients for the portobello marinade. Transfer the marinade to a large ziplock bag. Add the portobello strips and shake the bag so that the portobellos are fully submerged. Let marinate while preparing the rest of the sandwiches. 

Preheat the oven to 400 F.

Make the vegan cheese sauce. In a small saucepan over medium heat, melt butter. Add flour, whisking constantly, until a roux has formed. Add milk, 1/4 cup at a time. Continue to whisk constantly. Bring to a boil and cook for about 4-5 minutes until the mixture begins to thicken - it should coat the back of a wooden spoon. Remove from heat and add Mozzarella Cutting Board Shreds, salt, and pepper. Stir in until the cheese has melted. Set aside. 

Heat one tablespoon of oil over medium-low heat in a large skillet. Add onions and sauté for about 5 minutes, until onions are fragrant and translucent. Add peppers and button mushrooms and sauté for an additional 5 minutes until peppers cooked all the way through and slightly charred. Remove from heat and season with salt and pepper. 

Wipe clean the skillet. Add the remaining oil and increase the heat to medium. Add the marinated portobellos along with the marinade and sauté, stirring occasionally, for 3-5 minutes until the portobellos are crispy brown and charred on the outside. 

Assemble the sandwiches by placing 1/4th of the portobellos at the bottom of each hoagie roll. Top the onions/bell pepper mixture and a few dollops of vegan cheese sauce. Place on a baking sheet and bake 5 minutes until the bread is crispy and the cheese sauce is warm and melty. Remove from heat and serve immediately. 
Serving and Storing - Serve the sandwich shortly after assembling. Otherwise, the bread will start to get soggy and the veggies will get cold. Store uneaten mushrooms and cheese sauce in the refrigerator for up to 2 days. To reuse, gently reheat over low heat.
Variations - Try making a Vegan Philly Cheesesteak Pizza! To do this, place a thin layer of cheese sauce on a pizza crust. Top with marinated portobellos and sautéed peppers and onions. Bake and enjoy!
Calories Per Serving:
351
% Daily Value