Vegan Pumpkin Muffins
Fall into fall with these deliciously moist and perfectly flavored vegan pumpkin muffins. An easy fall pastry that will warm up your home.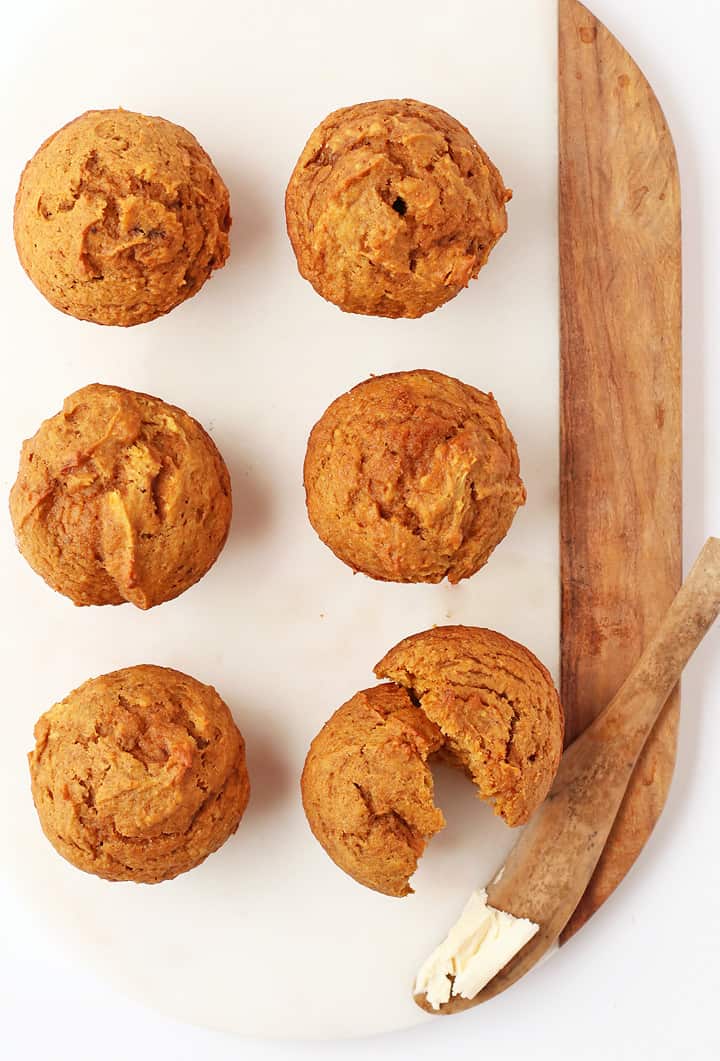 Course:
Breakfast, bread
Cuisine:
Vegan
Servings
:
18
muffins
Calories
: 211 kcal
Author
:
Sarah McMinn
Cinnamon Sugar Topping (optional)
Preheat the oven to 350 degrees F. Spray a muffin tin with cooking spray and set aside.​

In a small bowl whisk together flour, baking soda, spices, and salt.

In a large bowl combine pumpkin puree with both sugars, mixing to combine. Add apple sauce, oil, and vanilla extract and stir until smooth. Fold dry ingredients into the wet ingredients until a uniform batter has formed. Be careful not to over-mix.

Fill muffin molds 2/3 of the way full. Bake for 20 minutes or until a knife inserted in the middle comes out clean. 

Remove from oven and allow muffins to cool for 10 minutes before transferring to a wire cooling rack to cool completely.

To top the muffins, combine the cinnamon and sugar in a small bowl. Melt the butter in the microwave or on the stovetop. Lightly brush each top with melted butter and sprinkle with cinnamon and sugar. 

Serve immediately or store in an airtight container at room temperature for up to 5 days. 
Serving and Storing - Serve these muffins immediately. They come out of the oven warm, buttery, and hard to resist! Store leftover muffins in an airtight container at room temperature for up to 5 days. You can also freeze these muffins for up to 2 months. To thaw, pull the muffins from the freezer and let them thaw at room temperature for several hours.
Make in Advance – If you want to make this muffin batter in advance, store the batter in an airtight container in the refrigerator for up to 12 hours. To bake the muffins, preheat the oven and bake according to the instructions. However, these muffins may take a few minutes longer to bake since the batter will be chilled. The muffins will also be slightly denser as the baking soda begins to activate once it's mixed into the batter, causing it to be slightly less potent.
Recipe Tips
The most accurate way to measure flour is to spoon it into your measuring cup, leveling it off with the back of a knife.
Do not overmix your batter. Overmixing allows the gluten to develop and too much gluten will give you gummy and dense bread.
Applesauce varies a lot. If your applesauce seems thin, first strain it through a fine-mesh strainer to get the excess liquid out.
Make sure to use pumpkin puree and not pumpkin pie filling. Pumpkin pie filling has added sugar and spices and would make the bread too sweet.
Fill up your muffin molds about 2/3rds of the way full. If you do much more, the muffins will spill over as they rise.
Let your muffins cool for 10 minutes before flipping them out onto a wire cooling rack.
Variations - Add chocolate chips for chocolate chip pumpkin muffins.
Frequently Asked Questions
Can I make this recipe oil-free? Sure. If you would like to make this recipe oil-free, simply swap out the oil for additional applesauce at a 1:1 ratio.
Can I make this recipe gluten-free? Totally! For gluten-free muffins, I recommend using a 1:1 baking blend.
Can I turn this into pumpkin bread? Definitely! This is enough batter to make one 9×5 loaf or two mini loaves. Bake the loaves for 45-55 minutes (depending on the size of the loaf pan). Follow these instructions for Vegan Pumpkin Bread for more details.
Calories Per Serving:
211
% Daily Value