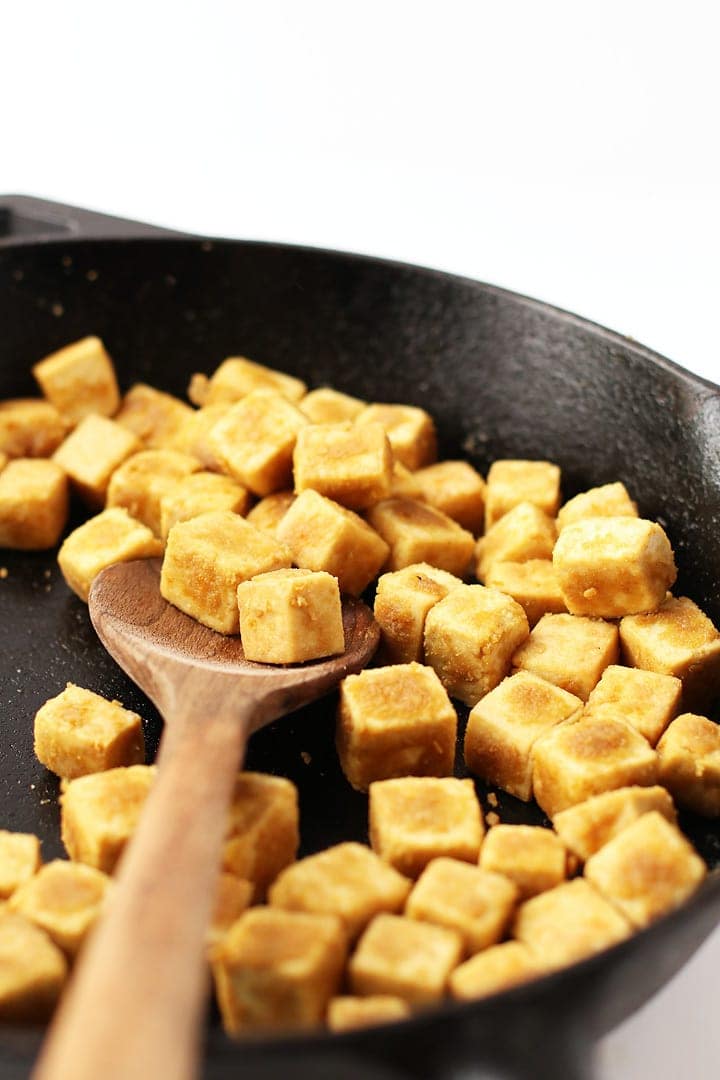 Course:
Main Course, Main Dish
Cuisine:
Vegan, Gluten-Free
Servings
:
4
people
Calories
: 112 kcal
Author
:
Sarah McMinn
If the tofu is water-packed, press it in a tofu press or wrap it in a kitchen towel and place it underneath a weighted cutting board. Ideally, look for brands that do not need such as Super Firm or Sprouted Tofu or Trader Joes High Protein Tofu. 

Cut the tofu into 1/2 - 3/4" cubes and place in a large ziplock bag. Add cornstarch and shake until tofu is evenly coated.

In a large cast-iron skillet, heat up coconut oil over medium-high heat until coconut oil sizzles when water is dropped on it. Reduce heat to medium and add cornstarch coated tofu. 

While tofu cooks, shake the pan by the handle every 10 or 15 seconds so that tofu is always cooking on every side. This also keeps the cornstarch from sticking to the bottom of the pan.

Once the tofu is cooked and is lightly brown, about 5 minutes, add nutritional yeast and salt. Shake the tofu to evenly coat it and cook for an additional 60 seconds before removing from heat. 

Serve over a bed of wilted kale, your favorite salad, or over rice and vegetables.
Serving and Storing  - Serve the tofu immediately so that it keeps its perfectly crispy bite. Serve it on a bed of wilted kale, over your favorite salad, or with rice and vegetables.
Recipe Tips
Use high-quality, extra-frim tofu. Before using, press out any excess liquid with a tofu press.
Heat the sauté pan so that it's hot before adding the tofu. The tofu should sizzle when it hits the pan. This is to ensure the tofu does not stick to the pan.
Shake the tofu frequently when cooking to prevent the tofu from sticking to the bottom and allowing the tofu cooks evenly.
Calories Per Serving:
112
% Daily Value