Chewy Peanut Butter Granola Bars
These chewy peanut butter granola bars are made with just 5 simple ingredients for an easy vegan and gluten-free snack. Thrown together in just 10 minutes.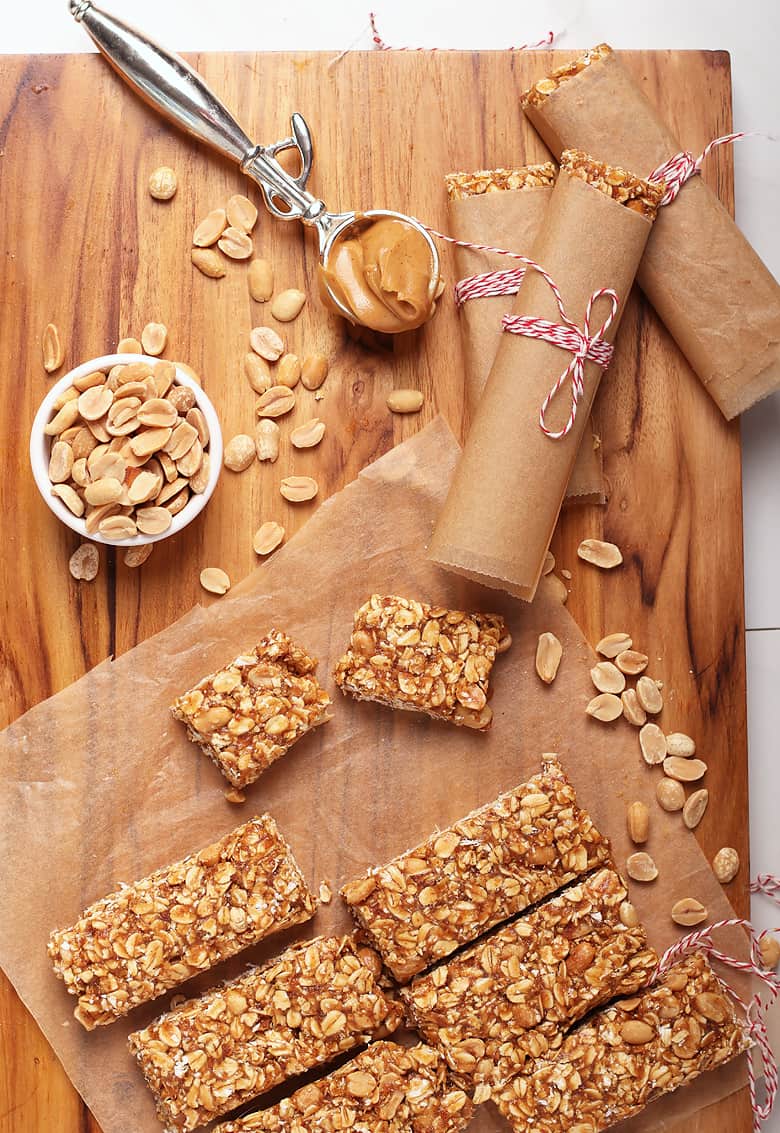 Course:
Snack
Cuisine:
Vegan
Servings
:
12
bars
Calories
: 196 kcal
Author
:
Sarah McMinn
Drain and rinse the dates. Place them in a food processor along with the peanut butter and maple syrup. Blend until smooth, scraping down the sides as necessary. Transfer the date/peanut butter mixture into a medium-size saucepot and place over low heat, stirring occasionally, until the mixture begins to get soft and gooey. This takes about 10 minutes.
Remove from heat and stir in the oats and peanuts until well combined.
Transfer to a parchment-lined 8x8 baking dish (or similar sized dish) and roll or pat flat. Place in the refrigerator until hardened, about 1 hour.

Remove from refrigerator and cut into 12 equal pieces. Store uneaten granola bars in an airtight container in the refrigerator for up to 5 days or in the freezer for up to 2 months.
Serving and Storing - These peanut butter granola bars can be served after they have set in the refrigerator for at least one hour. They will continue to set as they chill for the next 4-6 hours. Store them in the refrigerator in an airtight container for up to 5 days. They can also be stored in the freezer for up to 2 months. When ready to eat, just pull them out of the freezer at least 2 hours before for a delicious grab-n-go snack.
Recipe Tips
Medjool dates are the best kind of date for these granola bars. They are fuller and juicier than regular dates and give these granola bars a delightfully sticky texture. However, if you can't find Medjool dates, you can use regular dates. Soak them for at least an hour first.
To encourage the granola bars to hold together, press them again after they have set for one hour. Press them with a spatula or roll them with an 8" rolling pin.
If you are going to add chocolate, add them after the oats and peanuts have been stirred together and the mixture has cooled to room temperature (about 10 minutes) to prevent the chocolate from melting.
Calories Per Serving:
196
% Daily Value