Vegan Mint Chocolate Chip Ice Cream
You're going to love this Vegan Mint Chip Ice Cream. It's a rich and creamy frozen dessert made with just 6 ingredients for an easy and delicious homemade treat.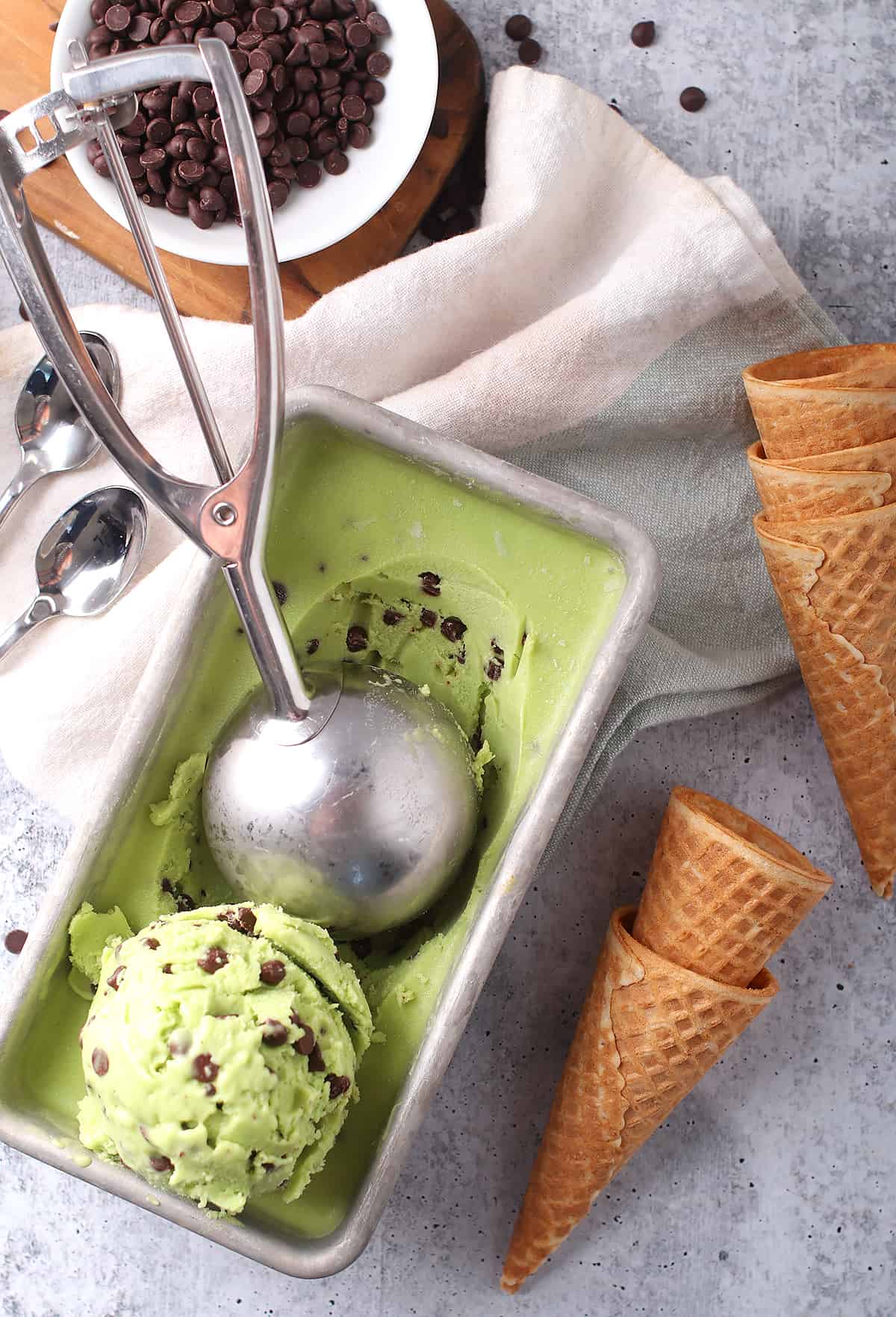 Course:
Dessert
Cuisine:
Vegan, Gluten-Free
Servings
:
6
servings
Calories
: 148 kcal
Author
:
Sarah McMinn
The night before place the bowl of your ice cream maker in the freezer to freeze all the way through.

Measure out 1/2 cup of coconut milk and set aside. Add remaining coconut milk, sugar, and salt to a small saucepan. Place over medium heat and whisk until sugar is dissolved. Add the peppermint extract.

If you are adding spinach, ladle 1/2 cup of warm ice cream base into a blender along with a handful of fresh spinach. Blend until completely smooth. Transfer the puréed spinach back into the saucepot to finish cooking. 

Stir in the cornstarch to the reserved 1/2 cup coconut milk until well combined. Add cornstarch/coconut milk mixture to the saucepan and bring to a boil, stirring frequently.

Boil for 5 minutes, stirring frequently, until the cornstarch is completely cooked and ice cream base has thickened. Transfer to a shallow container, cover, and refrigerate for at least 4 hours.

Add chilled ice cream base to frozen ice cream bowl and churn according to manufacturer's instructions. Churn until it becomes thick and resembles soft serve. Once it is thick, add chocolate chips and churn for 30 more seconds until they are well combined.

You can serve now or transfer to a pint-size container and store in the freezer until ready to serve. Allow 5-10 minutes to thaw when removing from the freezer.
Serving and Storing – Store the ice cream in an airtight container in the freezer for up to 1 month. I store my ice cream in these pint-sized ice cream tubs to keep them fresh and avoid freezer burn. Serve your ice cream slightly thawed. Allow the ice cream to thaw 10-15 minutes before serving. Serve it in a bowl, in cones, or as part of an ice cream sundae.
Recipe Tips
Boil your coconut ice cream base for at least 2 minutes. The custard should become thick, fully coating the back of a wooden spoon.
Freeze your ice cream maker basefor at least 8 hours before using it. This is to freeze the center of the base which is essential in getting thick vegan ice cream.
Chill the ice cream base for at least 4 hours before churning. If the ice cream base is too warm, it will melt the center of the ice cream maker and never harden.
Do not overfill your ice cream maker. It should be no more than 2/3rd full.
Variations – If you don't have an ice cream maker, you can still make delicious ice cream at home. To do this, make your ice cream base as outlined above. Once it's ready, transfer it to a baking sheet and place in the freezer. When the ice cream is frozen, break it into chunks and blend it in a food processor until it becomes smooth and creamy. This may take up to 10 minutes. Transfer to a loaf pan refreeze.
Calories Per Serving:
148
% Daily Value