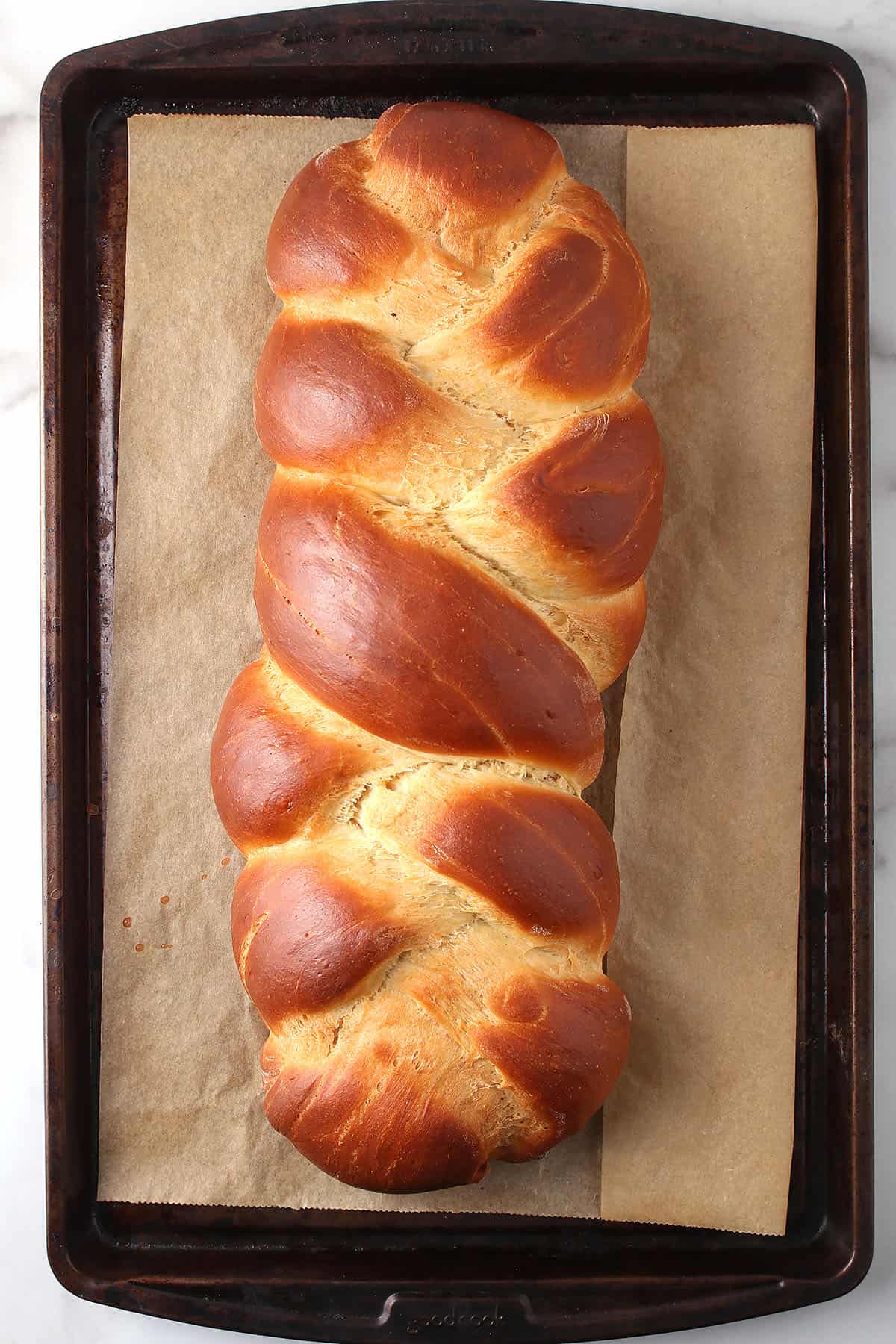 Course:
bread
Cuisine:
Vegan
Servings
:
12
people
Calories
: 197 kcal
Author
:
Sarah McMinn
2 1/2

tsp active dry yeast

1/4

cup + 2 tsp sugar

1

cup

water

1/2

cup

chickpea flour + 1/2 cup water

1/4

cup

olive oil

1 1/2

tsp salt

3-4

cups

all-purpose flour
In a stand-up mixer, with the dough hook attachment, whisk together yeast, 2 teaspoons sugar, and 1 cup lukewarm. Set aside for 5 minutes to allow the yeast to activate and sugar to dissolve.

In a food processor or blender, blend together the chickpea flour along with 1/2 cup water until it is thick and foamy. This is your chickpea egg. Set aside.

With the motor running, slowly add the oil and chickpea egg into the yeast mixture. Add the remaining 1/4 cup of sugar and salt. Whisk together. Gradually add the flour, one cup at a time, until the dough begins to come together. Turn the speed to medium-high and knead for 5 minutes until dough begins clearing the sides and forms a smooth ball. You want the dough to feel soft, but not sticky.

Remove the dough and place it in an oiled bowl. Cover and let rise in a warm place for one hour, until doubled in size. Punch the dough down to remove any air bubbles, re-cover, and let rise an additional 30 minutes.

Turn the dough on a floured surface and cut into three equal pieces. Roll each piece into long strands (about 18 inches) and let sit for 5 minutes. Now, braid the challah. Here is a good video tutorial.

Brush the loaf with soy milk and set aside to rise for 30 more minutes, until dough slowly pushes back when an indentation is created with your finger.

Preheat the oven to 375 degrees F. Brush loaf with soy milk on final time and bake 30-35 minutes, until the top is golden brown and a firm crust has formed.

Let cool completely before slicing.
Serving and Storing - Serve this bread as a snack or part of a complete meal. Store this bread in a plastic bag at room temperature for up to 5 days or in the freezer for up to 2 months.
Make in Advance - If you want to make this sweet bread the night before, prepare the bread following the instructions below to the point of the 2nd rise. Once the bread is shaped, cover it with plastic wrap and place it in the refrigerator overnight. The next morning, remove the dough from the refrigerator 30 minutes prior to baking.
Recipe Tips
Activate your yeast properly. To do this, make sure your yeast is not expired and the water is warm but not too hot. Otherwise, the yeast will not activate and you will not get a pillowy rise on the bread.
Add flour slowly. The dough should be soft but not so sticky that you can't handle it. This recipe calls for 3-4 cups of flour. Add it 1/2 cup at a time until you've achieved the desired dough.
Uses - Homemade Challah is perfect for French Toast or for sandwiches such as these Portobello Sandwiches with Caramelized Onions. 
Calories Per Serving:
197
% Daily Value