Chocolate Peppermint Crinkle Cookies
Everyone loves these chocolate crinkle cookies. Rich, fudgy, and filled with peppermint flavor, these cookies make the perfect addition to your holiday treats. But be careful; they are highly addictive!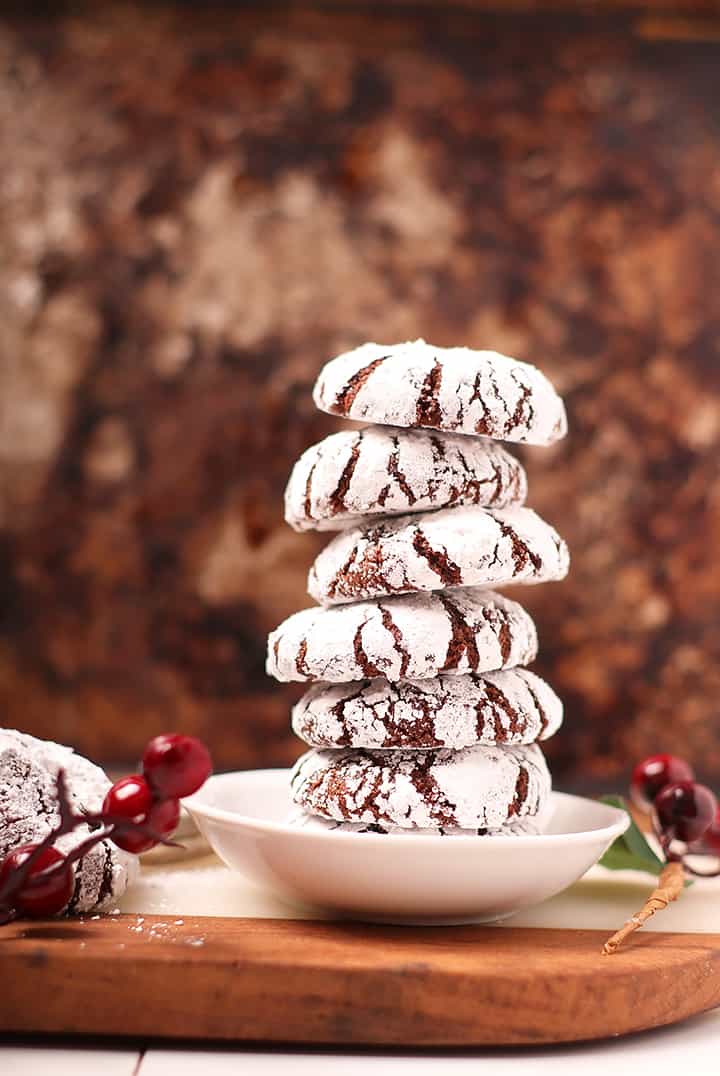 Course:
Dessert
Cuisine:
Vegan
Servings
:
36
cookies
Calories
: 123 kcal
Author
:
Sarah McMinn
Crinkle Cookies
2

cups

all-purpose flour

2½

teaspoon baking powder

½

teaspoon salt

2

cups

sugar

½

cup

vegetable oil

¾

cup

applesauce

1

teaspoon vanilla extract

1

teaspoon peppermint extract

1

tbsp peppermint candies, crushed (optional)
In a small bowl combine flour, salt, and baking powder. Set aside.

In a medium bowl or stand up mixer stir together cocoa powder, sugar, applesauce, oil, extracts, and peppermint candies (if using) until well blended. Add flour mixture and mix until just combined.

Wrap the dough in plastic wrap and chill for 2 hours.

Preheat the oven to 350 degrees F. Line two baking sheets with parchment paper. Place the granulated and powdered sugars in two separate bowls.
Remove chilled dough and roll into balls about one tablespoon each. Toss first in the granulated and then second in the powdered sugar, coating fully.
Bake for 12-13 minutes (cookies should be slightly underbaked). Remove from oven and allow to cool for 2-3 minutes before transferring onto a wire rack to cool completely.
Serving and Storing - Once cookies are completely cool, store in an airtight container at room temperature for up to 5 days. Raw dough can be frozen for up to 2 months.
Make in Advance - If you only want to make only a few at a time, you can store the remaining dough in the freezer. To do this, roll all the dough into balls. Place them on a baking sheet in the freezer to freeze all the way through. Once frozen, transfer your cookie dough into a large ziplock bag and return to the freezer. You can store the cookies this way for up to 2 months. When you're ready to bake, remove from freezer and bake!
Recipe Tips
Make sure to chill the dough for at least 2 hours before baking. This allows the dough to be more moldable.
When rolling your crinkle cookies, roll them in granulated sugar first before rolling them in powdered sugar for the PERFECT crinkle every time.
If you can't find vegan peppermint candy, you can omit the peppermint candies and just use peppermint extract for this recipe.
Vegan white chocolate chips make a great addition. You can buy them online here.
Pull cookies out when they are slightly underdone. I found 12 minutes to be the perfect baking time. They will continue to harden as they cool, giving you a crispy outside with a deliciously fudgy and chewy center.
Calories Per Serving:
123
% Daily Value