Classic Vegan Macaroni Salad
Enjoy this classic vegan macaroni salad just like you remember it! Made with elbow macaroni, filled with carrots, celery, bell pepper, and peas, then all tossed together in a garlicky cream sauce, it just like the original! Made in 20 minutes. 
Did you make this recipe? Leave a comment and rate it below.
If you made any substitutions, let us know how it turned out!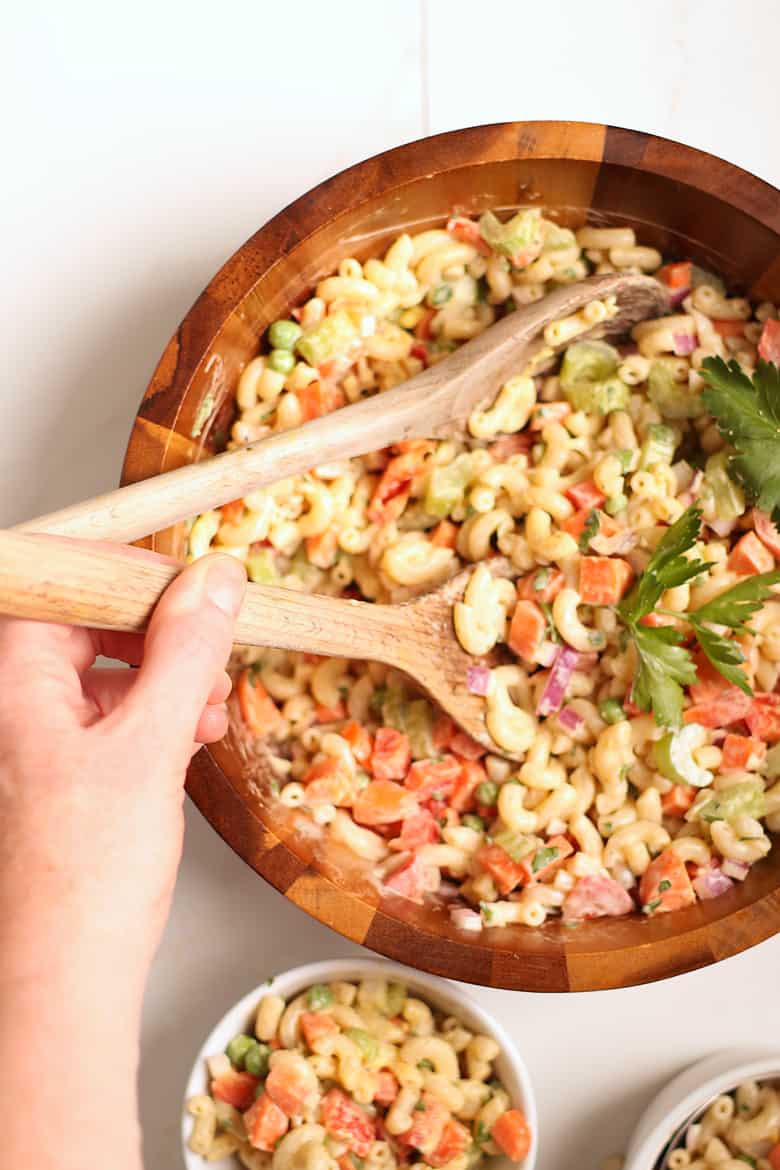 Course:
Salad
Cuisine:
Vegan
Keyword:
Vegan Macaroni Salad
Servings
:
8
people
Calories
: 150 kcal
2

cups

elbow macaroni pasta, uncooked

1

cup

carrots, diced (about 2 small or one large carrot)

2

stalks celery, chopped

1/2

red bell pepper, seeded and chopped

1/3

cup

red onion, diced

1/2

cup

frozen peas, thawed

1/4

cup

fresh parsley, diced

3

tbsp. vegan mayonnaise

1

tbsp. Dijon mustard

1

tbsp. apple cider vinegar

2

cloves garlic, minced

pinch of

cayenne pepper, optional
salt and pepper, to taste
Heat 2 quarts of water in a large pot over high heat. Once it comes to a boil, add pasta and stir so that it doesn't stick together. Return to a boil and boil for 10-12 minutes, stirring occasionally, until pasta is al dente. Once pasta is done, drain it through a colander and rinse it with cool water until the pasta has cooled down.

While the pasta cooks, chop and mince all your vegetables. Set aside.

In a small bowl, combine vegan mayonnaise, mustard, vinegar, garlic, and cayenne. Mix until well blended.

Once the pasta has cooled, transfer it to a large bowl. Add vegetables and herbs and toss together with dressing until it is thoroughly combined. Season with salt and pepper.

Serve immediately or store, covered, in the refrigerator until ready to serve.
Serving and Storing - This salad should be served chilled. It's best when it has at least 4 hours to chill before serving. Once you are ready to serve, taste and adjust seasonings. Leftover salad can be stored in an airtight container in the refrigerator for up to 4 days.
Recipe Tips
Chop your vegetables small. You want to make sure they are the same size or smaller than the elbow pasta so that they do not overwhelm the salad which raw vegetables easily can do.
Feel free to make adjustments to this salad. You can replace any of the vegetables. Crunchy, subtle-flavored vegetables work best. Consider adding broccoli, radishes, or scallions
If you don't have apple cider vinegar, white vinegar or white wine vinegar will also work.
If you can't find vegan mayonnaise, you can make homemade vegan mayonnaise.
Frequently Asked Questions
Can this salad be gluten-free? Why, yes, it can! Gluten-free pasta is now pretty easy to find. If you can't find gluten-free elbow pasta at your local grocery store, you can always pick some up online.
Can this salad be made in advance?Again, yes! This salad is actually better the day after you make it. It allows the flavors to sink into the pasta and lets the salad thoroughly chill. This pasta is best 4-48 hours after it's made. After that, it will continue to last for another 2-3 days. Store leftover salad in an airtight container in the refrigerator.
Calories Per Serving:
150
% Daily Value