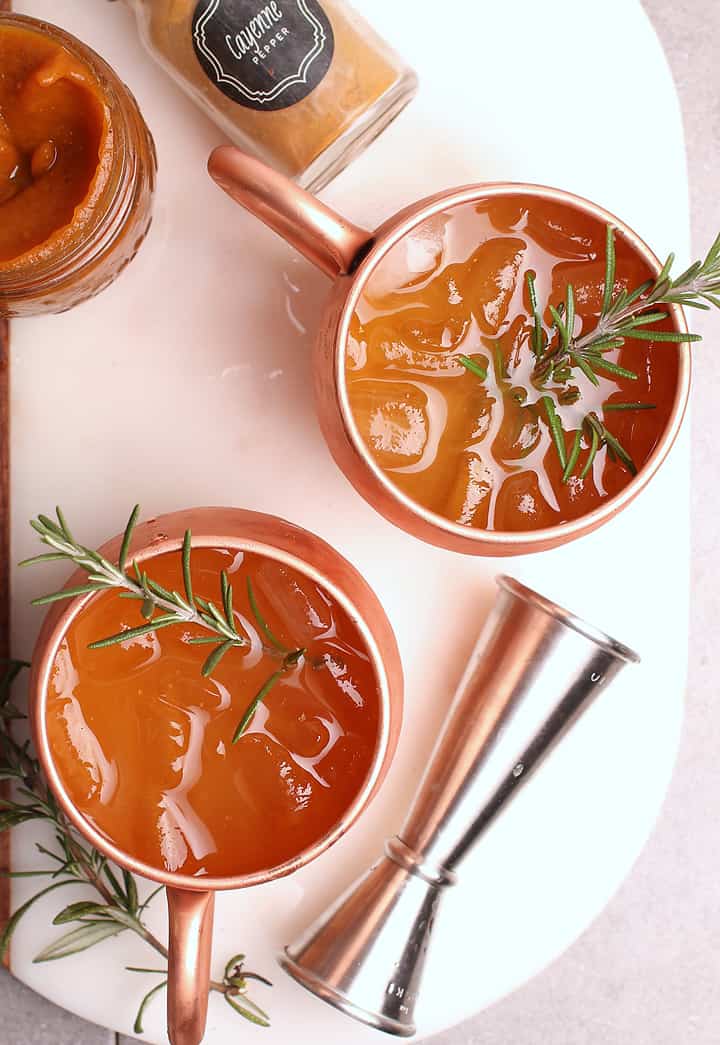 Course:
Drinks
Cuisine:
Vegan, Cocktails
Servings
:
2
drinks
Calories
: 197 kcal
Author
:
Sarah McMinn
Combine the vodka, pumpkin butter, cayenne, and one sprig of rosemary along with 3-4 cubes of ice in a cocktail shaker. Shake well to ensure the pumpkin butter gets well blended.

Place 2-3 ice cubes in the bottom of two Moscow Mule mugs. Pour the vodka/pumpkin mixture through the strainer, evenly dividing between the two mugs. Top with kombucha or ginger beer.

Serve immediately with a sprig of fresh rosemary.
Serving and Storing - Serve immediately with fresh rosemary. 
Make in Advance - If you are preparing for a party, you can double or triple this batch and make it 1 day in advance. Store in the refrigerator in an airtight container for up to 7 days.
Variations 
Kentucky Mule: substitute bourbon for vodka
Mexican Mule: substitute tequila for the vodka
Irish Mule: substitute Irish whiskey
Strawberry Mule: Add some fresh strawberries
Calories Per Serving:
197
% Daily Value