Buffalo Ranch Vegan Caesar Salad
A zesty Backyard Buffalo Ranch Vegan Caesar Salad with pan-fried tofu and ranch dressing for a delicious and wholesome meal.
Did you make this recipe? Leave a comment and rate it below.
If you made any substitutions, let us know how it turned out!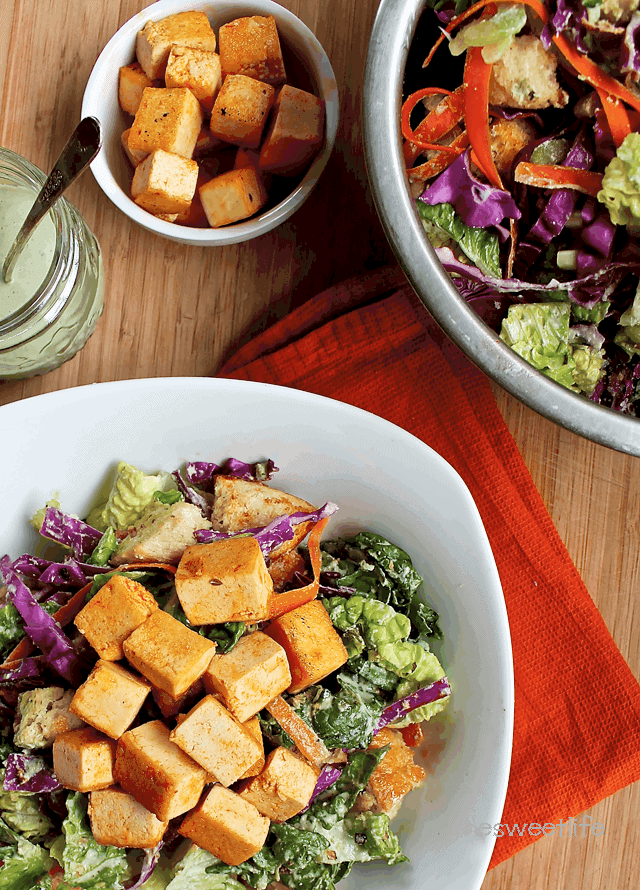 Course:
Salad
Cuisine:
Vegan
Keyword:
Vegan Caesar Salad
Servings
:
3
servings
Calories
: 525 kcal
Author
:
Terry Hope Romero
Salad Base
1

large head romaine lettuce

2

cups

thinly shredded red cabbage

1/2

cup

shredded carrots

1/2

cup

thinly sliced celery, sliced diagonal
Back to the Ranch Dressing
1/2

cup

unroasted cashews

3/4

cup

water

2

tbsp freshly squeezed lemon juice

1

tbsp olive oil

1

clove garlic, peeled

2

tsp white, shiro miso

2

tsp Dijon mustard

1

tsp garlic powder

1

tsp onion powder

3

tbsp chopped fresh herbs, such as dill, basil, or tarragon.
Red Hot Saucy Tofu
1

lb

extra-firm tofu or super-firm tofu

1

tbsp refined or virgin organic coconut oil

1

tbsp freshly squeezed lemon juice

1

tbsp agave nectar
Classic Crutons
4

cups

cubed, day-old bread (about 1 lb of bread)

3

tbsp olive oil

2

tbsp freshly squeezed lemon juice

3

cloves garlic, minced

1

tbsp dried herb blend or single dried herb

1/4

tsp salt
To make the Ranch Dressing, soak the cashews in hot water for 30 minutes. Pour into a blender (including the soaking water) and blend until very smooth. Alternatively, if you have a high-powered blender (like a Vitamix or Blendtec), no soaking is required: just pulse the cashews into a fine powder, add the hot water, and pulse again until very smooth.

Add the remaining ingredients and pulse until smooth. Chill the dressing in a tightly covered container until ready to use, or at least 20 minutes for the flavors to blend. Store chilled and use within 2 days.

To make the Red-Hot Saucy Tofu, if using extra-firm tofu, press the tofu first. (No need to press if using super-firm tofu). Dice the tofu into 1/2-inch cubes. In a wok or cast-iron skillet, melt the coconut oil over medium heat. Add the tofu and saute until golden on all sides, about 5 minutes.

In a mixing bowl, whisk together the hot sauce, lemon juice, and agave. Add the hot tofu cubes and toss them in the sauce. Serve hot or at room temperature.

To make the Classic Croutons, preheat the oven to 350F. Pour the bread cubes into a large mixing bowl. Whisk together the remaining ingredients in a separate bowl.

Drizzle a little of the dressing at a time over the cubes, stir well, drizzle more dressing, stir again, and repeat until the bread cubes are coated in dressing. Spread the cubes in a single layer on a large baking sheet (use two sheets if necessary) and bake for 25 to 30 minutes, stirring occasionally, until the cubes are completely dry and golden brown. Cool completely before transferring to loosely covered containers. Use within 7 days for best flavor.

To assemble the salad, prepare the dressing first and chill it until ready to serve.

Prepare the tofu and keep covered until read to serve the salad
Remove and discard the root end of the lettuce, then chop the leaves into bite-size chunks. Wash and dry the lettuce and transfer to a large mixing bowl. Add the cabbage, carrots, celery, and croutons. Add the dressing and use tongs to thoroughly coat with dressing. Arrange the salad in large serving bowls and top with the tofu.
Calories Per Serving:
525
% Daily Value