Orange Pepita Homemade Granola
Start your day off right with this Homemade Granola filled with pepitas and orange. A recipe from the new cookbook, Yum Universe.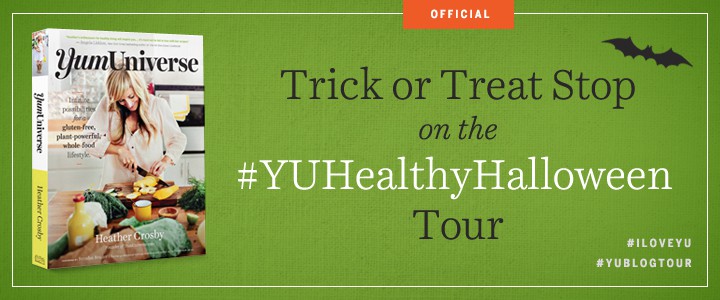 Good news, people!
Halloween is coming a little early this year. That's right, you have found yourself on the YumUniverse Halloween Blog Tour.  So open up your goodie bags because I'm about to fill them up with some delicious treats, a few tricks, and one really sweet giveaway.
For the past two years my diet has been shifting to a largely gluten-free, whole-food way of eating – a transition I never expected to make. Previously I was a processed food junkie, a bread fanatic, and rarely went a day without soy. But after the back-to back pregnancies and births of two my children, things started changing. I felt off. I was tired and achy and my body felt suddenly decades older. Within a few months of this transition I learned that the cleaner I ate, the better I felt. I was amazed (although it makes perfect sense) that what I put into my body directly affected my energy level, mood, and overall state of being. Slowly my attitude towards food changed as I realized the significance of making food choices count (not to say there isn't a time and place for straight-up decadence) and slowly even my tastes started to change to this new way of eating.
So when I first heard about YumUniverse, the book, I was so eager to get my hands on it.  If anyone knows how to make whole foods, plant-powered eating easy, sustainable, and delicious it's Heather Crosby, of YumUniverse.com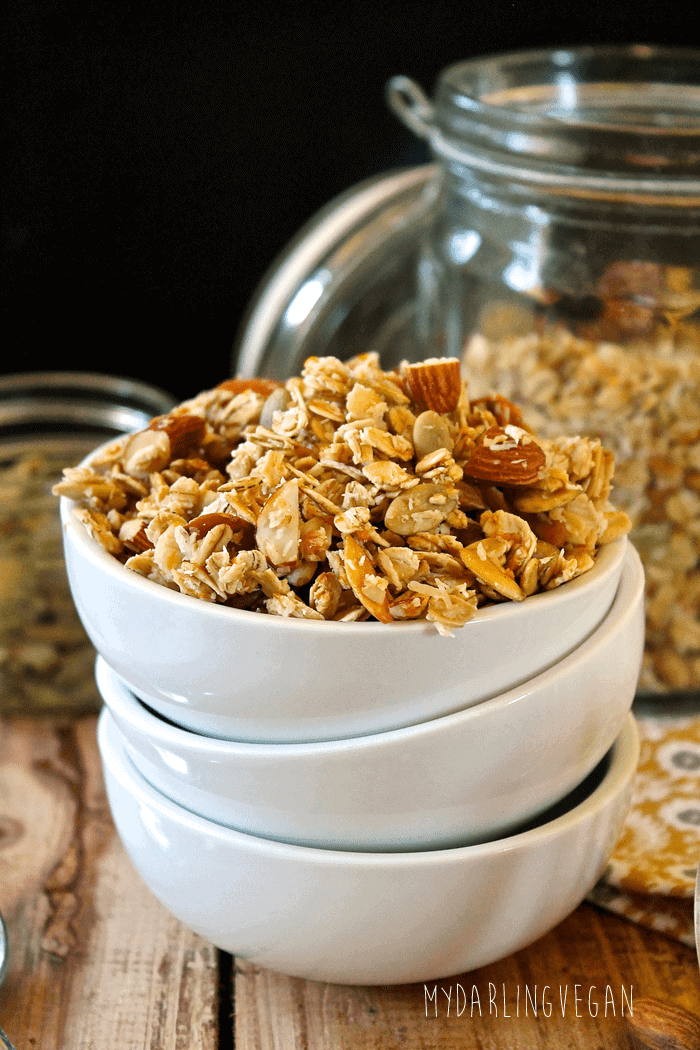 Do not be fooled by the cover, YumUniverse is so much more than a cookbook. It's a beautifully and carefully crafted manual for how to change the way you eat, live, and think about food.  The book begins, "This is an exciting moment, because you're about to kick off a remarkable adventure, loaded with countless rewards and powerful lessons. I know, because I am on this wellness journey, too." And so from the very first page it became abundantly clear that there is a holistic, artistic, and healing story, an adventure – far beyond recipes – between the pages of this book that you (the reader) are invited to join.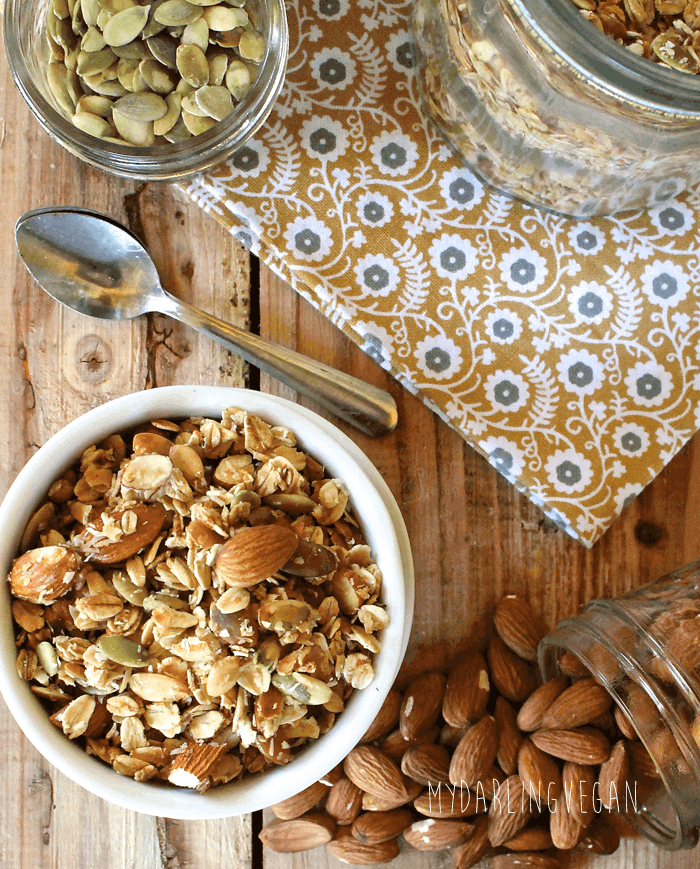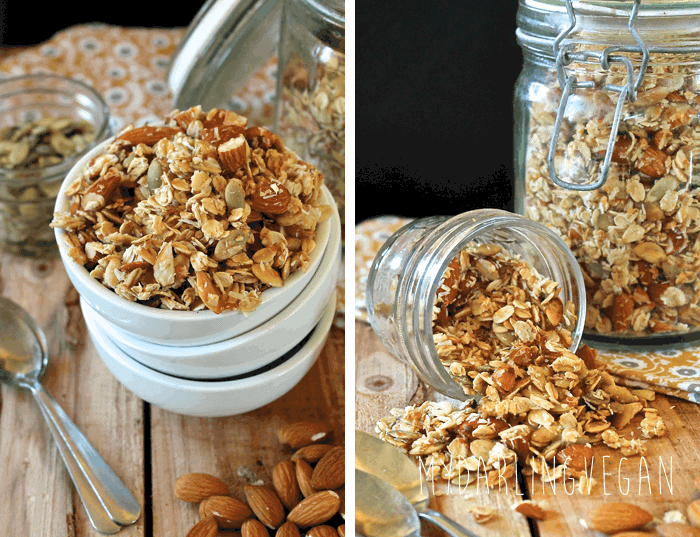 YumUniverse is broken up into three parts:
1. Why
Crosby begins by challenging the readers to rethink the way we look at food. In this section she addresses the many health benefits of eating a plant-based, whole-foods diet and, with recipes interspersed, shares her (and many other's) research on clean eating. She breaks down how gluten, processed foods, dairy, and soy affect our bodies negatively showing how we were meant to eat much more simply. In this section you will find all kinds of nutritional information, displayed in easy-to-read charts and lists, from plant-powered protein, calcium, vitamins, fat, and more.
2. How
Now, equipped with the understanding of why, the book begins section two where Crosby answers the questions:
How do I change my eating habits?
How do I cook with new ingredients?
How do I deal with social situations?
Crosby walks through a day by day plan on shopping, preparing and eating in this new way.  Through out the section you will find helpful recipes like On-the-Go Salads and Breakfasts meanwhile laying out a detailed guide on how to re-organize your kitchen both in terms of equipment and ingredients. She uncovers the mystery behind these ingredients that some might find overwhelming – things that many people are new to using like chia seeds, cashews, and buckwheat – through thorough explanation combined with extensive storage and preparation tips.
3. Let's Eat
And finally, by far the largest section of the book is dedicated to recipes. From breakfast to dessert and everything in between the book is filled with over 150 amazing, mouthwatering recipes accompanied by stunning photography.  Crosby's recipes go to show that whole food eating does not have to be limiting. Like the tagline says there are, "Infinite possibilities for a gluten-free, plant-powered, whole-food lifestyle."
In short, YumUniverse leaves you with no excuses, questions, or reasons not to add plant-based, whole foods eating into your diet.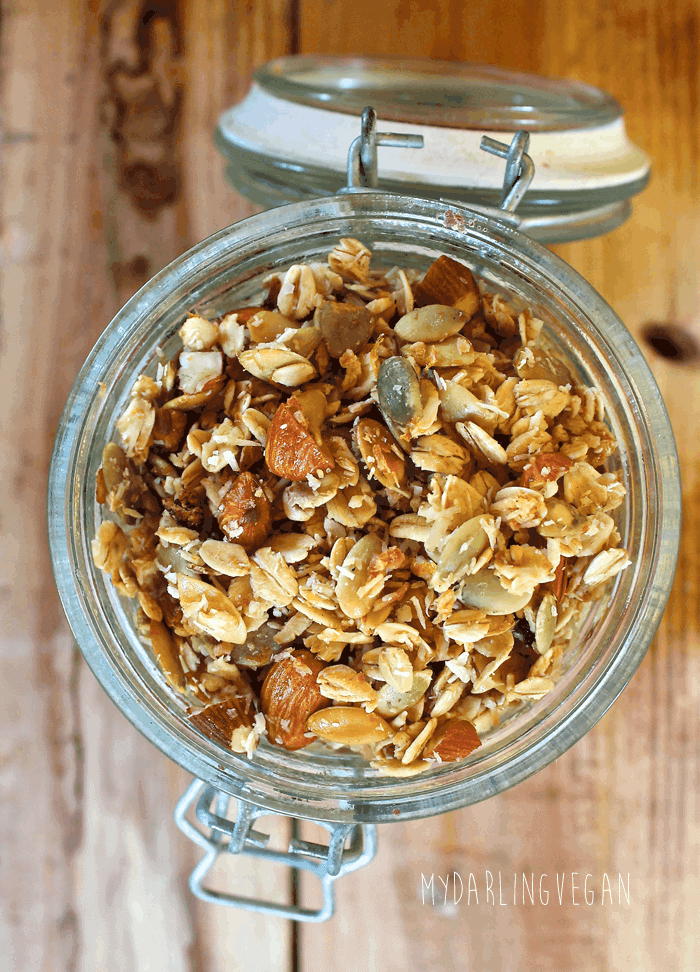 For this Halloween-themed book tour, I made an Orange and Pepita Homemade Granola from the book. I am not exaggerating when I say it is some of the best granola I have ever had. The orange and pumpkin combine deliciously for a simple citrusy and earthy bite. This homemade granola can be thrown together less than 10 minutes so I would seriously recommend you get started on that.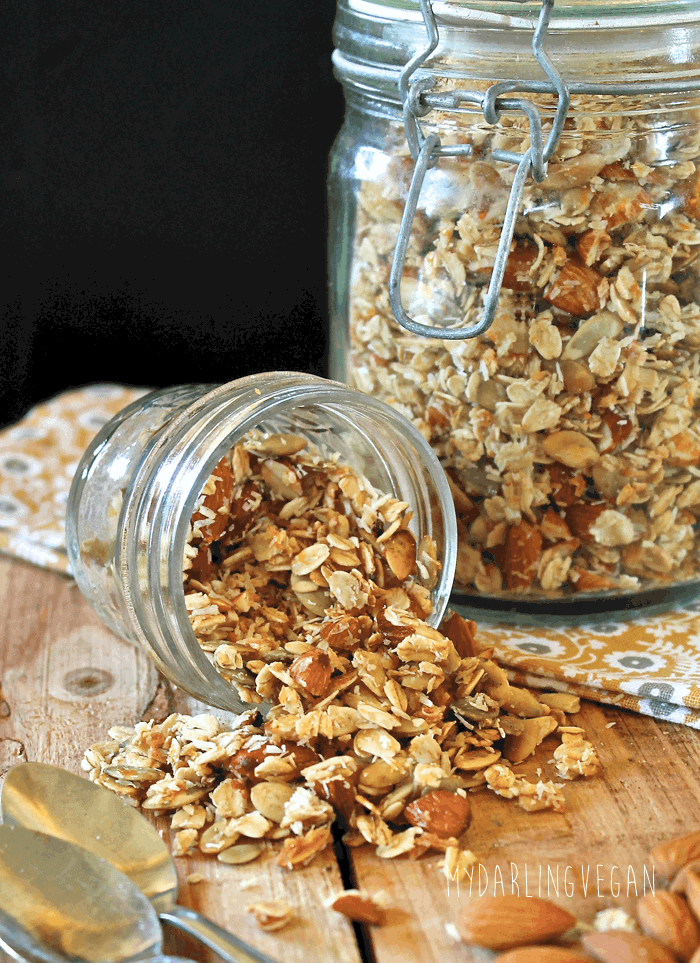 Homemade Granola
Start your day off right with this Homemade Granola filled with pepitas and orange. A recipe from the new cookbook, Yum Universe.
Course:
Breakfast
Cuisine:
Vegan
Keyword:
Homemade Granola
Servings
:
10
servings
Calories
: 321 kcal
Author
:
Heather Crosby
Ingredients
Instructions
Preheat oven to 300F
In a small bowl, stir together wet ingredients.
In a large bowl, toss together dry ingredients.
Add wet ingredients to dry and fold well.
Line two baking sheets with parchment paper (or just one - you can split the batch, baking one half at a time)
Bake the granola for 20-25 minutes. Granola should look slightly browned and toasted.
Remove from oven and repeat if you are splitting the batch. Granola will harden as it cools.
Recipe Notes
Don't overcrowd your baking sheet - you want granola evenly spread across the sheet about 1/4" tall. Overcrowding leads to uneven toasting. If you bake and the edges of granola are browned but the center is not, you may have overcrowded the pan. Simply remove the toasted granola, spread the untoasted around the pan, and bake longer.
Nutrition Facts
Homemade Granola
Amount Per Serving
Calories 321
Calories from Fat 126
% Daily Value*
Fat 14g22%
Sodium 260mg11%
Potassium 325mg9%
Carbohydrates 40g13%
Protein 8g16%
Vitamin C 0.1mg0%
Calcium 81mg8%
Iron 2.3mg13%
* Percent Daily Values are based on a 2000 calorie diet.
This post contains affiliate link.
But before you go, I've got one last treat for you.
The generous people over at BenBella Books are offering one of my readers a chance own this book for free! Enter below. Or if you don't feel like waiting, preorder your copy here.
Contest open to US and Canada residence only. 
Disclaimer: While I was given a copy of this book to review, the thoughts and opinions expressed here are completely mine. 
If you give this recipe recipe a try, snap a photo and share it on Instagram. Make sure to tag
@mydarlingvegan
so I can see your creations!