Vegan Tiramisu Cheesecake
This vegan tiramisu cheesecake makes for an incredibly rich and decadent plant-based dessert that will impress all your friends.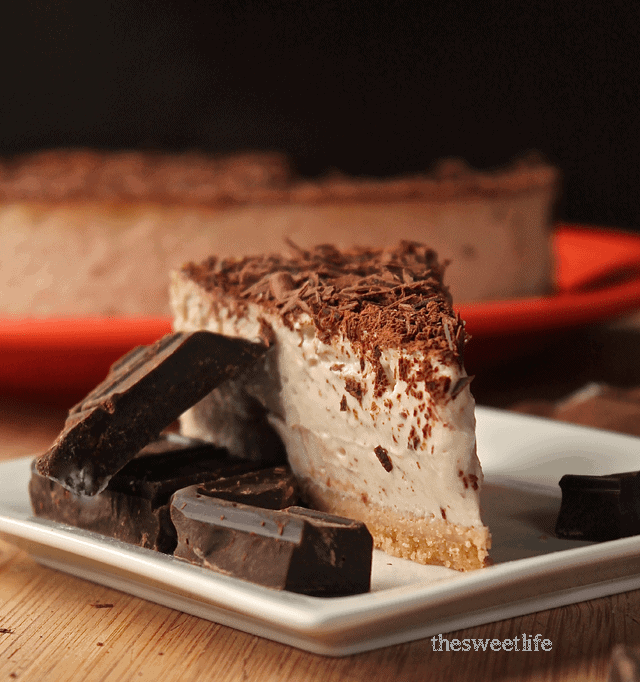 Almost 8 years ago I made the decision to go vegan. It was an easy decision to make but it left me with one problem…what do I eat?
I wasn't even slightly familiar with vegan cooking and the concept was intimating. Then I discovered Robin Robertson's Vegan Planet – a fat, comprehensive cookbook with 400 vegan recipes covering every meal and ranging from all over the globe. I fell in love. I read the book cover to cover, and then all over again. I earmarked nearly every page. It became a staple in our house for dinner as I grew to rely on the recipes to nourish us like the Black Bean and Sweet Potato Enchiladas, the Indian-spiced Lentil Soup, and the African Sweet Potato and Peanut Stew – these pages are worn thin with use.  My copy of Vegan Planet has been taped and re-taped. Soup splashes stain the pages. The covered threatens to fall off every day.
What I'm trying to say is this book has been well-loved.
So, as you can imagine, I was giddy when contacted by Robin's publisher about reviewing the new edition of this book – a book that has been so influential to me as a vegan, cook, and writer.  The new book showed up in the mail just a few days later and I have been enjoying the revised and updated Vegan Planet ever since.
Some of the things I love about this cookbook are:
1.Throughout the book you'll find all kinds of tips and facts about the vegan lifestyle and diet. This was one of my favorite things about the book when I first bought it. Having just gone vegan, I had a lot to learn. Especially because everyone suddenly became so interested in my diet and the reasons behind it. In simple yet profound ways, Robin fills this book with reinforcement for a cruelty-free lifestyle. With facts addressing health, the environment, and ethics she responds to many major concerns for new vegans and vegan-skeptics making Vegan Planet much more than just a cookbook.
2. This book has something for everyone.  With over 425 recipes and 20 chapters, how could it not? Robin spans the globe with recipes from Latin America, India, the Middle East and more to bring an eclectic array of recipes bound within one book. Within these recipes, she provides many whole food, healthful options as well as perfectly veganized versions of comfort foods and decadent desserts (see below) that aren't necessarily healthy. This aspect of the book is very important to me as I eat a huge variety of food from raw meals to processed faux-meat.
3. The recipes in this book are so accessible. Like I said earlier, I was a complete novice in the kitchen when I went vegan. I was baffled at everything…how to cook tofu, how to saute vegetables, how to substitute for eggs, etc. One recipe at a time, Robin showed me how to cook. The ingredient lists for the recipes are short, simple, and with easy-to-find ingredients. The recipes themselves are very forgiving (allowing some trial and error in the kitchen), and the procedures are direct and easy to follow. Anyone who picked up this book could make something delicious.
The new and updated edition is all these things plus 50 new recipes, a wider range of grains that have since become available, vegan cheese sauces, more cashew-based recipes, (generally more options that allow vegans to avoid processed foods) and updated tips and text throughout. I recommend this book to anyone who loves to cook,  but especially those new to the vegan/vegetarian diet. Robin Robertson breaks down veganism, removing any intimidation that one might feel and making vegan cooking a fun, exciting, and extremely tasty experience.
Okay. Are you ready for a sneak recipe into the revised and updated edition? 
I've got three words for you: Vegan Tiramisu Cheesecake.
This Vegan Tiramisu is everything you would hope it to be and more. The combination of vegan cream cheese and silken tofu provide a similar taste to mascarpone cheese. Add the flavors of coffee, chocolate, and brandy and you will likely find yourself in dessert heaven.
I did add a little extra coffee and brandy to the recipe for a stronger kick. I suggest following the directions as they are written below then adjusting to taste once the filling is all blended together.

Vegan Tiramisu Cheesecake
This vegan tiramisu cheesecake makes for an incredibly rich and decadent plant-based dessert that will impress all your friends.
Course:
Dessert
Cuisine:
Vegan
Keyword:
Vegan Tiramisu
Servings
:
12
people
Calories
: 250 kcal
Author
:
Robin Robertson
Ingredients
1 1/2

cups

vegan vanilla wafer crumbs

3 to 4

tbsp vegan butter, melted (I recommend Earth Balance)

16

ounces vegan cream cheese

3/4

cup

natural sugar

2

tbsp cornstarch

2

tbsp strong brewed coffee

1

tbsp brand rum, or Kahlua or 1 tsp brandy or rum extract
Instructions
Bring all the ingredients to room temperature. Preheat the oven to 350F Lightly oil the inside of an 8 or 9-inch springform pan.
In a small bowl, combine the crumbs and as much of the melted butter as needed to moisten the crumbs when stirred with a fork. Press the crumb mixture evenly into the bottom and up the sides of the prepared pan. Bake for 5 minutes, then set aside to cool.
In a food processor, combine the cream cheese and tofu until smooth. Add the sugar, cornstarch, coffee, and brandy. Process until smooth.
Scrape the mixture evenly into the prepared crust. Bake on the center oven rack until firm, about 45 minutes. Turn off the oven and leave the cheesecake inside for 10 minutes. Remove from oven and set aside to cool to room temperature. When the cheesecake is completely cool, cover and refrigerate for at least several hours or up to overnight.
To serve, remove from the sides of the pan, using a knife to loosen it if necessary. Scatter the shaved chocolate over the top of the cheesecake, and cut into wedges.
Recipe Notes
I couldn't find vegan vanilla wafers so I used vegan shortbread cookies for the crust
Before topping with shaved chocolate, I dusted a layer of cocoa powder over the top for a stronger chocolate taste
Nutrition Facts
Vegan Tiramisu Cheesecake
Amount Per Serving
Calories 250
Calories from Fat 126
% Daily Value*
Fat 14g22%
Sodium 203mg9%
Potassium 15mg0%
Carbohydrates 28g9%
Protein 5g10%
Calcium 66mg7%
Iron 0.8mg4%
* Percent Daily Values are based on a 2000 calorie diet.
This post contains affiliate links.
Reprinted with permission from The Harvard Common Press. 
But wait, there's more.
Robin's publisher, The Harvard Common Press, has offer me the chance to run a giveaway for you! One lucky reader will win a FREE copy of Vegan Planet. Enter below for a chance to win.
Giveaway open to US residents only.
If you give this recipe recipe a try, snap a photo and share it on Instagram. Make sure to tag
@mydarlingvegan
so I can see your creations!