Vegan Mars Bars Popcorn Truffles + Go Max Go Giveaway
Melted mars bars poured over popcorn and dipped in dark chocolate for incredible vegan chocolate popcorn truffles. Made with Go Max Go vegan candy bars.
The trick or treating continues on My Darling Vegan today with yet another delicious and festive recipe AND another fabulous giveaway!  And this one is all about the candy.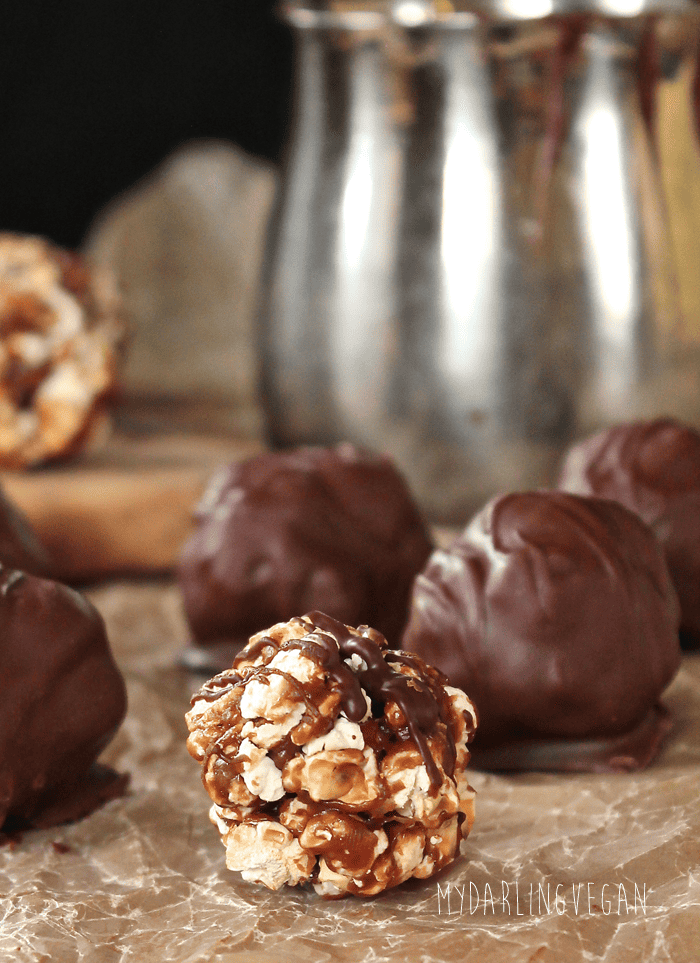 For as long as I can remember Halloween has been my favorite holiday. I mean, what's not to love about Halloween?
You get to dress up in spooky costumes.
Did I ever tell you about the time I got to re-wear my wedding dress when I dressed up as the corpses bride? I mean, what other holiday lets you get a second use at that expensive dress you bought to wear only once?
And watch scary movies. 
Or in my case – now that I can barely handle a kid's haunted house – I can watch Rocky Horror Picture show. On repeat. In costume.
Speaking of which, The Rocky Horror Picture Show is always playing somewhere.
You don't have to look far on Halloween night before you find yourself sitting in front of those giant lips, singing along to Science Fiction/Double Feature while wearing a black corset and sparkly platform high heals.
You don't have to be scared to take candy from strangers. 
Right?! I mean 364 days of theyear there is no way. But on that one very special Halloween night, bring it on!
And no one's watching how much chocolate you consume.
So what if I've already eaten 12 of these "Mars Bars" Popcorn Truffles. It's Halloween.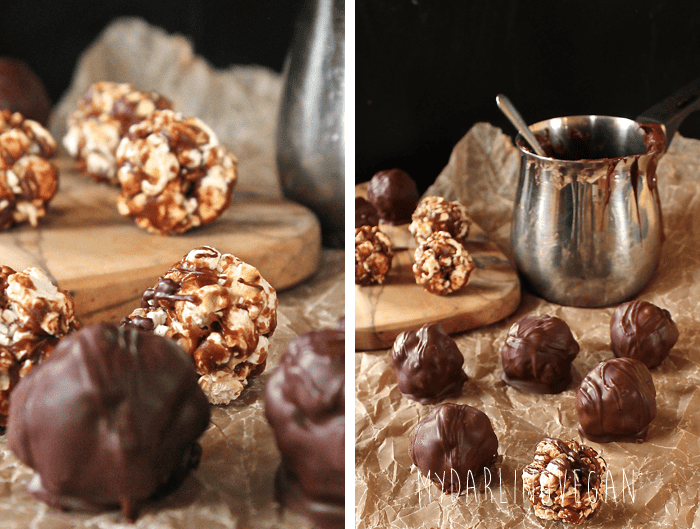 Even as a kid (long before I had a wedding dress or had even heard of the Rocky Horror Picture Show) I have the best memories of Halloween – walking around the neighborhood, dressed as scarecrows and witches, filling our baskets with candy. In my memory these Halloween nights were epic. We traveled through our city with swarms of other children, going door-to-door collecting candy until our bags were dragging behind us, heavy with treats. Of course in reality my parents took us out for probably 30 minutes, stopping at the houses within a two block radius, buckets barely reaching half-full before heading back home.
When we got home my sisters and I would dump our candy out onto the beds and sort it into piles of "good", "better", and "best". We would then dig into the "best" pile, unwrapping fun-sized candy bars and popping mars bars and butterfingers, snickers and paydays into our mouths. At some point our parents would take away our candy and hide it in impossible-to-reach places, doling it out in a more reasonable manor.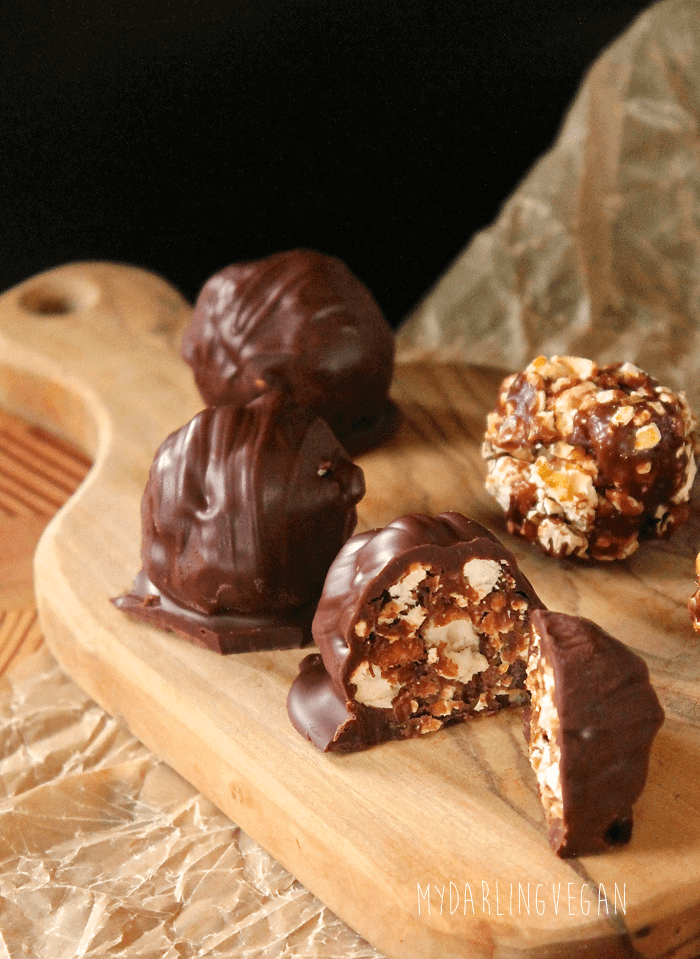 For Eden and Nash Halloween will look different. How exactly, I don't yet know. But one thing is for sure, there will be no shortage of chocolatey treats on their Halloween night. 
These Mars Bars Popcorn Truffles are so easy and perfectly Halloween. Whether they are for swapping with the non-vegan candy in your child's loot or given in lieu of trick-or-treating, these chocolate candies are a big winner. I used Go Max Go Twilight bar for this recipe but many of Go Max Go's fabulous candy bars would work. I'm definitely going to be remaking a batch closer to Halloween with either  Jokerz Bars or Cleos Peanut Butter Cups.

Mars Bars Popcorn Truffles
Melted mars bars poured over popcorn and dipped in dark chocolate for incredible vegan chocolate popcorn truffles. Made with Go Max Go vegan candy bars.
Course:
Snack
Cuisine:
Vegan
Keyword:
Popcorn Truffles
Servings
:
20
-24 truffles
Calories
: 71 kcal
Author
:
Sarah McMinn
Ingredients
4

cups

popcorn popped (2 tablespoons of kernels)

1/2

teaspoon sea salt

3

Go Max Go Twilight Bars

8

ounces vegan chocolate melted

1

tablespoon coconut oil
Instructions
Place popped popcorn in a large bowl, toss with sea salt, and set aside.
Melt the Twilight Bars in a double boiler or microwave.
Thoroughly mix the melted chocolate bars into the popcorn. Using your hands is the best way to get the chocolate completely incorporated.
Roll the popcorn/chocolate bar mixture into balls about 2 teaspoons in size.
Melt the vegan chocolate and coconut oil in a double boiler. Dip the popcorn balls into the chocolate and place on a parchment-lined baking sheet.
Place in the refrigerator until the chocolate has set, about 30 minutes.
Store in the refrigerator.
Recipe Notes
Short on time? These things are just as good without the chocolate coating.
Nutrition Facts
Mars Bars Popcorn Truffles
Amount Per Serving
Calories 71
Calories from Fat 36
% Daily Value*
Fat 4g6%
Sodium 58mg3%
Potassium 7mg0%
Carbohydrates 8g3%
Protein 1g2%
Vitamin A 5IU0%
Calcium 15mg2%
Iron 0.9mg5%
* Percent Daily Values are based on a 2000 calorie diet.
This post contains affiliate links.
Ready for the sweetest part? Thanks to the generous people over at Go Max Go, you have a chance to win a complete set of Go Max Go candy bars. Enter below to win.
Contest open to U.S. residents only
If you give this recipe recipe a try, snap a photo and share it on Instagram. Make sure to tag
@mydarlingvegan
so I can see your creations!