Start your morning with these delicious and tender vegan Cinnamon Doughnuts. Bursting with flavor to wake you up for the day.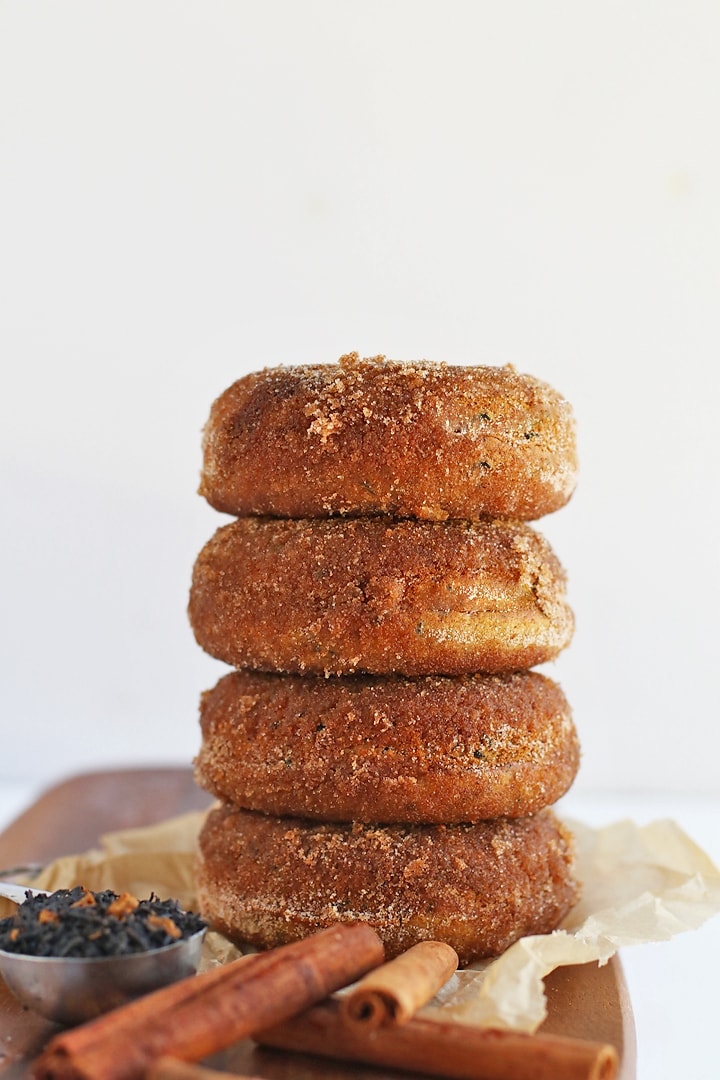 This post is sponsored by Harney & Sons. All opinions are 100% mine.
This post contains affiliate links. For more information please see my privacy policy.

I imagine many of you would agree that life feels very full these days.
It's a busy time of year with school starting back up, holidays approaching, projects picking up at work, etc. and I find myself often stressed because life feels so busy and crammed full. Most days I have to force myself to exercise or make healthy meals as I run through my to-do list frantically.  This is particularly frustrating because it feels so opposite to how I want to be living.
A couple weeks ago I woke up in a panic. I had two kids to be take care of, a car needing to get to a repair shop, an airbnb to clean, a messy house, and a yard so unmaintained I was starting to get "buy you house for cash" offers in the mail. I spent the first hour of my day irritable and taking that out on my kids. Eventually, I had to close myself in my room and meditate. Breathing in and out to help me reorient around the present moment and allowing there to be peace and calm amongst the chaos.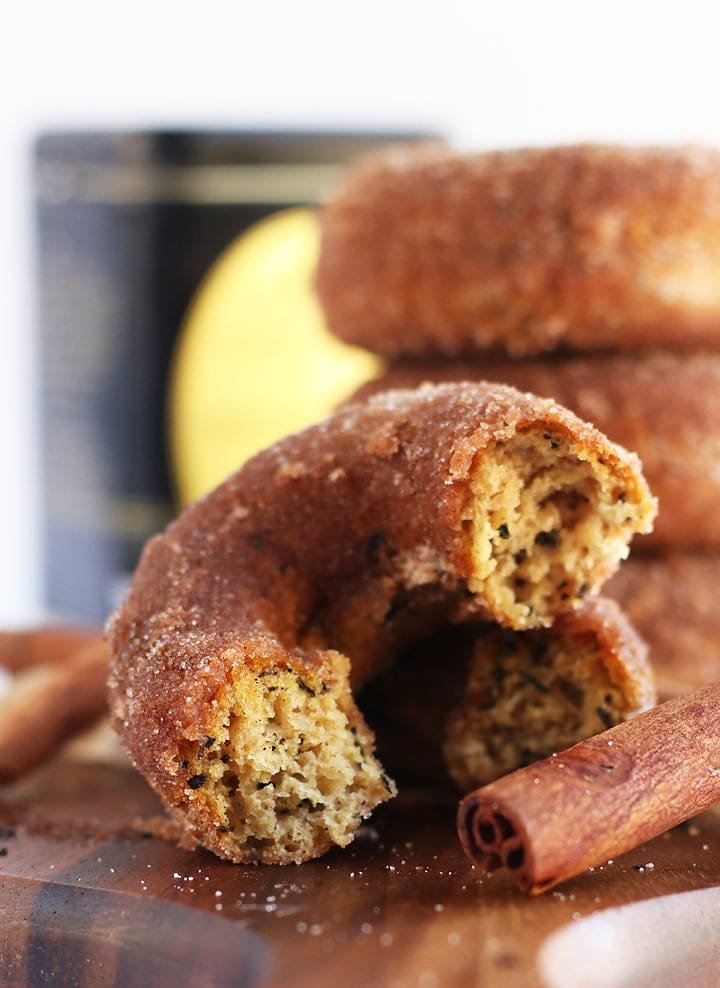 Meditation is now part of my daily practice. Focusing on how to live presently in a life that is full and rich and busy. I've found ways to manage (some days more successfully than others) through staying organized, staying disciplined, not compromising values such as yoga and healthy eating, and also finding ways to get away from the chaos and breathe in the October air.
As I've mentioned a few times, one of my practices this fall has been sneaking away for a couple hours once a week. I indulge in a chai latte while stepping out of responsibility and into a world of small pleasures. Last week during my sneak away, I found that I couldn't get my mind off the cinnamon doughnuts I had seen at the coffee shop earlier. And so, when I returned home, I went right to work on creating my own vegan Cinnamon Doughnuts to be paired with a chai latte and a slow morning.
And these doughnuts are perfect for that!
Sweet, tender, and bursting with cinnamon flavor, I made these doughnuts extra special by adding a bit of Harney & Sons' Hot Cinnamon Spice Tea for incredible flavor and delightful texture.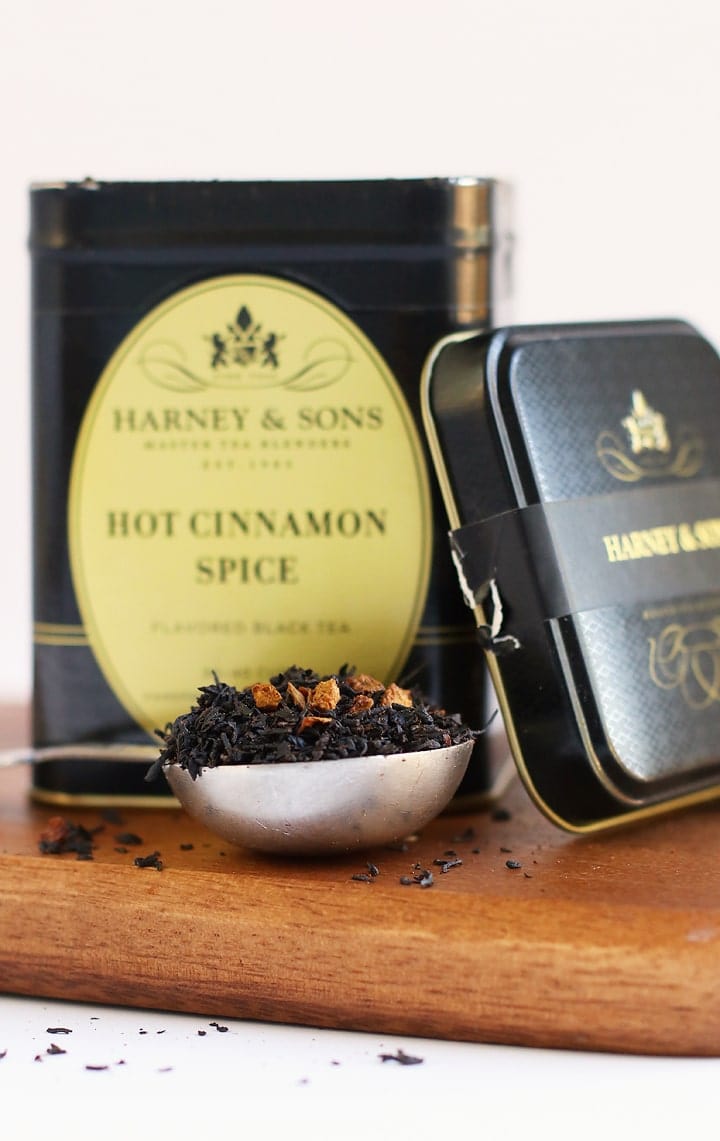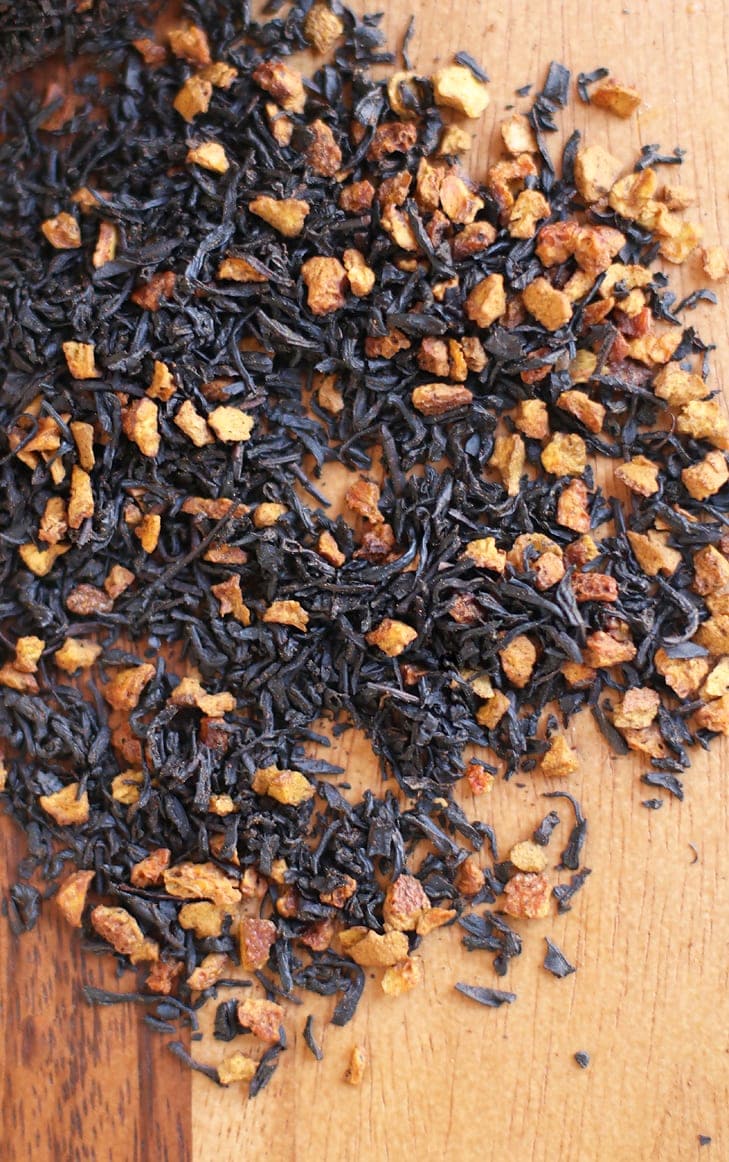 Harney & Sons is a tea company dedicated to creating the highest qualities teas developed from a passion for blending fine teas 35 years ago. In that time they have grown from 6 original tea blend to over three hundred! In their selection you will find incredible variety of traditional teas, a huge array of matchas, delicious herbal infusions, and many seasonal teas options as well. The past few weeks I have had the opportunity to try several of Harney & Sons teas including their incredible chai blend, perfectly-seasoned pumpkin spice, and one of their most popular, hot cinnamon spice. True to their claim, these were some of the finest teas I've tried.
And while a cup of tea in the morning is a wonderful way to start the day (especially now that I'm not doing coffee) these teas lend themselves to so much more. Like spicing up your favorite doughnuts! The addition of the Hot Cinnamon Spice Tea gives these doughnuts added texture with a perfect crunch between the tenderness of the pastry and adds intense cinnamon spice that makes these doughnuts bold, delicious, and hard (if not impossible) to stop at just one.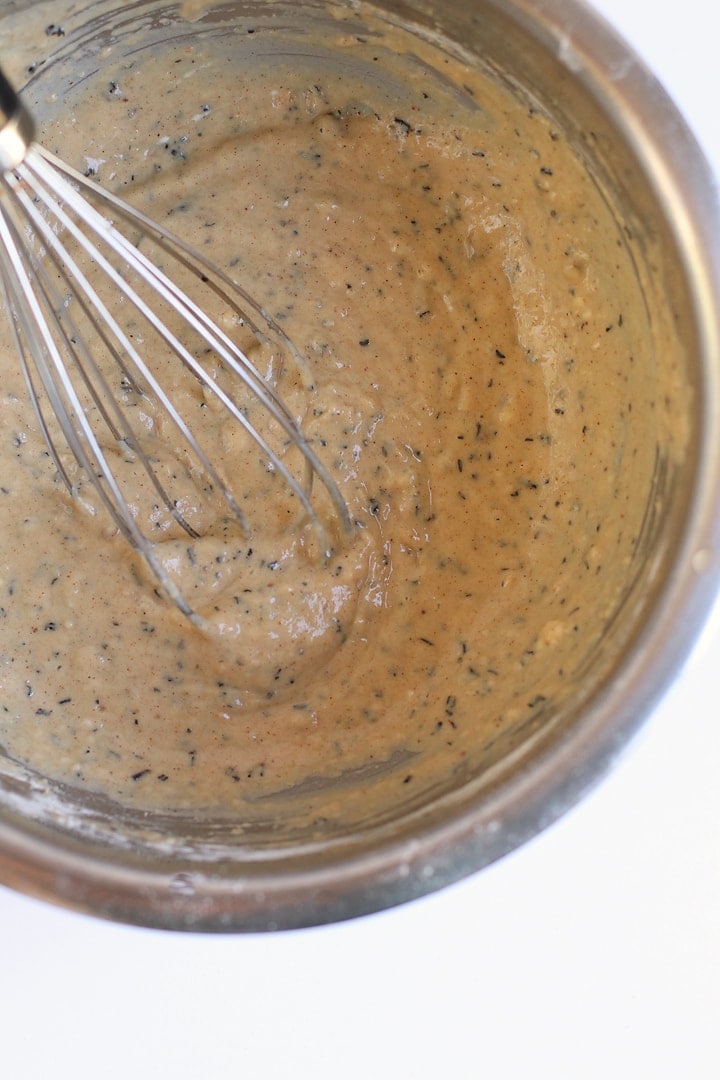 Life is busy.
Slow down for a moment, take some deep breaths, grab a chai latte and cinnamon doughnut and pause to enjoy this morning.
Happy Wednesday, friends!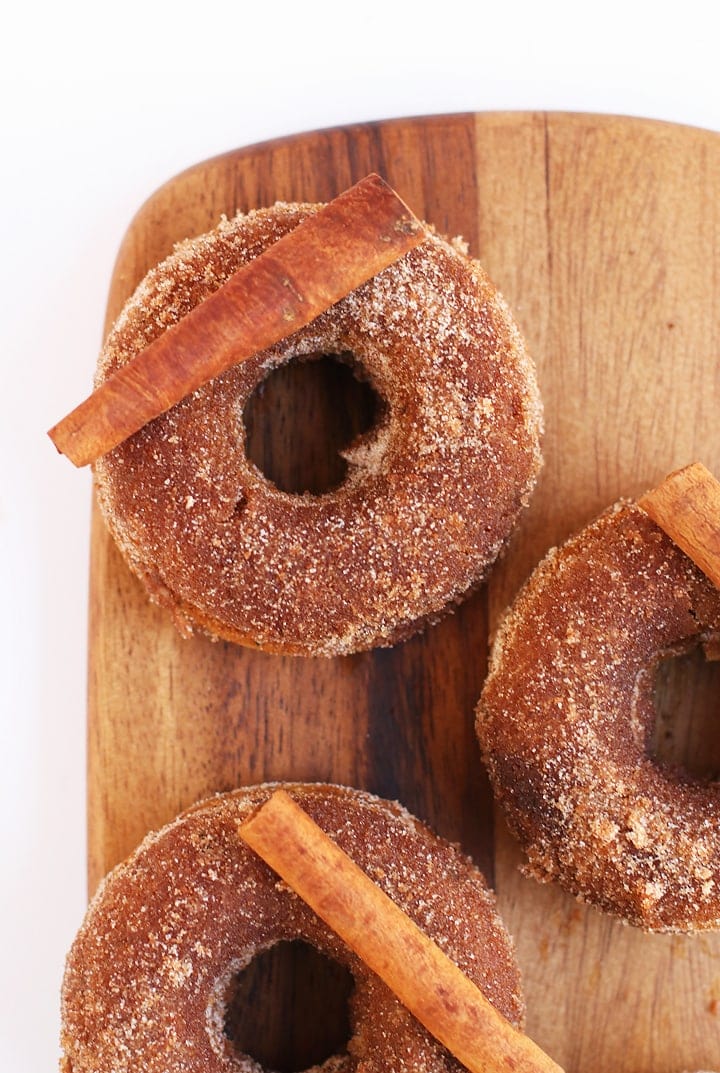 Vegan Cinnamon Doughnuts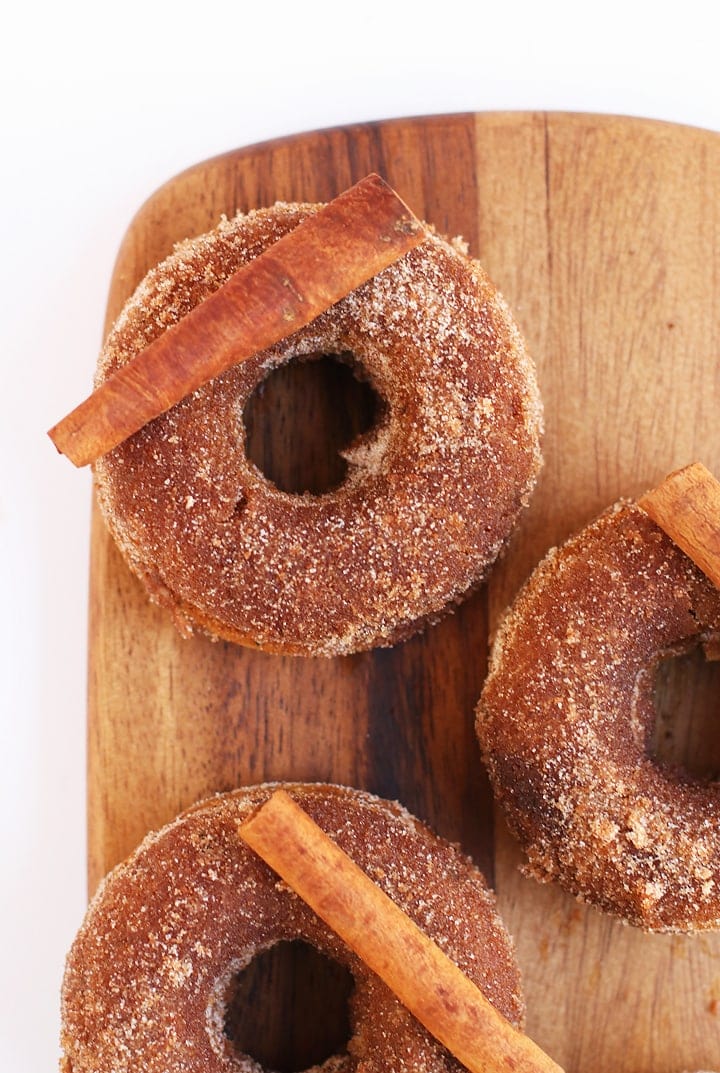 Start your morning with these delicious and tender vegan Cinnamon Doughnuts. Bursting with flavor to wake you up for the day.
Course:
Breakfast, Snack
Cuisine:
American
Keyword:
Cinnamon Doughnuts
Servings
:
6
doughnuts
Calories
: 329 kcal
Author
:
Sarah McMinn
Ingredients
Dry Ingredients
1

cup

all-purpose flour

1 1/2

tsp baking powder

1/2

tsp baking soda

1/2

tsp cinnamon

1/2

tsp salt
Instructions
Preheat the oven to 350 degrees. F. Spray a doughnut pan and set aside.

In a medium bowl combine dry ingredients.

In a small bowl, stir together wet ingredients. Pour wet ingredients into the dry and whisk together until batter is fully hydrated. A few lumps are okay.

Pipe the batter into the prepared doughnut pan so that each doughnut mold is about 3/4 the way full. Bake for 12 minutes or until a toothpick inserted in the middle come out clean. Remove from oven and let cool 10 minutes.

Melt the vegan butter in a sauce pan and combine sugar and cinnamon in a separate bowl. Dip the slightly cooled doughnuts first in the melted butter and then in the cinnamon sugar mixture. Place on a cooling rack to cool completely.

Store in an airtight container at room temperature for up to 5 days.
Nutrition Facts
Vegan Cinnamon Doughnuts
Amount Per Serving
Calories 329
Calories from Fat 72
% Daily Value*
Fat 8g12%
Sodium 367mg16%
Potassium 200mg6%
Carbohydrates 61g20%
Protein 2g4%
Vitamin A 395IU8%
Vitamin C 0.7mg1%
Calcium 97mg10%
Iron 1.2mg7%
* Percent Daily Values are based on a 2000 calorie diet.
If you give this recipe recipe a try, snap a photo and share it on Instagram. Make sure to tag
@mydarlingvegan
so I can see your creations!