This Vegan BLT Salad is made with fresh Romaine lettuce, creamy ranch dressing, and tofu bacon for a delicious and refreshing salad.

This post contains affiliate links. For more information please see my privacy policy.
Oh, hey there!
If you're looking for a delicious, hearty, and creative summertime salad, you've come to the right place. Today, just one week before it is officially summer (excited squeal) and the last week with kids in school (terrifying squeal) I bring you my vegan BLT salad – a refreshing mix of Romaine lettuce, heirloom tomatoes, tofu bacon, and my easy ranch dressing…oh my! 
Let's take a closer look.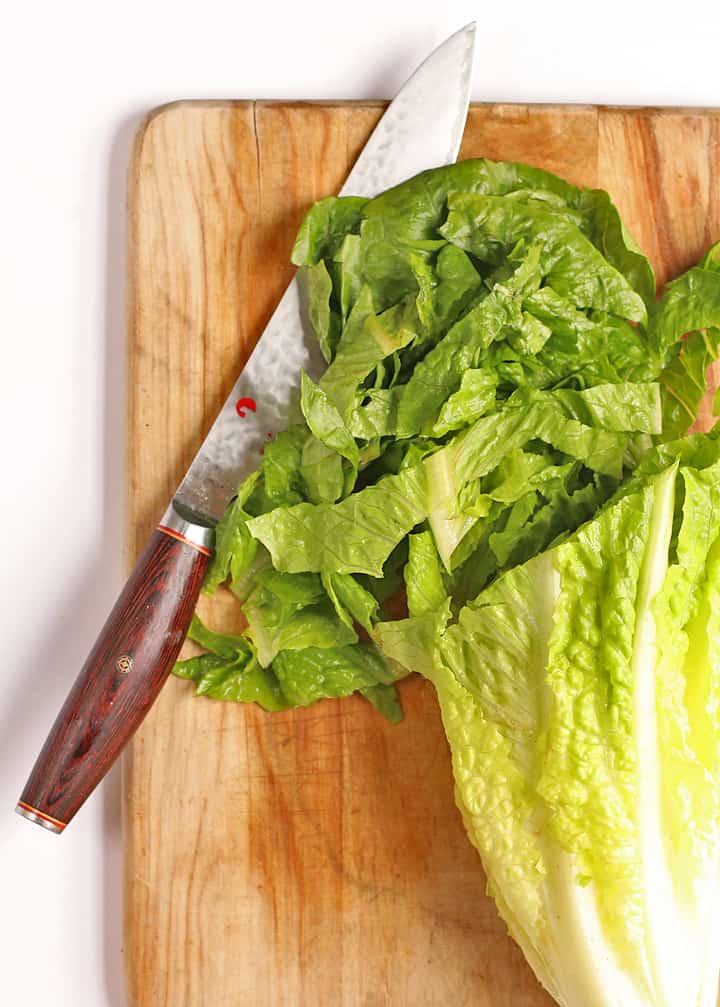 Ingredients for Vegan BLT Salad
This delicious vegan salad only uses a handful of ingredients that you likely already have on hand. For this BLT salad, you will need:
Let's take a closer look at these ingredients.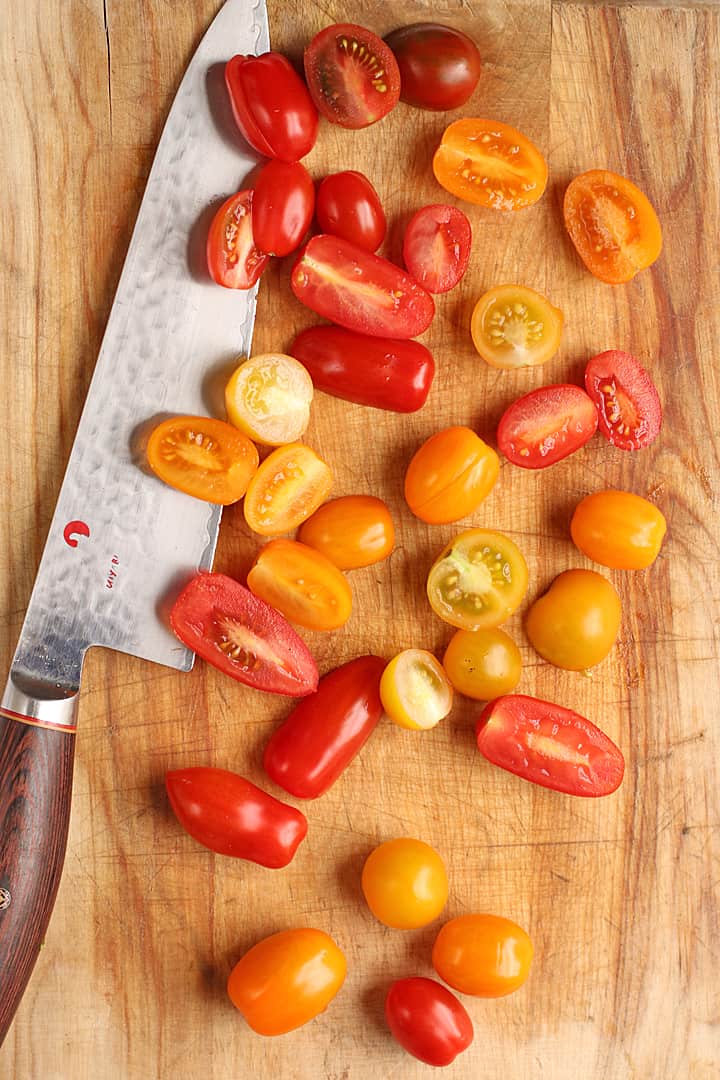 How to make Vegan Bacon
From store bought to homemade, vegan bacon can be made with anything from eggplant, tempeh, rice paper, mushrooms, and even coconut. In fact, whole books have been written on vegan bacon because vegans know that people love their bacon and they want you to know that you can have your (vegan) bacon and eat it, too!
For this vegan BLT salad recipe I chose to use tofu for the bacon to give the salad a little extra protein and making it a filling lunch or light dinner. This tofu bacon is smoky, salty, and chewy for a plant-based alternative that will satisfy everyone.
To make the tofu bacon, cut the tofu in 1/2″ strips and set aside. Whisk together the ingredients for the marinade and pour it into a shallow baking dish. In a single layer, place the tofu in the dish so that each piece is fully submerged. Marinate for at least one hour.
When the tofu is ready, heat 2 tablespoons of oil in a large cast-iron skillet, Once hot, add tofu and pan-fry for about 5 minutes per side, until browned and fragrant.
BEST TOFU FOR TOFU BACON
For this recipe, look for extra-firm tofu that is not water-packed, such as Trader Joe's High-Protein Tofu or Wildwood's Super Firm or Sprouted Tofu. These types of tofu do not have excess water and do not need to be pressed.
If you have to use water-packed tofu make sure to press as much water as you can out of it first by using a tofu press or a weighted, towel-lined cutting board. Press the tofu for at least 1 hour.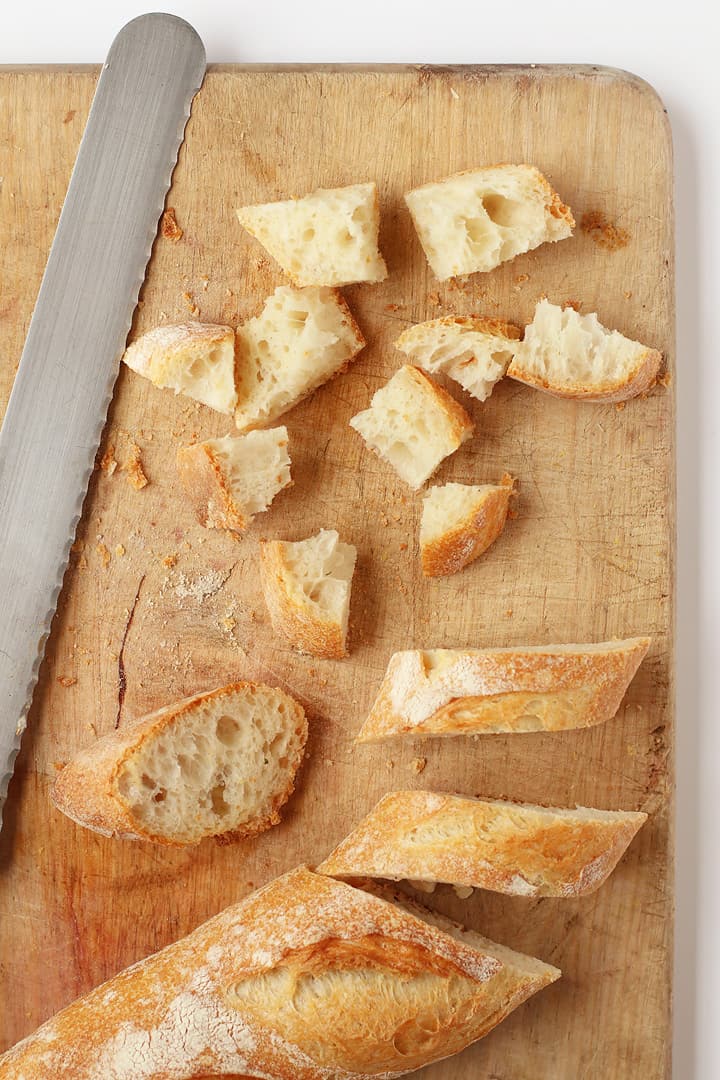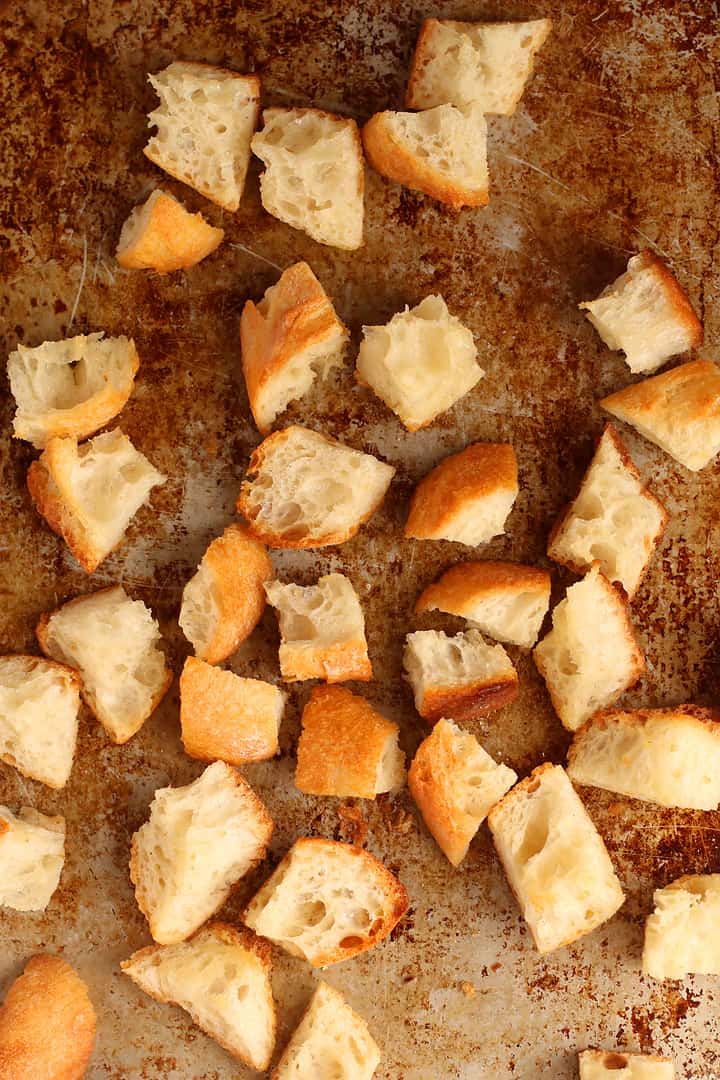 The other ingredients you will need to prepare are the homemade croutons and vegan ranch dressing.
How to MAKE THE HOMEMADE CROUTONS
You certainly don't need croutons for this recipe but they do add a lovely flavor and crunch!
These croutons are made with a rustic baguette that is chopped into 1″ pieces and tossed in olive oil and salt. They are then baked at a high temperature until the croutons are golden and crunchy.
STORING THE HOMEMADE CROUTONS
This recipe calls for 2 cups of croutons. However, why not just turn your whole loaf into homemade croutons?
If you do that and want to store them, they should cool completely before putting them in an airtight container. Keep them at room temperature and they will stay crunchy for 4-5 days.
What to do with leftover croutons? Make sure to try out this Creamy Dreamy Vegan Tomato Soup.
How to Make Vegan Ranch Dressing
I also used my easy ranch dressing to dress the salad in a creamy, garlicky sauce that perfectly counters the flavors of the bacon.
To make the homemade ranch, you need to:
Whisk together soy milk and apple cider vinegar.
Blend garlic, chives, dill, and parsley until uniformly chopped.
Mix it all together until rich and creamy. 
Leftover Ranch Dressing can be stored in an airtight container in the refrigerator for up to 7 days.
ASSEMBLING THE VEGAN BLT SALAD
Once your tofu bacon is cooked and the homemade ranch is made, it's time to assemble your salad. Fill your plate with a bed of roughly chopped Romaine lettuce. Add tomatoes, tofu bacon, and homemade croutons. Top with vegan ranch dressing and serve.
Serve with Creamy Tomato Soup or Vegetable Noodle Soup.
MORE VEGAN SANDWICH RECIPES
Want more hearty vegan salad recipes? Then make sure to check out these additional AMAZING recipes:
But before you go, let's take a look at the recipe card below.