4-Ingredient Vanilla Spice French Toast
This simple vegan french toast is made with just 4 ingredients. Vanilla spiced flavored and topped with coconut whipped cream and fresh berries, this french toast is a delicious breakfast for all.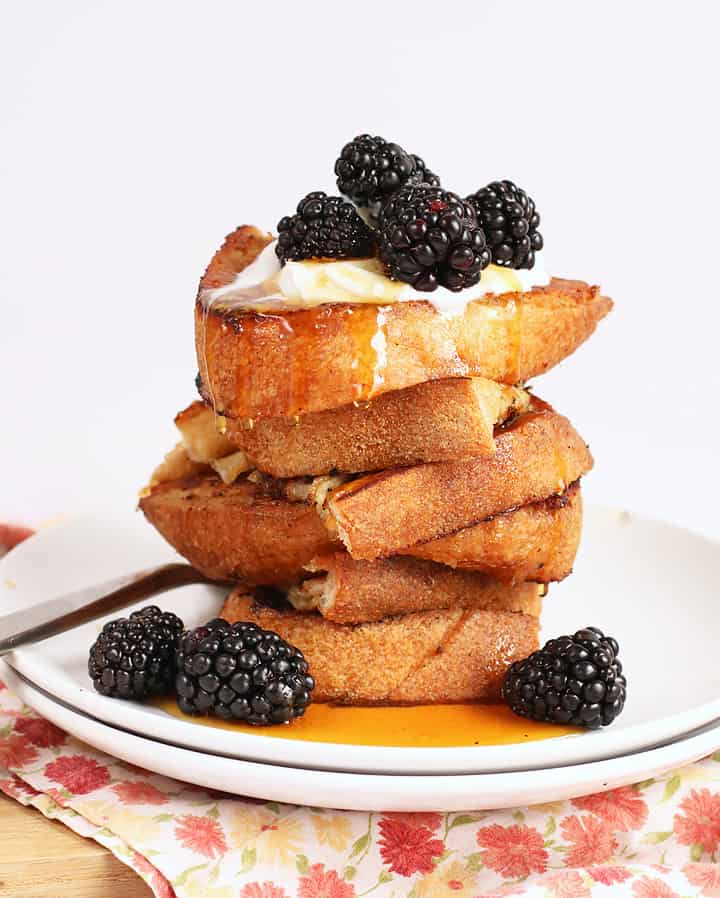 This post contains affiliate links. For more information please see my privacy policy.
This post is sponsored by REBBL. All opinions are 100% mine.

It's breakfast time!
Sweet Vanilla-Spiced Vegan French Toast, to be exact. I'm not much of a sweet breakfast eater myself (I ALWAYS prefer a savory breakfast over sweet) but I am a sweet breakfast expert. For the past 5 years, I have been making pancakes, waffles, or French Toast almost weekly for my kids who believe there is no better way to wake up than with a plate full of syrup-topped pastries.
French Toast is actually in the rotation least often, but I have no idea why. It's sweet, custardy, lightly fried, and covered with coconut whipped cream and berries. What's not to love?

WHAT IS FRENCH TOAST?
Typically French toast is made by dipping bread into a custard made of eggs and milk. The custard absorbs into the bread and then is fried in oil or butter for a delicate and delicious breakfast. I mean, a custard-coated, slightly sweetened, maple syrup-doused fried breakfast.
What's not to like?
---
HOW TO MAKE VEGAN FRENCH TOAST
Step One: Find the Perfect Egg Replacer
With the custard playing such a significant role in the flavor and texture of French toast, finding the perfect egg substitute that mixes with the milk and creates the custard-coating is essential. After a quick look through my Guide to Replacing Eggs in Nearly Everything my go-to options usually are:
Chia Seeds
Silk Tofu
Agar Powder
Flax Seeds
However, this vegan french toast is inspired by one of my favorite new companies, REBBL, a company focused on whole, healthy, plant-based drinks using some of the finest Roots, Extracts, Berries, Barks, and Leaves. Get it?! I first learned about REBBL through another blogger and was immediately intrigued. Not only did everything REBBL offered sound totally delicious AND super beneficial to the body, they are also the kind of company I stand 100% behind.
REBBL is committed to our planet & those living on it. For that reason they:
use 100% organic, whole food ingredients
use fair trade and sustainability practices
create plant-based drinks that are high quality and filled with beneficial super-herbs
gives backs to support regions of the world that are most vulnerable to exploitation
But that's not the only reason I love REBBL. Beyond all that, they have found a way to make healthy and down-right delicious proteins and elixirs – like, the best I've ever had, friends!
I used REBBL's Vanilla Spice Protein for this vegan french toast recipe. The Vanilla Spice is packed with protein, 16 grams, as well as super-herbs such as maca, ashwaganda, and reishi for added health benefits such as healthy hormone balance and energy levels, stamina and endurance, and enhanced relaxation – just the things that could benefit every new mom. I also use chickpea flour in this recipe. This boosts up the protein a bit more and makes a great, whole-food egg replacer for the french toast batter.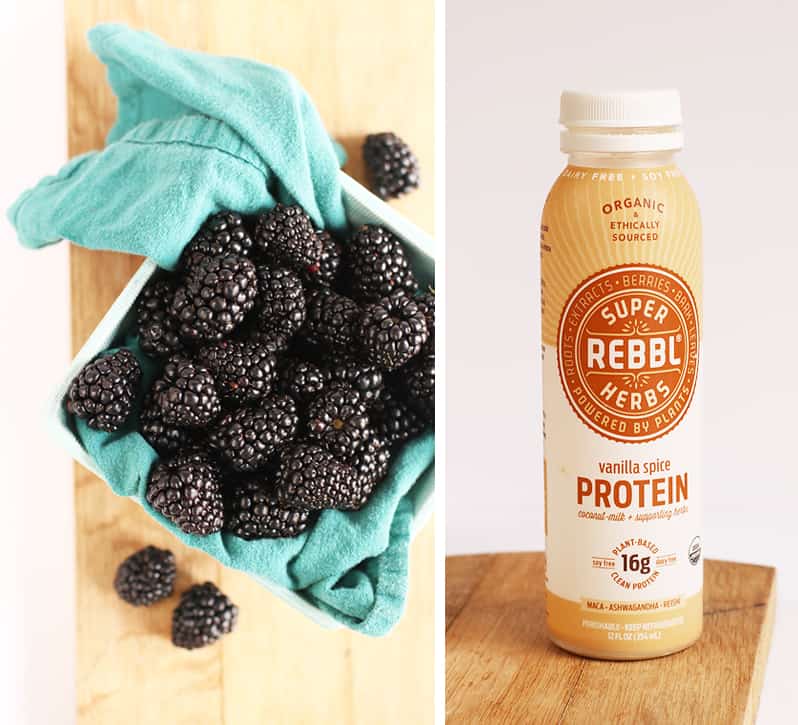 Step two: Cook the French Toast
Once your French toast is completely coated in your chickpea flour/Vanilla Spice custard, it's time to cook it!
When cooking French Toast you are trying to get both sides of the toast browned while making sure that the center is cooked. This can be difficult so it's important to be able to get your temperature just right. I have found that setting my electric griddle to 350F has given me the best results.
While an electric griddle is not completely necessary for French toast, I highly recommend one. Electric griddles are fairly cheap. This is the one I use: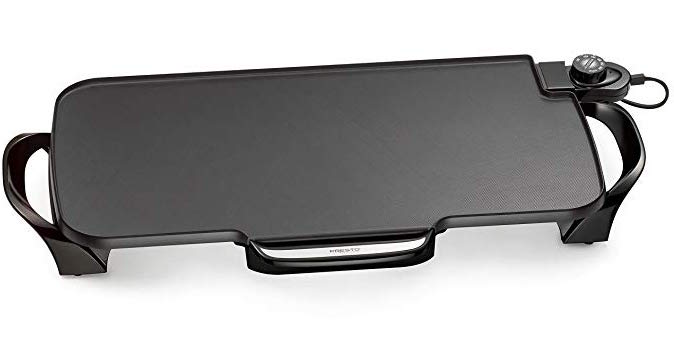 Which is under $40 on Amazon and it's something I use nearly weekly.
With the electric griddle, I can make all the French toast (or pancakes) at once (rather than in batches) and get the luxury of setting the temperature to exactly what I want. That means not having to worry about the French toast burning. However, if you don't have an electric griddle, you can do this on a skillet. It may involve trial and error in terms of getting the right temperature.
When the French toast is placed on the griddle, it should immediately sizzle. This fries the custard and creates a delicate crust around the French toast. The toast cooks 3 to 4 minutes per side until they are golden brown with dark flecks and soft and chewy in the middle.
Sound easy? It is!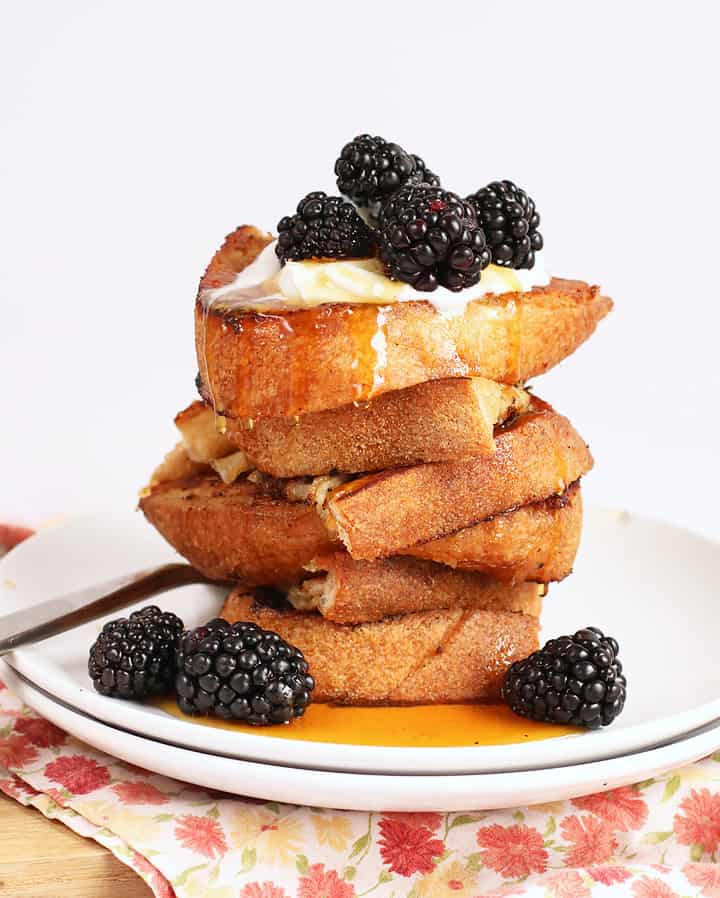 SERVING THE FRENCH TOAST
The French Toast should be served immediately. If it sets too long, it will get cold and soggy. Serve it with fresh berries, coconut whipped cream, and maple syrup.
Serve this French Toast as part of your Easter or Mother's Day brunch along with some vegan scrambled eggs and a Bloody Mary.
---
TIPS AND TRICKS FOR MAKING THE PERFECT VEGAN FRENCH TOAST
It's good for your bread to be a little bit stale. This helps the French Toast hold together when dipped in the custard. You can either buy French bread and let it sit for a day or two or lightly toast your bread before submerging it in the custard.
I do recommend chickpea flour for this recipe. However, if you can't find chickpea flour at your grocery store, you can pick some up online. Otherwise, a flax egg works great for this recipe as well.
This recipe works best when cooked on a griddle. This ensures an even and consistent bake giving the French toast the lightly crispy crust with a soft and chewy middle.
Top your French toast with fresh berries, coconut whipped cream, and maple syrup.
That's it! Your step-by-step guide to making the perfect vegan French toast. Now let's take a look at the recipe below.

Vanilla Spice Vegan French Toast
This simple vegan french toast is made with just 4 ingredients. Vanilla spiced flavored and topped with coconut whipped cream and fresh berries, this french toast is a delicious breakfast for all.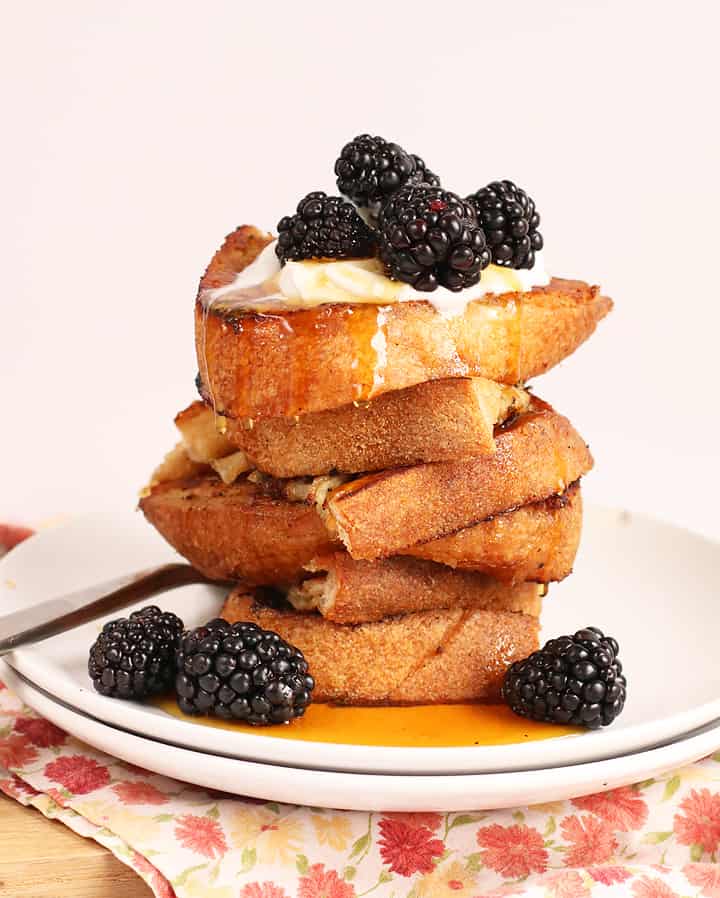 Course:
Breakfast
Cuisine:
French
Keyword:
Vegan French Toast
Servings
:
4
servings
Calories
: 315 kcal
Author
:
Sarah McMinn
Ingredients
French Toast
1

loaf French Bread cut into 1" slices

1

bottle 12 ounces REBBL Vanilla Spice Protein

1/3

cup

chickpea flour

1-2

tablespoons coconut oil
Toppings
fresh blackberries or peaches
Instructions
Preheat a griddle or skillet over medium heat. Add 1 tablespoon of coconut oil.

In a small bowl whisk together chickpea flour and the Vanilla Spice Protein until the flour has dissolved completely. Pour into a shallow dish and place sliced bread in the batter so that one side of the bread is completely submerged. Allow the batter to soak into the bread for 30 -45 seconds, flip and soak for another 30 -45 seconds.

Once the griddle is hot - it should sizzle with a drop of water - place the soaked bread, 2-3 pieces at a time, onto the griddle. Cook about 3-4 minutes per side, until golden brown and speckled.

Top with coconut whipped cream, maple syrup, and fresh fruit and serve immediately.
Nutrition Facts
Vanilla Spice Vegan French Toast
Amount Per Serving
Calories 315
Calories from Fat 45
% Daily Value*
Fat 5g8%
Sodium 442mg19%
Potassium 193mg6%
Carbohydrates 53g18%
Protein 12g24%
Calcium 42mg4%
Iron 3.6mg20%
* Percent Daily Values are based on a 2000 calorie diet.
If you give this recipe recipe a try, snap a photo and share it on Instagram. Make sure to tag
@mydarlingvegan
so I can see your creations!