This vegan coffee ice cream is cashew-based making a creamy and decadent frozen vegan dessert. Made with cardamom and cinnamon for a Turkish Coffee twist.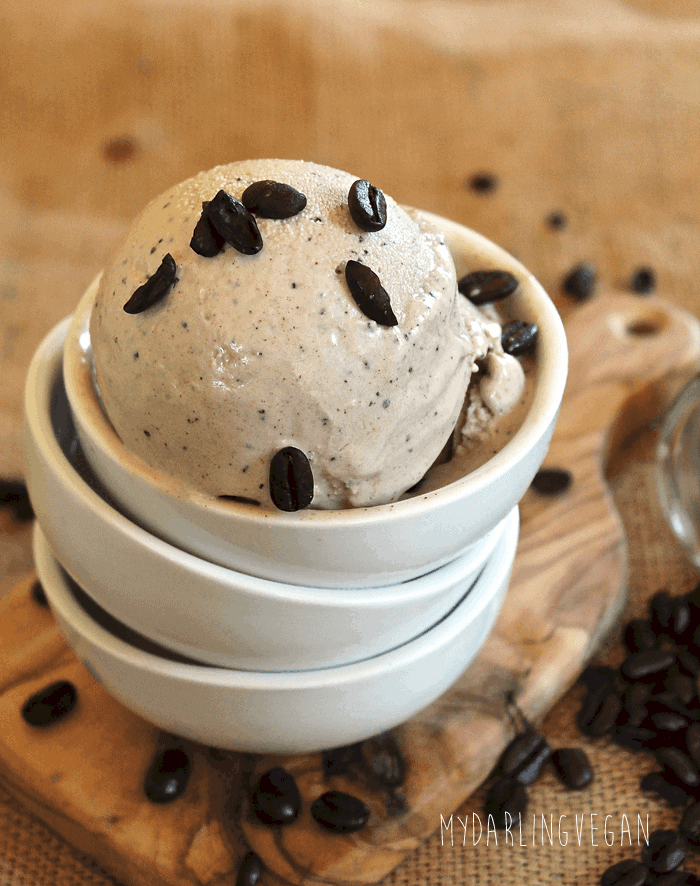 Disclosure: This post may contain affiliate links.
For many there is still a lot of mystery behind what vegans eat. I have been offered fish more than once yet asked, "can vegans eat peanut butter?" just as many times. There actually isn't much secret behind what we eat, and preparing food is really quite easy - you just leave out the animals.
I'm using Vegan MoFo to take an A-Z trip through my pantry to bring you 26 easy recipes to show you that anyone can cook vegan. Eating vegan, well, it's as easy as ABC.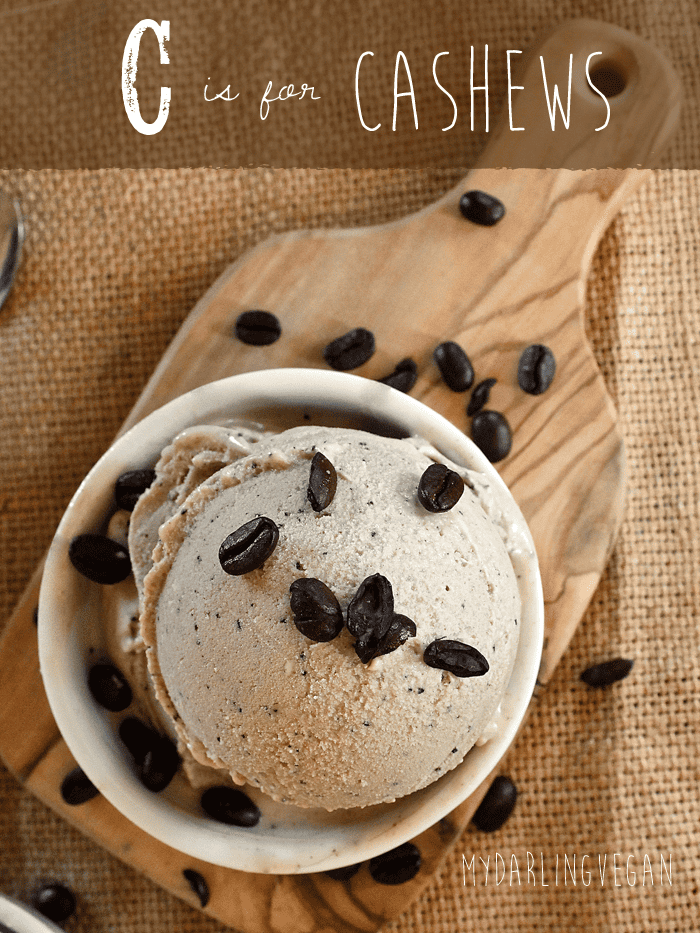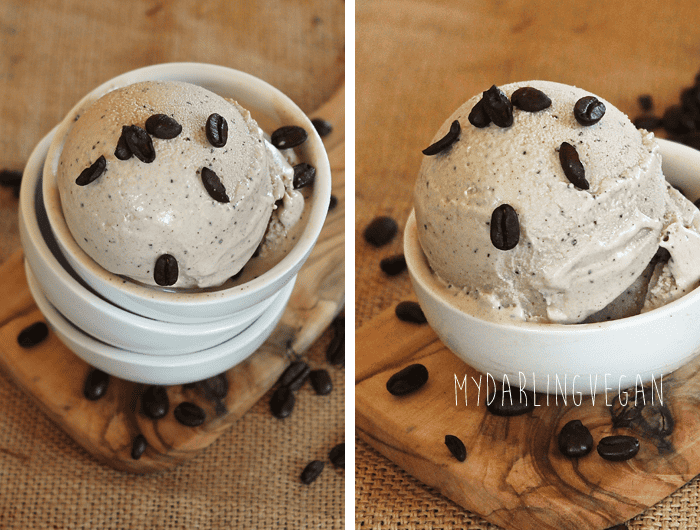 As I mentioned yesterday, today I'm featuring one of my all time favorite ingredients: cashews. This nut is amazing.
Back in 2006, just a couple months after going vegan, I ate my first (ever) creme brulee. When I found out that this creamy & decadent custard was made out of cashews, I was utterly confused. But cashews are...nuts. (This was also before I understood the power behind the Vita-Mix.) For years after that initial creme brulee I longed to try this cashew-based custard thing again but it still felt so bizarre that I assumed it was equally complicated.
Yet, as with so many things, I was wrong. Cashew-based desserts are some of the easiest desserts to make and they are the perfect substitute for custard dishes (ice cream, cheesecakes, creme brulee, etc.) because of the creamy fatty texture ready to soak in any flavor.
This vegan coffee ice cream is my current obsession and perfect for those warm September days when you want it to be fall but it's still technically summer so you find something that celebrates both. Turkish coffee is a method of preparing coffee that is very popular in the Middle East. I imagine it first came out of Turkey, but I discovered it while traveling in Egypt.
It's a coffee made with by boiling finely ground coffee beans, sugar and cardamom. This method allows the ground coffee to settle at the bottom of the tiny cup, creating a strong and bold flavor that is then sipped slowly making coffee drinking a relaxing & luxurious experience - much different than the way I down cup after cup of coffee here in the United States.
Every day Jason and I would inevitably end up at an outdoor cafe sipping turkish coffee and smoking hookah, chatting about life and observing others. Before we left Egypt we asked someone where we could buy turkish coffee to take home with us. These were the instructions given to us:
"Walk down this street for about 10 minutes.
Turn a sharp right the very busy corner. (that's every corner in Cairo)
Walk a few more minutes then you will smell it."
Jason and I thought the instructions were bizarre and followed them skeptically but sure enough, our noses led us to a little shop, no bigger than a food truck, filled with coffee beans and cardamom, and bags and bags of freshly ground, deliciously intoxicating turkish coffee.
It will be a long time until we are able to go back to Egypt and share some of those fantastic memories with our children, but every time I smell the spices of cardamom, coffee, and cinnamon (wow, I really covered my bases with the letter "C") I think back to that month in Egypt - before life was so full that sitting down became an unnecessary luxury and thought of rather as day well spent.
Until then, Vegan Coffee Ice Cream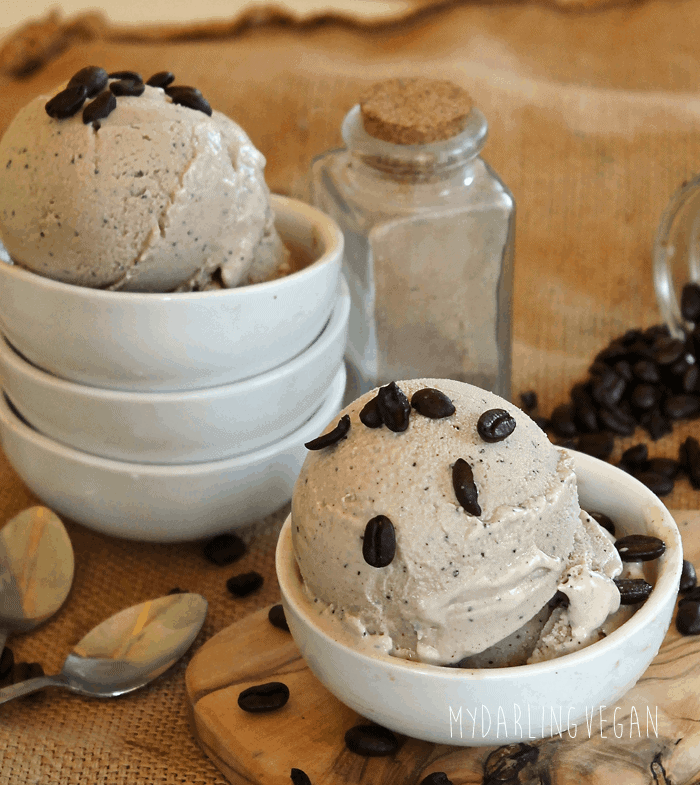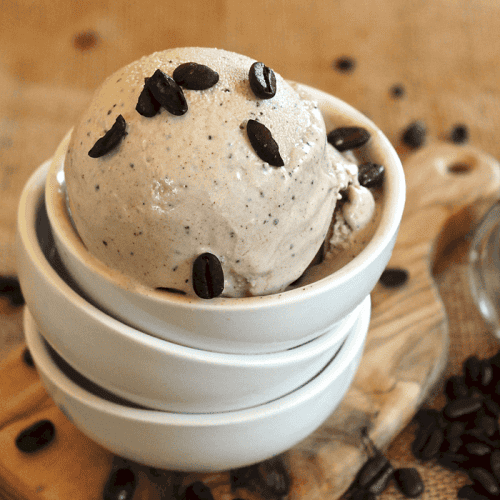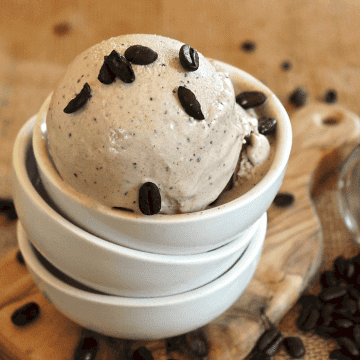 Vegan Coffee Ice Cream
This vegan coffee ice cream is cashew-based making a creamy and decadent frozen vegan dessert. Made with cardamom and cinnamon for a Turkish Coffee twist.
Print
Pin
Rate
Ingredients
1 ½

cup

cashews,

soaked 4-6 hours

1

cup

almond milk

1

cup

brewed coffee

½

cup

sugar

2

teaspoon

vanilla extract

1

tablespoon

corn syrup

2

tablespoon

coconut oil,

melted

¾

teaspoon

cinnamon

½

teaspoon

cardamom

¼

teaspoon

salt

1

tablespoon

finely ground coffee
Instructions
Drain and rinse the cashews. Place cashews and almond milk into a

high-powered blende

r and blend until completely smooth.

Add all the remaining ingredients EXCEPT the ground coffee and blend together until well combined. By hand mix in the ground coffee then transfer to a shallow container and let the ice cream base chill all the way through (about 2 hours).

When the ice cream is thick and creamy transfer it to a

loaf pan

, cover, and allow to freeze all the way through.

Allow ten minutes to thaw before serving.
Nutrition
Calories:
227
kcal
|
Carbohydrates:
22
g
|
Protein:
4
g
|
Fat:
14
g
|
Saturated Fat:
4
g
|
Sodium:
118
mg
|
Potassium:
174
mg
|
Fiber:
1
g
|
Sugar:
16
g
|
Vitamin C:
0.1
mg
|
Calcium:
49
mg
|
Iron:
1.6
mg
This post contains affiliate links.
Looking for more cashew-based desserts? Make sure to check out my raw desserts ebook, In the Raw.

new to my darling vegan?
sign up for email updates
and find me on facebook, twitter, & instagram
If you give this recipe recipe a try, snap a photo and share it on Instagram. Make sure to tag
@mydarlingvegan
so I can see your creations!