A Tomato Basil Bruschetta made with cubed vegan cheese, cherry tomatoes, and fresh basil. A refreshing and delicious appetizer that everyone can enjoy. Made with just 4 ingredients in only 10 minutes!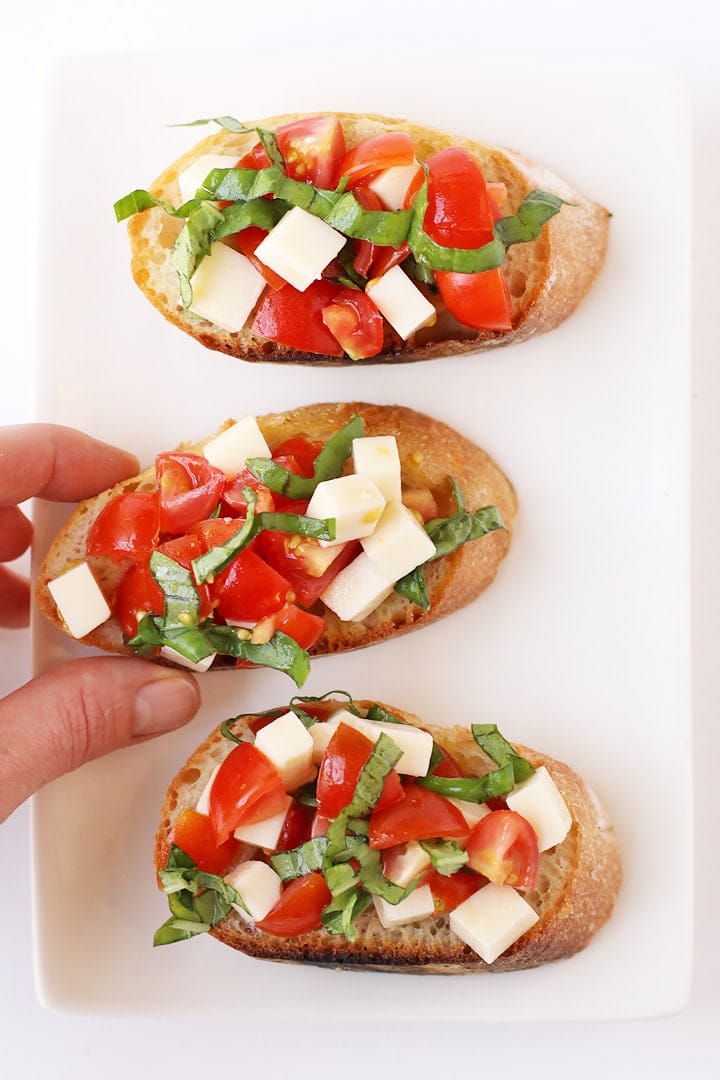 This post is sponsored by Go Veggies. All thoughts and opinions are, as always, my own.
Are your tomatoes ripening yet?
While my Roma tomatoes are still a week or two away from being ready to harvest, my cherry tomatoes have finally started producing bright red fruit. So exciting! To help celebrate the arrival of my favorite late summer vegetable, I am sharing a new recipe:
Tomato Basil Bruschetta y'all!
This Tomato Basil Bruschetta is a simple recipe bursting with fresh flavor and delicious textures, making it the perfect appetizer to share at your next party this summer.
And the best part?
It is made with just 4 ingredients and in only 10 minutes!
Since this recipe has so few ingredients, it's necessary that we choose only the best.
This first step to this Tomato Basil Bruschetta is finding the perfect tomatoes.
When buying from the store (or picking them off the vine), look for tomatoes that are bold in color, firm, and fragrant. The tomatoes should feel like they are nearly bursting with juices when you press them lightly the between your fingers.
When storing your tomatoes, it's important to remember that they should be kept at room temperature. This keeps the tomatoes flavor vibrant and texture bright and juicy (rather than that gross mealy texture we've all unfortunately experienced before). However, with the heat of summer, tomatoes don't last long at room temperature. For that reason, make sure you are getting the ingredients for this recipe no more than 3 days before you plan on serving the bruschetta.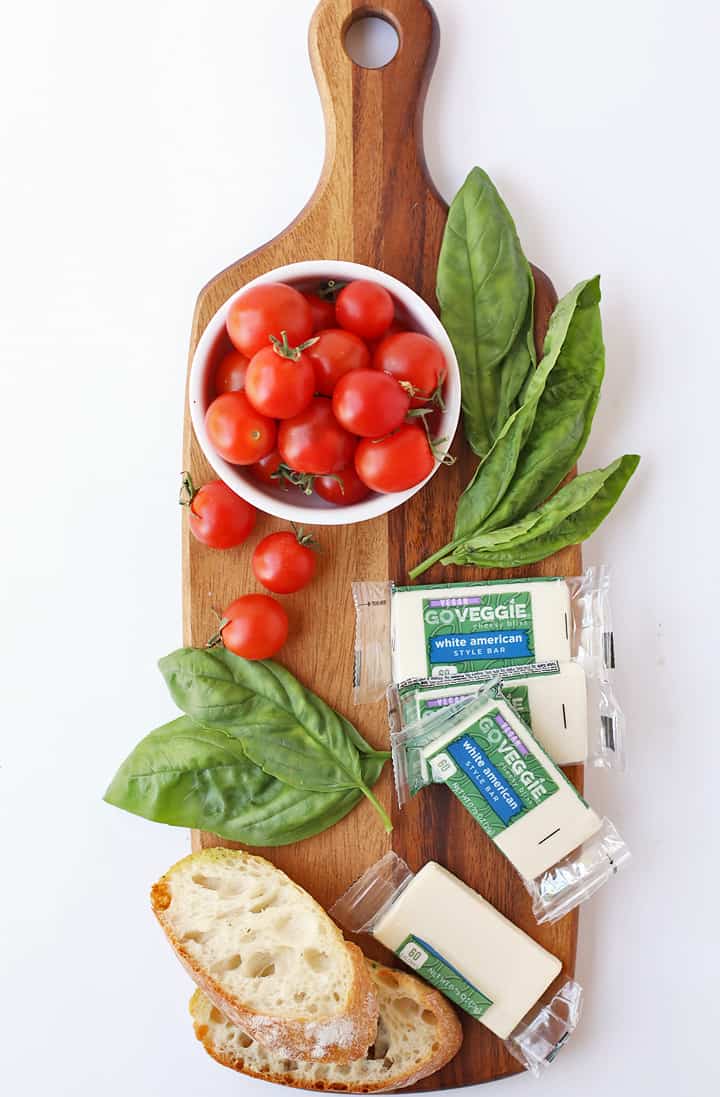 Next we want to find the freshest basil.
Look for basil with vibrant green leaves that are boldly fragrant and are without brown spots or small holes. This basil will have the freshest and strongest flavor.
You'll want to store your basil like a bouquet of flowers. Trim the stems and place them in a glass of water. While most herbs want to be stored in the refrigerator, basil, like tomatoes, should be kept at room temperature.
To prepare the basil, wash it just before using and blot it with a dry towel. To slice the basil, stack several leaves on top of one another and roll it into a loose cylinder. Slice the cylinder lengthwise, forming thin strips.
Lastly, we want to choose the perfect vegan cheese.
As far as the vegan cheese, I choose Go Veggie's White American Bars. I love Go Veggie, a company dedicated to promoting healthier lifestyles by providing delicious plant-based cheese alternatives. Their cheeses have more calcium, equal protein, less fat and less calories compared to dairy cheese. Their mission – to help cheese lovers enjoy all their favorite cheesy foods and feel great about it.
Go Veggie's White American Bars are made from coconut oil for a non-GMO, no cholesterol, vegan alternative. Each bar is only 60 calories, with 35% less fat than dairy cheese, and is gluten and lactose free. These bars are new to the market and already one of my favorite grab-n-go snacks.
And, of course, the best option for this Tomato Basil Bruschetta.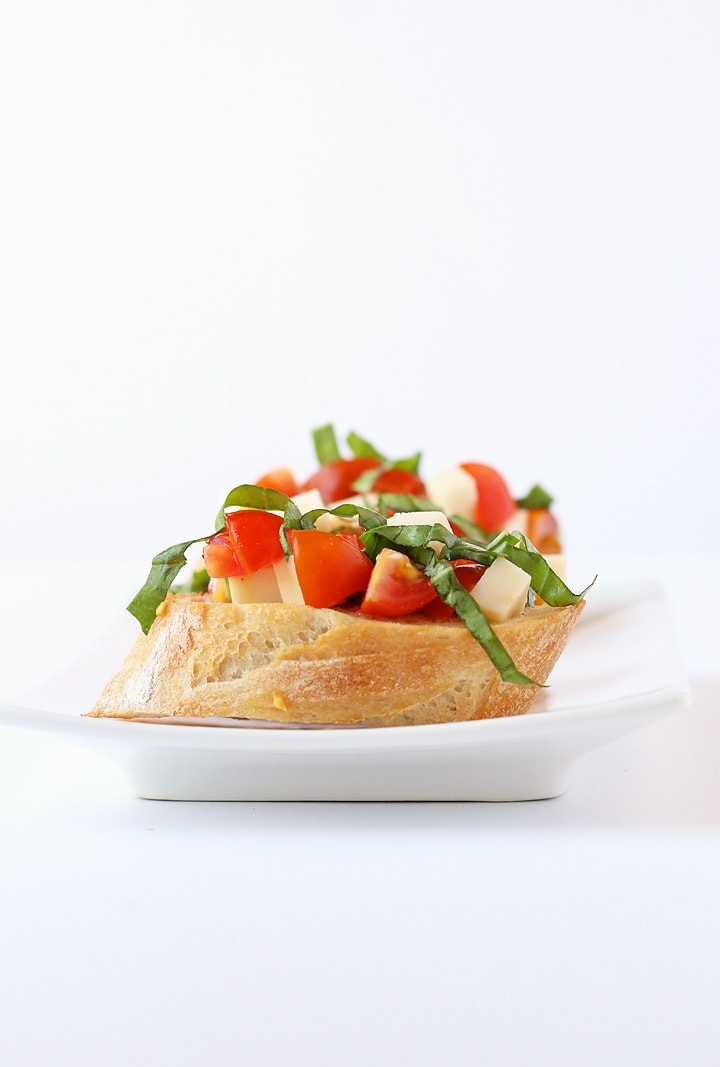 Now all you need is an artisan crusty baguette from your local bakery and you're all set to make this Tomato Basil Bruschetta. If you're wanting to get a little fancy, drizzle it with a little bit of Balsamic Reduction before serving. So good!
Do you have 10 minutes?
Then let's whip up a batch of this Tomato Basil Bruschetta pronto!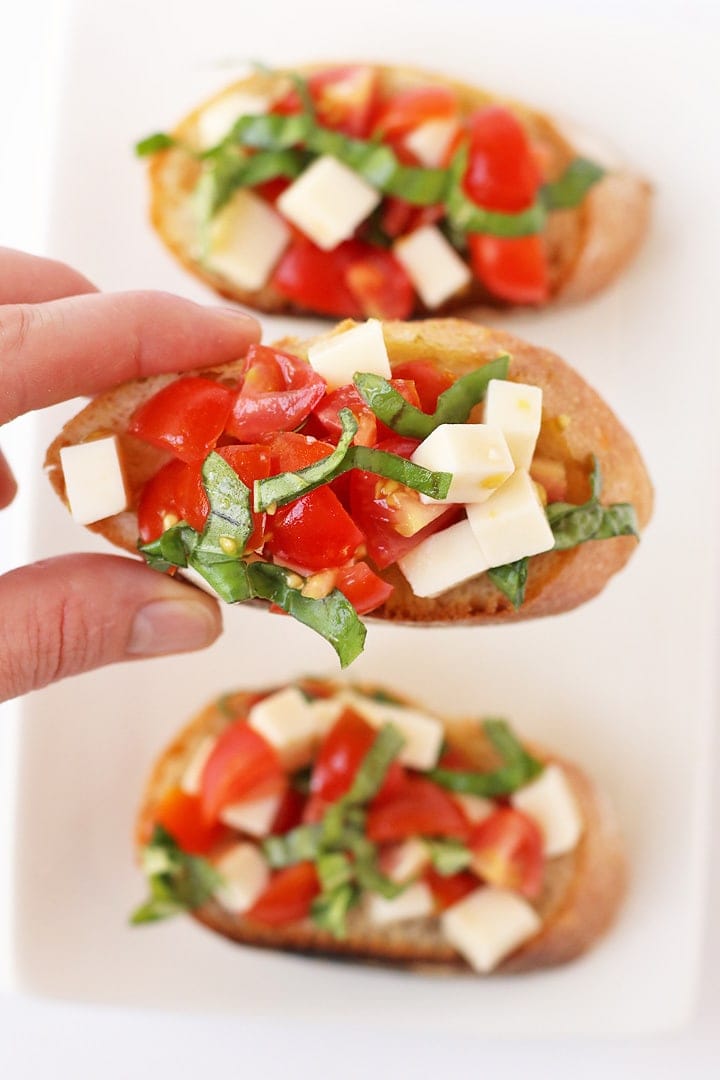 Tomato Basil Bruschetta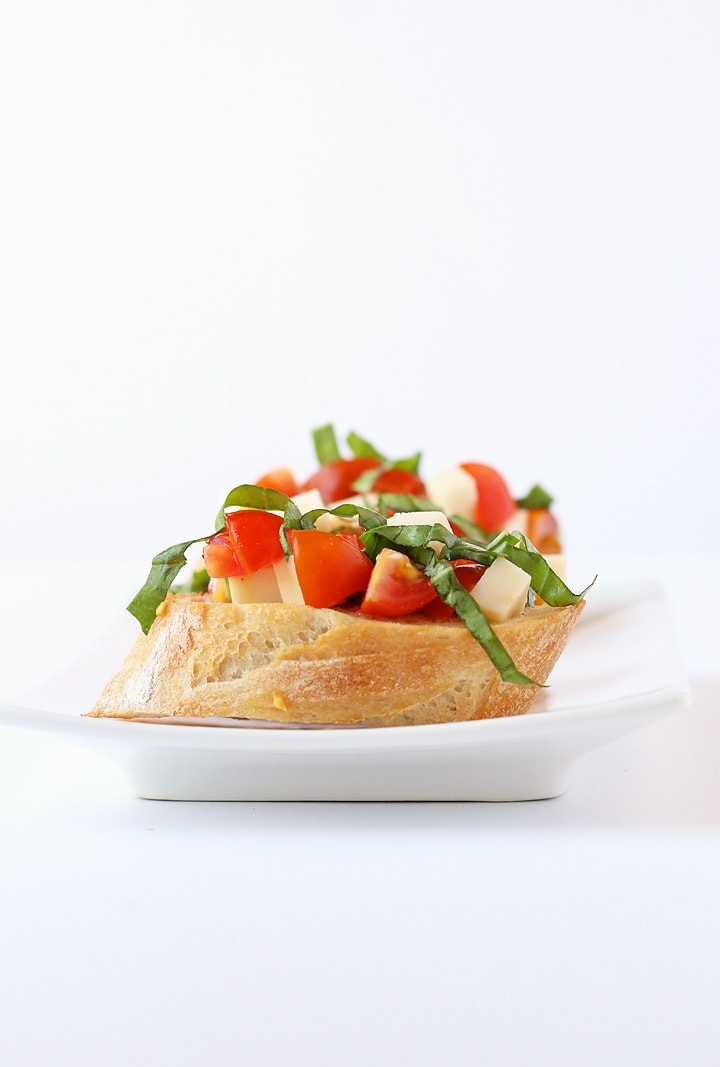 A Tomato Basil Bruschetta made with vegan cheese cubes, cherry tomatoes, and fresh basil. A refreshing and delicious appetizer that everyone can enjoy. Made in just 10 minutes!
Keyword:
Tomato Basil Bruschetta
Instructions
Preheat oven to 450 degrees F. Slice the baguette into 1" slices and lay flat on a baking sheet. Bake for about 10 minutes until crispy and slightly brown around the edges. Remove from oven and let cool.


Meanwhile, in a small bowl combine the cherry tomatoes, cubed cheese, fresh basil, and salt. Taste and adjust seasoning.

Once bread is cool, spoon 1-2 heaping tablespoons of tomato basil mixture onto each baguette. Repeat until all of the baguette is used. Serve immediately.
Recipe Notes
This can be made several hours ahead but the bruschetta should not be assembled until ready to serve. 
Nutrition Facts
Tomato Basil Bruschetta
Amount Per Serving
Calories 30
Calories from Fat 9
% Daily Value*
Total Fat 1g 2%
Sodium 43mg 2%
Potassium 40mg 1%
* Percent Daily Values are based on a 2000 calorie diet.
This post contains affiliate links. Please see my privacy policy for more information.
If you give this recipe a try, let us know what you think in the comments below. Or snap a photo and share it on Instagram. Make sure to tag @mydarlingvegan so I can see your creations!