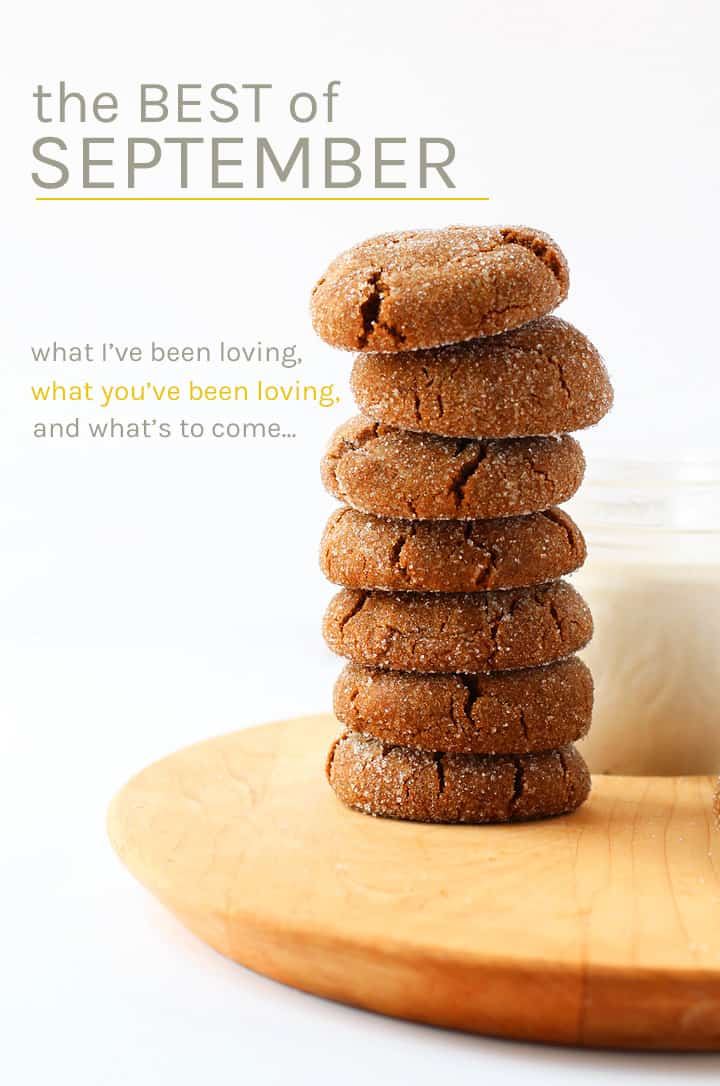 This post contains affiliate links. For more information read my privacy policy.
Life is too damn fast and as I get older, it just keeps speeding up. With each precious month that passes us by, I want to take a moment to pause and reflect on the life that occurred.
And so, as I mentioned earlier this week, I'm starting a new thing here on My Darling Vegan. A monthly pause-and-reflect.
These monthly pause-and-reflects will be a chance for me to share what I've been doing, drinking, eating, reading, and loving the past few weeks as well as revisiting YOUR favorite recipes of the month. Then I'll wrap up with a little preview into what's to come. I'm excited about these monthly pause-and-reflects as it gives me a chance to touch in with you all and share a little more of me than just the recipes I create.
So let's get started.
September Highlights
I absolutely love September. The weeks of late summer and early fall are simply magical as the leaves start to change, the mornings become crisp and cool, and the evenings are filled with open house schedules and children's reading routines. This is also the time of year that I put on my apron (okay, I don't actually even own an apron, but if I did it would be this one), grab my whisk, and bake. Oh my, have I been baking!
But that's not all I've been up to this September.
What I've been…
Doing – This month I got to take a trip to Minnesota for a few days to see some of my dearest and oldest friends from college. It was a wonderful chance to catch up, get deep, have laughs, and listen to each other's power theme songs. Do you have a power theme song list yet? If not a) you should and b) you can use mine in the meantime.
Drinking – I've finally given up on caffeine all together; my body just can't take it. But that's all right! I've been enjoying my Caffeine-Free Chai Lattes nearly every day. With Rooibos Tea – this is my brand – I'm making Chai Lattes better than ever. I love the way that Rooibos blends with the spices of chai and, with my trusty milk frother, I have everything I need to be making chai tea lattes at home for only a fraction of the price.
Eating – Pumpkin, pasta (usually combined), soups, a lot of tofu scrambles, and this Maple Bourbon Chili. And of course, all the baked goods. All of them.
Exercising – Exercise keeps my mind clear and for that reason I make it my goal to practice yoga daily. I do my yoga at home through my favorite yoga app, Yoga Studio.
This app is incredible! With easy-to-follow audio instructions, you DON'T need to be watching your phone to follow along. The app comes with many different classes that allow you to optimize your training and, the best part, the classes are completely customizable! That means I have created my own routines which I change up whenever it's time to focus on a new skill set. As you can tell, I'm a huge fan! Check it out by clicking the Yoga Studio App in the menu bar.
Reading – I've been slowly – oh so slowly – reading The Whole Brain Child by Doctors Daniel Siegel and Tina Payne Bryson. It's been a great book on positive and helpful ways to nurture children while reframing difficult moments as "teaching moments" and, in doing so, building up their self esteem and confidence as their brains continue to develop. I've also been re-reading one of my favorite book, The Magical Art of Tidying Up as I prepare myself for a new chapter that I'm getting close to embarking on…more on that later.
Loving – Life is good, my friends. Like really and truly good. After going through the most difficult season and barely surviving the past 3 years of single parenting, I didn't know that I could feel so uplifted and excited. From the darkest moments, this life has become so beautiful and good. Sometimes it's the pain that puts those things in perspective and for that, I embrace ALL of the pain from the past 3 years fully. What am I loving? I'm loving life – as hard and good as I know how.
YOUR Favorite Recipes
From left to right/top to bottom
Get all the recipes from this past month here.
What's Coming Next?
Next month on the blog is going to be a good one! Here's just a few pictures of what's to come…
With October just around the corner, it's going to be SO tasty in My Darling Vegan's kitchen. Make sure never to miss a recipe by signing up for my newsletter and getting weekly recipes straight to your inbox!
Thanks for being part of this lovely September!
xo, Sarah
What do you think of these monthly updates? Let me know in the comments below!