Sorbabes Gourmet Sorbet Review
This post is sponsored by Sorbabes. All thoughts and opinions are 100% mine.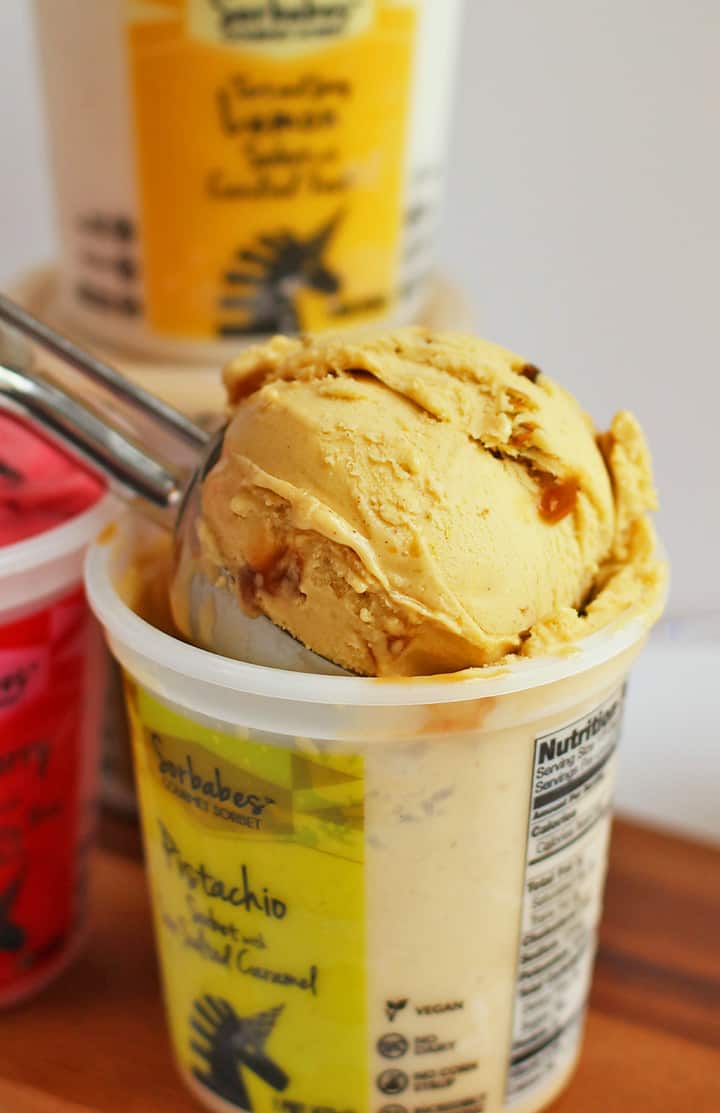 You should know by now, through my random musings and confessions, that I would never lead you astray. People in my life might tell you I'm honest to a fault, and I would certainly agree that my need to make sure that everyone knows exactly what is on my mind at all times has gotten me in some sticky situations.  It's just part of my charm…right? I tell you this because I want you to know how serious I am about the next thing I'm going to say.
Ready?
My friends, I have tasted THE BEST frozen dessert on the market, the unicorn of vegan sweet treats, and I'm going to tell you all about it.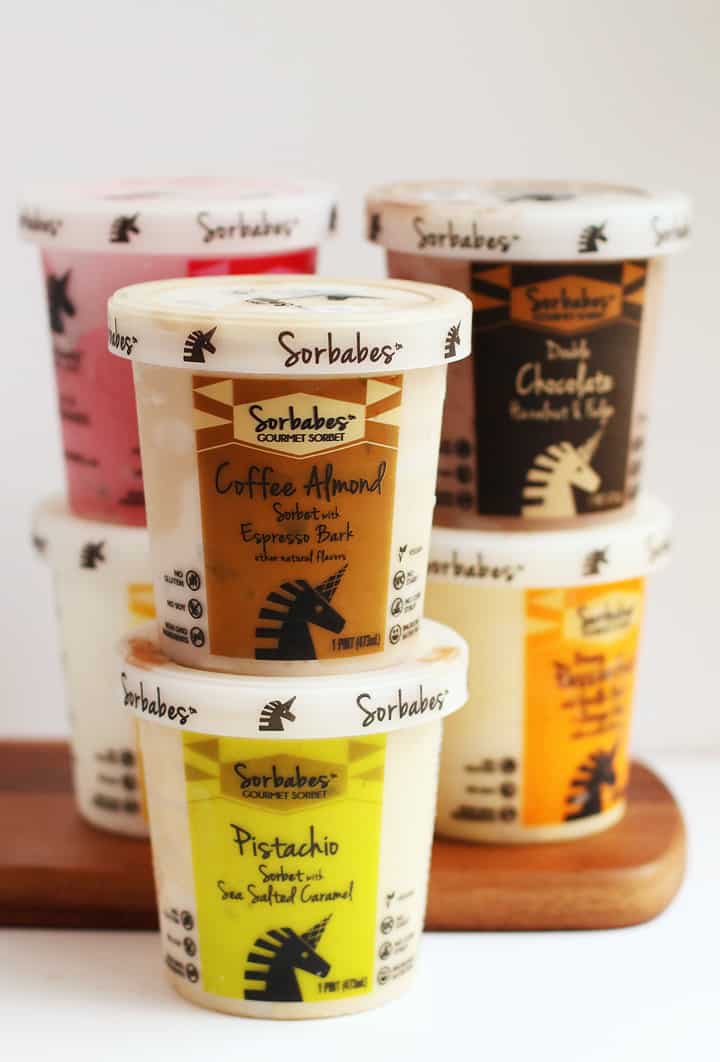 What is Sorbabes! 
The incredible New York-based gourmet dessert company with sorbets that eats like the creamiest ice cream I've ever had and flavors that are out of this world. I mean, look at that Pistachio with Sea Salted Caramel.
Sorbabes was founded by two women, Nicole and Deborah, who set out to make a dessert that aligned with their lifestyle – fun, light-hearted, and healthful. They believe dessert should be part of a healthy lifestyle and when you indulge, to do it responsibly. They spread this mission through their sweet treats, making an incredible, no-compromise-to-taste dessert that is vegan, gluten-free, soy-free, non-GMO, and made from whole food ingredients.
Truly the unicorn of desserts.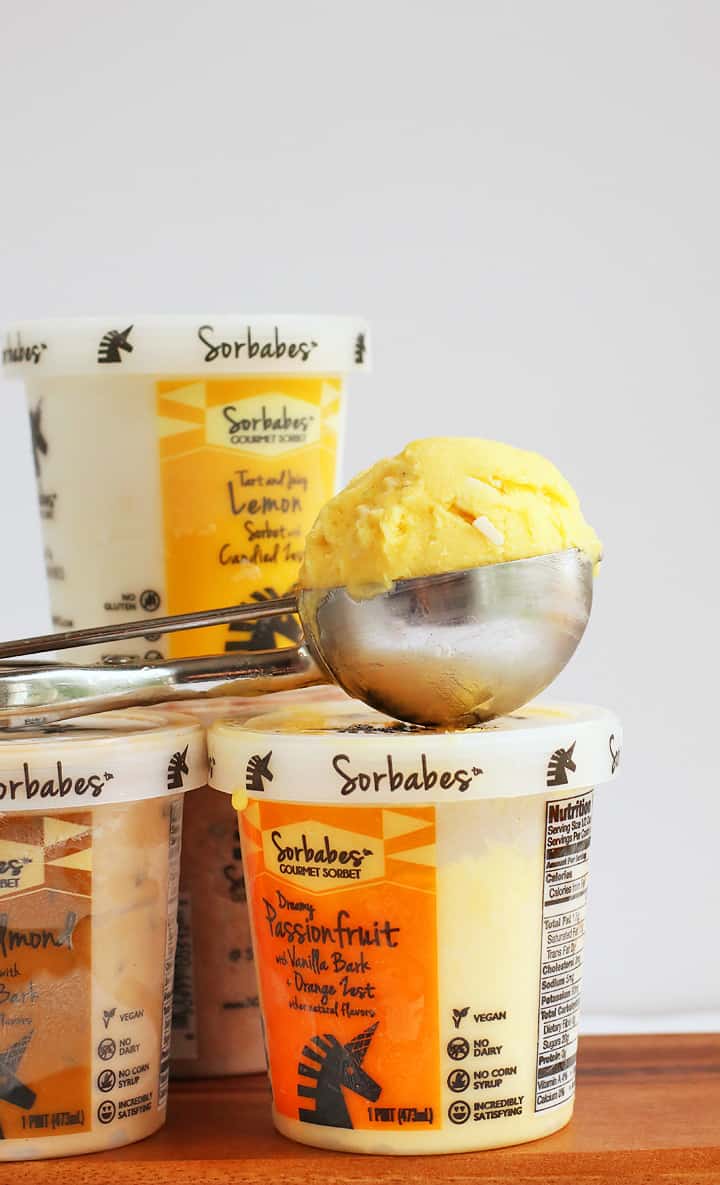 "It's not about being sexy or glamorous, it's about being beautiful from the inside out."
-Deborah Gorman, co-found of Sorbabes.
What Makes Sorbabes So Good?
Sorbabes believes that beauty starts from within by combining a joyful not-take-yourself-too-seriously attitude with a healthy lifestyle that understands how to indulge responsibly. That is the culture around Sorbabes and you can see that in everything from their website to their packaging, to the quality of their products.
All their sorbets start with a combination of water and whole food ingredients, either fruits or nuts, which keeps the flavors real and vibrant. Crafted to perfection, this method creates a rich and creamy dessert that eats just like ice cream. But that's not all! Sorbabes takes it a step further by mixing in gourmet toppings like espresso bark, candied zest, and salted caramel for a dessert experience you're going to want to have over and over again.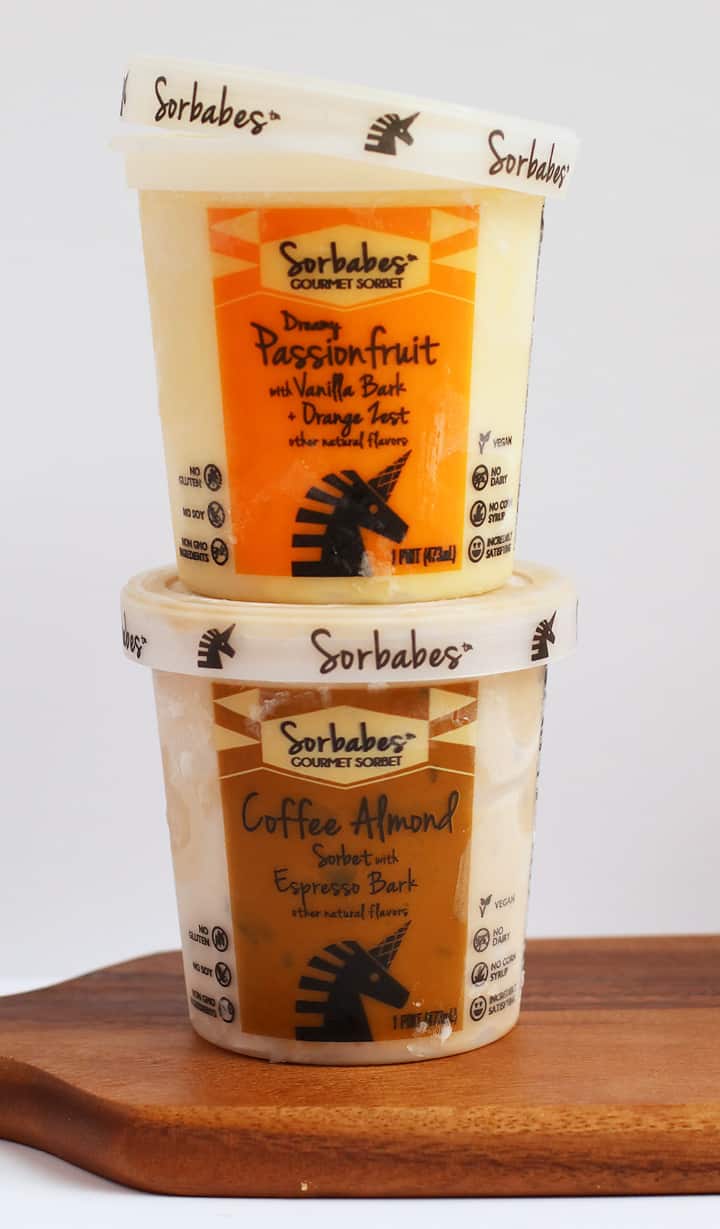 Sorbabes Vegan Sorbet Flavors
Sorbabes offers seven decadent flavors, which include:
Coffee Almond with Espresso Bark
Passionfruit with Vanilla Bark and Orange Zest
Pistachio with Sea Salted Caramel
Raspberry with Dark Chocolate 
Lemon with Candied Zest
Chocolate Hazelnut with Fudge Bits and Swirls
Peanut Butter Banana with Fudge Swirl
Pretty incredible, right?
What Does Sorbabes Taste Like?
The fruit flavors are what you would expect from a high-quality sorbet – creamy, rich, and fresh-tasting, made even better with gourmet mix-ins such as vanilla bark, citrus zest, and dark chocolate. For anyone who loves a good fruit sorbet, I HIGHLY recommend giving Sorbabes a try.
The nut-based flavors, my friends, are OUT OF THIS WORLD. Seriously, the creamiest frozen dessert I've ever tasted with intense real flavors. Rather than using nut milk, Sorbabes makes these sorbets from creamy nut butter. This creates the rich and creamy texture that makes Sorbabes stand out above all other non-dairy frozen desserts.
My personal favorite?
I would have to say it's a tie between the Coffee Almond with Espresso Bark and the Pistachio with Sea Salted Caramel, both incredibly decadent, rich, dark, sweet, bitter, salty desserts with the perfect balance of taste and texture. If you do one nice thing for yourself this summer, it would get your hands on some Sorbabes Gourmet Sorbet.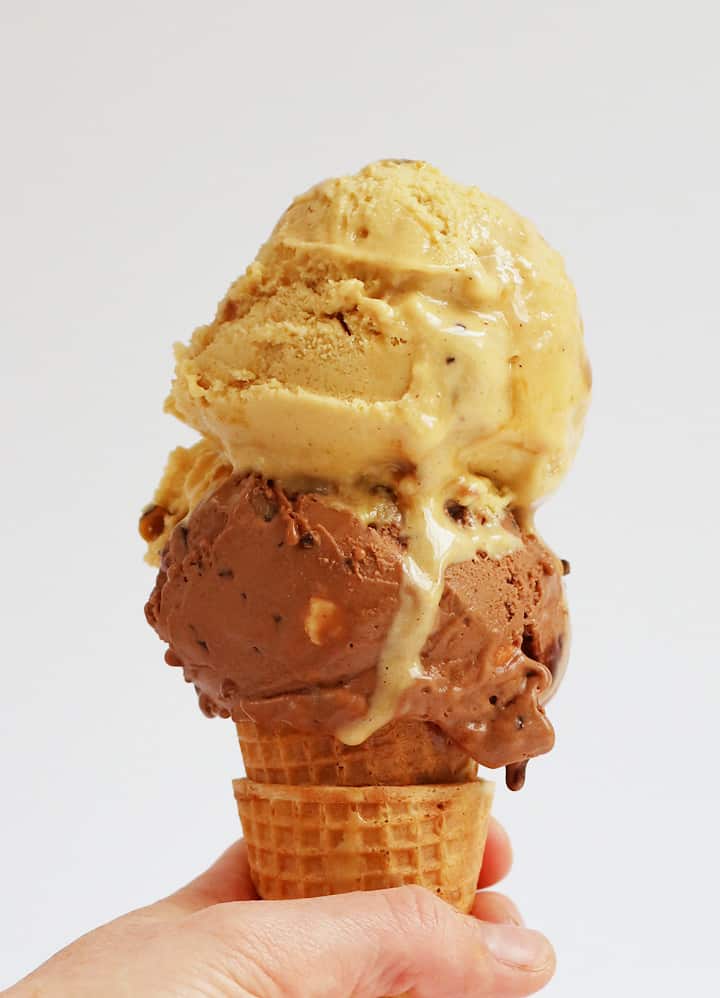 I mean look at that thing of beauty.
Where to find Sorbabes Vegan Sorbet?
You can find Sorbabes all over New York. They are also now selling in Portland (lucky me!) and Denver. And for everyone else, Sorbabes delivers anywhere in the continental US!
So have fun, be joyous, and indulge responsibility this summer with your favorite Sorbabes flavors. 
Written by My Darling Vegan
If you give one of these recipes recipe a try, snap a photo and share it on Instagram. Make sure to tag
@mydarlingvegan
so I can see your creations!