Vegan Chocolate Ice Cream Sandwiches with Salted Caramel
Vegan Chocolate Ice Cream Sandwiches with Salted Caramel between two homemade brownie cookies for the ultimate ice cream sandwich treat.
Today we're talking about Vegan Chocolate Ice Cream Sandwiches .
Awhile back I was asked in an interview, "if – and be honest – there was anything I missed since going vegan". My initial response to that question (an incredibly frequent question) was no. Nearly anything (and everything I would want to eat) can be made as good, if not better, with plant-powered foods. And I live a life of feeling fully satisfied with the enormous array of options before me.
But the interview stressed the "be honest" part and so I dug deep. I scoured the nooks and crannies of my mind in search of something that I really, truly missed and to my surprise I found myself saying:
"There is one ice cream shop in Portland that I hate walking by because it smells so good. It reminds me of summertime and childhood and the nostalgia gets me every time."
There was something special about this ice cream shop, something tantalizing about the aroma of freshly baked waffle cones and the creamy, unique, sweet-smelling flavors. I didn't like the feeling that I was "missing out"  because of my vegan diet and so I resolved to avoid walking by the shop on those blissfully warm summer afternoons.
I thought the problem was solved. But then Jason (who is not a vegan) discovered their newest flavor: Salted Caramel with Dark Chocolate and so, on a couple of occasions, we stepped into the alluring ice cream shop for Jason to order a scoop of it and for a brief moment I was a little bit envious.
Then something amazing happened.
The very best vegan/non-dairy ice cream company out there, Coconut Bliss, (read more about my thoughts on them here) came out with their own Salted Caramel and Chocolate Ice Cream. And living in Portland, home of all things vegan and just hours away from where all the Coconut Bliss magic happens, I found it sitting there on one the freezer shelves in my grocery store before it had even made it on the Coconut Bliss website.
Maybe they were placing the flavor in a few stores to see how it would sell before committing it to their product line, I do not know. If that is true, however, I may have single-handedly provided the evidence that this ice cream would be a hit. And I'm pretty sure that both my babies lived on this stuff in the womb. But, no, it couldn't have been all me. I am certain that everyone who laid eyes or placed tongues on this product fell as hard and as quick for this creamy, caramel-y, slightly salted ice cream specked with dark chocolate. And now it happily sits among prominently among their other 15 flavors of incredibly delicious and ingenious ice cream.
As I mentioned earlier, I've have the great pleasures to be working with Coconut Bliss right now and with the summer upon us, I thought I would make something special to welcome in the season: Vegan Chocolate Ice Cream Sandwiches with Salted Caramel.

Vegan Chocolate Ice Cream Sandwiches
Vegan Chocolate Ice Cream Sandwiches with Salted Caramel between two homemade brownie cookies for the ultimate ice cream sandwich treat.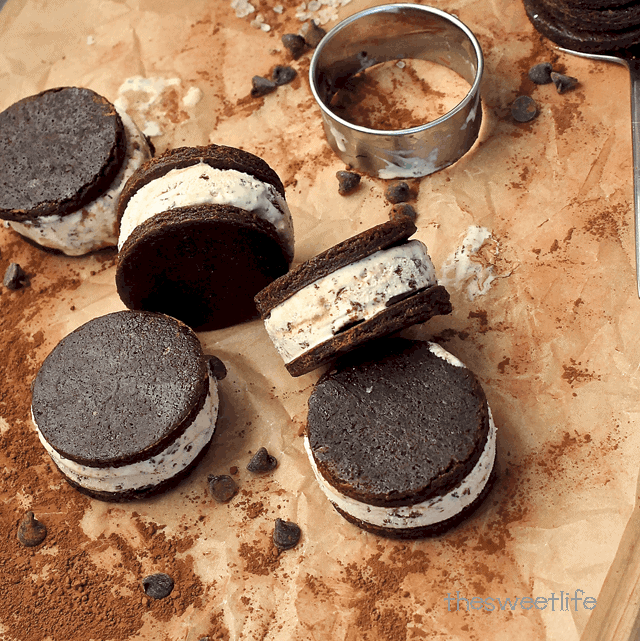 Course:
Dessert
Cuisine:
Vegan
Keyword:
Vegan Chocolate Ice Cream Sandwiches
Servings
:
8
people
Calories
: 190 kcal
Author
:
Sarah McMinn
Ingredients
Brownie Chocolate Cookies
1 pint Coconut Bliss's Salted Caramel & Chocolate Ice Cream
Instructions
Begin by rolling out the ice cream. Line a baking sheet with parchment paper. Empty the slightly thawed ice cream onto the baking sheet and cover with another piece of parchment paper. Roll ice cream between papers until it about 1 inch thick, squaring the sides it as you roll.

Place ice cream in the freezer and let harden completely. About 2 hours.

As the ice cream hardens, make the brownie cookies. Preheat the oven to 350F. Line a baking sheet with parchment paper and set aside.

In a bowl combine flour, cocoa powder, baking powder, and salt. In another bowl whisk together melted chocolate and canola oil. Once combined add sugar, apple sauce, water, and vanilla extract and mix together. Add the dry ingredients to the wet and stir until combined.

Place dough on the parchment-lined baking sheet and roll out to between ¼" and ⅛" inch thick. Using a round cookie cutter, cut out cookies. You should get 12-16 cookie depending on the size of the cookie cutter and the thickness of the dough.

Bake for 8-10 minutes. They should be soft and slightly under-baked. Let the cookies cool for about five minutes then stick in freezer for about 1 hour.

To assemble the ice cream sandwiches - Remove the frozen cookies and ice cream from the freezer. Using the same cookie cutter, cut 6-8 ice cream centers. Sandwich between two chocolate cookies and serve immediately or return to the freezer for later enjoyment.
Nutrition Facts
Vegan Chocolate Ice Cream Sandwiches
Amount Per Serving
Calories 190
Calories from Fat 63
% Daily Value*
Fat 7g11%
Sodium 151mg7%
Potassium 94mg3%
Carbohydrates 30g10%
Protein 2g4%
Vitamin A 15IU0%
Calcium 26mg3%
Iron 1.2mg7%
* Percent Daily Values are based on a 2000 calorie diet.
The generous people over at Coconut Bliss were so excited by all the love you showed them a couple weeks ago that they are offering you another chance to win some amazing Coconut Bliss prizes. Could this day get any better?!
Contest open to U.S. residents only. 
This post contains affiliate links.
If you give this recipe recipe a try, snap a photo and share it on Instagram. Make sure to tag
@mydarlingvegan
so I can see your creations!