Buffalo Ranch Vegan Caesar Salad
A zesty Backyard Buffalo Ranch Vegan Caesar Salad with pan-fried tofu and ranch dressing for a delicious and wholesome meal.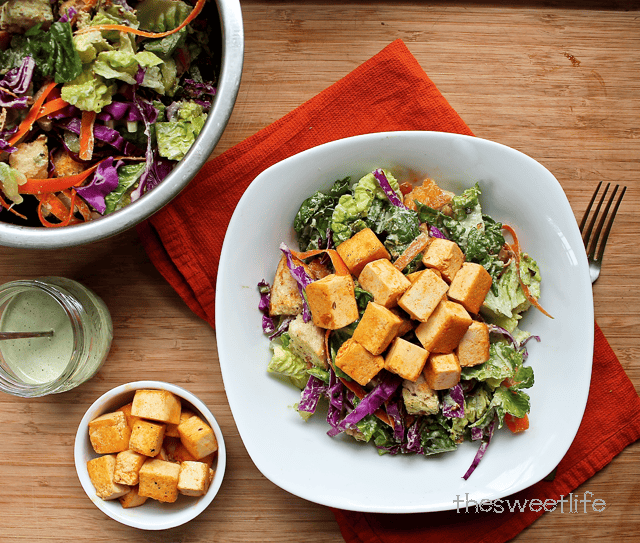 It's pretty hard to argue that 2014 has been the year of the vegan cookbook.
Bringing it to a whole new level, our favorite cookbook authors and bloggers have created some truly amazing books with creative concepts, inventive recipes, and beautiful, artistic design. And just when I thought 2014 had hit it's max for totally awesome cookbooks (silly me) I found myself flipping through the pages of yet another outstanding piece of work –  Terry Hope Romero's Salad Samurai.
Terry Hope Romero is one of the most prolific vegan writers out there, creating (and co-creating) some of the biggest vegan cookbooks (as well as some of my favorite) such as  Veganomicon, Vegan Eats World, Viva Vegan, and Vegan Cupcakes Take Over the World. As a seasoned author and recipe developer, it does not surprise me at all that she has contributed to the year of the vegan cookbook with a stunning book that has quickly found a place as one of my favorite cookbooks.
Since finding this cookbook on my front stoop several weeks back, I have not stopped carrying it around. It's found a permanent place in the diaper bag next to toddler snacks and baby diapers, for those moments throughout the day that I can sneak in a few more peaks. Filled with 100 hearty salads, a large variety of dressings, "seriously hearty" toppings, and even a chapter on sweet breakfast salads, this book covers everything you need to know about making an outstanding salads year around.
Things I love about this book:
1. Salads for all seasons. Salads are not just for summer anymore! Terry's invaluable creative mind has now provided us with salads all year around.  Relying on the fruits, vegetables, and grains of the season she has made some amazing creations such as: Coconut Samosa Potato Salad, Buffalo Ranch Vegan Caesar Salad, Curry Pumpkin Collard Wraps, Sesame Noodles in the Dojo, and Seitan Steak Salad with Green Peppercorn Dressing….I could basically list every fall and winter recipe here as I intend to try almost every single one of them.
2. Stunning, large photos for nearly every recipes. Taken by the talented  Vanessa K Rees (you know, the woman who created the beautiful pictures for Isa Does It) the photographs in this book help showcase how truly unique and hearty these salads are – even you salad skeptic will be amazed. As a visual person this component of any cookbook is hugely important and oftentimes the largest factor in deciding to purchase a book. To see for yourself, check out some of the photos over at VKRees's portfolio page. You will be amazed.
3. Wildly Creative Salads. In this book you will find some of the MOST INGENIOUS SALADS ever. When I first heard it was a vegan cookbook about saads, I'll admit, I thought it a bit …unnecessary. But I was wrong. I mean, come on, the BKT (Bacon, Kale, Tomato) Bowl, Pepperoni Tempeh Pizza Salad, Lentil Pate Banh Mi Salad Rolls. I seriously flip through this book and think, "there just aren't enough meals in the day". Additionally her section on "seriously hearty topping" has got my mouth watering with Roasted Hemp Seed Parmesan, Ginger Beer Tofu, Maple Orange Tempeh Nibbles…
4. Menu planning, ingredient lists, and more. I don't know about you but I really love the first chapter of cookbooks that has all the lists (yea lists!), tips, and whatever other information the author gives us. Terry's intro gives the readers a weekly salad guide with how and what to prepare each day for easy and hearty meals all week long, an awesome ingredient list which details each ingredient (history, taste, use, etc.), and a short section on the basic equipment needed – which isn't long or obscure making salad making easy and available to everyone.
5. Creative design through and through.  This is one way that cookbooks in the past couple of years have really amped it up. With seemingly a lot more attention put into layout, design, colors, even textures, I am seeing a trend that is turning cookbook writing into beautiful, cohesive works of art. Salad Samurai is, of course, no exception. Each page was carefully and artistically crafted which makes me even more eager to read each word, try each recipe, and drool at each photo – over and over again.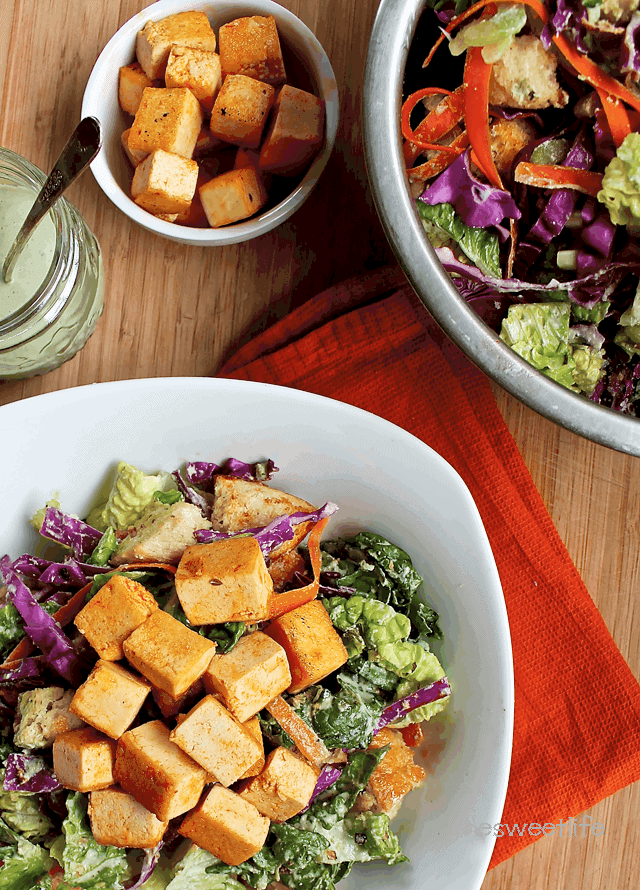 Great news! You don't have to wait to get your hands on this book before digging into one of these delicious creations by Terry Hope. The people at Da Capo Press are letting me share one awesome recipe with you.
This Backyard Buffalo Ranch Vegan Caesar Salad is seriously good. I have already made this twice in two weeks. Fresh, tangy, creamy, and bread-y this salad has everything! Despite having several components that make the preparation look daunting, I was able to throw this salad together in about 30 minutes and it has become one of my favorite meals of the summer.

Buffalo Ranch Vegan Caesar Salad
A zesty Backyard Buffalo Ranch Vegan Caesar Salad with pan-fried tofu and ranch dressing for a delicious and wholesome meal.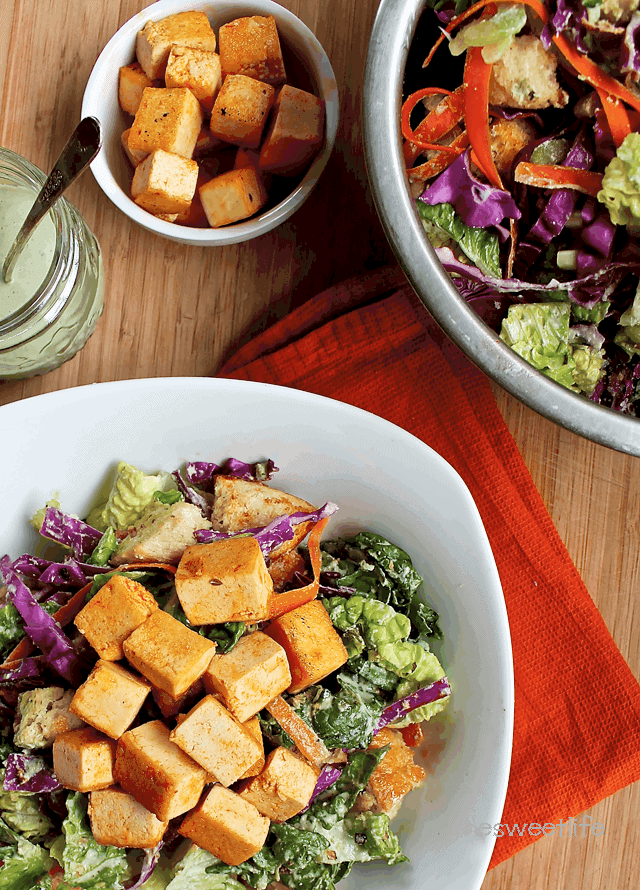 Course:
Salad
Cuisine:
Vegan
Keyword:
Vegan Caesar Salad
Servings
:
3
servings
Calories
: 525 kcal
Author
:
Terry Hope Romero
Ingredients
Salad Base
1

large head romaine lettuce

2

cups

thinly shredded red cabbage

1/2

cup

shredded carrots

1/2

cup

thinly sliced celery, sliced diagonal
Back to the Ranch Dressing
1/2

cup

unroasted cashews

3/4

cup

water

2

tbsp freshly squeezed lemon juice

1

tbsp olive oil

1

clove garlic, peeled

2

tsp white, shiro miso

2

tsp Dijon mustard

1

tsp garlic powder

1

tsp onion powder

3

tbsp chopped fresh herbs, such as dill, basil, or tarragon.
Red Hot Saucy Tofu
1

lb

extra-firm tofu or super-firm tofu

1

tbsp refined or virgin organic coconut oil

1

tbsp freshly squeezed lemon juice

1

tbsp agave nectar
Classic Crutons
4

cups

cubed, day-old bread (about 1 lb of bread)

3

tbsp olive oil

2

tbsp freshly squeezed lemon juice

3

cloves garlic, minced

1

tbsp dried herb blend or single dried herb

1/4

tsp salt
Instructions
To make the Ranch Dressing, soak the cashews in hot water for 30 minutes. Pour into a blender (including the soaking water) and blend until very smooth. Alternatively, if you have a high-powered blender (like a Vitamix or Blendtec), no soaking is required: just pulse the cashews into a fine powder, add the hot water, and pulse again until very smooth.

Add the remaining ingredients and pulse until smooth. Chill the dressing in a tightly covered container until ready to use, or at least 20 minutes for the flavors to blend. Store chilled and use within 2 days.

To make the Red-Hot Saucy Tofu, if using extra-firm tofu, press the tofu first. (No need to press if using super-firm tofu). Dice the tofu into 1/2-inch cubes. In a wok or cast-iron skillet, melt the coconut oil over medium heat. Add the tofu and saute until golden on all sides, about 5 minutes.

In a mixing bowl, whisk together the hot sauce, lemon juice, and agave. Add the hot tofu cubes and toss them in the sauce. Serve hot or at room temperature.

To make the Classic Croutons, preheat the oven to 350F. Pour the bread cubes into a large mixing bowl. Whisk together the remaining ingredients in a separate bowl.

Drizzle a little of the dressing at a time over the cubes, stir well, drizzle more dressing, stir again, and repeat until the bread cubes are coated in dressing. Spread the cubes in a single layer on a large baking sheet (use two sheets if necessary) and bake for 25 to 30 minutes, stirring occasionally, until the cubes are completely dry and golden brown. Cool completely before transferring to loosely covered containers. Use within 7 days for best flavor.

To assemble the salad, prepare the dressing first and chill it until ready to serve.

Prepare the tofu and keep covered until read to serve the salad
Remove and discard the root end of the lettuce, then chop the leaves into bite-size chunks. Wash and dry the lettuce and transfer to a large mixing bowl. Add the cabbage, carrots, celery, and croutons. Add the dressing and use tongs to thoroughly coat with dressing. Arrange the salad in large serving bowls and top with the tofu.
Nutrition Facts
Buffalo Ranch Vegan Caesar Salad
Amount Per Serving
Calories 525
Calories from Fat 351
% Daily Value*
Fat 39g60%
Sodium 439mg19%
Potassium 445mg13%
Carbohydrates 26g9%
Protein 19g38%
Vitamin A 5115IU102%
Vitamin C 37.2mg45%
Calcium 243mg24%
Iron 4.1mg23%
* Percent Daily Values are based on a 2000 calorie diet.
This post contains affiliate links.
From Salad Samurai by Terry Hope Romero. Reprinted with permission from Da Capo Lifelong, © 2014
But wait…there's more! The kind people over at Da Capo are offering a free copy of this book to one of you! Enter below.
Contest open to US and Canada residents only.
This book was sent to me for review but, as always, the thoughts and opinions expressed are my own. 
If you give this recipe recipe a try, snap a photo and share it on Instagram. Make sure to tag
@mydarlingvegan
so I can see your creations!