This vegan salted chocolate bark with rosemary and almonds is the perfect balance of sweet and salty making a wonderful homemade holiday food gift.
For many there is still a lot of mystery behind what vegans eat. I have been offered fish more than once yet asked, "can vegans eat peanut butter?" just as many times. There actually isn't much secret behind what we eat, and preparing food is really quite easy – you just leave out the animals.
I'm using Vegan MoFo to take an A-Z trip through my pantry to bring you 26 easy recipes to show you that anyone can cook vegan. Eating vegan, well, it's as easy as ABC.
Vegan Mofo week 3 is done!
One more week (and two days) and I will have my sanity back. Yay!
Actually, I'm doing pretty good. Despite this ridiculous blogging schedule I continue to be present with my kids during the day. We have enjoyed the warm September (yeah, it got hot again) by getting wet a few more times at the Peninsula Park splash pad, going on bike rides with Eden's new balance bike, enjoying iced coffee and doughnut dates at Back to Eden, and throwing snack parties of chocolate milk and grapes in the afternoon on top of the hot tub. I hang out with Jason in the evenings and my friends throughout the week and all-in-all, I've maintained life as usual.
That doesn't mean I won't be totally excited for October when I can start meal planning with out the thinking about the alphabet and I'll suddenly have all kinds of time to start dreaming up Halloween costumes while sitting by the fire crocheting Christmas presents.
I must have been channeling a little bit of the holiday love when I thought up this Chocolate Bark recipe. The rosemary + chocolate + almond is practically screaming Let it Snow! Salty, sweet, earthy, and rich this chocolate bark would make the perfect gift, stocking stuffer, or cookie platter addition to those holiday parties. But being as it's still September, I beg you to forget all about Christmas for a few more months. There's too much goodness to be experienced in fall still.
Don't worry. I'll remind you when the time is right.
Chocolate Bark with Rosemary and Almonds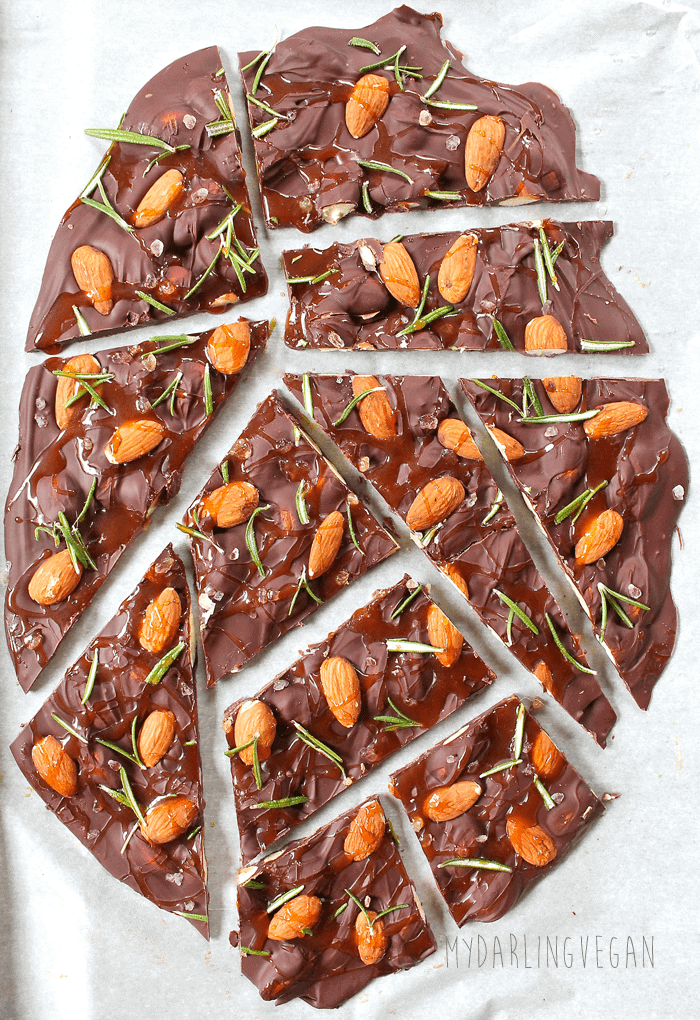 This vegan salted chocolate bark with rosemary and almonds is the perfect balance of sweet and salty making a wonderful homemade holiday food gift.
Instructions
Over a

double boiler

or in the microwave gently melt the chocolate. Once melted stir in 1/2 cup of the almonds. Pour onto parchment paper spreading evenly until the chocolate is between 1/4 to 1/8th of an inch thick (the chocolate should be thinner than the almonds inside). Set in the refrigerator to set up slightly for 10 minutes.

Once mostly hardened add the remaining almonds, rosemary, salt, and caramel sauce. Return to the refrigerator to let harden completely.

Cut into pieces and store in an airtight container in the refrigerator.
Recipe Notes
Follow the instructions on the link below to make homemade caramel sauce.
Nutrition Facts
Chocolate Bark with Rosemary and Almonds
Amount Per Serving
Calories 305
Calories from Fat 180
% Daily Value*
Total Fat 20g 31%
Sodium 18mg 1%
Potassium 94mg 3%
Total Carbohydrates 32g 11%
Protein 5g 10%
* Percent Daily Values are based on a 2000 calorie diet.
This post contains affiliate links.
Looking for a homemade caramel sauce? I've got one right here.
new to my darling vegan?
sign up for email updates
and find me on facebook, twitter, & instagram