Root Vegetable Dal (Vegan & Gluten-Free)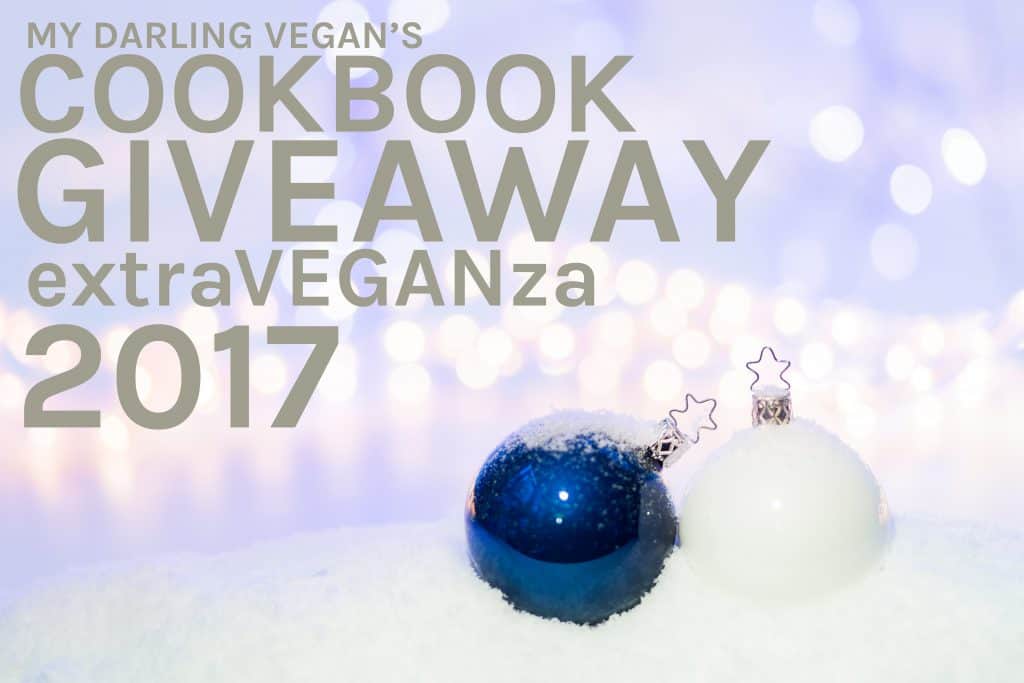 This post contains affiliate links. For more information read my privacy policy. 
It's that time of year again!
My 3rd annual Cookbook Giveaway ExtraVEGANza (see what I did there?) has begun! As a way to say, "thank you" to my wonderful, delightful, and inspiring readers (that's YOU!) I reach out to the publishers of the top vegan cookbooks of the year and ask for their participation in the giveaways. This year I have 6 full days of Cookbook Giveaway extraVEGANza. That means 6 awesome brand new vegan cookbooks and 6 chances to win. Worth getting excited about? I thought so.
So without further ado, let's get started.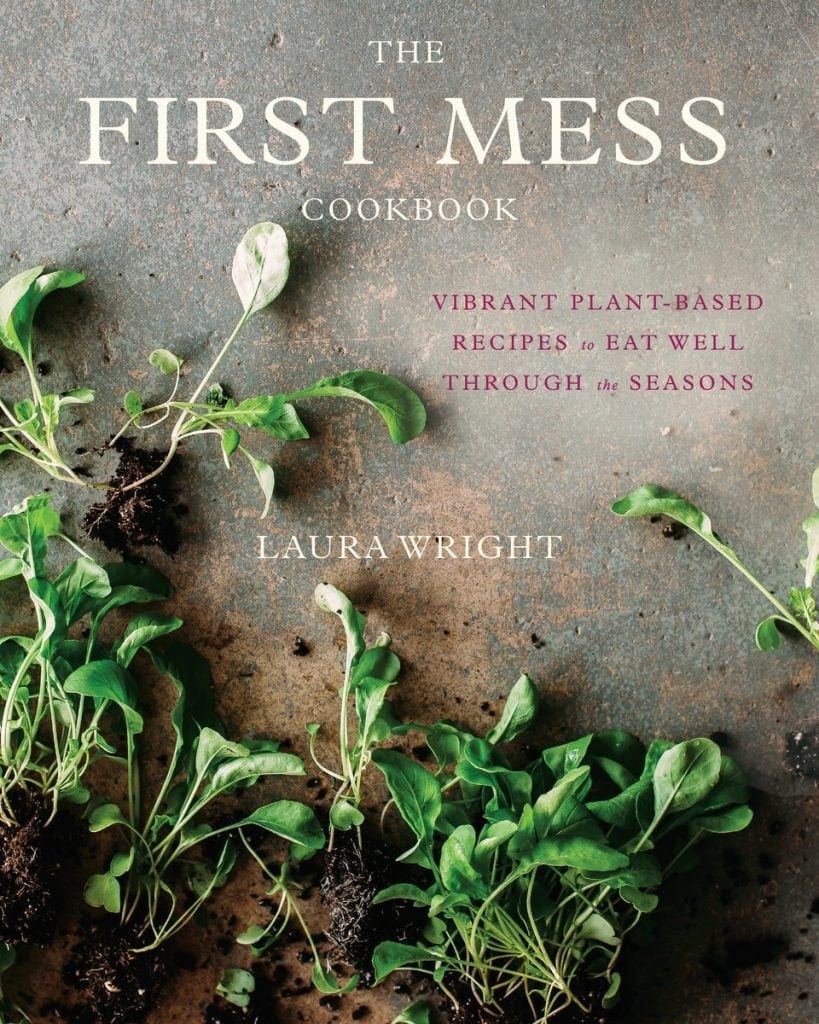 THE FIRST MESS COOKBOOK
For those of you who don't know, The First Mess is a beautiful plant-based food blog created by Laura Wright. With her remarkable eye for food photography and an ability to turn whole plant-based foods into wholesome delicious meals, The First Mess quickly grew in recognition.
In 2014 it was selected by Saveur Magazine as best special diets blog. It was also nominated for Better Home and Gardens Blogger Awards as Best Food Blog. In addition to that, The First Mess has been featured in some of the top publications.
WHAT YOU'LL FIND IN THE FIRST MESS COOKBOOK
If you take one look at Laura's website, you'll see why she's had such great success. Her blog is beautifully curated with huge, beautiful, rustic photography and wholesome, mouth-watering recipes that can be made with few simple ingredients. And so, as you can imagine, The First Mess Cookbook is equally (and probably more) stunning.
This hardcover book is one of the most comprehensive cookbooks I've seen in a long time. With almost 300 pages of plant-based recipes broken down into chapters covering breakfasts, soups, salads, mains, small bites, and desserts this book has something for everyone!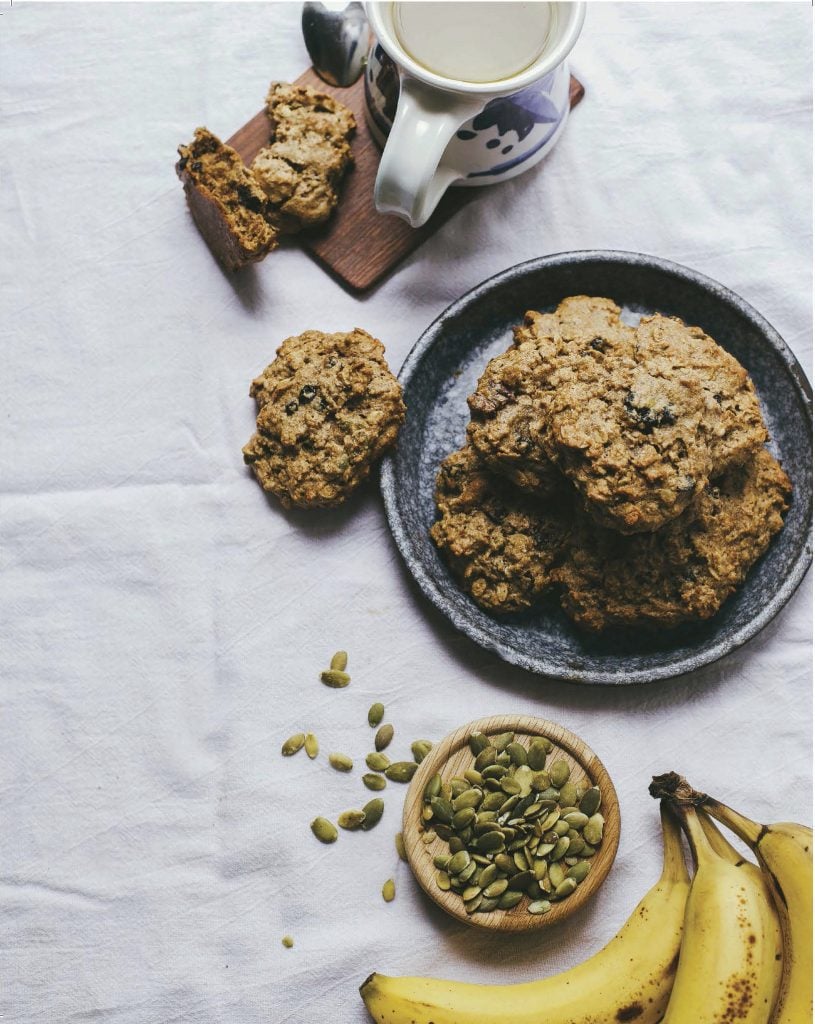 WHY I LOVE THIS VEGAN COOKBOOK
1. All the recipes in this book are accompanied by Laura's beautiful, full-page photography. She is one of the best food photographers in the business (as you can see from the photos in this review) with clean, simple, rustic styling that allows the food to really speak for itself in every picture.
2. True to the book's tagline, Vibrant Plant-Based Recipes to Eat Well Through the Seasons, that is exactly what you'll find. The recipes in this book are built on the freshest grains and vegetables with very little processed food. All the recipes are labeled with symbols indicating which ones are gluten, oil, nut, and cane sugar-free. But that doesn't limit the recipes you'll find in this book. Among the deliciousness, you'll find Butternut and Pesto Cream Lasagna, Burrito-Stuffed Sweet Potatoes with Rustic Salsa, Vanilla Corn Cakes with Roasted Strawberries, and much more.
3. The book begins with a warm introduction that gives a background to Laura's life and her love of food. Following the introduction, you'll find my favorite section of any cookbook, "Stocking Your Pantry for Success". This is a comprehensive guide of the necessary ingredients for a well-stocked, wholesome, vegan pantry. She also adds a section titled, "Kitchen Equipment for Eating Well." which she keeps fairly minimal. For people new to plant-based eating, this is key to success and I appreciate the amount of care put into this chapter.
4. And just like her blog, Laura gives a warm and personal touch to everything she does. She begins each chapter of the book with stories about her life, allowing us, the readers, to get a peek inside her world. Each recipe has it's own personal story or description that is written with intentional warmth and care. One of the reasons that Laura is so well-loved is because she finds a way to do it all so well. From writing to recipe development to photography, her touch shines through, making this one of the most beautiful cookbooks I have seen in a long time.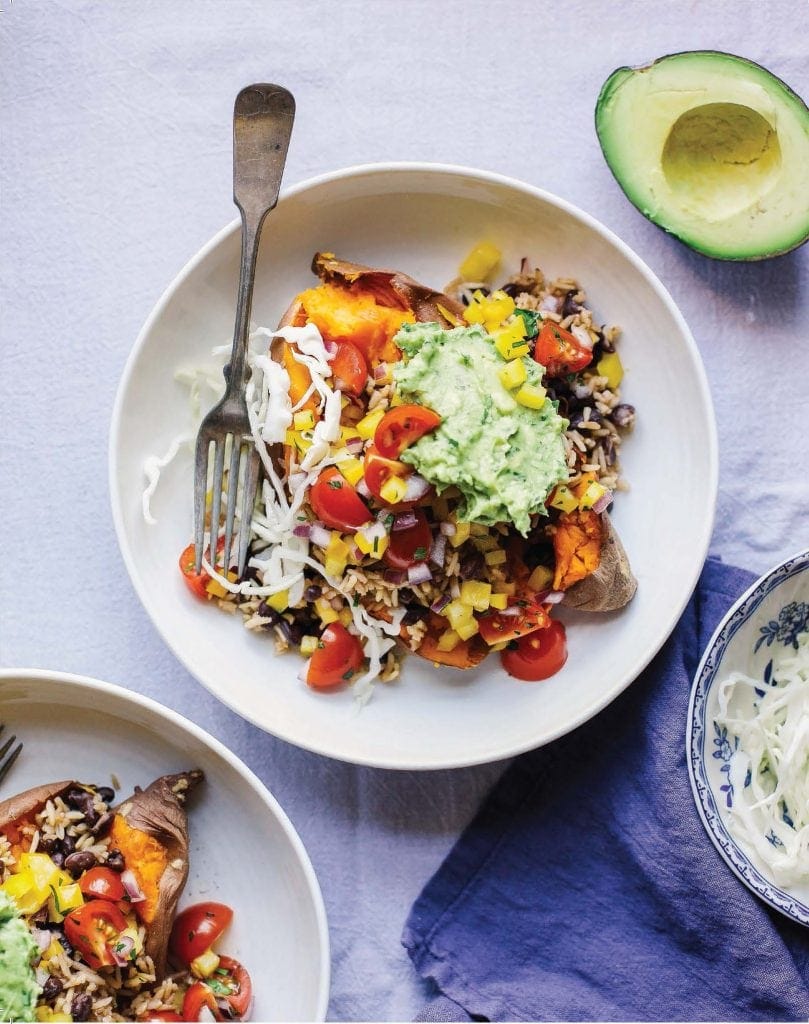 RECIPES IN THE FIRST MESS COOKBOOK
Did I mention that the recipes in this book look truly divine, yet classicly comforting? Among the mouthwatering recipes in this book, you will find:
Butternut and Pesto Cream Lasagna
Burrito-Stuffed Sweet Potatoes with Rustic Salsa
Vanilla Corn Cakes with Roasted Strawberries
and much more.
I'm going to let you even see for yourself.  Let's take a look at this INCREDIBLE Weeknight Root Vegetable Dal pictured below.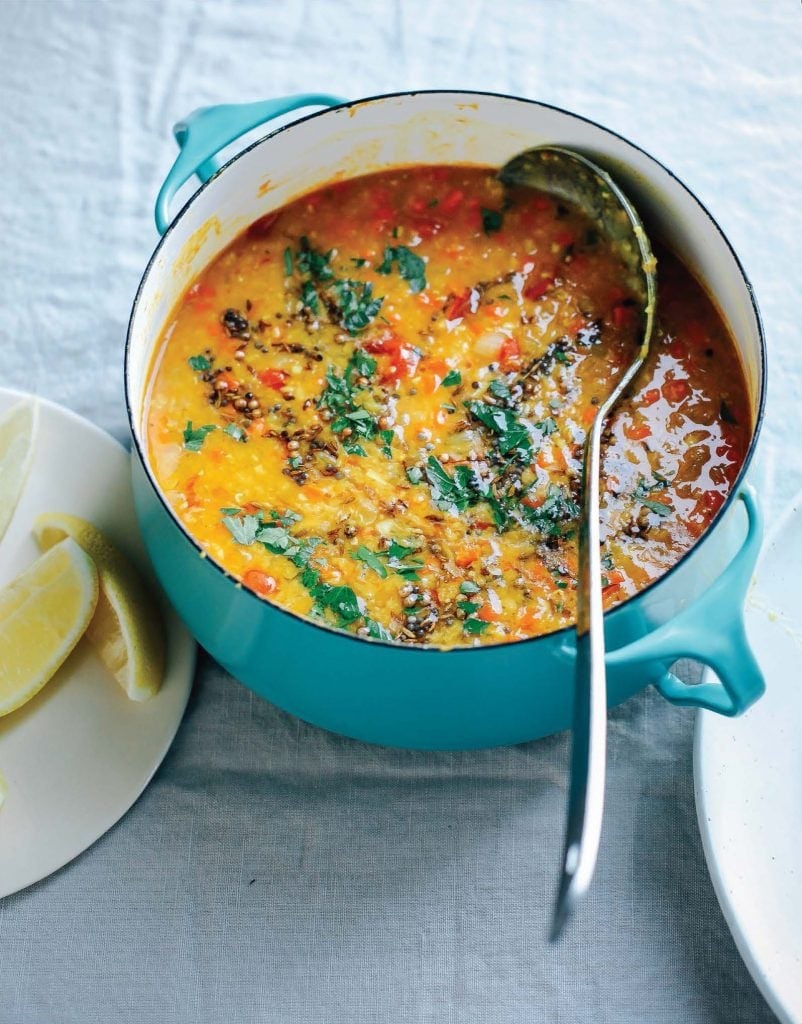 Weeknight Root Vegetable Dal
This thin and fragrant lentil stew recipe was quite popular with my recipe testers. A bunch of them told me they had already started working it into their weeknight dinner rotation. With the "throw it all in the pot" preparation method, I totally understand why. I'm usually skeptical of one-pot dinners that don't coax the flavor out of the aromatics, but in this context it totally works.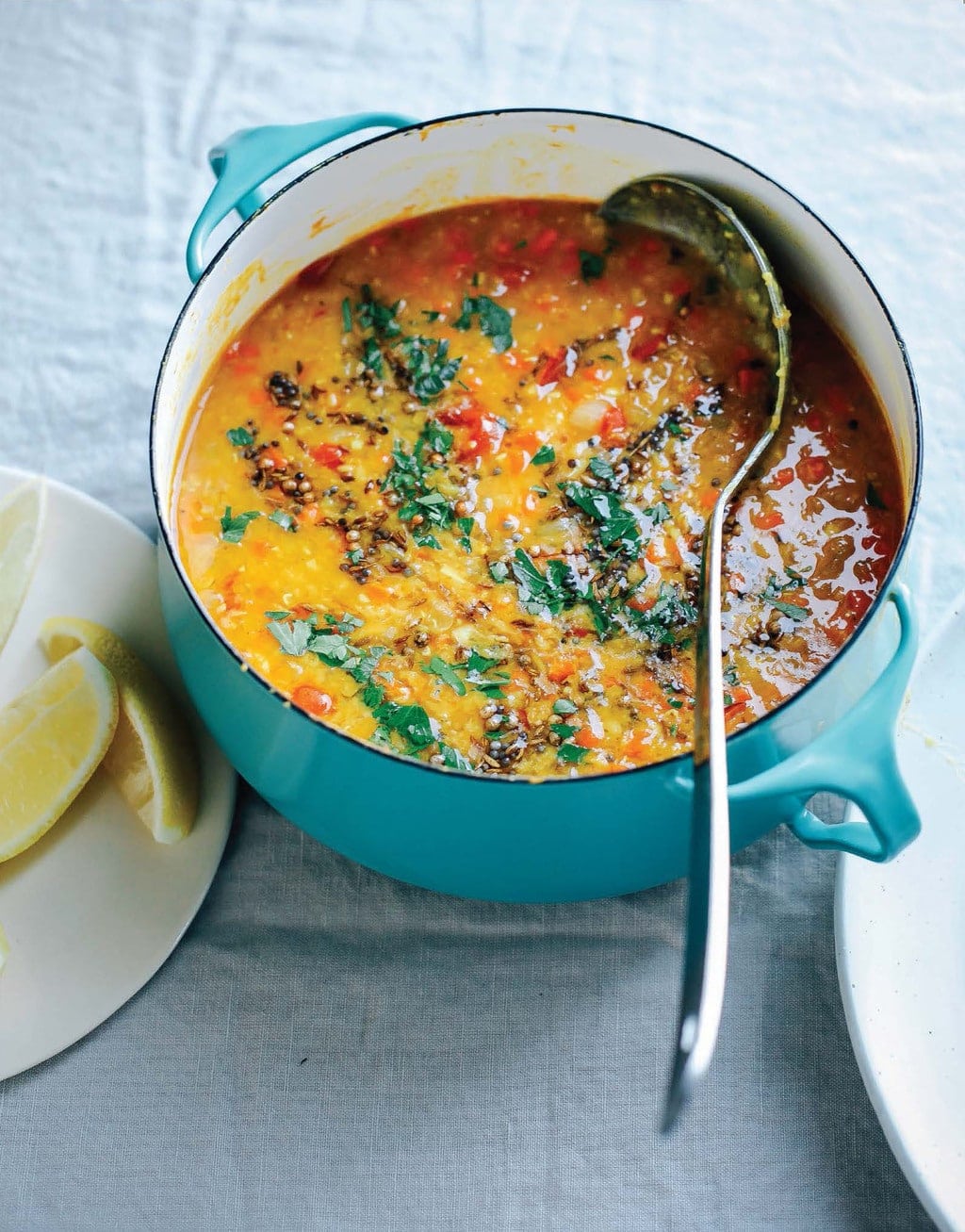 Course:
Main Course, Main Dish
Cuisine:
Indian
Keyword:
Root Vegetable Dal
Servings
:
4
people
Calories
: 333 kcal
Author
:
Laura Wright
Ingredients
1

cup (250 mL) 250 mL red split lentils, rinsed

1

cup (250 mL) finely diced root vegetables of your choice, such as carrots, celery root, and beets

1

small yellow onion, finely diced

1

cup (250 mL) cherry or grape tomatoes, halved

4

cloves garlic, minced

2

inch (5 cm) piece of fresh ginger, peeled and minced

1

tsp ground turmeric
pinch dried chili flakes

3 1/2

cups (875 mL) filtered water
salt and pepper, to taste

2

tablespoons (30 mL virgin coconut oil

1/2

tsp (2 mL) cumin seeds

1/2

tsp (2 mL) coriander seeds

1/2

tsp (2 mL) mustard seeds

1/3

cup (75 mL) chopped fresh cilantro leaves, for garnish
lemon wedges, for serving
Instructions
To a medium soup pot, add the rinsed lentils, diced root vegetables, diced onion, tomatoes, garlic, ginger, turmeric, and chili flakes. Pour the water into the pot and give everything a little stir.

Place the pot on the stove over medium heat. Bring to a boil and then simmer for about 40 minutes, whisking the dal often. Toward the end, the lentils should be completely broken down. In the last 10 minutes of cooking, whisk the dal vigorously to encourage the breaking down of the lentils. It should appear quite soupy. Season the dal generously with salt and pepper. Keep warm.

Heat the coconut oil in a small sauté pan over medium-high heat. Add the cumin seeds, coriander seeds, and mustard seeds. Once the seeds are fragrant and popping, remove from the heat.

Gently spoon the toasted spice oil (with the whole spices) on top of the dal. You can lightly stir it in if you like. You can also portion the dal out first and then spoon the spice oil on top if you like. Garnish the dal with the chopped cilantro. Serve the dal hot with lemon wedges.
Recipe Notes
Reprinted from The First Mess Cookbook by arrangement with Avery Books, a member of Penguin Group (USA) LLC, A Penguin Random House Company. Copyright © 2017, Laura Wright
Nutrition Facts
Weeknight Root Vegetable Dal
Amount Per Serving
Calories 333
Calories from Fat 72
% Daily Value*
Fat 8g12%
Sodium 73mg3%
Potassium 1048mg30%
Carbohydrates 48g16%
Protein 17g34%
Vitamin A 11525IU231%
Vitamin C 27.1mg33%
Calcium 98mg10%
Iron 6.2mg34%
* Percent Daily Values are based on a 2000 calorie diet.
THE FIRST MESS COOKBOOK GIVEAWAY
Laura's publisher, Avery, has offered me the chance to run a giveaway for you! One lucky reader will win a FREE copy of The First Mess Cookbook. Enter below for a chance to win.
Giveaway open to U.S. residents.
If you give this recipe recipe a try, snap a photo and share it on Instagram. Make sure to tag
@mydarlingvegan
so I can see your creations!