Roasted Brussels Sprout Buddha Bowl
This roasted Brussels sprouts buddha bowl is filled with perfectly roasted vegetables and seasoned chickpeas for a hearty, healthy, and delicious meal the whole family will love.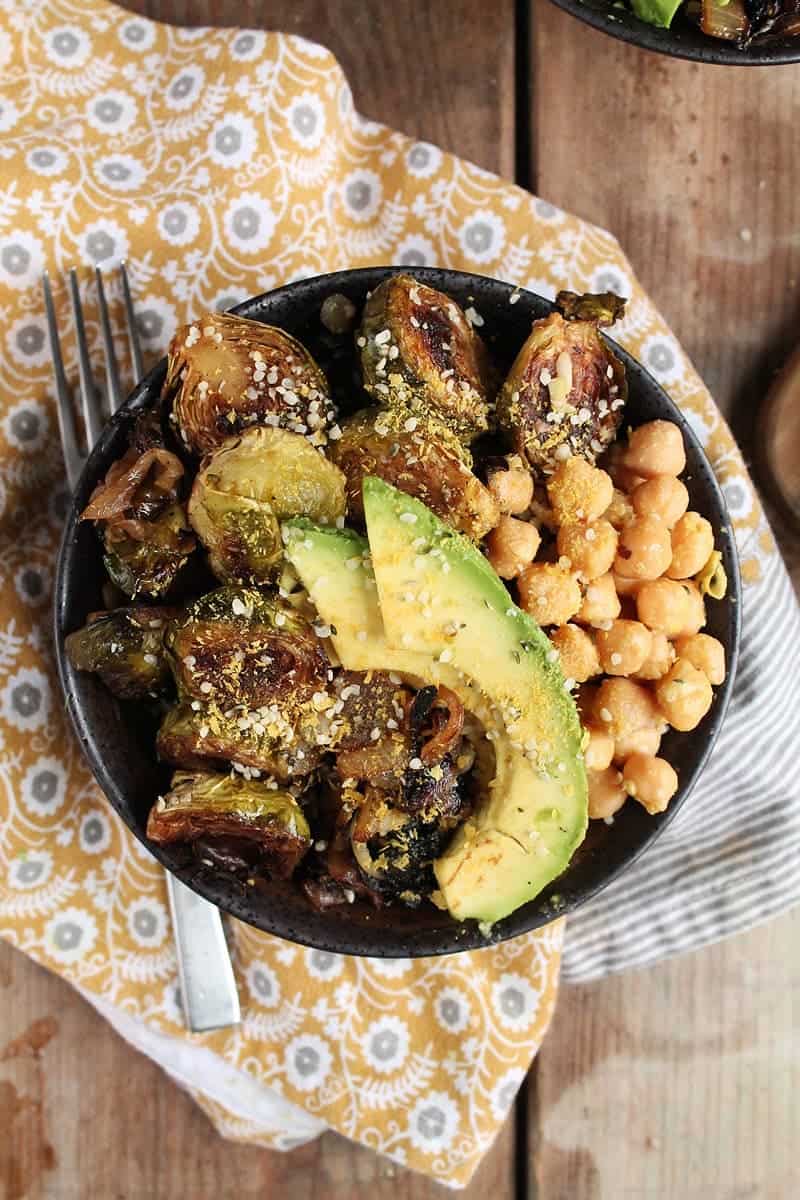 There is nothing quite like a warm Roasted Brussels Sprouts Vegan Buddha Bowl during the cold month of January. Tender buttery vegetables with seasoned lentils and onions caramelized to perfection. Oh, I could just eat you up, Buddha Bowl.
And I will.
---
WHAT IS A BUDDHA BOWL?
But let's back up a minute. First of all, some of you may be asking, "What is a Buddha Bowl?".
A Buddha Bowl, also known as a Nourish Bowl, is a one-bowl meal filled to the brim with vibrant colors, wholesome vegetables, and plant-based proteins.
The idea behind the Buddha Bowl is one of balance. The meal combines healthful foods that vary in flavor, texture, and health benefits to reflects the balance sought after in Buddhism. The term has been adopted and adapted so that it now strays from its origins. You can now find Buddha Bowl recipes that contain animal proteins such as lean meats or boiled eggs. Sadly, we can no longer assume that all Buddha Bowls offer a one-bowl vegan meal.
Of course, this Roasted Brussels Sprouts Buddha Bowl filled with chickpeas, caramelized onions, quinoa, and more is 100% vegan and gluten-free!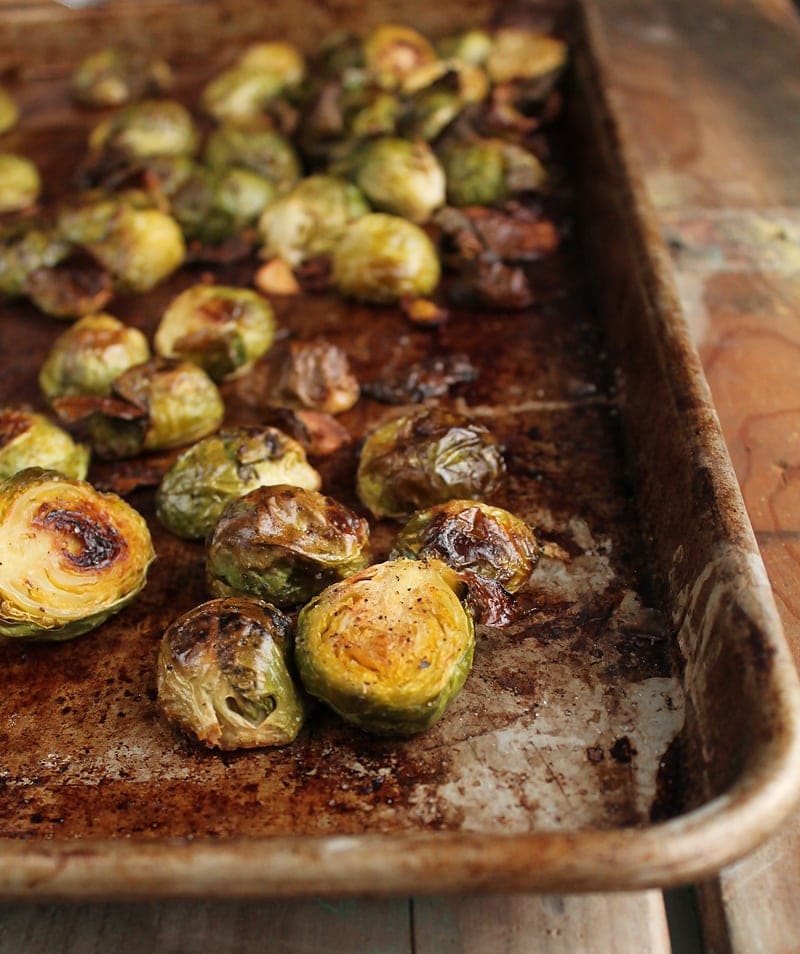 How to make Brussels Sprouts Buddha Bowl
Although there is a little multi-tasking involved, this meal is pretty easy to throw together.
Step one – Make Lentils and Rice
First, get your lentils and rice cooking in a pot of water. Set a timer to 45 minutes and forget about them.
Step two – Roasted the Brussels Sprouts
Next, you're going to want to roast those Brussels Sprouts with some garlic. To get them all buttery, tender, and crispy, I bake my Brussels sprouts at 450 degrees F for about 30 minutes. Perfection, I tell you!
Step three – Caramelize the Onions
Once the Brussels are roasting in the oven, let's caramelize some onions. It takes about 15 minutes to get a good caramelized onion. Just make sure your stove-top temperature is low enough so they are caramelizing rather than burning. Then again, there's nothing wrong with a little burn on your onions.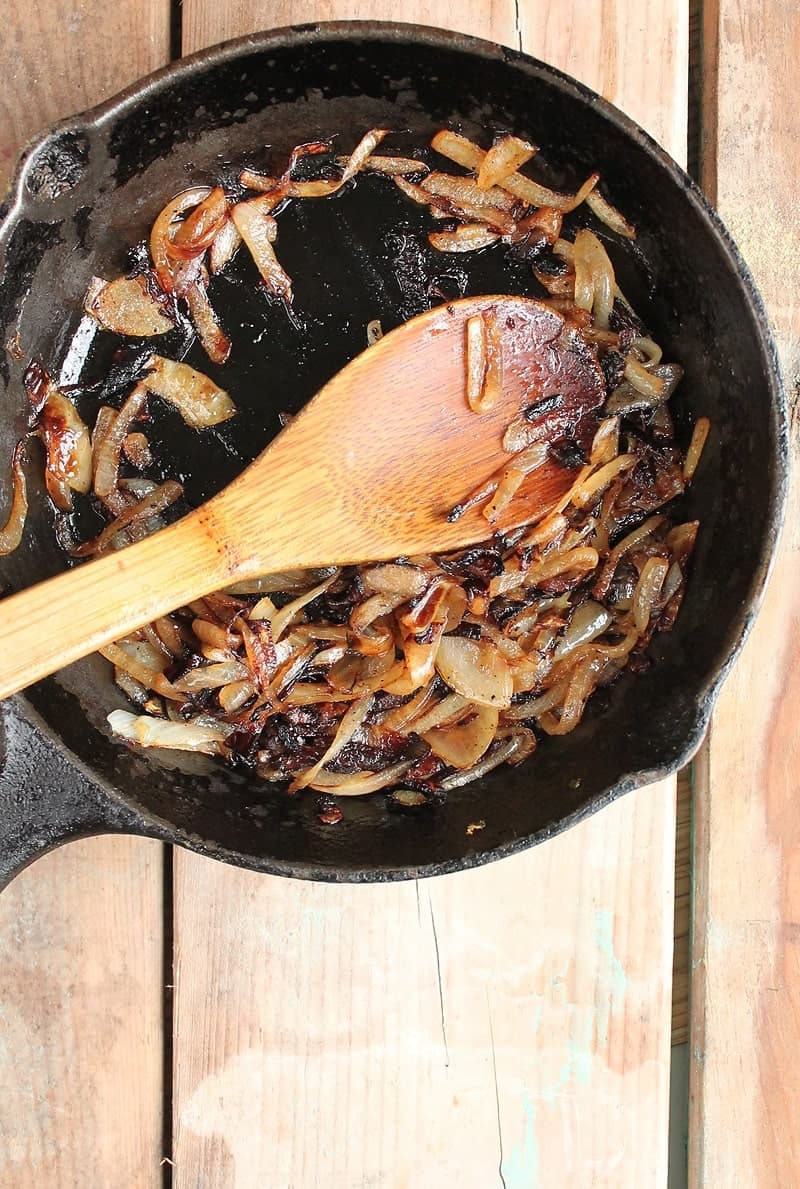 SERVING AND STORING
Once assembled, this vegan Buddha Bowl should be served immediately. Serve it with chickpeas, hemp hearts, avocado, and nutritional yeast.
For quick, grab and go lunches, make the components of this bowl separately. When ready to eat, quickly assemble what you need and pack it for lunch.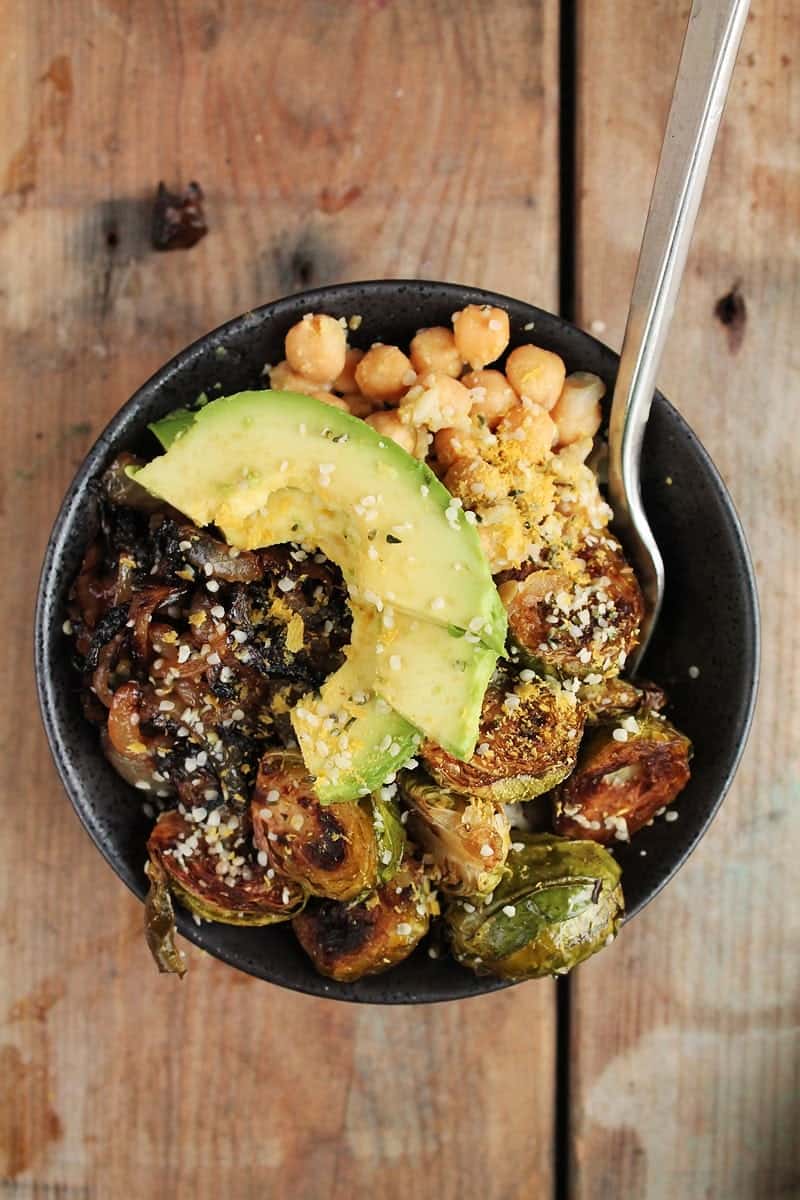 Why I love this vegan Buddha Bowl:
I've been eating this Roasted Brussels Sprouts Vegan Buddha Bowl at least once a week all fall and winter long. Some of the reasons I love this meal are:
It's quick & easy to make. Once you've got things prepped, on the stove, or in the oven you can sit back and relax.
It's cost-effective – forgoing lots of fresh vegetables for Brussels (which are usually pretty affordable) and relying on calories and protein from inexpensive staples like rice, lentils, and chickpeas.
It's super healthy. This meal is filled with whole proteins, healthy fats, fiber, tons of Vitamin C and antioxidants, and is, of course, 100% cleanse-approved.
It's delicious in every buttery, tender, caramelized bite.
---
More Vegan Buddha Bowl Recipes:
Love a good Buddha Bowl? Make sure to check out some of my other favorite recipes:
Ready to see for yourself? Let's take a look at the recipe card below.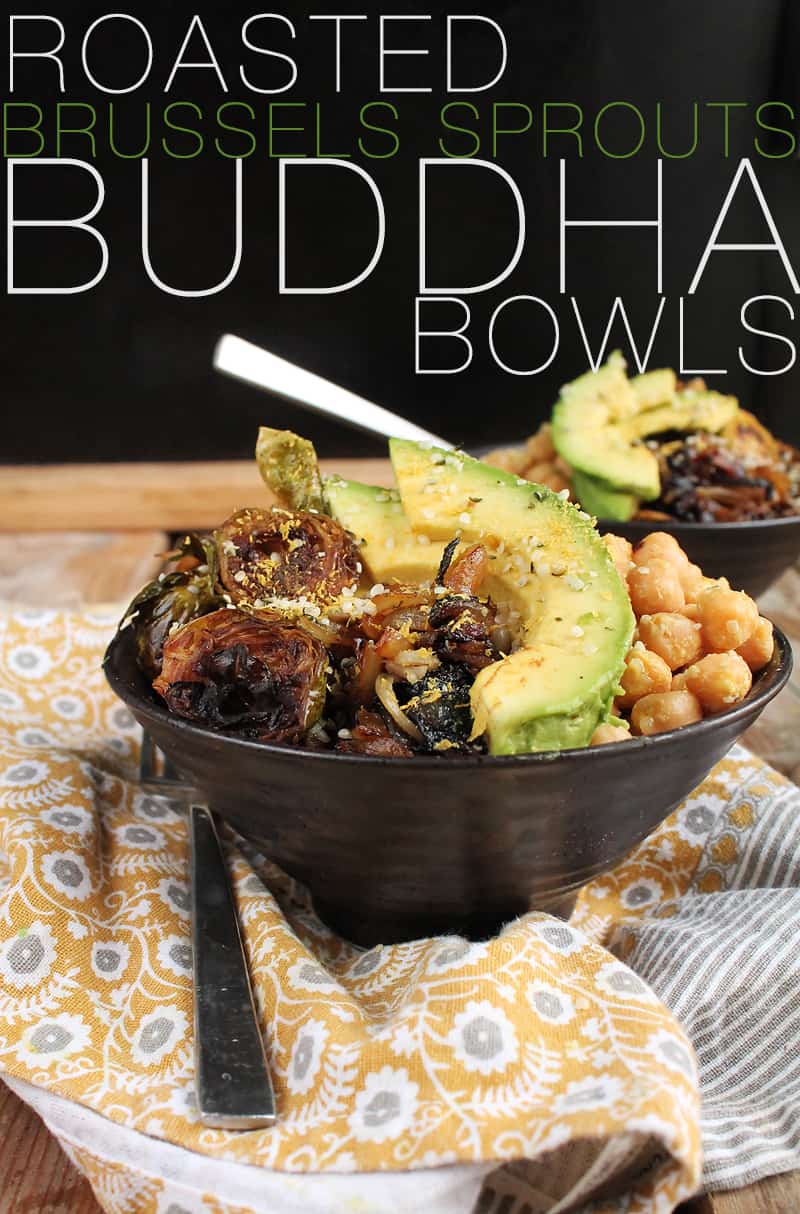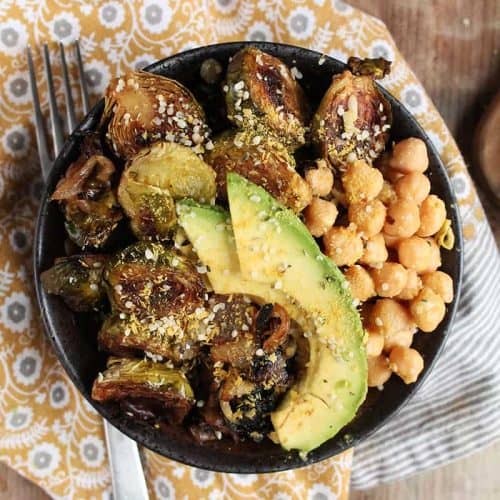 ---
Roasted Brussels Sprouts Vegan Buddha Bowls
This roasted Brussels sprouts vegan buddha bowl is filled with perfectly roasted vegetables and seasoned chickpeas for a hearty, healthy, and delicious meal the whole family will love.
Print
Pin
Rate
Ingredients
Instructions
Place 2 cups of water in a

medium sauce pan

and bring to boil. Add rice and lentils, cover, and reduce to a low simmer. Simmer for 45 minutes until all the water has evaporated.

Preheat the oven to 450 degrees F. Wash, trim, and half the Brussels sprouts. Toss them with the minced garlic, oil, salt and pepper. Spread the Brussels sprouts onto a

baking sheet

in a single layer. Bake for 30-35 minutes, flipping once through, until Brussels sprouts are tender and nicely browned.

Place chickpeas in a small bowl and stir in nutritional yeast, salt, and lemon juice. Set aside.

To assemble bowls place a small layer of rice and lentils on the bottom. Top with roasted Brussels sprouts, chickpeas, onions, and avocado. Serve immediately
To make caramelized onions
In a medium skillet heat 2 tablespoons coconut oil over medium-low heat. Add thinly sliced onions and sauté, stirring occasionally, for 15 minutes until brown and tender.
Nutrition
Calories:
270
kcal
|
Carbohydrates:
39
g
|
Protein:
11
g
|
Fat:
8
g
|
Saturated Fat:
1
g
|
Sodium:
304
mg
|
Potassium:
551
mg
|
Fiber:
10
g
|
Sugar:
1
g
|
Vitamin A:
330
IU
|
Vitamin C:
39.4
mg
|
Calcium:
45
mg
|
Iron:
3.1
mg
If you give this recipe recipe a try, snap a photo and share it on Instagram. Make sure to tag
@mydarlingvegan
so I can see your creations!