Peanut Butter Protein Balls
Get your snack fix on with these Peanut Butter Protein Balls filled with protein, superfoods, and flavor for a healthy, delicious pick-me-up snack.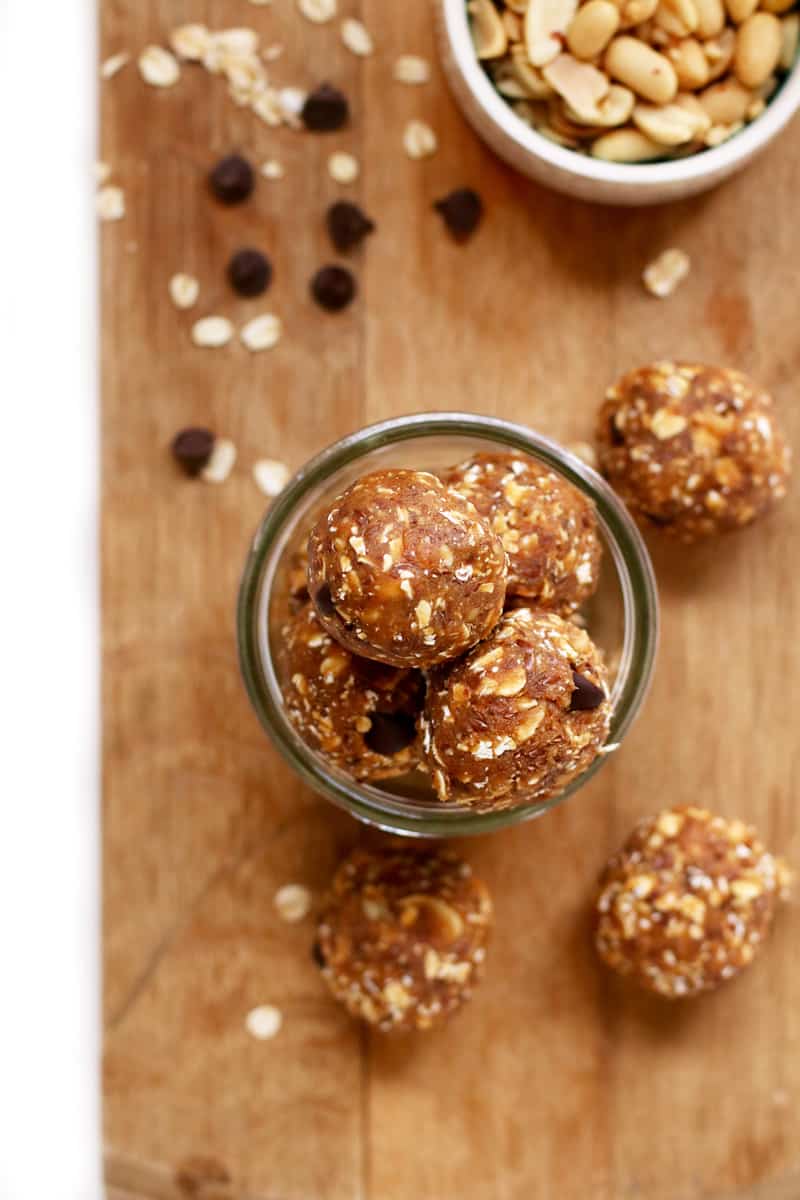 Happy Monday, friends!
I don't know about you but the doldrums of winter are getting to me. Oh, the rain. When will it stop? I'm ready to pack up and board the first plane that will take me somewhere far away from where the days are long, the skies are blue, and the sun always shines. It's only Monday and I'm dreaming of vacations.
But, alas, I am here. In Portland, Oregon. It's late February where I can expect another 4 months of this weather. How am I going to make it through?
I'll tell you:
Vitamin D, take it my Pacific Northwestern, friends!
Morning yoga
Stocking up on travel credits and dreaming up summer vacations
Healthy and wholesome eating
This past weekend I've taken care of my whole list. Got some yoga and vitamin D in this mornings, bought plan tickets with travel credit for an upcoming trip out east AND made these protein-packed, high-energy Peanut Butter Protein Balls for a delicious Monday morning, late February, much-needed pick-me-up snack.
---
HOW TO MAKE PEANUT BUTTER PROTEIN BALLS
These delicious peanut butter protein balls are super simple to make, using just a handful of ingredients. Let's take a closer look!
These Peanut Butter Protein Balls start with making a simple date paste.
---
WHAT IS DATE PASTE?
Date paste is one of my all-time favorite sweetener options and it requires just two simple ingredients (dates and water) and about 2 minutes of your time. For high-quality date paste, start with high-quality Medjool dates. Soak the dates in distilled water for 30-60 minutes or, if you're short on time, 10 minutes in very hot water. Once soft, drain the dates and blend them up with 2-4 tablespoons of the reserved water until nice and smooth, (see above). Depending on what you're using the date paste for, you can adjust the water amount for the right consistency.
The result: delicious vegan liquid sweetener to use in place of honey, agave nectar, or maple syrup. And this sweetener isn't just free of refined sugars. It's also filled with fiber, calcium, zinc, and all other sorts of important vitamins and energy-boosting minerals for extra benefit.
Are you starting to see why it's one of my favs?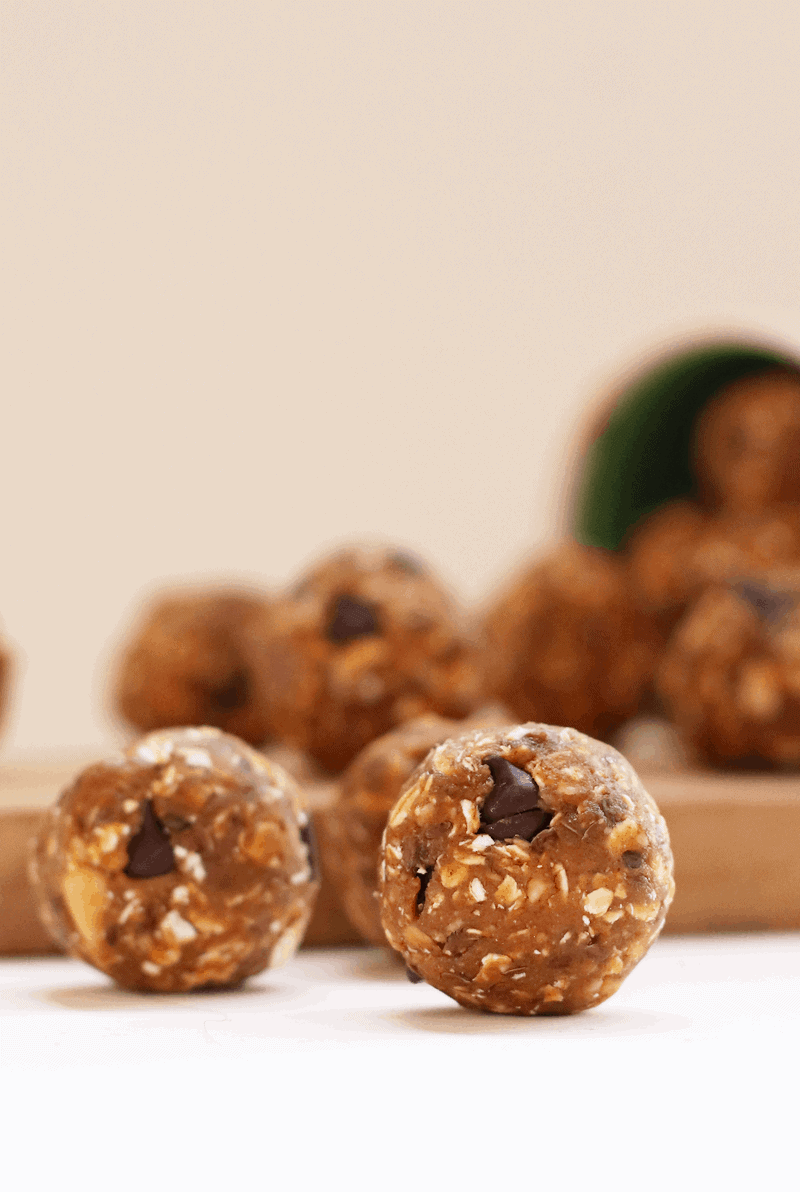 BEST PROTEIN POWDER FOR PROTEIN BITES
Additionally to one of my all-time favorite sweeteners, I use my all-time favorite "protein powder" as well.
I put protein powder in quotes because it's not even technically a protein powder but a flour. Peanut flour, to be exact, made with just 1 simple ingredient: roasted peanuts.
Not only does peanut flour have incredible flavor but it has one of the best protein to calorie ratios that I know of. One serving (1/4 cup) of peanut flour has 16 grams of protein for just 110 calories. For these two reasons, peanut flour has always been my go-to protein powder. I throw it in everything: smoothies, oatmeal, cookies, and now, these snack-attack energy bites.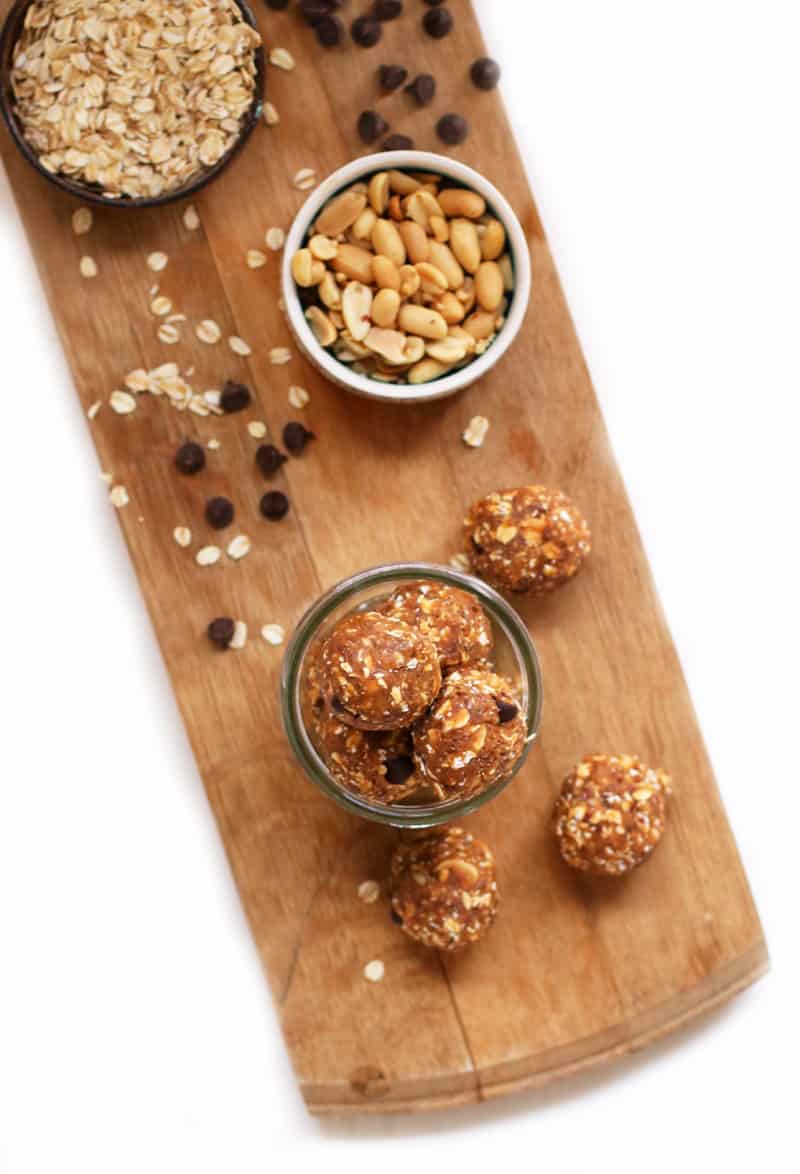 With 2 of my all-time favorite ingredients in these simple Peanut Butter Protein Balls, what's not to love? Need more convincing?
---
WHAT I LOVE ABOUT VEGAN PROTEIN BITES
Super quick to make. Once the date paste is ready, the rest can be thrown together in under 5 minutes!
Totally delicious, yet surprisingly healthy
Energy-boosting in all the right ways (no impending sugar crashes)
A gluten-free, vegan, and date-sweetened snack that is acceptable for most restricted diets
Kid-friendly
Stores for up to 1 month in the freezer
Get it? I LOVE these Peanut Butter Protein Balls.
Are you ready to enjoy all the benefits of peanut flour and date paste (plus oats, flax seeds, and more!) rolled into delicious bite-sized snacks?
Yes, yes you are!
---
MORE HEALTHY PEANUT BUTTER RECIPES
Looking for more healthy peanut butter recipes to get you through the winter doldrums? Here are a few of my favorites:
But before you go, let's take a look at the recipe below.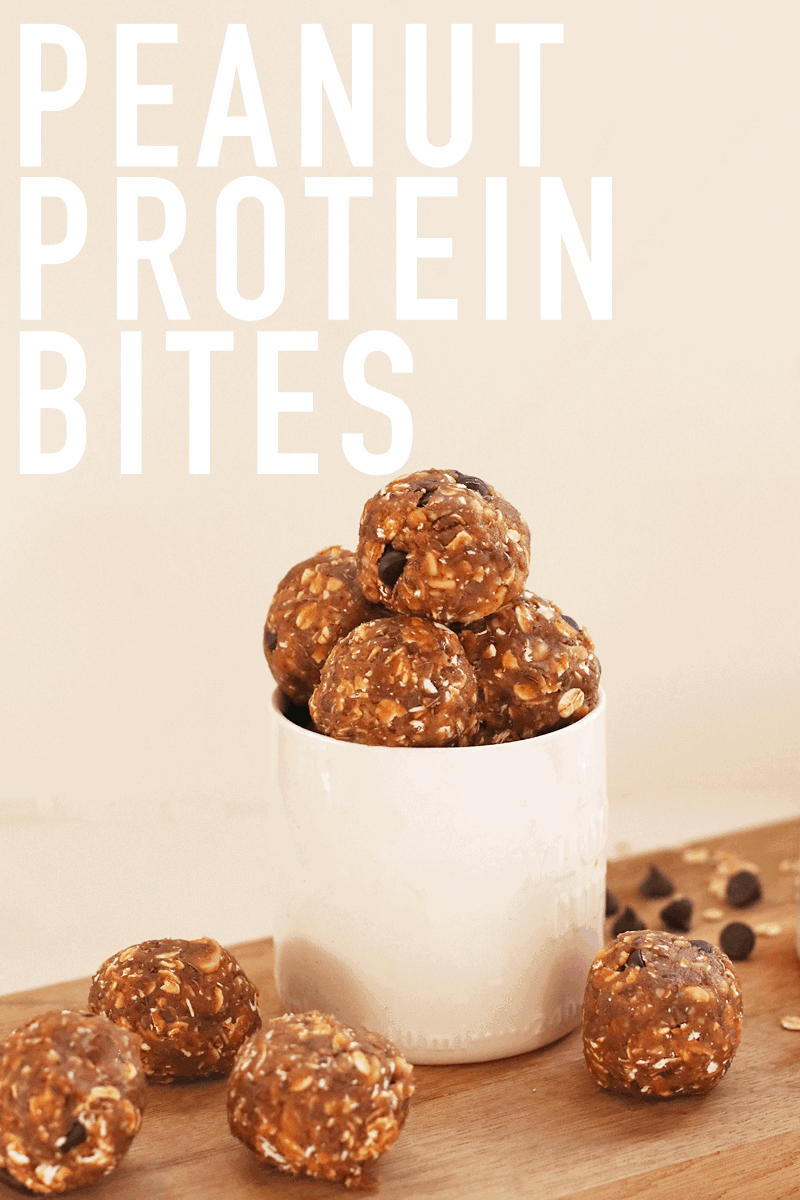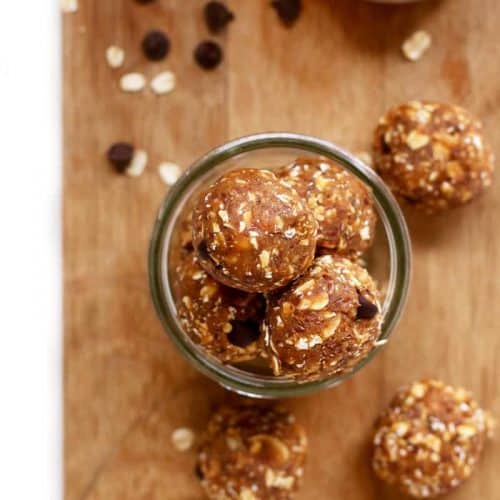 ---
Peanut Butter Protein Balls
Get your snack fix on with these Peanut Butter Protein Balls filled with protein, superfoods, and flavor for a healthy, delicious pick-me-up snack.
Print
Pin
Rate
Ingredients
1

cup

large Medjool dates

pitted

2-4

tablespoons

water

1

cup

peanut flour

3/4

cup

oats

1/2

cup

roasted peanuts

1/4

cup

natural peanut butter

2

tablespoons

flax seeds

ground into meal

pinch

of salt

1/4

cup

chocolate chips

optional
Instructions
Soak the pitted dates in about 2 cups of water for 30 minutes. Drain, reserving the water.

In a food processor blend dates with 2-4 tablespoons of water, slowly adding water as needed and scraping down the sides often until a smooth paste has formed.

Add peanut butter, peanut flour, oats, salt, flax seeds, and peanuts and blend together into a thick dough.

Fold in chocolate chips if using.

Round out about 2 tablespoons of dough into balls and place on a parchment-lined baking sheet. Refrigerate for 1 hour until firm.

Store in the refrigerator in an airtight container for up to 5 days or in the freezer for 1 month.
Nutrition
Calories:
152
kcal
|
Carbohydrates:
16
g
|
Protein:
6
g
|
Fat:
7
g
|
Saturated Fat:
1
g
|
Sodium:
43
mg
|
Potassium:
268
mg
|
Fiber:
3
g
|
Sugar:
8
g
|
Vitamin A:
20
IU
|
Calcium:
32
mg
|
Iron:
0.9
mg
If you give this recipe recipe a try, snap a photo and share it on Instagram. Make sure to tag
@mydarlingvegan
so I can see your creations!