This Peanut Butter Cup Chocolate Pretzel Bark makes the perfect sweet and salty treat for you or your loved ones. Can be made in just 10 minutes for an easy and delicious sweet treat.
For the past couple days our dining room table has been transformed into a toddler's Valentine card making station – which has turned out to be a fantastic activity for a girl who's been sick with croup for the past week. The heart-shaped stickers and scratch pieces of construction paper that fall to the floor create fun exploration for a curious one year old who finds EVERYTHING fascinating. And for me, well having them both occupied at the same time is a dream come true.
And while I have enjoyed some extra time kid-free time experimenting in the kitchen or stealing away a few minutes to write an email, I find that mostly I just want to grab a chair next to Eden, roll up my sleeves, and start gluing pink sparkly hearts all over purple construction paper to later give to all my closest friends.
This week I found myself traveling back about 25 years to the Valentine's Days of my youth. Back then it was a big holiday we would celebrate at school with cookies and candies and Valentine's cards. After lunch we would put away our books, spend the next hour crafting cardboard boxes, and then later walk around the classroom dropping a store bought card into everyone's mailboxes. And although it was mandatory to make a Valentine for everyone in the class, I always felt special that everyone wanted to be my Valentine.
I loved Valentine's Day back then.
But then it got exclusive. In high school student council would sell carnations (for friends) and roses (for significant others) to be handed out throughout the day. I never got any flowers. Suddenly Valentine's Day wasn't so much fun anymore.
Then you get even older and Valentine's Day is all about showering your one and only with chocolate and cards and who knows what else. I've never really paid much attention to the holiday as an adult. What ever happened to the day you get to show love to all the people in your life at once? I had completely forgot about those early Valentines until I set up Eden with her card making factory. And after several days of pondering it (and several dozen cards later) I think I'd like to go back to those Valentine's Day rituals of our youth.
Cards for everyone!
While I certainly will consider bringing back the homemade Valentine's Day card for adults, it probably won't be happening in this year. For now my love language is food, particularly chocolate, and this chocolate bark about covers it. Combining three of life's most amazing things:
Peanut Butter
Chocolate
and Pretzels
this Chocolate Pretzel Bark my Valentine to you.
I used Go Max Go Cleo's bars, which is the only vegan milk chocolate peanut butter cup on the market, to create this sweet & salty, crunchy, yet melts-in-your-mouth treat that is so good, you might not want to share with those you love.
Peanut Butter Cup Chocolate Pretzel Bark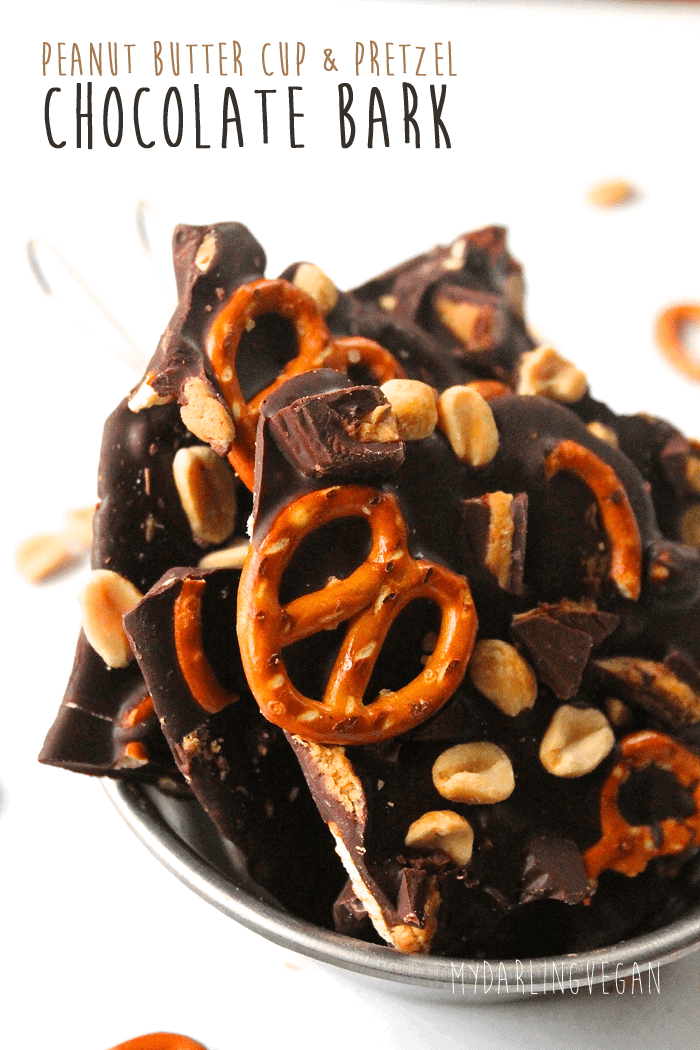 This Peanut Butter Cup Chocolate Pretzel Bark makes the perfect sweet and salty treat for you or your loved ones. Can be made in just 10 minutes for an easy and delicious sweet treat.
Keyword:
Chocolate Pretzel Bark
Instructions
Freeze the peanut butter cups until ready to use.

Chop the peanut butter cups and 1/2 the pretzels.

When chocolate is melted stir 2 tablespoons of the peanuts and chopped pretzels and spread over prepared baking sheet. Top with remaining peanuts, pretzels, and peanut butter cups.

Refrigerate until harden before breaking into pieces.

Store in the refrigerator.
Nutrition Facts
Peanut Butter Cup Chocolate Pretzel Bark
Amount Per Serving
Calories 252
Calories from Fat 144
% Daily Value*
Total Fat 16g 25%
Sodium 61mg 3%
Potassium 39mg 1%
Total Carbohydrates 29g 10%
Protein 4g 8%
* Percent Daily Values are based on a 2000 calorie diet.
This post contains affiliate links.