This vegan peanut butter popcorn is sweet and salty, covered in peanut butter and mixed with crushed vegan Butterfingers for the ultimate snack.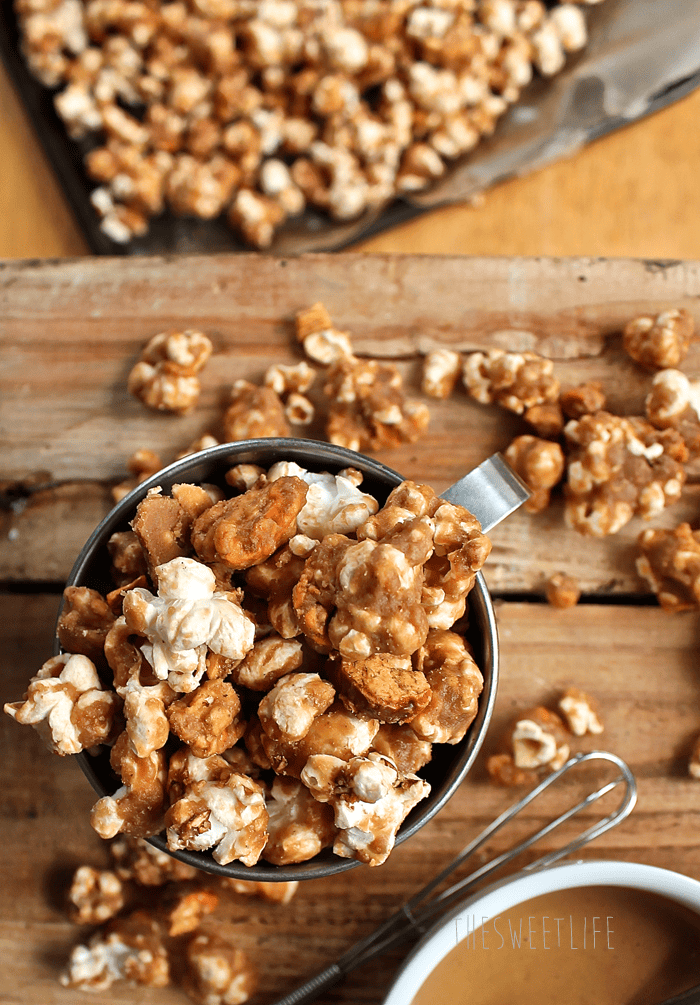 You know what I love about having kids?
Lots of things.
But right up there at the top of the list is kids give parents the chance to re-live childhood. Totally unappreciated the first time around, I have been given another chance to watch the wonder of the world unfold through the eyes of Eden and now Nash. Through their eyes I see the reverence in the changing seasons and the awe found in the flying wisps of of dandelions. They remind me of the pure joy that can be found in running through sprinklers and jumping in rain puddles. Holidays are once again magical and learning how to ride a bike is monumental.
Childhood is awesome.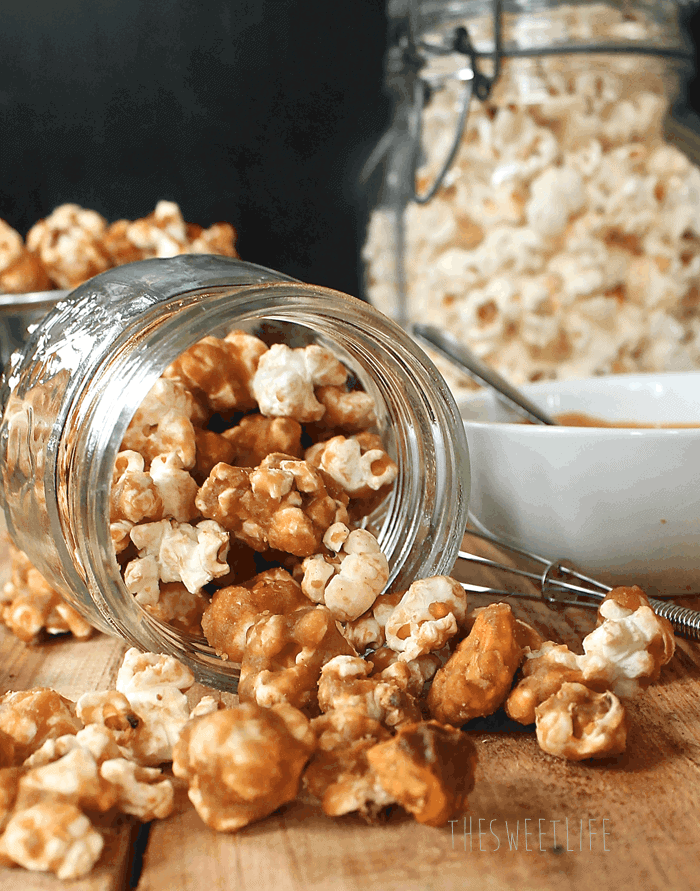 Now that Eden is a little bit older, we have started a weekend tradition. After Nash goes to bed Jason or I cook up a batch of popcorn on the stovetop then the three of us cuddle on the couch and watch a movie. Sitting there, each with our individual bowls of popcorn, I am more captivated by Eden who slowly and seemingly thoughtfully chews on her popcorn entranced by the animated story in front of her. She becomes a part in the movie, experiencing the joy and fear and relief far deeper than I could and I find myself equally enthralled watching her.
These evenings are some of my favorite.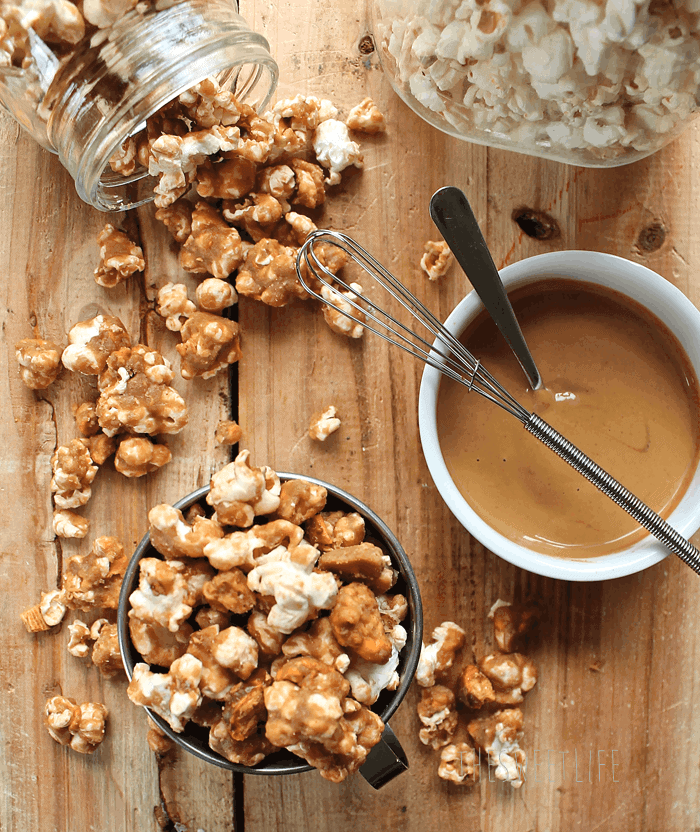 Normally we don't get so fancy with our popcorn but the other day I found the inspiration for this Peanut Butter Popcorn over on Pinterest and I immediately knew our weekend tradition was going to get a little sweeter. Since partnering with Go Max Go I am lucky enough to always have an excuse (who needs an excuse?) to experiment with their candy and make things I never thought possible when I first went vegan.
Go Max Go has mastered the vegan butterfingers with their Thumbs Up bar which has probably become my new Go Max Go favorite. The Thumbs Up combined with the caramel peanut butter make this popcorn one of the most addictively delicious snacks. Ever. Sweet, salty, peanut butter-y, chocolate-y, I can saw with confidence it's not going to last long.
I just hope I didn't ruin regular popcorn for Eden.
---
Let's take a look at this peanut butter popcorn.
Peanut Butter Popcorn
This vegan peanut butter popcorn is sweet and salty, covered in peanut butter and mixed with crushed vegan Butterfingers for the ultimate snack.
Did you make this recipe? Leave a comment and rate it below.
If you made any substitutions, let us know how it turned out!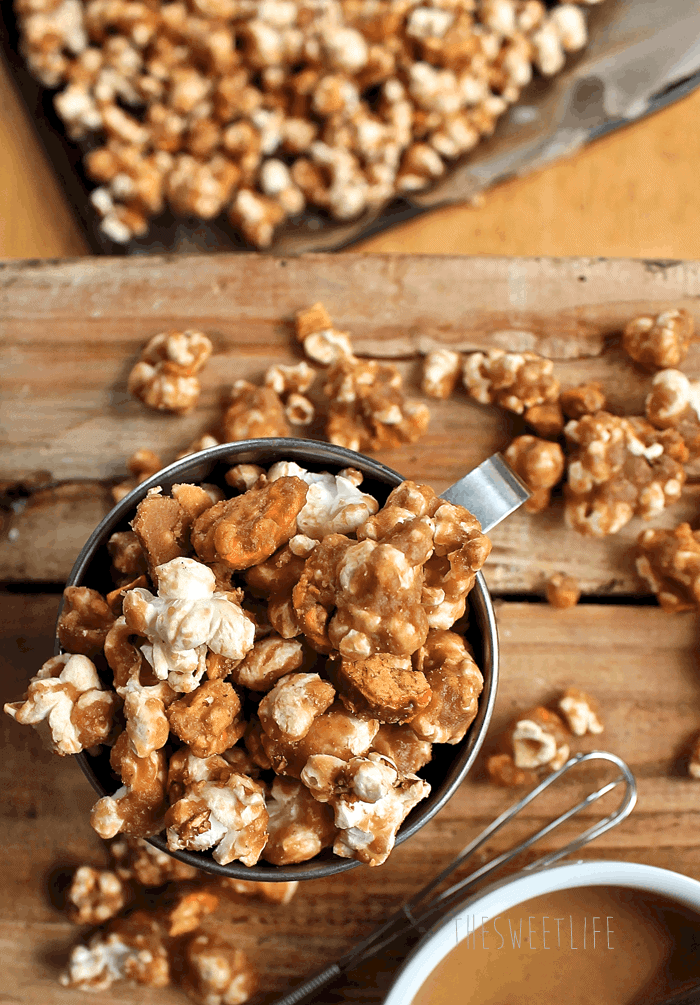 Course:
Snack
Cuisine:
Vegan
Keyword:
Peanut Butter Popcorn
Servings
:
24
servings
Calories
: 410 kcal
Author
:
Sarah McMinn
Ingredients
Instructions
Place popped popcorn in a large bowl and set aside.
In a small pan combine vegan butter, brown sugar, brown rice syrup, and salt. Bring to a boil and let boil for one minute. Remove from heat and add baking soda and peanut butter. Stir until smooth.
Immediately pour over popcorn. Add crushed Thumbs Up bars, and stir quickly to incorporate.
Spread the popcorn in a single layer over wax paper and let cool for at least 20 minutes.
Store in an airtight container
Nutrition Facts
Calories Per Serving:
410
% Daily Value
This post contains affiliate links.
If you give this recipe recipe a try, snap a photo and share it on Instagram. Make sure to tag
@mydarlingvegan
so I can see your creations!