Delicious vegan and gluten-free Strawberry Oatmeal Bars from Oh She Glows and a review of her new book, Oh She Glows Every Day. Quick and simple for a delightful treat. 
Hey Folks! It's been a while since I've done a cookbook review on the blog but today is your lucky day. Today we will be taking a peek inside Angela Liddon's new beautiful book, Oh She Glows Every Day. But that's not all. Thanks to her publishers over at Avery I get to share one of her new mouth-watering recipes right here AND I have a copy to give away to one of you.
So let's get started!
Angela – Oh She Glows
There is a reason why her website is so popular – she is one of the best. Angela has always impressed me with her remarkable eye for food photography and her inspired palate that makes wholesome delicious meals out of few simple ingredients. But more than anything, I appreciate Angela's honest and down-to-earth approach that is as obvious throughout her blog and books as in person. So, of course, I've been eager to take a look at her new cookbook and extremely flattered when she asked me to give it a review.
Just like her first book, Angela creates something truly impressive.
Oh She Glows Every Day is a book that anyone who loves cooking and is looking for fantastic simple and healthy meals should have. With over 100 recipes, many which use 10 ingredients or less, this book is for everyone, no matter your skill level.
Let's take a closer look as to why I love this book.
1. Nearly all the recipes in this book are accompanied with beautiful, full-page photography. She keeps the photography very simple in this book, shooting it all on a white countertop with a white background (as you can see in the photos above and below). I LOVE this clean and simple look which allows the food to really speak for itself in every picture.
2. True to the book's tagline, Quick and Simply Satisfying Plant-Based Recipes, quick and simple is exactly what you will find. The book is extremely accessible for everyone, no matter where you live or how experienced you may be in the kitchen. Despite its simplicity, the recipes themselves sound incredible. In the you'll find recipes like Glowing Rainbow Smoothie Bowl, Ultimate Green Taco Wraps, Chocolate-Almond Espresso Cookies, and much more.
3. The book ends with one of my favorite chapters, "The Oh She Glows Pantry". This is a comprehensive guide of the necessary ingredients for a well-stocked vegan pantry. Along with each item you'll find tips on how to select, store, and prepare each of these ingredients. For people new to plant-based eating, this is key to success and I appreciate the amount of care put into this chapter.
4. And just like her blog and her first book, Angela continues to give a warm and personal touch to everything she does. At the beginning of each chapter there are pictures of her and her family as well as short stories introducing both the chapters and each recipe. She writes with honesty and authenticity that can be hard to find and for that reason this cookbook is uniquely special and already one of my favorites.
Recipes you'll find in Oh She Glows Everday
This book is filled with delicious and mouth-watering recipes. Among the recipes in this book, you will find:
Glowing Rainbow Smoothie Bowl
Ultimate Green Taco Wraps
Chocolate-Almond Espresso Cookies
Strawberry Oat Bars
And, I get to share with you these bars.
Strawberry Oatmeal Bars
Delicious vegan and gluten free Strawberry Oatmeal Bars from Oh She Glows and a review of her new book, Oh She Glows Every Day. Quick and simple for a delightful treat.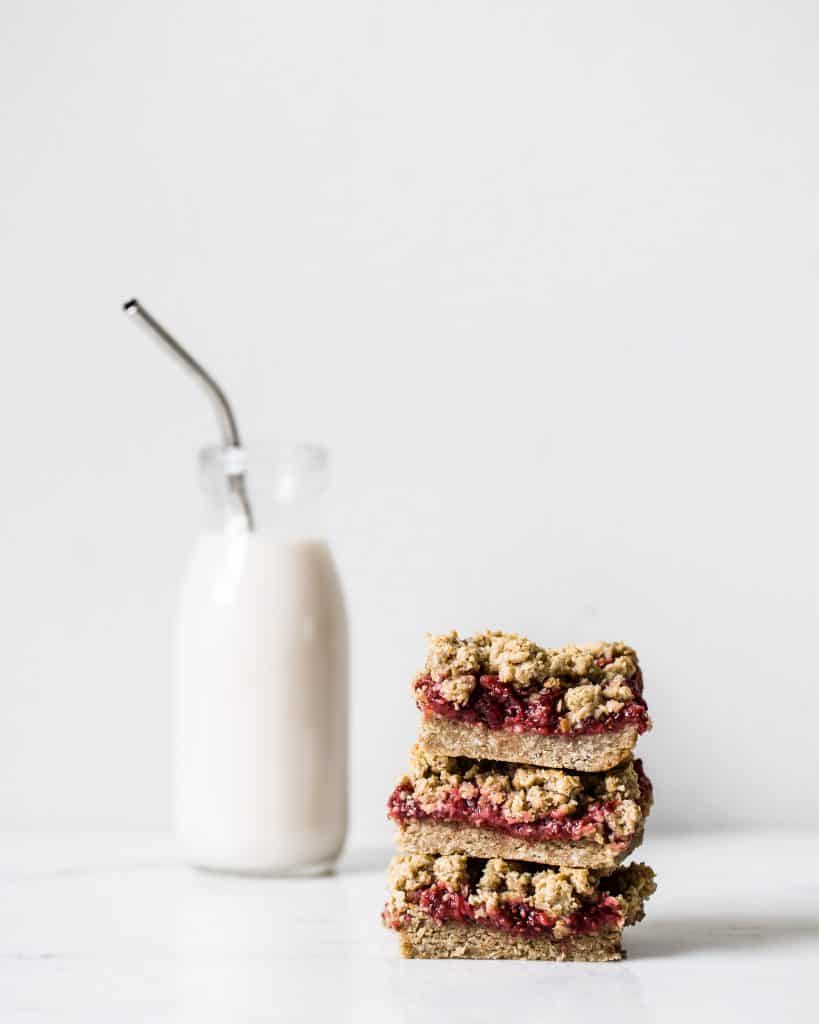 Course:
Dessert, Snack
Cuisine:
American
Keyword:
Strawberry Oatmeal Bars
Servings
:
12
Calories
: 358 kcal
Author
:
Angela Liddon
Ingredients
1 1/4

cups

(300 mL) Strawberry-Vanilla Chia Seed Jam (see page 44) or store-bought jam

1

cup

(250 mL) hulled sunflower seeds

1/4

teaspoon plus 1/8 teaspoon, 1.5 mL fine sea salt

1/2

cup

(125 mL) virgin coconut oil

1/4

cup

(60 mL) pure maple syrup

3

tablespoons (45 mL) brown rice syrup
Instructions
If desired, roast the sunflower seeds: Preheat the oven to 325°F (160°C). Spread the seeds over a large rimmed baking sheet in an even layer. Roast for 9 to 12 minutes, until lightly golden in some spots.
Remove from the oven and set aside.
Increase the oven temperature to 350°F (180°C). Line a 9-inch (2.5 L) square pan (or an 8-inch/2 L pan for a slightly thicker bar) with parchment paper, leaving some overhang, which will make it easy to lift out the bars later.
In a food processor, combine the sunflower seeds, oats, and salt and process until you have a coarse flour.
In a small pot, melt the oil over low heat. Remove from the heat and whisk in the maple syrup, brown rice syrup, and sunflower seed butter until combined. Pour the wet mixture on top of the oat mixture in the food processor and process until the mixture comes together, 10 to 15 seconds. The dough should feel quite heavy and oily, and there shouldn't be any dry patches. If there are, process for 5 seconds more. If for some reason it's still too dry, try adding water, a teaspoon (5 mL) at a time, and processing again until it comes together.
Set aside 1¼ cups (300 mL) of the oat mixture for the topping. Crumble the remaining oat mixture over the base of the prepared pan in an even layer. Starting at the center, push down with your fingers (you can lightly wet them if they stick) to spread out and pack down the crust. Press the dough down tightly. Even out the edges with your fingertips. Prick the crust with the tines of a fork 9 times to allow steam to escape.
Prebake the crust for 10 minutes. Remove from the oven and let cool for 5 minutes. (If the crust puffed up while baking, gently press down on it to release the air.) Spread the jam in an even layer over the crust. Crumble the reserved 1¼ cups (300 mL) oat mixture evenly over the jam.
Bake, uncovered, for 14 to 18 minutes more, until the topping is lightly firm to the touch. The topping will not turn golden in color; it will remain the same shade as it was before baking. Let cool in the pan on a cooling rack for 45 to 60 minutes, then transfer the pan to the freezer for 30 minutes until completely cool. Lift out the slab and slice it into squares or bars. Leftovers can be stored in an airtight container in the fridge for several days, or wrapped up and stored in the freezer for 4 to 5 weeks.
Recipe Notes
Tip: If you have a food processor with less than an 11-cup (2.6 L) capacity, you might need to process the crust in two batches and then stir it all together in a large bowl before measuring.
Nutrition Facts
Strawberry Oatmeal Bars
Amount Per Serving
Calories 358
Calories from Fat 144
% Daily Value*
Fat 16g25%
Sodium 17mg1%
Potassium 187mg5%
Carbohydrates 49g16%
Protein 5g10%
Vitamin A 5IU0%
Vitamin C 3.3mg4%
Calcium 39mg4%
Iron 1.7mg9%
* Percent Daily Values are based on a 2000 calorie diet.
Reprinted from Oh She Glows Every Day by arrangement with Avery, a member of Penguin Group (USA) LLC, A Penguin Random House Company. Copyright © 2016, Glo Bakery Corporation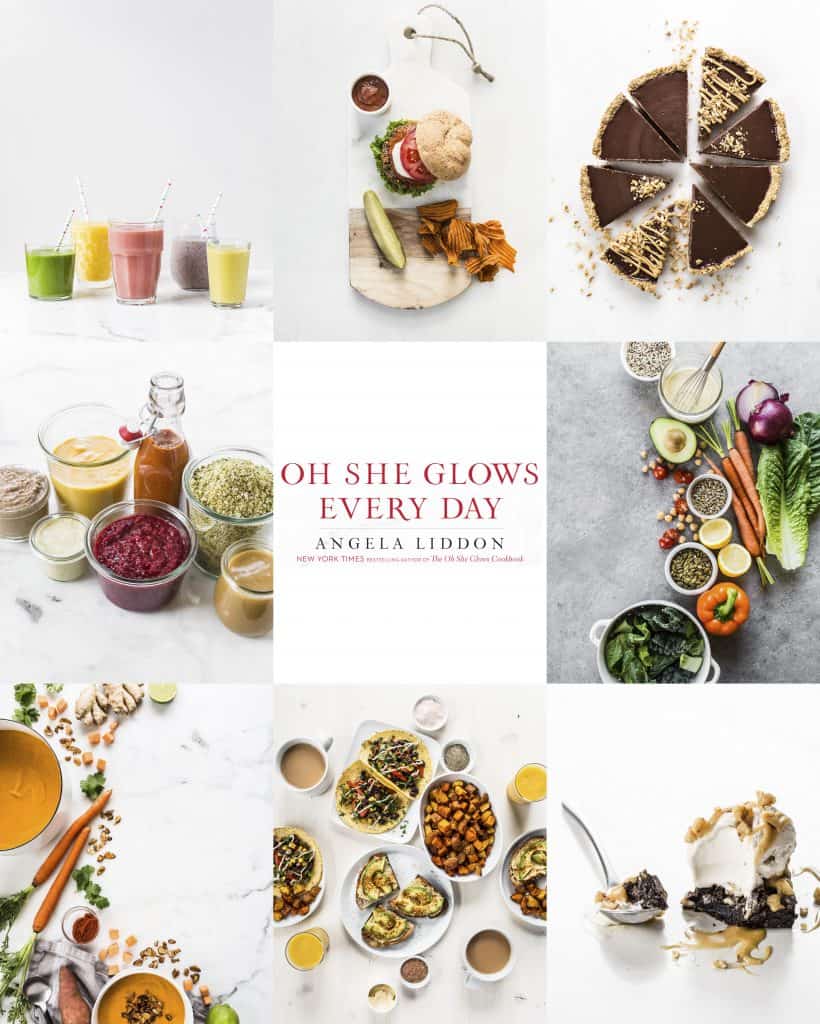 But wait, there's more!
Angela's publisher, Avery, has offer me the chance to run a giveaway for you! One lucky reader will win a FREE copy of Oh She Glows Every Day. Enter below for a chance to win.
Giveaway open to U.S. and Canada residents.
a Rafflecopter giveaway

This post contains affiliate links.
If you give this recipe recipe a try, snap a photo and share it on Instagram. Make sure to tag
@mydarlingvegan
so I can see your creations!