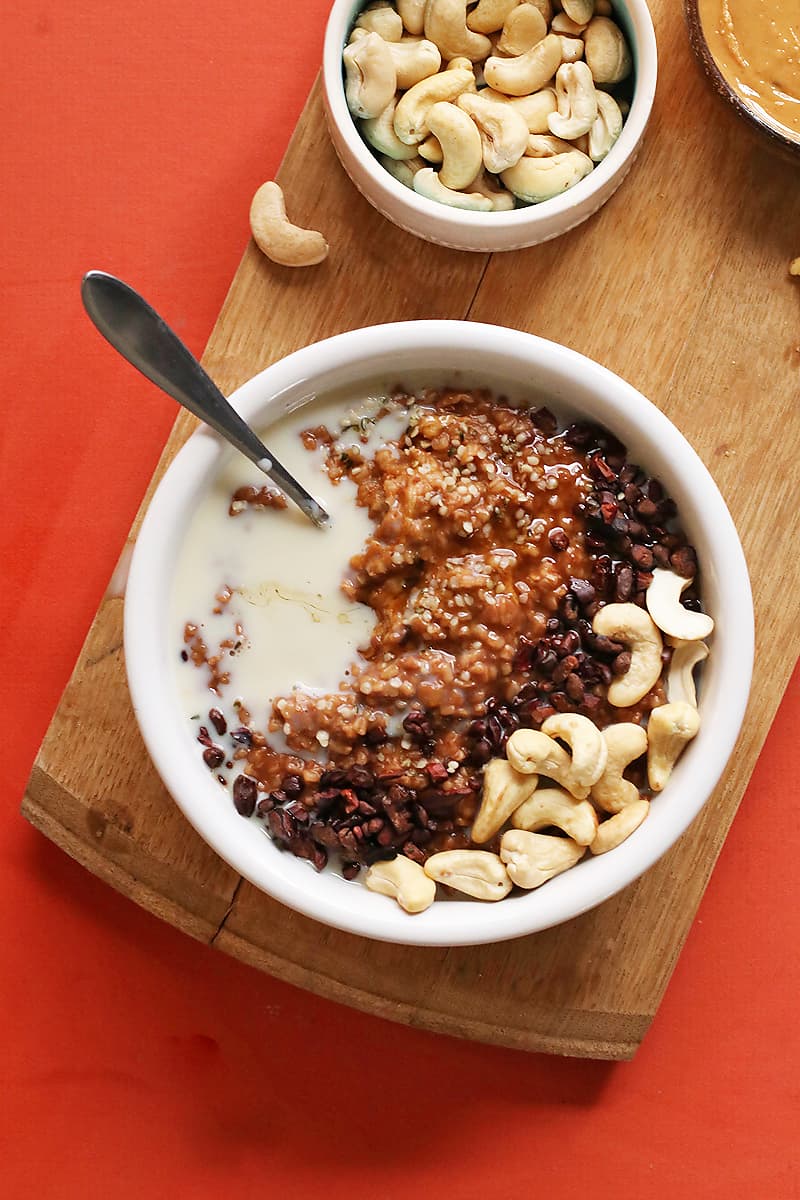 As a professional baker, 4:30 am is a pretty normal time to wake up for work; for many bakers 4:30 may actually be considered sleeping in. While many people wanted to feel sorry for my 5:00 work time, I thought it was great. At 1:00 pm I would be taking off my chef's coat and heading home to a wide open afternoon.
Despite being a fan of this early schedule, I refused to wake up even a minute before absolutely necessary. Getting ready for work basically entailed putting on jeans and a white cotton shirt, brushing my teeth, and heading out the door. This of course meant that more often than not I skipped the most important meal of the day. I curbed my appetite with americanos and lattes but by midday (around 9:00 am) I was shaky, tired, and HUNGRY.
It took me more years than I'd like to admit to find a solution, but when I finally started making overnight oats in mason jars, it revolutionized my life. It took about 10 seconds to add 'grab an oatmeal from the refrigerator' to my morning routine and as I result I felt healthy, strong, and energized the entire day.
These overnight oats are packed with nutrients and energy rich foods and they can be quickly made several days in advance. Even if you don't wake up in the middle of the night to get yourself to work, saving a little bit of time to the morning routine might allow you to enjoy that first cup of coffee even more.
Overnight Oats

MY LATEST VIDEOS
Base:
1/3 cup rolled oats
1 heaping tsp chia seeds
1/3 cup plain vegan yogurt
1/3 cup nondairy milk
1/2 tsp vanilla
In a 6 ounce mason jar stir together the base ingredients until well combined. Add the remaining ingredients from the flavor options below and combine well. Cover and place in refrigerator overnight. In the morning, grab and go.
Enjoy cold.
*These will keep in the refrigerator for up to 3 days.
1. Chocolate Chip Cookie:
2 tbsp chocolate chips
1/4 tsp cinnamon
pinch of salt
2. Peaches n' Cream
1/2 peach, chopped
pinch of salt
3. Oatmeal Raisin Cookie
2 tbsp raisins
1 tbsp pecans, chopped
1/4 tsp cinnamon
1/8 tsp nutmeg
pinch of salt
4. Carrot Cake
1/4 cup carrots, shredded
1 tbsp raisins
1 tbsp walnuts, chopped
1/2 tsp cinnamon
2 tsp maple syrup
pinch of salt
5. Banana Bread
1 small banana, mashed
1 heaping tbsp pecans, chopped
1/4 tsp cinnamon
pinch of salt
What is your favorite flavor of oatmeal?
This fall I got really into Pumpkin Pie Oatmeal (link below) but most days I enjoy a basic Maple & Raisin combination.