Vegan Cheesecake with Vanilla Bean
Raw vegan cheesecake with vanilla and mixed berry compote for a perfect sweet, delicious, and healthy treat that everyone will love.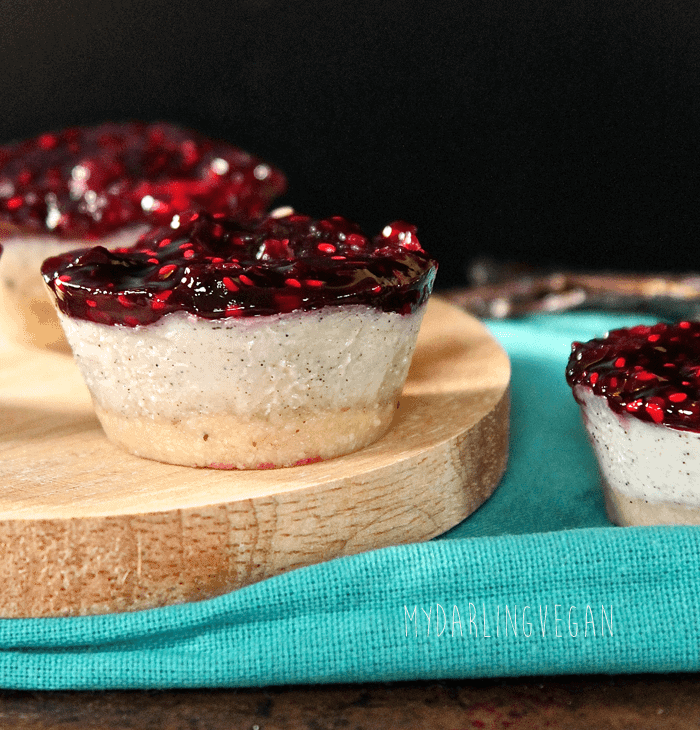 For many there is still a lot of mystery behind what vegans eat. I have been offered fish more than once yet asked, "can vegans eat peanut butter?" just as many times. There actually isn't much secret behind what we eat, and preparing food is really quite easy – you just leave out the animals.
I'm using Vegan MoFo to take an A-Z trip through my pantry to bring you 26 easy recipes to show you that anyone can cook vegan. Eating vegan, well, it's as easy as ABC.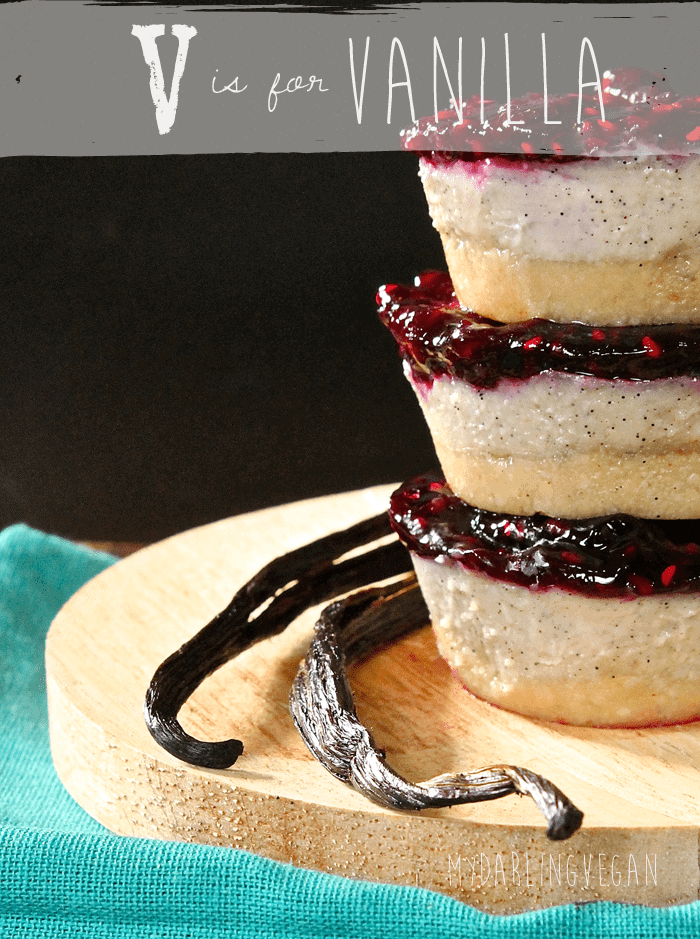 Remember that recipe I shared WAY BACK at the beginning of the month?
I barely remember what I was doing at the beginning of this month, so I don't imagine you do. Here I'll remind you: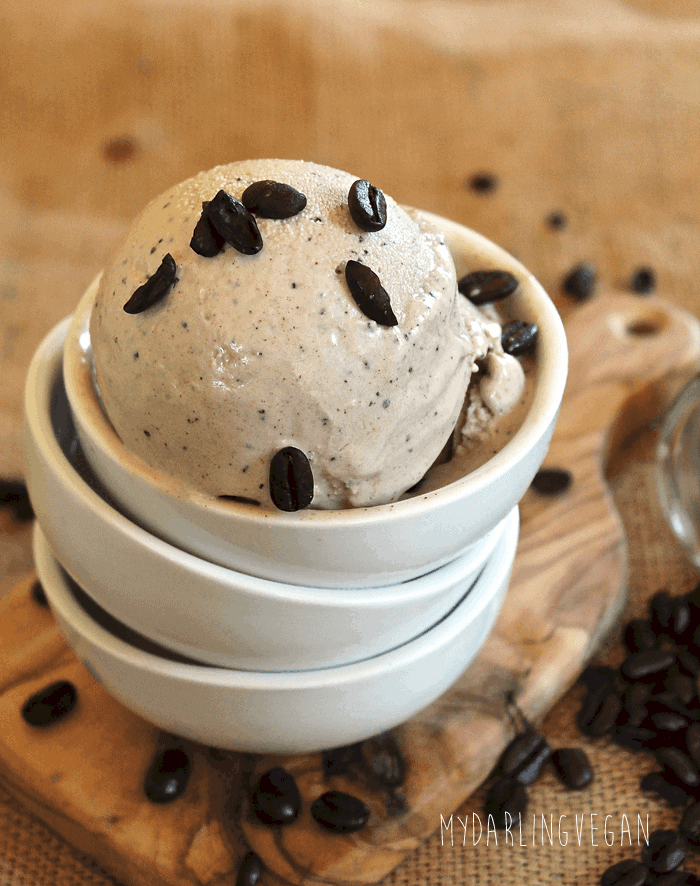 That is the Turkish Coffee Ice Cream I made out of cashews. Well cashews are back, baby, in this celebration of vegan cheesecake.
Did you know that next to saffron, vanilla is the most expensive spice in the world? I learned this in culinary school when someone in the class accidentally called something flavored vanilla, plain. What ensued was a lecture given to the entire class on the under-appreciation of vanilla. While I think there might have been an overreaction of the chef's part, I do agree that we do not give vanilla it's chance to shine. We cover it up with chocolate, lemon, coffee, etc and rarely give the vanilla bean the respect it deserves.
And so I kept these vegan cheesecakes simple in order to really celebrate the taste of vanilla. Mixed with the sweet tartness of the berry compote it's total bliss in every bite.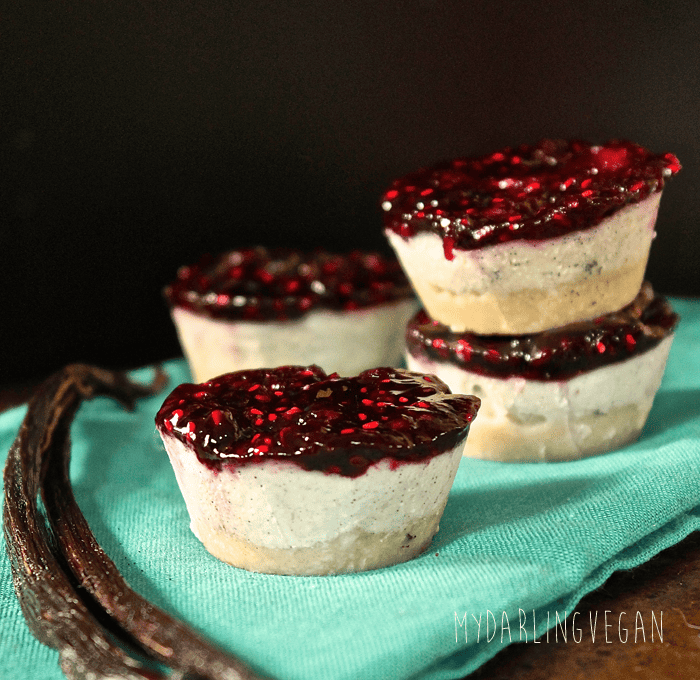 Vegan Cheesecake
Raw vegan cheesecakes with vanilla and mixed berry compote for a perfect sweet, delicious, and healthy treat that everyone will love.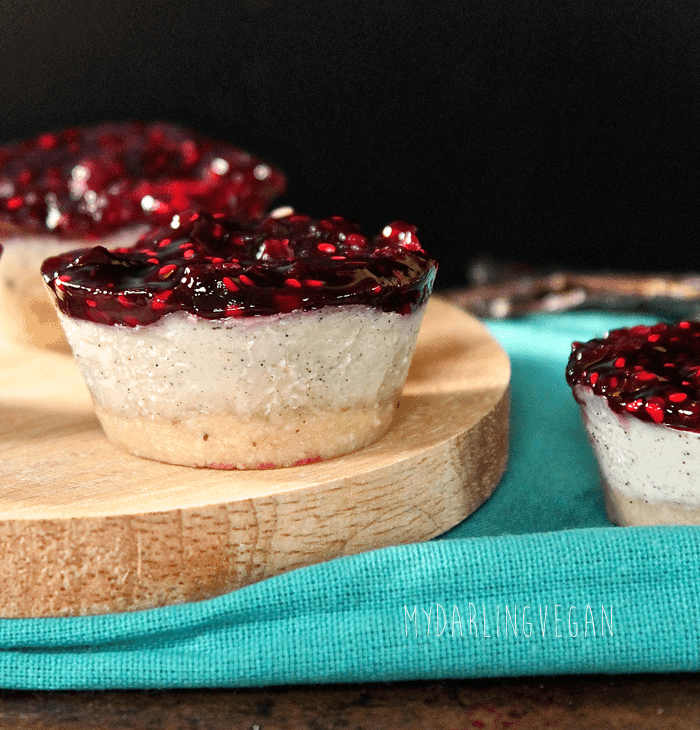 Course:
Dessert
Cuisine:
Vegan
Keyword:
Vegan Cheesecake
Servings
:
15
bite-sized cheesecakes
Calories
: 190 kcal
Author
:
Sarah McMinn
Ingredients
Instructions
Lightly oil a mini-muffin tray and set aside.
Combine the ingredients for the almond crust in a food processor until well blended, it should stick together when pressed between your fingers. Divide the crust into 15 mini muffin molds and press down until firm. Stick in the freezer while preparing the filling.

Drain and rinse the cashews and place in a high-powered blender or food processor along with all the other cheesecake filling ingredients, except water. Blend until completely smooth, scraping down as necessary and adding the water if needed.

Spoon or pipe filling on top of the chilled crusts, leaving about 1/8th inch of room.
Return to freezer and let harden while making the berry topping.

Combine the ingredients for the berry compote in a small sauce pan over medium heat and bring to a boil. Let boil for about 10-12 minutes, stirring occasionally until the mixture is thick.

Carefully spoon over chilled cheesecakes and return to the freezer until frozen all the way through.
To serve run a warm knife around the out edge of each cheesecake and they should pop out. Serve within 10 minutes of thawing and store in the refrigerator.
Nutrition Facts
Vegan Cheesecake
Amount Per Serving
Calories 190
Calories from Fat 126
% Daily Value*
Fat 14g22%
Sodium 118mg5%
Potassium 85mg2%
Carbohydrates 14g5%
Protein 3g6%
Vitamin C 0.3mg0%
Calcium 20mg2%
Iron 1.2mg7%
* Percent Daily Values are based on a 2000 calorie diet.
Recipe Notes
To make this a raw dessert replace berry compote with fresh berries.
This post contains affiliate links.
new to my darling vegan?
sign up for email updates
and find me on facebook, twitter, & instagram
If you give this recipe recipe a try, snap a photo and share it on Instagram. Make sure to tag
@mydarlingvegan
so I can see your creations!