Mexican Chocolate Coated Almonds
These Chocolate Coated Almonds are made with raw almonds coated in agave nectar and tossed in cocoa and spices for a delicious and easy midday snack. 
I've been on a mission to find life's tiny treasures. 
It's easy for me to see life's big treasures – my family, my health, the snoring puppy at my feet as I write this, the sunny 60 degree weather we've been having recently – but despite all the wonderful things in my life, I often struggle to be present for them.
In fact, for as long as I can remember I have been fighting (and usually losing) the battle to be present in the only moment that is real, now. Sometimes it's an overwhelming nostalgia  – a song that comes on the radio or a smell that reminds me of a high school boyfriend – that pulls me back to a place that is so all-consuming I can forget where I am. More often, though, it's the dreams, hope, and anticipation of a future – a future me I want to be or a future career, house, vacation, etc. I want to have – that sends me drifting away from every wonderful thing that is going on around me right this very moment.
One of the most effective ways I have learned to be present in the moment is finding and experiencing life's tiny treasures. These treasures can most easily can be found through our five natural senses – hearing, tasting, seeing, smelling, feeling. They are the portals to a world of hidden riches. For example,
Over the weekend I found:
The sweet sound of my son's "das" and "las" as he experiments with language and how it plays out on his tongue and lips
The comforting taste of that first sip of morning coffee
The awe-inspiring sight of Mt. Hood that comes into view when driving over the Fremont Bridge
The refreshing smell of the daffodils coming to bloom juxtaposed with
The warm feel of my daughter's body curled into mine as she sleeps off the croup that's been plaguing her for almost a week
These are the moments that make up life. There are a thousand of them every day and most of them are missed while I'm fixated on if Eden will get into the right preschool or what recipes to share on this blog for the upcoming week.
Inside life's tiny treasures lies a very big reward – bigger than a successful career or a fancy house.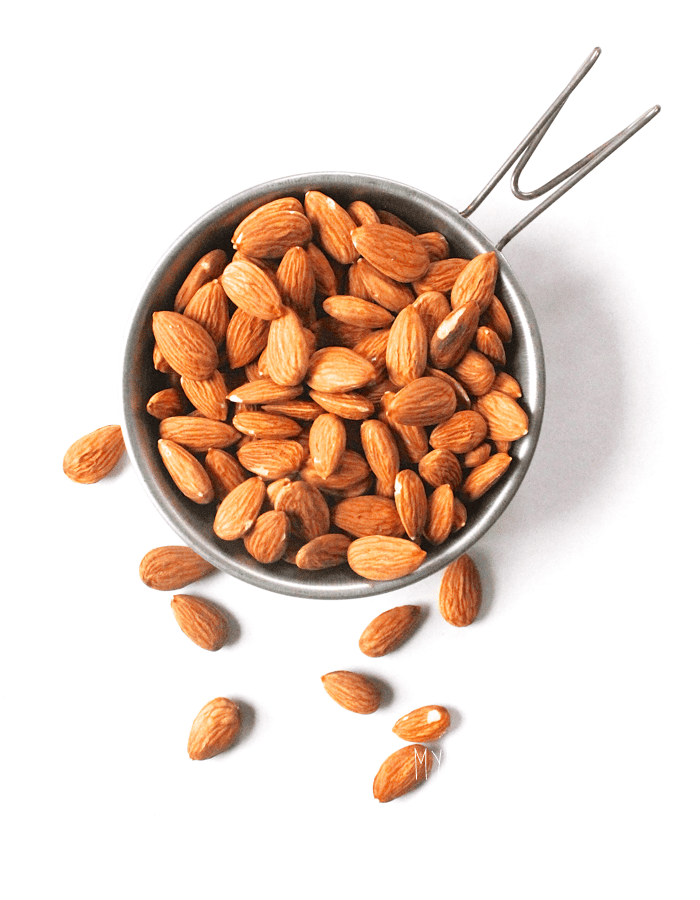 By unlocking the tiny treasure you will find a life, well, lived.
Food, which relies on several of our senses, is one of the easiest ways for me to fully present.
When I can slow down enough to be grateful and recognize the miracle behind the food that nourishes our bodies and minds I can appreciate the smell, the feel, and most definitely the taste.  But especially when the food is not just for nourishment but pleasure – something we take for granted in the richer parts of the world – I can hold it in my hand and recognize it for what it is, a gift meant to enrich life.
And that is exactly what these Chocolate Coated Almonds do. Balancing the earthy nutty flavor with the enchanting spices of cinnamon and cocoa, this simple snack truly is a tiny treasure.
Chocolate Coated Almonds
These Chocolate Coated Almonds are made with raw almonds coated in agave nectar and tossed in cocoa and spices for a delicious and easy midday snack.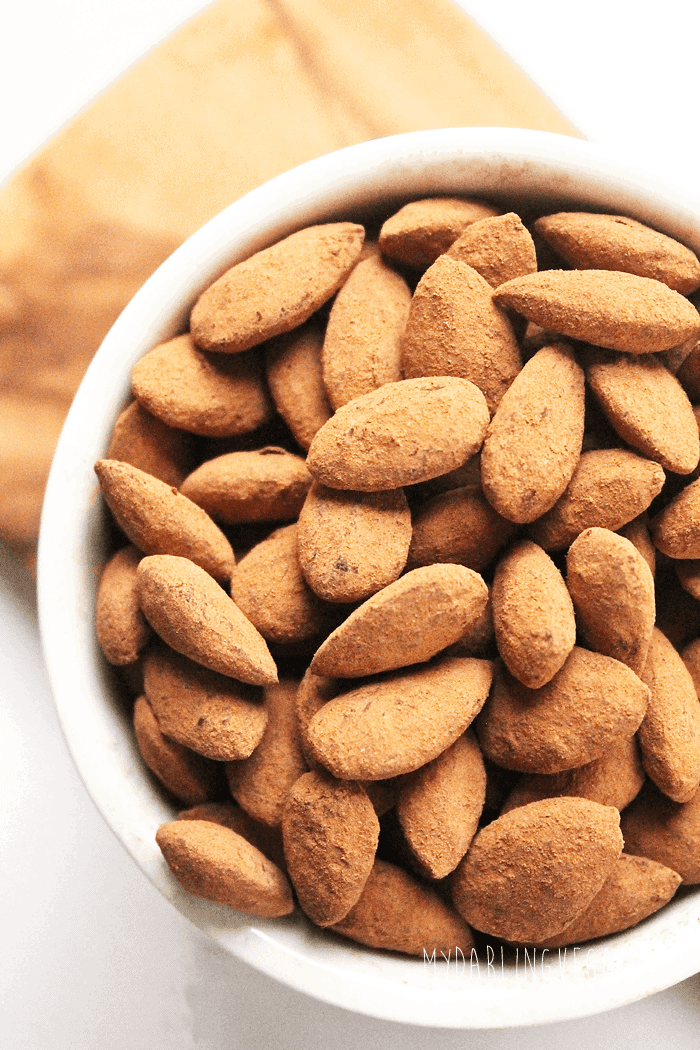 Course:
Snack
Cuisine:
American, Mexican
Keyword:
Chocolate Coated Almonds
Servings
:
6
people
Calories
: 219 kcal
Author
:
Sarah McMinn
Ingredients
Instructions
Preheat the oven to 350F. Line a baking sheet with parchment paper and set aside.
In a small bowl toss together the almonds, agave nectar, and salt until almonds are completely coated.
Spread onto prepared baking sheet in a single layer. Bake for 12 minutes, stirring occasionally.
Meanwhile combine cocoa powder, cinnamon, and cayenne pepper in a small bowl.
Remove almonds from the oven and immediately toss them in the cocoa mixture to coat.
Nutrition Facts
Chocolate Coated Almonds
Amount Per Serving
Calories 219
Calories from Fat 153
% Daily Value*
Fat 17g26%
Potassium 271mg8%
Carbohydrates 11g4%
Protein 7g14%
Calcium 94mg9%
Iron 1.5mg8%
* Percent Daily Values are based on a 2000 calorie diet.
 
This post contains affiliate links.
If you give this recipe recipe a try, snap a photo and share it on Instagram. Make sure to tag
@mydarlingvegan
so I can see your creations!