Megan's Vegan Butternut Squash Soup
This creamy and delicious Vegan Butternut Squash Soup with roasted parsnip is easy to make and 100% vegan and gluten free!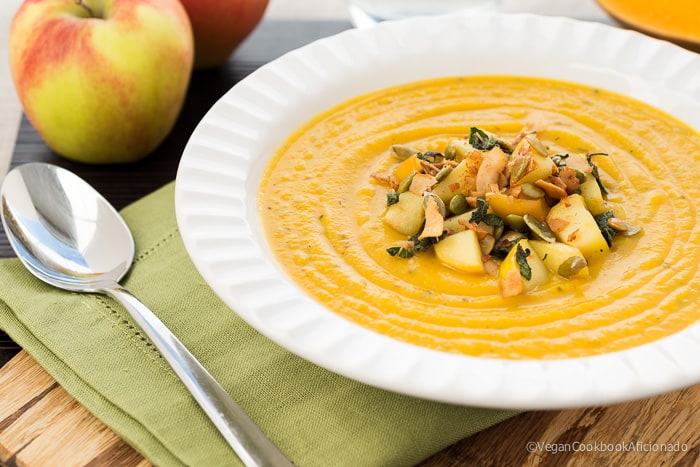 As many of you know by now my life has taken a drastic change this year with the edition of Baby Nash. In preparation for what I can only imagine being a CRAZY few months, I asked some of my favorite bloggers for help. So over the next several months, each Wednesday, these awesome people will be sharing with you some awesome recipes.
Starting us off is the lovable and hilarious Megan (a.k.a. Maggie Muggins) from Vegan Cookbook Aficionado. I first discovered Megan's blog about half a year ago while putting together a Friday's Fave Five post. Her beautiful photography immediately caught my eye and I found myself drooling all over her website. I mean check out these Pumpkin Cinnamon Sticky Buns or these Waffles with Maple Burbon Date Syrup. Basically, if you're looking for delicious, decadent brunch recipes, she's your girl. Seriously. If you don't already, you should probably start following Maggie Muggins via Facebook and Twitter oh, and Instagram, too.
Thanks Megan for stopping by The Sweet Life! You're awesome.
Why hey there fabulous Sweet Life readers, I'm Megan from The Vegan Cookbook Aficionado and I'm uber happy to be doing a guest post for Sarah today! While Sarah is enjoying time with her new little chickpea, she's asked me to entertain you with a tasty post, so of course I said yes! What am I crazy?…ok maybe a little, but that's beside the point. I don't mean to gush (I totally mean to gush), but Sarah is captain of one of my favorite blogs, I mean just look at this thing, it's beautiful. With all her creative recipes, gorgeous photos and entertaining stories about her life and family, I'm constantly excited to see what she comes up with next. I adore baking and I've been doing a lot of it lately but when I was trying to think of something to share with you all, my mind immediately differed to soup. It's cold outside, many people are trying to get back on track with eating habits and it's such an easy recipe to make, soup for the win!
This past Fall, my husband and I grabbed some lunch at a little café in Banff where one of the vegan options just so happen to be soup. We ordered a bowl each of parsnip soup to chow down on and although it was tasty, it also planted a thought in my head. Every single time I've had parsnip soup it's been the same old parsnips with nutmeg mixture, which is good and all, but I wanted something different. Parsnips are kind of like carrot's black sheep sibling, for some reason they aren't used as often as carrots, and I really wish they were because they're so flavorful, especially when roasted. With soup and parsnips on the brain, I decided to finally put my own spin on things and have those parsnips shine in a whole new light.
I love me some butternut squash, like if I could choose one squash to eat for the rest of my life, butternut would be it. Although I've been overly indulging in way too much pumpkin, I've yet to crack open any butternut this year, so sad, I needed to rectify that. It's weird, it doesn't matter how many squashes I've cooked in my life but every time I try to cut one of those suckers open, I feel like the most uncoordinated awkward person who has ever held a knife. It's like there's no way to cut open one of those things gracefully, it just results in me making a weird hacking sawing motion. Maybe that's just me?….anyone? Ok, chances are that's just my klutziness sneaking through but it's still something I've never quite learned to master.
To enhance the flavor of the Vegan Butternut Squash Soup, I roasted the squash, parsnips and an apple for some added sweetness. Once that's all done, everything is blended together along with some broth, then heated in a pot along with some delicious dried herbs to add a lovely savoury aroma and some richness. For the topping I took a note from Ketty at Luminous Vegans and sautéed some apple, pumpkin seeds and sage, it adds some texture and extra flavor, plus look at how pretty it is! So there you have it, the perfect cold weather dinner. I highly suggest just going ahead and doubling the batch now to freeze some for a day you don't want to cook. Trust me, you'll me for it later 😉

Vegan Butternut Squash Soup
This creamy and delicious Vegan Butternut Squash Soup with roasted parsnip is easy to make and 100% vegan and gluten free!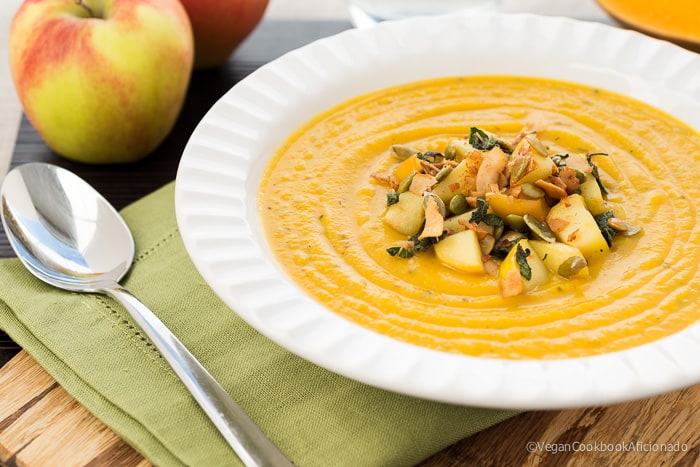 Course:
Soup
Cuisine:
Vegan
Keyword:
Vegan Butternut Squash Soup
Servings
:
4
people
Calories
: 188 kcal
Author
:
Sarah McMinn
Ingredients
1 1/2

pounds butternut squash, peeled & cut into ½-inch pieces

1

pound parsnips, peeled & cut into 3-inch long pieces

1/2

apple, cored & roughly chopped

1

onion, roughly chopped

2

cloves garlic, pressed
salt & pepper

1 1/2

teaspoons thyme

1/4

teaspoon powdered sage

1/2

teaspoon tarragon
salt and pepper, to taste
Instructions
Preheat over to 400 degrees F.
In a large bowl, combine the butternut, parsnip, apple, onion, garlic, salt and pepper. Drizzle with enough oil to lightly coat and toss together. Evenly spread on a baking sheet lined with parchment paper and roast the vegetables for 45 minutes, tossing giving them a toss once or twice. Remove from oven and let cool slightly.
Transfer the vegetables to a blender, alternatively, if you have a hand blender, transfer them to a large pot. Add 4 cups of broth and blend until smooth. Transfer to a large pot and bring to a low simmer. Add the thyme, sage, tarragon, salt and pepper. Add additional broth to reach the consistency you prefer, I like thick soup, so only used 4 to 4 ½ cups. Simmer until heated though and serve.
For topping: Sauté a chopped apple, pumpkin seeds, sage in some oil.
Nutrition Facts
Vegan Butternut Squash Soup
Amount Per Serving
Calories 188
% Daily Value*
Sodium 19mg1%
Potassium 1088mg31%
Carbohydrates 46g15%
Protein 3g6%
Vitamin A 18115IU362%
Vitamin C 59.7mg72%
Calcium 137mg14%
Iron 2.1mg12%
* Percent Daily Values are based on a 2000 calorie diet.
This post contains affiliate links.
Megan A.K.A. Maggie Muggins, is the voice, recipe developer, baker and photographer behind the Vegan Cookbook Aficionado. A self-proclaimed cookbook junkie, Megan started her blog as a means to share her trials and tribulations with vegan cooking and show how easy and mouthwateringly delicious a compassionate lifestyle can be. When she isn't eating and taking photos of food, Megan spends her time with her husband and rescue kitty Apollo. Read more about Megan's antics, recipe creations and brunch obsession over at www.cookbookaficionado.com.

If you give this recipe recipe a try, snap a photo and share it on Instagram. Make sure to tag
@mydarlingvegan
so I can see your creations!