Kristy's Salted Caramel Pecan Vegan Waffles
These vegan salted caramel pecan vegan waffles with caramel apple topping are an incredibly delicious and decadent way to start the day.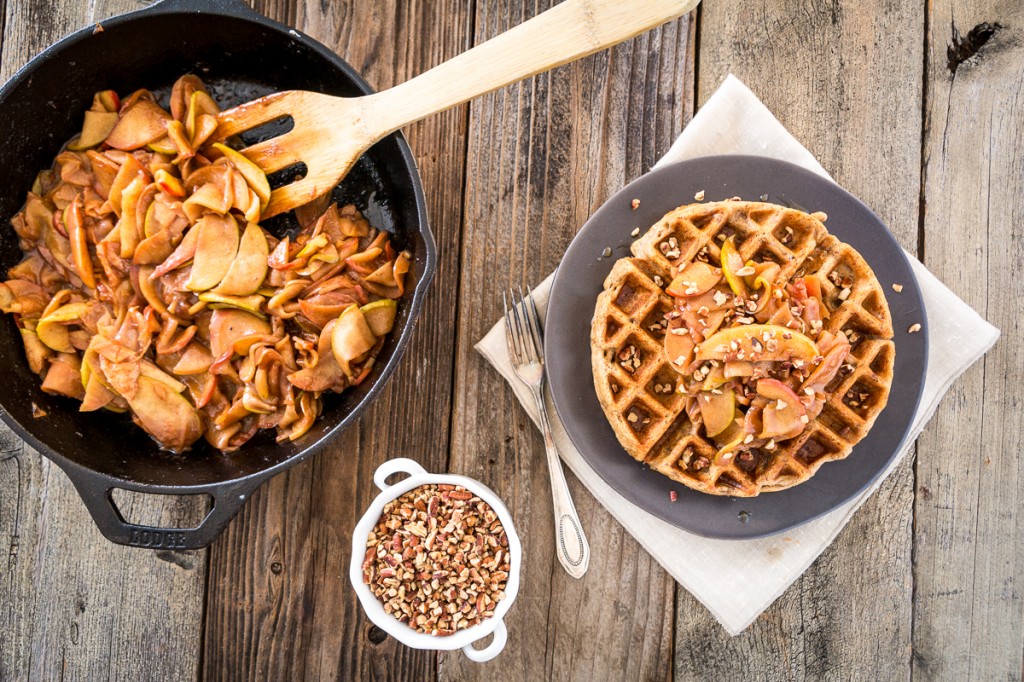 t's Wednesday which means once again I get to welcome one of my favorite bloggers to The Sweet Life! Today I am so excited to have Kristy from Keepin' It Kind stop by for a visit. I love this girl. Not only is Kristy incredibly talented, which you already know if you've spend one second on her blog, but she is also one of the sweetest and humblest people I've encountered. One of the many reasons I am drawn to her blog – beyond the recipes, beautiful food styling, and inspired photography (thanks, Chris) – is her honest writing and heartfelt stories. Kristy shares so much more than food recipes, she shares pieces of herself as she journeys through life. If you aren't keepin' up with Keepin' It Kind, start. Find her on Facebook, Twitter and Instagram.
Please welcome Kristy!
There are some words and phrases that just get my heart all in a tizzy just at the mere thought of them. Words that cross my mind a little more slowly than others, phrases that like to linger for a little while. "Salted Caramel" is one of them.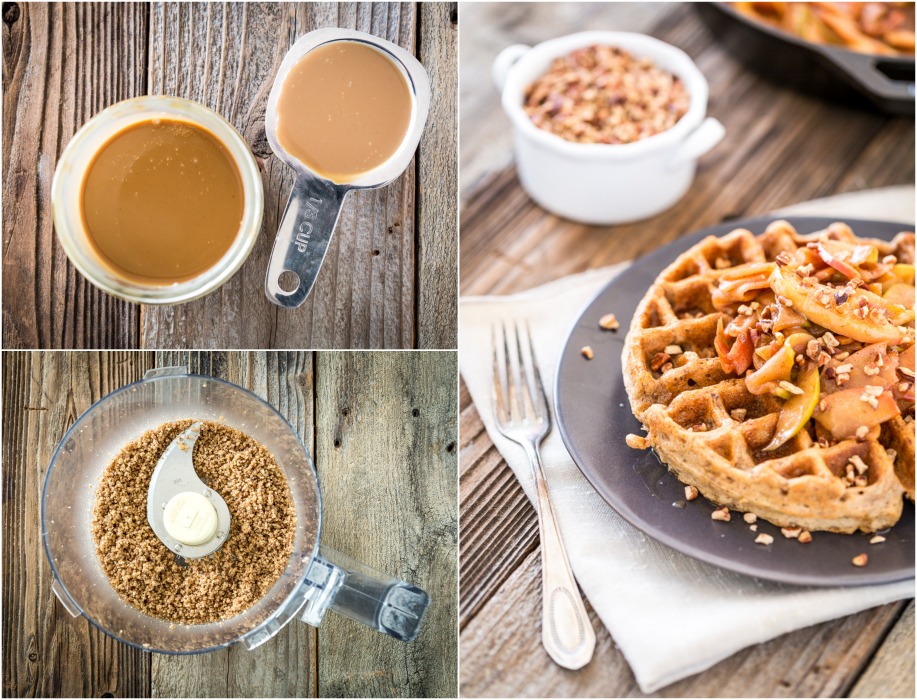 "Waffles" is another.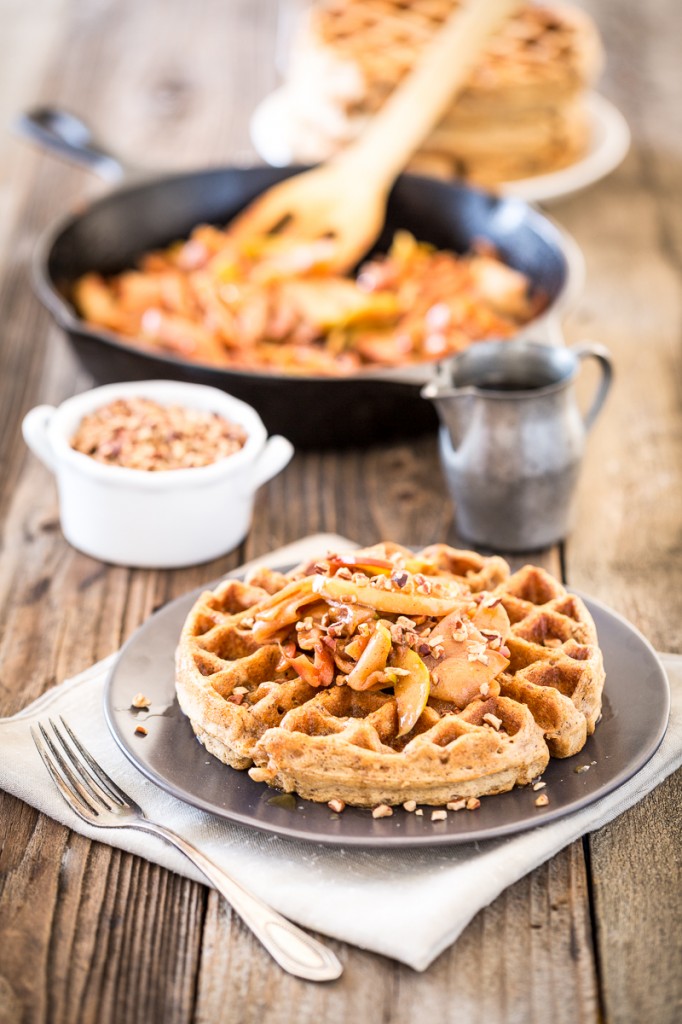 When combined, the words "cinnamon" and "apple" make me a little weak in the knees.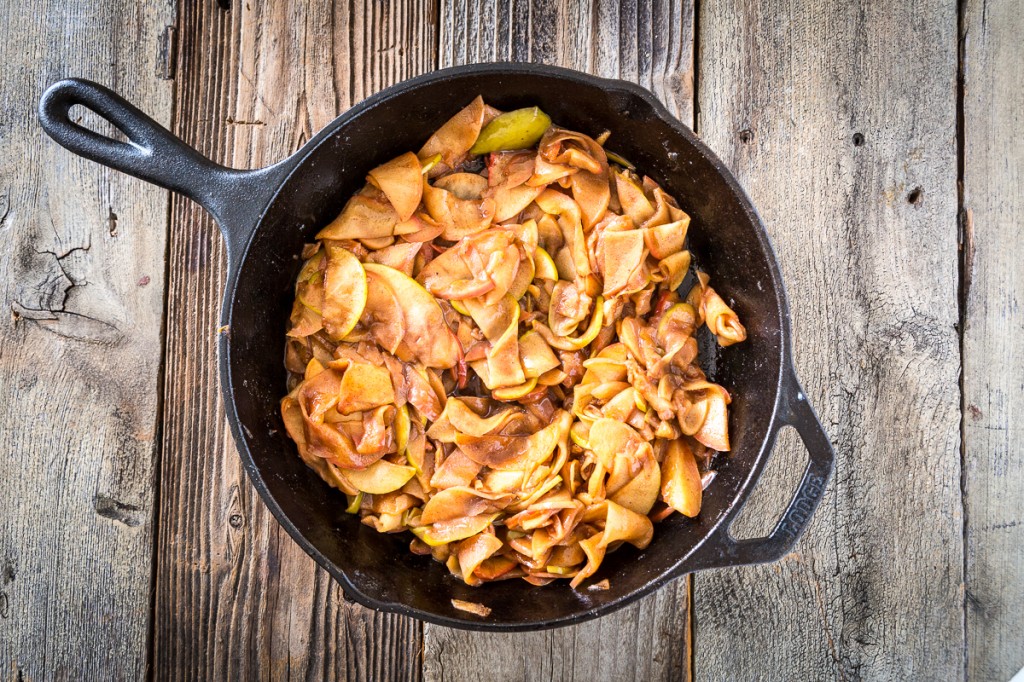 A few months ago, when Sarah asked me to help out with a guest post after her darling new baby was born, I of course jumped at the chance. I adore Sarah and The Sweet Life is one of my favorite blogs. The recipe I would share didn't even cross my mind.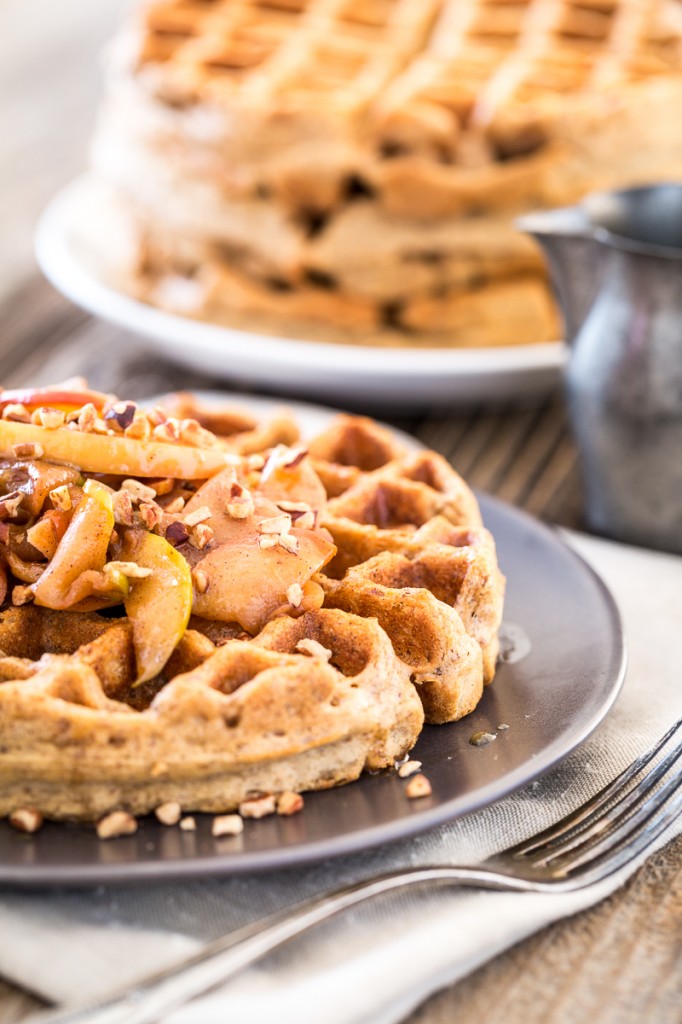 After the holidays passed and I began to brainstorm what exactly I would make, I kept pulling a blank. In fact, I've been doing that a lot lately. I've been so focused on recipes for my upcoming cookbook that when it comes to anything else, my creative juices sometimes feel a little zapped. It's times like this when I can't seem to squeeze out another recipe to save my life that brain starts flipping though its favorite words and phrases. "Salted Caramel" and "Waffles" seemed to want to hang out for awhile so I just went with it.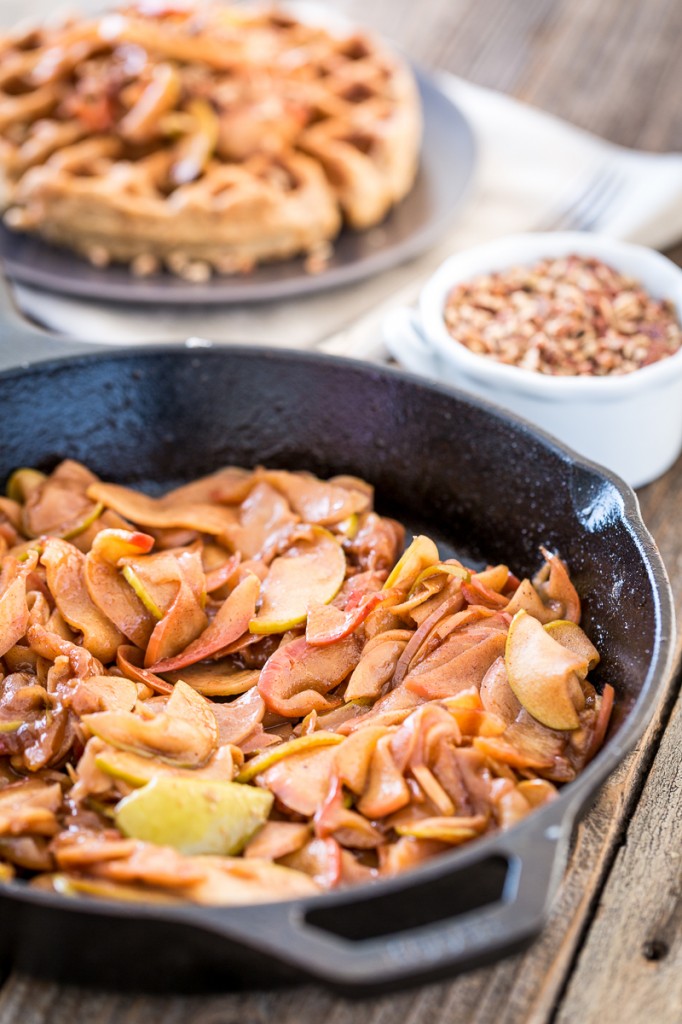 And salted caramel pecan waffles happened. And so did a sticky sweet cinnamon apple topping. Every warm and cozy bite was slightly nutty with subtle caramel notes. The cinnamon apples accented the waffles perfectly. The whole family was pretty excited about them but the word "Waffles" is always a big winner with them too, regardless of the flavor.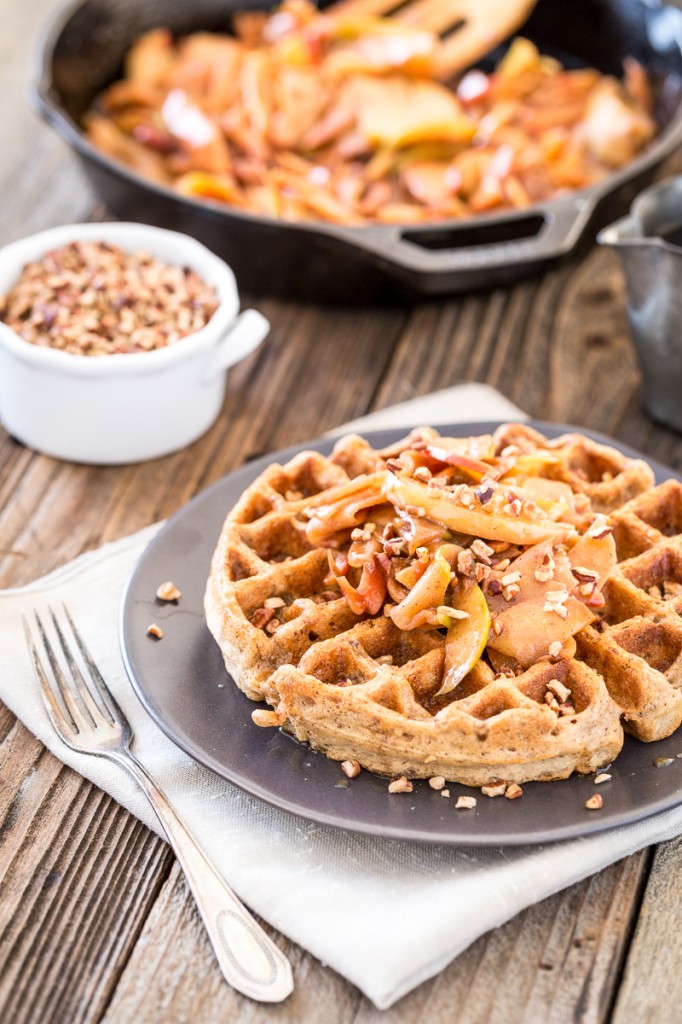 Salted Caramel Pecan Vegan Waffles
These vegan salted caramel pecan vegan waffles with caramel apple topping are an incredibly delicious and decadent way to start the day.
Course:
Breakfast
Cuisine:
Vegan
Keyword:
Vegan Waffles
Servings
:
6
people
Calories
: 426 kcal
Author
:
Kristy Turner
Ingredients
Salted Caramel Sauce
one 13.5 ounce can of full-fat coconut milk

3/4

cup

coconut sugar
salt to taste
Salted Caramel Waffles
1

cup

whole wheat pastry flour

3/4

cup

chopped pecans, ground into a coarse flour

3/4

cup

oat flour

1

tablespoon baking powder

1/2

teaspoon ground cinnamon

1/2

teaspoon salt

1 1/3

cup

almond milk

2/3

cup

salted caramel sauce

2

tablespoons maple syrup

2

tablespoons grape seed oil, or canola oil
Cinnamon Caramelized Apples
2

tablespoons vegan butter

1/4

cup

coconut sugar or vegan brown sugar

1

teaspoon ground cinnamon

1/2

teaspoon ground ginger

4

apples tarter varieties, such as Granny Smith or Pink Lady, are best

1

tablespoon arrowroot powder or cornstarch

1

tablespoon lemon juice

1/4

teaspoon salt
Instructions
Combine the coconut milk and sugar in a small pot and bring to a boil. Once it is boiling, reduce to a low simmer. Let it simmer for about 25 minutes. Remove from the heat and let cool completely. Chill until ready to use.
In a large bowl, whisk together the dry ingredients. In a medium bowl, mix together the wet ingredients. Add the wet ingredients to the dry and mix until just combined.
Melt the butter for the cinnamon apple topping in a large shallow saucepan. Stir in the sugar, cinnamon, and ginger. Add the apples and stir until all the slices are coated. Let cook, stirring occasionally, for about 15 to 20 minutes, or until apples are soft. Stir in the arrowroot powder and then the lemon juice and salt. Remove from the heat.
While the apples are cooking, cook your waffles according to your waffle iron's instructions.
Serve the waffles while warm, topped with cinnamon apples, chopped pecans, and a light drizzle of maple syrup. Enjoy!
Nutrition Facts
Salted Caramel Pecan Vegan Waffles
Amount Per Serving
Calories 426
Calories from Fat 126
% Daily Value*
Fat 14g22%
Sodium 452mg20%
Potassium 525mg15%
Carbohydrates 73g24%
Protein 6g12%
Vitamin A 245IU5%
Vitamin C 6.5mg8%
Calcium 195mg20%
Iron 2mg11%
* Percent Daily Values are based on a 2000 calorie diet.
This post contains affiliate links.
Thank you Sarah so much for having me over and thank you all for hanging out with me today!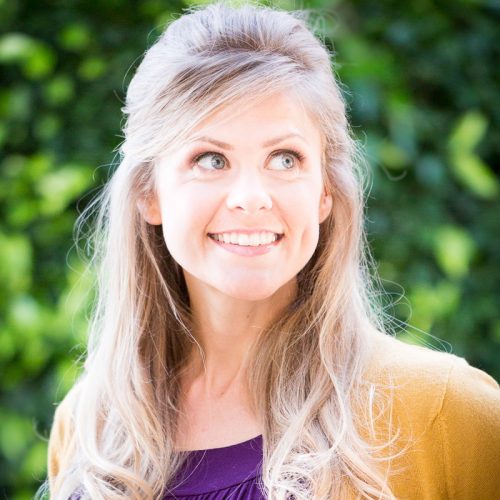 Kristy Turner is the writer, recipe developer, and food stylist behind the blog, Keepin' It Kind. Former fromagier and mutterer of the words "I could never be vegan," Kristy now loves her compassionate lifestyle and works with her photographer husband, Chris, to make veganism accessible, fun, and delicious for everyone. You can find Kristy at Keepin' It Kind or on Facebook, Twitter, Pinterest, or Instagram.
If you give this recipe recipe a try, snap a photo and share it on Instagram. Make sure to tag
@mydarlingvegan
so I can see your creations!