Enjoy this Kale Salad with Bacon Chickpeas and Garlic Dijon Vinaigrette for a light vegan and gluten-free meal that the whole family will love.
This post contains affiliate links. For more information, check out my privacy policy.
Remember the other day when I said that roasted chickpeas were my new favorite cleanse snack?
Well, here is another example of why. This Kale Salad with Bacon Chickpeas and Garlic Dijon Vinaigrette is a great meal that can be thrown together in minutes (assuming you have the Bacon Chickpeas on hand), packed up, and taken with you to work for a filling, healthful, and downright tasty lunch.
Kale + Chickpeas = perfection!
The salad starts with massaged kale.
Massaging is an important step when you're eating kale raw. A simple massage helps break down the leaf's toughness and bitterness while releasing sweetness and tenderness into the leaves. You will find that any time you're going to eat kale raw a quick massage will greatly enhance the flavor and texture.
Fortunately, massaging kale is really easy. First you'll want to chop the kale finely and place it in a large bowl. Next drizzle it with a little olive oil and salt. I like adding lemon here as well for extra flavor, but that's not necessary. The oil and salt help break down the leaf's toughness allowing it to tenderize even more.
As you massage the kale you will notice the leaves get more vibrantly green with a bit of silky shine. The kale will also shrink in volume as the leaves tenderize. At this point, try a piece. You'll notice it's much easier to chew and the bitterness of the kale is gone.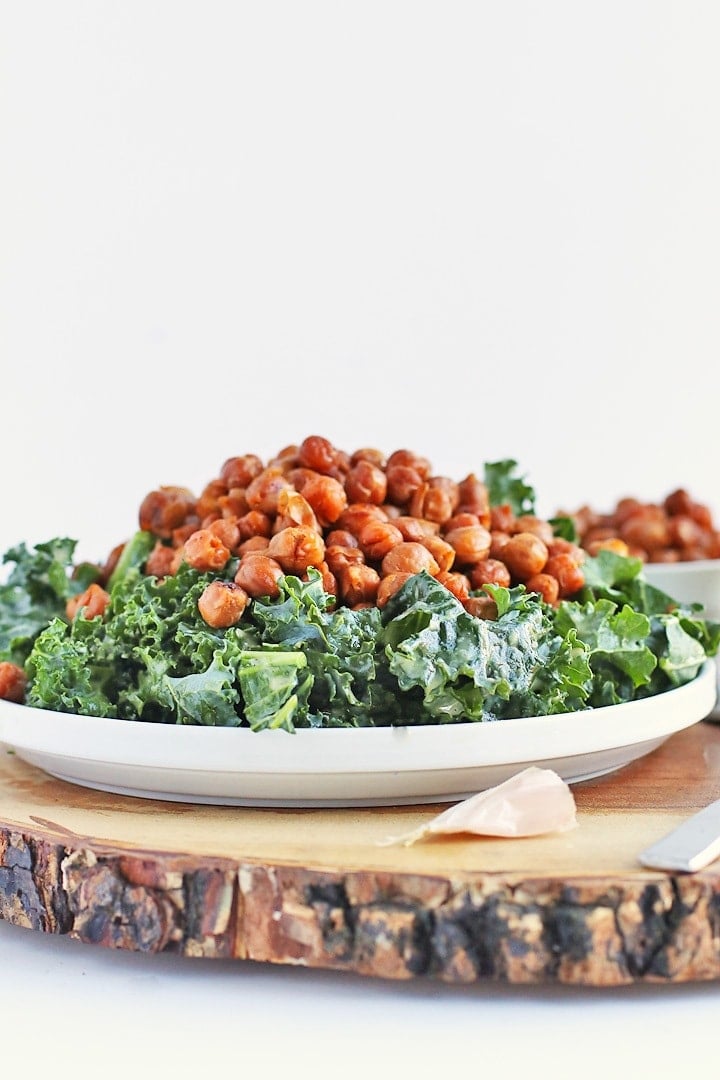 Once the kale is nice and massaged, you'll then tossed it with a homemade Roasted Garlic Dijon Vinaigrette.
This vinaigrette recipe is fairly straight forward although it take a bit of prep work. The garlic is slowly roasted in the oven with a bit of oil drizzled for a rich and buttery flavor that creates the base for this dressing. You'll find the necessary steps to roast garlic in the recipe card below but for a more thorough tutorial, check out The Kitchn's "How to Roast Garlic" guide. That's how I learned!
And the final step of this Kale Salad with Bacon Chickpeas is to toss on some of those bacon chickpeas. You know, the ones you've been snacking on all week.
Then, ta-da!
You've got yourself a wholesome, flavor-packed, nutrient-dense lunch you can enjoy all week long.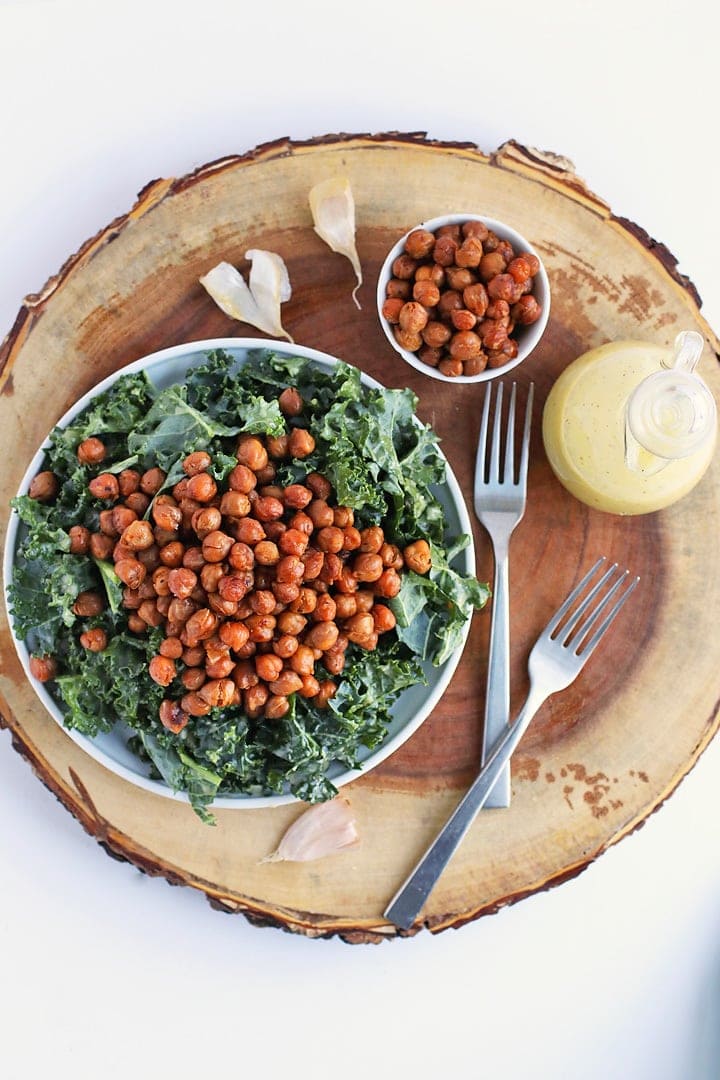 Kale Salad with Bacon Chickpeas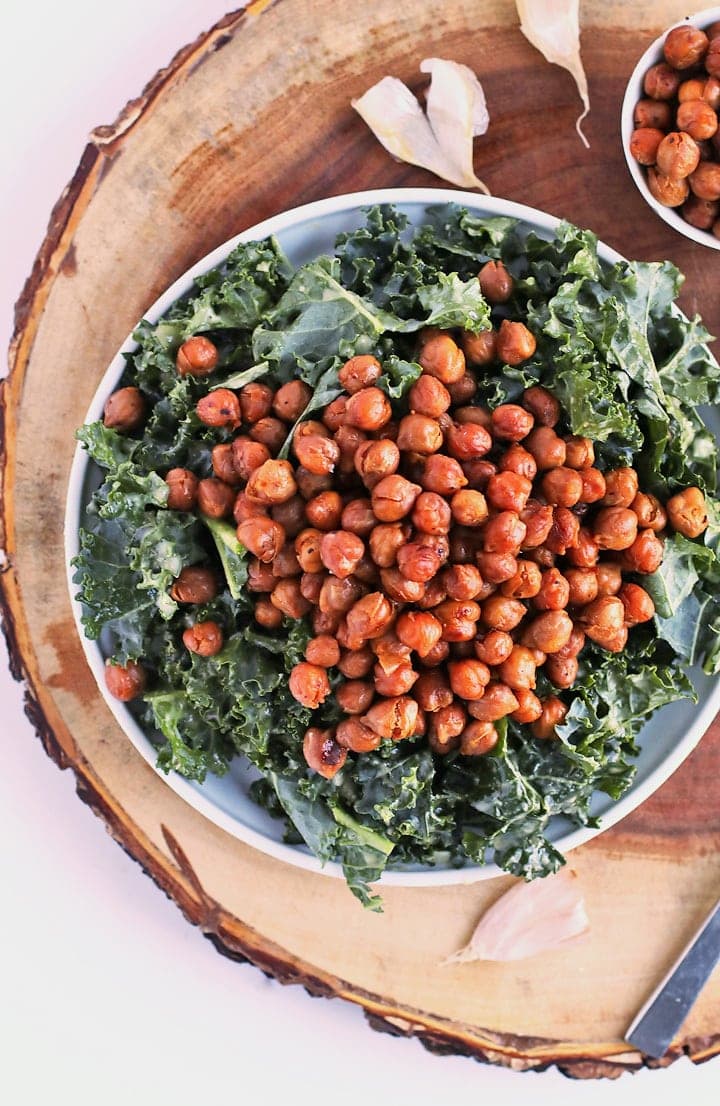 Enjoy this Kale Salad with Bacon Chickpeas and Garlic Dijon Vinaigrette for a light vegan and gluten-free meal that the whole family will love.
Ingredients
Kale Salad
1

bunch

kale

(I prefer Curly Kale)

juice of

1/2 lemon,

optional

1

tbsp

olive oil

1/4

tsp

salt

1/2

batch

Bacon Flavored Roasted Chickpeas
Garlic Dijon Vinaigrette
1

head

garlic

1/2

cup

olive oil,

divided

2

tbsp

dijon mustard

1

tsp

apple cider vinegar

1/2

tsp

agave nectar

1/2

fresh lemon

pinch of

salt and pepper,

to taste
Instructions
Start by roasting the garlic. Preheat the oven to 400 degrees F. Peel the outside skin off the garlic off, leaving on the skins of the individual cloves that hold it together. Cut 1/4" - 1/2" off the head of bulb so that garlic is exposed. Place the garlic in a baking pan or muffin tin, exposed end up, and drizzle it with about 2 tsp of olive oil. Cover with tin foil. Bake for 30-35 minutes until cloves are tender and buttery. Remove from oven and set aside to cool.

While garlic is cooling, finely chop the kale and place it in a big bowl. Drizzle the kale with olive oil, salt, and lemon (if using.) With your fingers, gently rub the kale leaves together to massage it. Massage for a couple of minute until the kale leaves have turned a more vibrant green and reduced in size. Set aside.

Once garlic is cool, place it in a blender with all the other vinaigrette ingredients. Blend until smooth.
Recipe Notes
You will only use about 1/4 of the Roasted Garlic Dijon Vinaigrette. The rest can be stored in an airtight container in the refrigerator for up to 2 weeks. 
The Bacon Chickpeas and Vinaigrette can be made several days ahead of time so that the salad can easily prepped when needed. 
Nutrition Facts
Kale Salad with Bacon Chickpeas
Amount Per Serving
Calories 308
Calories from Fat 279
% Daily Value*
Total Fat 31g 48%
Sodium 244mg 10%
Potassium 216mg 6%
Total Carbohydrates 7g 2%
Protein 2g 4%
* Percent Daily Values are based on a 2000 calorie diet.
If you give this recipe a try, let us know what you think in the comments below. Or snap a photo and share it on Instagram. Make sure to tag @mydarlingvegan so I can see your creations!