Snickers-Stuffed Vegan Chocolate Chip Cookies
These classic vegan chocolate chip cookies are made even better when stuffed with vegan Snicker's bars for extra nutty and caramel-y flavor.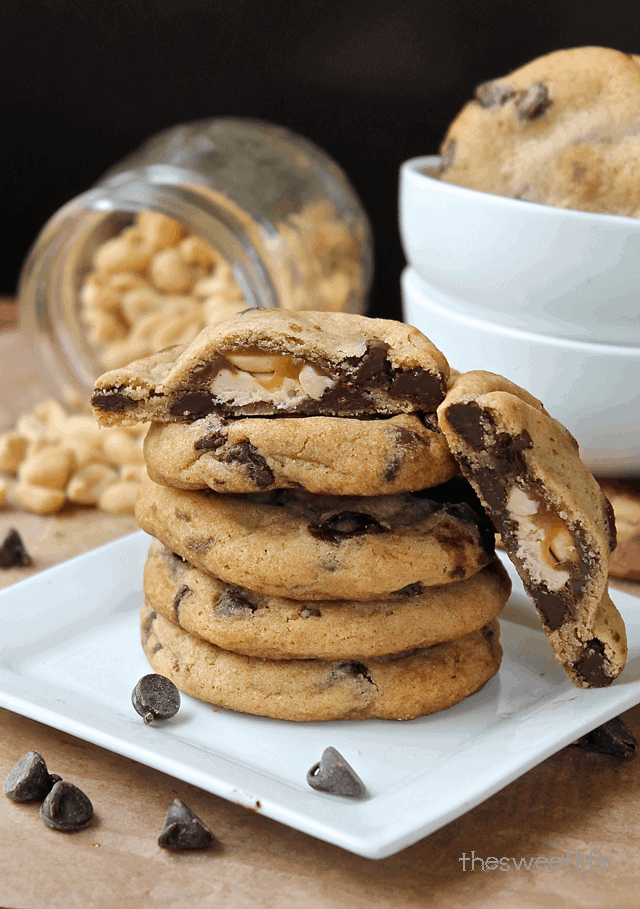 Remember last month when I wrote about Go Max Go and all of their vegan candy goodness?
Of course you do, how could you forget those mini Peanut Butter Cup Cheesecakes? Or the fact that Go Max Go has somehow managed to perfect seven vegan, responsibly-sourced, sustainably-made candy bars to replace some of the best, most popular candy out there – candy that you never ever thought you would eat again.
That's a hard one to forget.
The point is that once you know about Go Max Go, you won't be able to stop thinking about them. Or how to get your hands on some of that candy. Or what to do with it once you do get your hands on some of it – other than devour it completely.
Fortunately for me, I have had the great honor and pleasure of working with Go Max Go the past couple of month. In these two months I have spent more time that I want to admit dreaming up deliciously sweet recipes that feature Go Max Go chocolate bars. I had many ideas run threw my head, ones I will hopefully share with you in time, but the one that stuck was these Jokerz (think Snickers) Stuffed Vegan Chocolate Chip Cookies.
If you're on Pinterest or read other baking blogs, I'm sure you've seen similar recipes. I'm certainly not the first person to realized that chocolate chip cookies and melted Snickers bars combined create a flavor so superb and divine that…there are no words. But, just like me so many times before, you might have seen that recipe and with a little self-pity thought to yourself how you would never get to try that heavenly flavor combination that looked so perfectly good. This is why I love Go Max Go. They make the impossible possible over and over again.
These Vegan Chocolate Chip Cookies are, without question, the best cookie I have ever made. Soft, chewy, sweet, slightly salty, and with true joy found in every bite.  I hope you enjoy them as much as I did!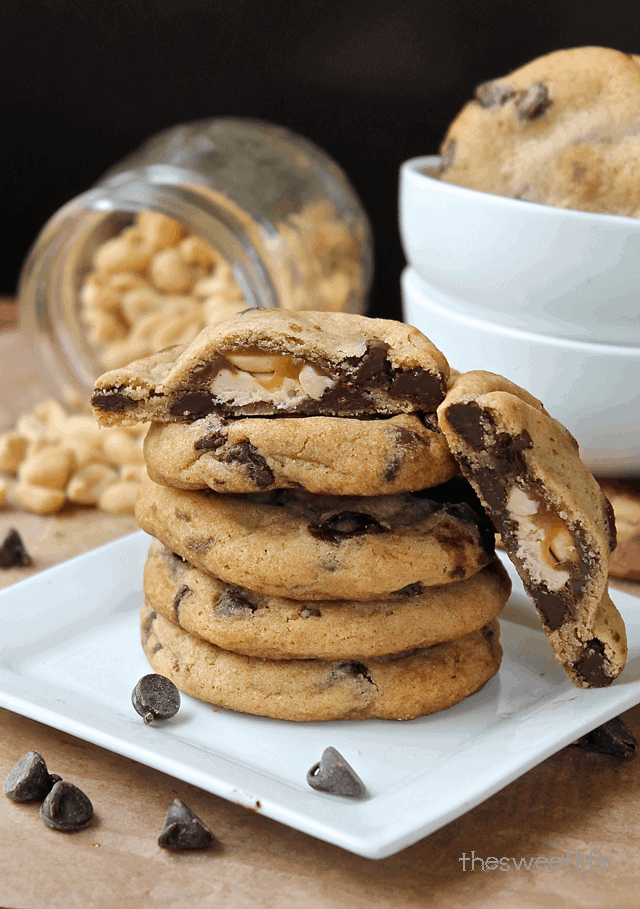 Stuffed Vegan Chocolate Chip Cookies
These classic vegan chocolate chip cookies are made even better when stuffed with vegan Snicker's bars for extra nutty and caramel-y flavor.
Course:
Dessert
Cuisine:
Mexican, Vegan, Cookies
Keyword:
Vegan Chocolate Chip Cookies
Servings
:
24
cookies
Calories
: 190 kcal
Author
:
Sarah McMinn
Ingredients
Instructions
Make flax eggs (see note below) and refrigerate for 15 minutes.

In a stand up mixer, beat vegan butter and white and brown sugar together until light and creamy, scraping down the side of the bowl as necessary. With the mixer running, slowly add the chilled flax egg and vanilla extract and beat until incorporated.

In a separate bowl combine the flour, baking soda, baking powder, and salt and add to the butter/sugar mixture in three batches, stopping to scrape down the side in between. Add chocolate chips and mix until just combined.
Transfer the dough to a bowl, cover, and refrigerate for 1 hour or until firm.
Once firm roll the dough out in between two pieces of parchment paper to about 1/8". Using a 3" cookie cutter cut out circles, keeping them as close to one another as possible. When only scraps remain, bring the dough back together and roll it out again, repeating the process until the dough is mostly used up.
Slice the Jokerz bars into 6-9 pieces and place one piece in the middle of each cirlce. Fold the dough over on top of the bar as seen in the pictures above.
Repeat with all 24 cookies, placing them seam side down on two parchment-lined baking sheets. Return to refrigerator for 20 minutes.
Preheat the oven to 375F. Bake cookies for 10 minutes until slightly golden.
Let cool 10 minutes on the baking sheets before transferring the cookies to wire racks to cool completely.
Recipe Notes
1 tbsp ground flax seeds + 3 tbsp warm water = 1 flax "egg". Whisk flax and water together in a small bowl until thick and gelatinous.
Nutrition Facts
Stuffed Vegan Chocolate Chip Cookies
Amount Per Serving
Calories 190
Calories from Fat 72
% Daily Value*
Fat 8g12%
Cholesterol 1mg0%
Sodium 217mg9%
Potassium 52mg1%
Carbohydrates 27g9%
Protein 1g2%
Vitamin A 375IU8%
Vitamin C 0.1mg0%
Calcium 27mg3%
Iron 0.8mg4%
* Percent Daily Values are based on a 2000 calorie diet.
This post contains affiliate links.
Check out my full review of Go Max Go and get an incredible cheesecake recipe while your at it!
If you give this recipe recipe a try, snap a photo and share it on Instagram. Make sure to tag
@mydarlingvegan
so I can see your creations!