Thick, creamy, and incredibly delicious, you're going to love this homemade cashew milk recipe. Quick and easy and much more cost-effective than store bought.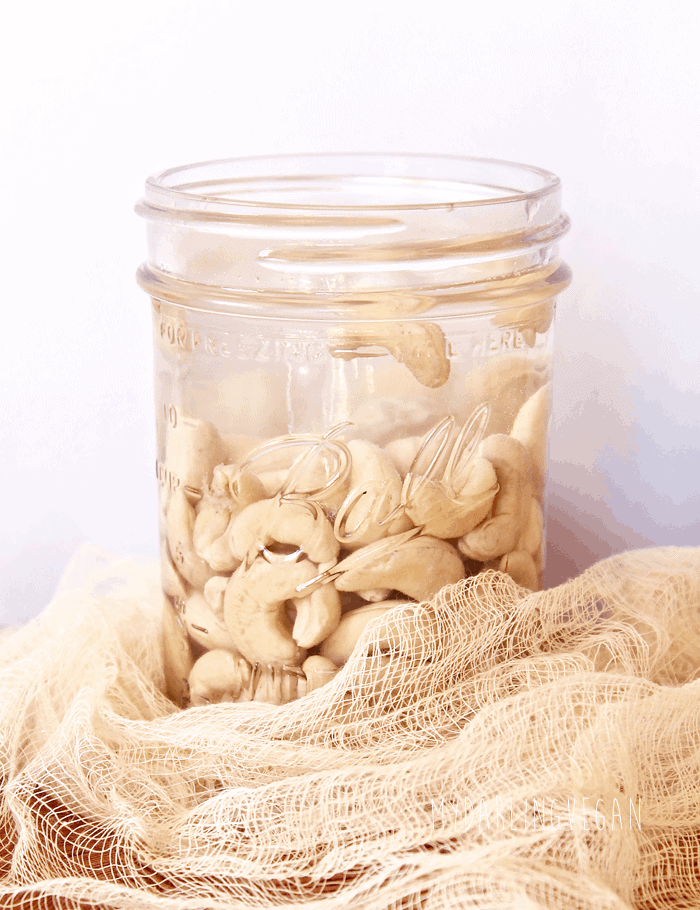 Have you noticed that cashew milk is everywhere lately? It's been consistently ranking as one of the top non-dairy milk options on the market and it seems that everyone is creating their own cashew milk to add to the market.
Why is that? Let's take a look.
---
Why Cashew Milk So Good?
There is a reason why oat milk has gotten so popular in the last few years. In fact, there are many reasons for cashew milk's popularity.
Soy and gluten free. With soy, gluten, and dairy being three of the top common allergens, cashew milk emerges as a leading allergy-friendly milk.
Easy to make. Cashew milk can be made with 4 ingredients in under 5 minutes. It's so easy to make that there is no reason to buy store bought cashew milk ever again.
Super versatile. Homemade cashew milk is super versatile. You can thicken it up by adding more oats, add spices, sweetness, or omit it altogether.
Flavorless – Unlike other non-dairy milk, cashew milk is virtually flavorless making it a great base for nearly anything.
If you haven't tried homemade cashew milk yet, now is the time to do it. You'll be amazed at how simple, delicious, and affordable it is.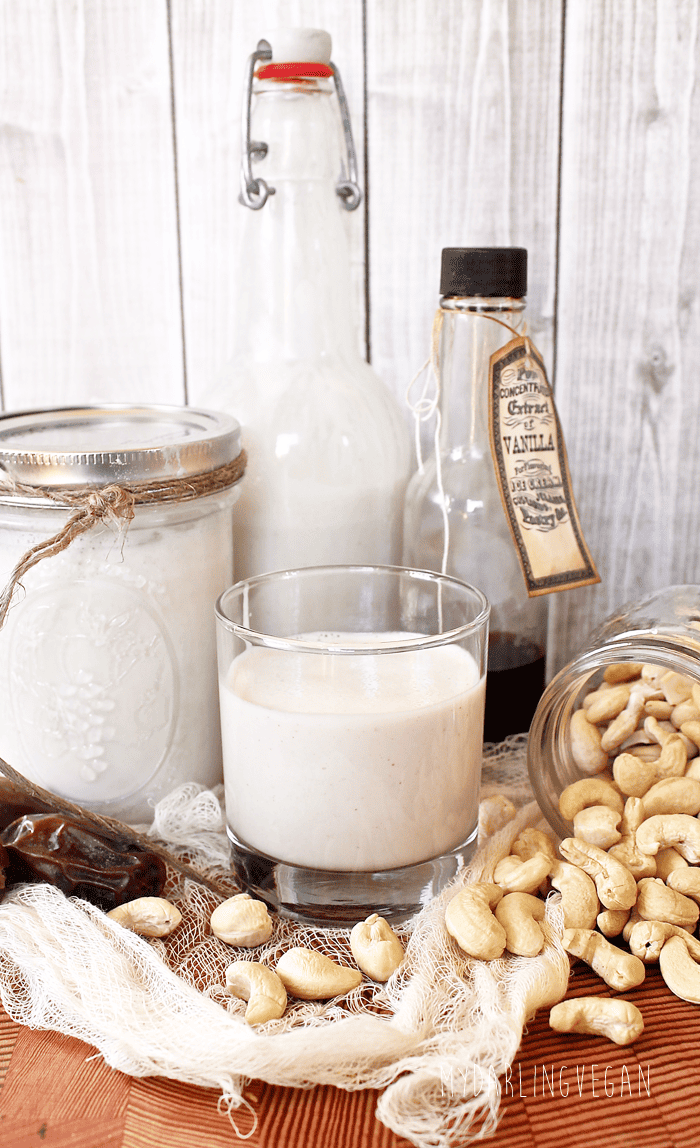 Ingredients for Cashew Milk
The ingredients for homemade cashew milk are super straight forward. You just need 4 simple ingredients that you probably already have on hand. You will need
raw cashews
vanilla extract
pinch of salt
Additionally, you'll need about 4 cups of water. That's it!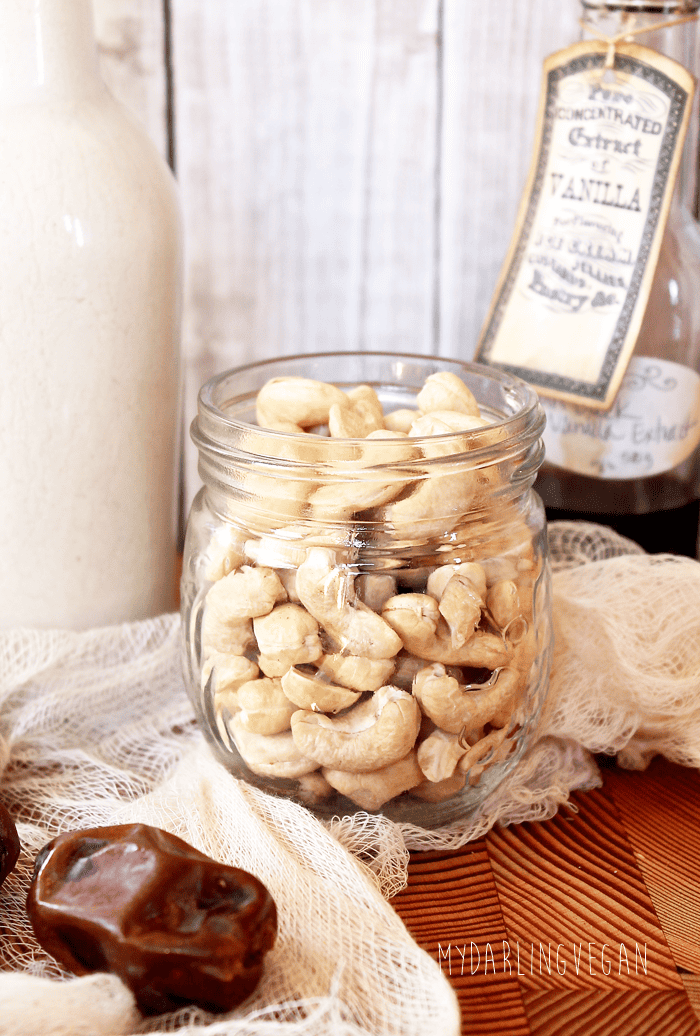 How to make Cashew Milk
Homemade cashew milk is one of the easiest non-dairy milk varieties to make at home. It takes just 4 ingredients and 5 minutes to have creamy and smooth non-dairy milk for your tea, cereal, and baking.
First, combine all your ingredients, along with 4 cups of water, into a blender. Blend on high for about 30 seconds until all the oats are broken down and you have a creamy white liquid.
Next, strain your milk through a fine mesh strainer or nut milk bag. This gets rid of all the gritty cashew crumbs that are not puréed completely. You may want to stain your milk twice for an extra smooth cashew milk.
Lastly, store your homemade nut milk in airtight containers. Cashew milk should be stored in the refrigerator for up to 5 days. Use it in your morning tea or cereal and all your baking needs.
Now that is easier than going to the store! Why not make homemade milk every time?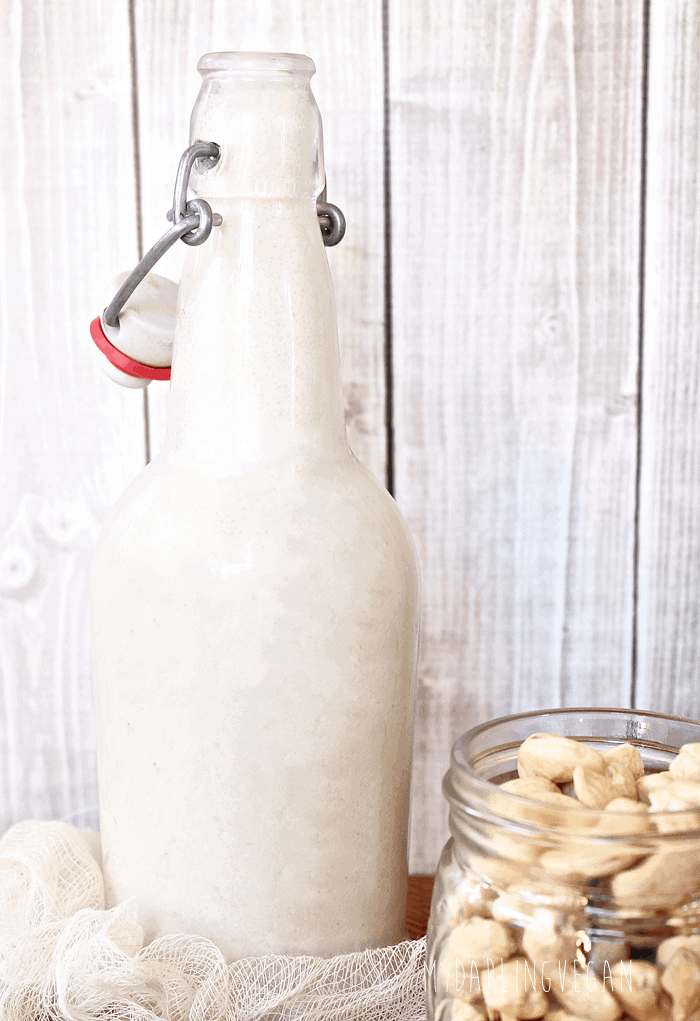 Frequently Asked Questions
Are you new to cashew milk? Here are a few of the frequently asked questions.
Benefits of Cashew Milk
Oat milk is not only an easy-to-make, sustainable non-dairy milk option, it is also good for you. It is
Packed with nutrients
A great source of Vitamin B
Filled with fiber
Soy, dairy, and gluten-free
Can I use it in my coffee?
Yes! That's one of the best uses of cashew milk. If you are making cashew milk for coffee, I recommend making it a bit thicker. To do this, add an additional 1/4 cup of oats or reduce the water by 1 cup.
Other uses of cashew milk?
In addition to coffee and cereal, cashew milk is a great base for ice cream, creamy pasta, and baking.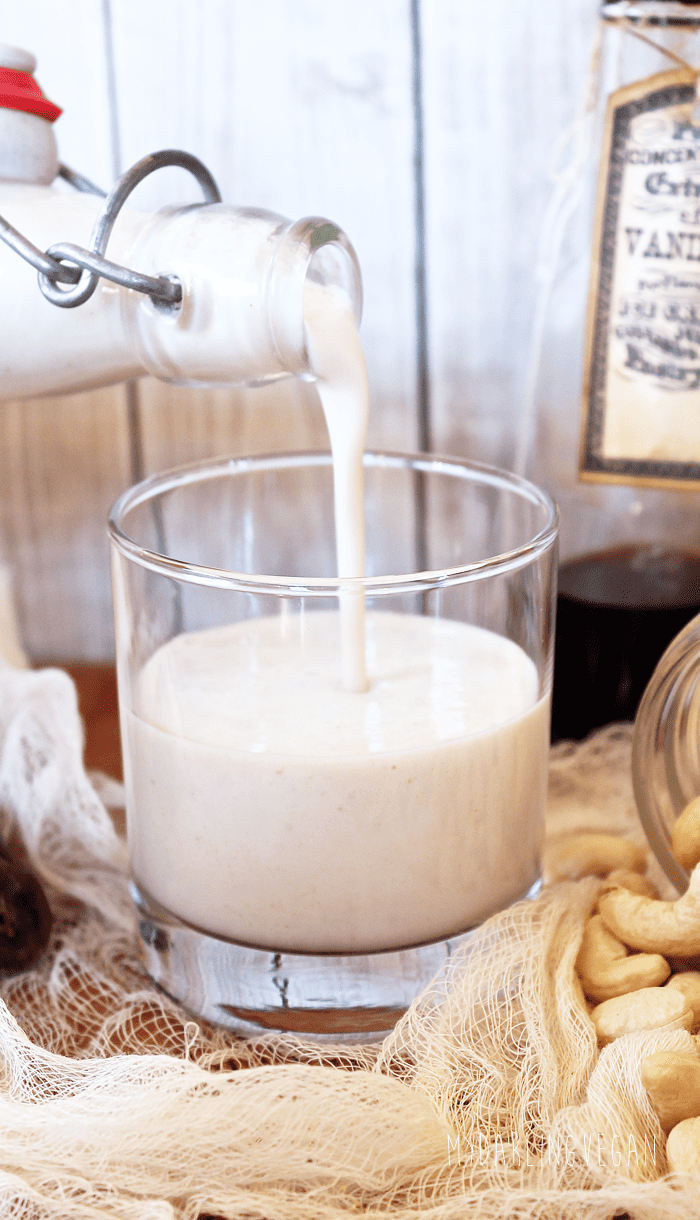 Variations of Homemade Cashew Milk
Once you give this recipe a try, you'll find that you may want to start adapting the recipe. Here are a few things to try.
Thicken it up. If you want thicker milk, similar to coffee creamer, add an extra 1/4-1/2 cup cashews to the mixture or reduce the amount of water by 1 cup.
Adjust the flavors. After blending the milk, taste and adjust the maple syrup, vanilla extract, and salt. For coffee creamer and drinking milk, you may want to add a bit more maple syrup. If you will be using your cashews milk for savory recipes (like Alfredo sauce), omit the maple syrup all together.
Make it spicy! If you are using your oat milk for the base of a Chai Tea Latte or Matcha Latte, consider spicing it up with adding 1/2 tsp cinnamon and a sprinkle of nutmeg to the milk.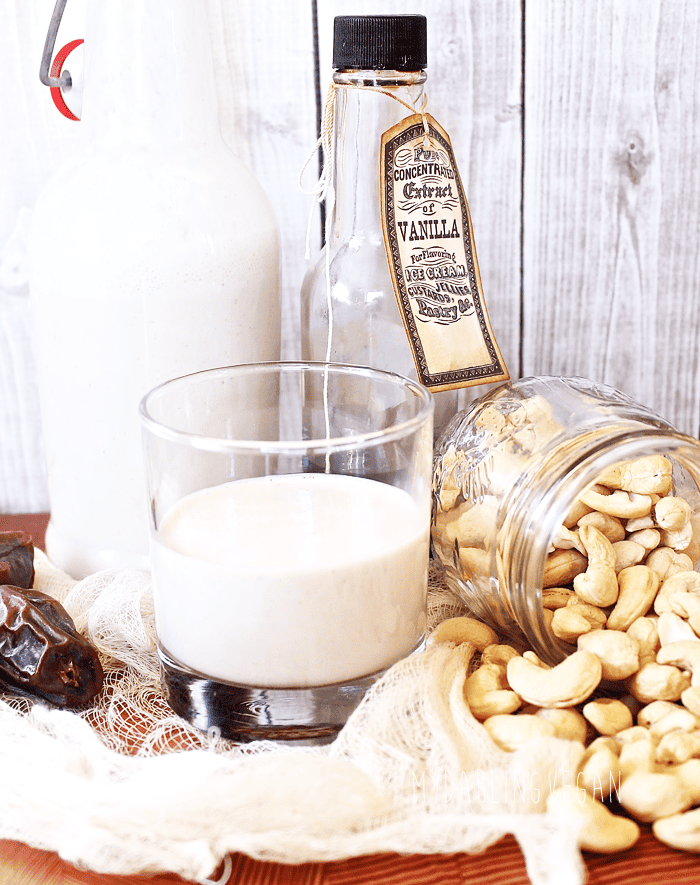 Cashew Milk Recipe
Thick, creamy, and incredibly delicious, you're going to love this homemade cashew milk recipe. Quick and easy and much more cost-effective than store bought.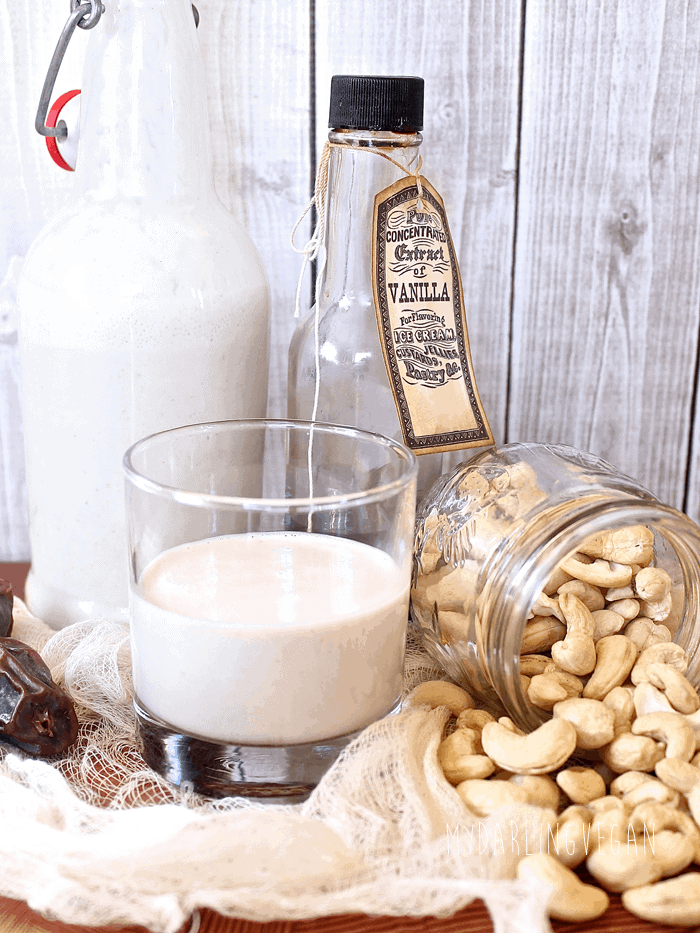 Course:
Drinks
Cuisine:
American
Servings
:
8
servings
Calories
: 98 kcal
Author
:
Sarah McMinn
Ingredients
Instructions
Drain and rinse the cashews.
Place them in a high-speed blender like a VitaMix with 2 cups of water and dates and blend on high until cashews are completely broken down.
Add the additional 2 cups of water, vanilla extract, and salt. Blend on high for 1 minute.
Pour milk through a nut milk bag or fine strainer into airtight containers and store in the refrigerator for up to 5 days.
Recipe Notes
To make cashew coffee creamer, decrease the amount of water to 2 cups.
Nutrition Facts
% Daily Value
If you give this recipe recipe a try, snap a photo and share it on Instagram. Make sure to tag
@mydarlingvegan
so I can see your creations!