Vegan Corn Jalapeño Pancakes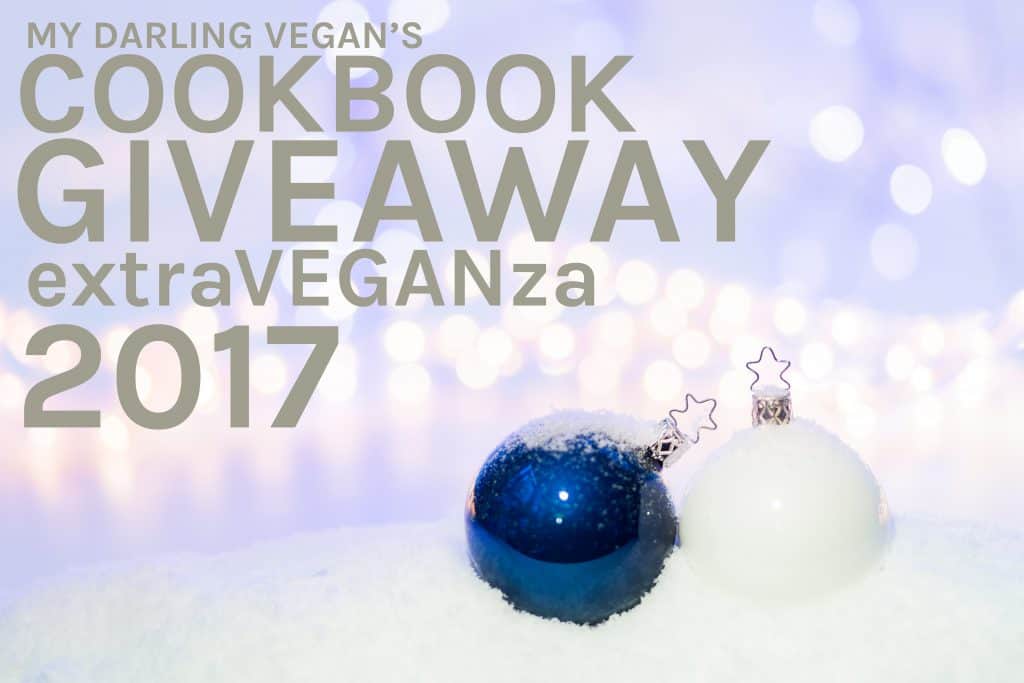 This post contains affiliate links. For more information read my privacy policy. 
We're moving right along with this years Cookbook Giveaway ExtraVEGANza with three open giveaways going on and now a fourth one! I hope you take the time to enter in all those giveaways as each one of these books has been super fantastic, today being no exception.
The founders/owners of Australian-based restaurant, Smith & Daughters, Mo and Shannon, have come out with one of the most beautiful and creative cookbooks of the year and one of my new favorite cookbooks of all time.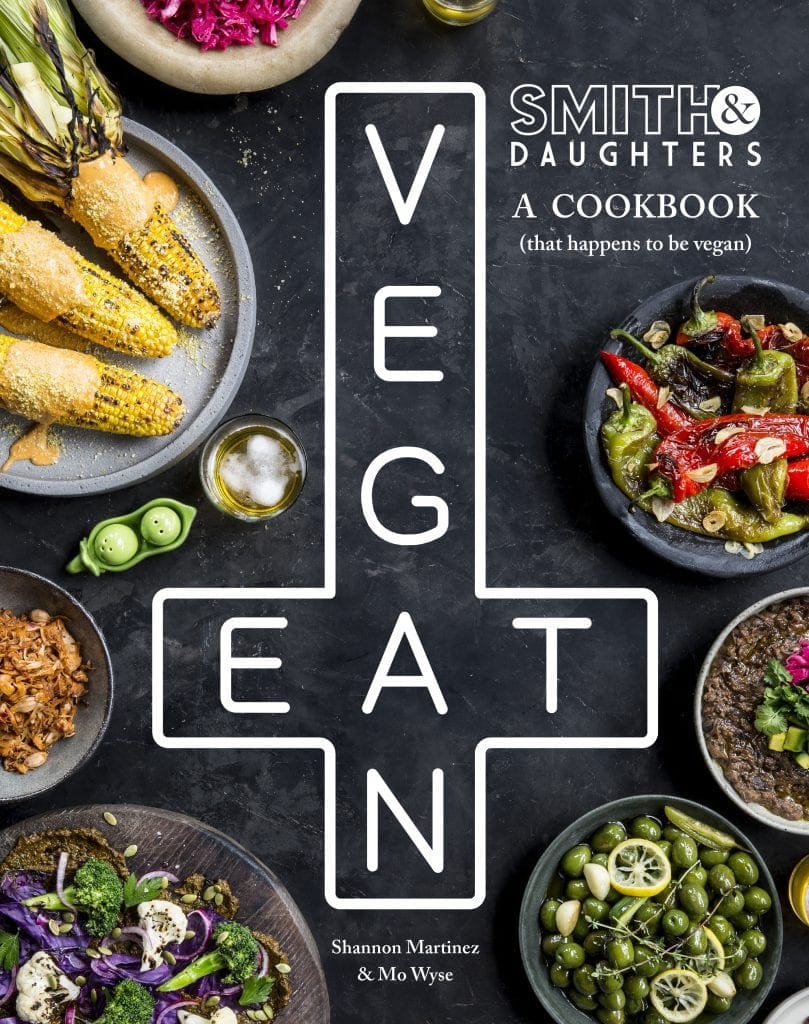 SMITHER & DAUGHTERS: A COOKBOOK
Smith & Daughters: A Cookbook (that happens to be vegan) is one of those books that you want to read cover to cover. Filled with absolutely gorgeous photography starting as soon as you lift the front cover, the book will take you down a journey of the two women who started the cafe, Smith & Daughters.
Mo and Shannon write in a humorous, person style telling their stories through words and photographs, the story of the restaurant, and then the story of how to book came to be. I am not exaggerating when I say I read this book for an hour-straight turning the pages as if it were a well-written memoire filled with recipes, beautiful photography, and writing that made me laugh out loud.
This is much more than a cookbook. It's a coffee table book to be enjoyed by all, foodies and non-foodies alike.
Let's take a closer look.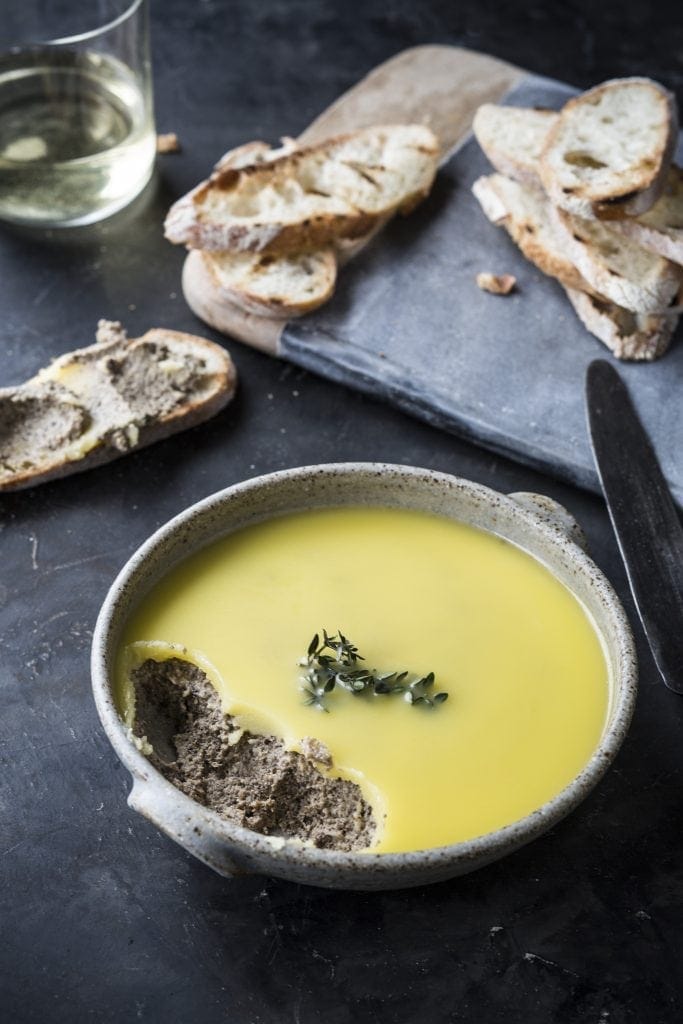 I LOVE SMITH & DAUGHTERS COOKBOOK BECAUSE:
1. The photography. All the photos are shot with the dark background that you see in the pictures of this post with minimal styling. Then mixed in with the book you'll find pictures of Mo and Shannon (including childhood photos with stories), full spread images of feasts, vegetables, as well as some of the artwork you'll find around the restaurant. The images and curation of this book make it one that belongs on the coffee table; a book that you'll always find inspiration while flipping through.
2. The recipes. The book is filled with 80+ vegan recipes with a Spanish twist. Spanish food can be hard to veganize, but Mo and Shannon do it remarkably well. I have bookmarked nearly half the book with recipes I can't wait to try. Some of the inspired recipes you'll find in this book include: Spanish Meatballs, Jackfruit Carnitas, Tortilla Soup, and Mexican Corn & Blueberry Puddings (pictured below).
3. The concept. The full title of the book is: Smith & Daughters A Cookbook (that happens to be vegan). Mo and Shannon firmly believe that vegan food does not have to taste different or be held to a lesser standard. They ignore convention and create innovative recipes that are big, bold, flavorful, and noteworthy. Shannon is the chef and has been cooking her entire life. She has worked hard to replicate the taste and texture of meat and bold creamy flavors of dessert in a way that is truly original and definitely delicious.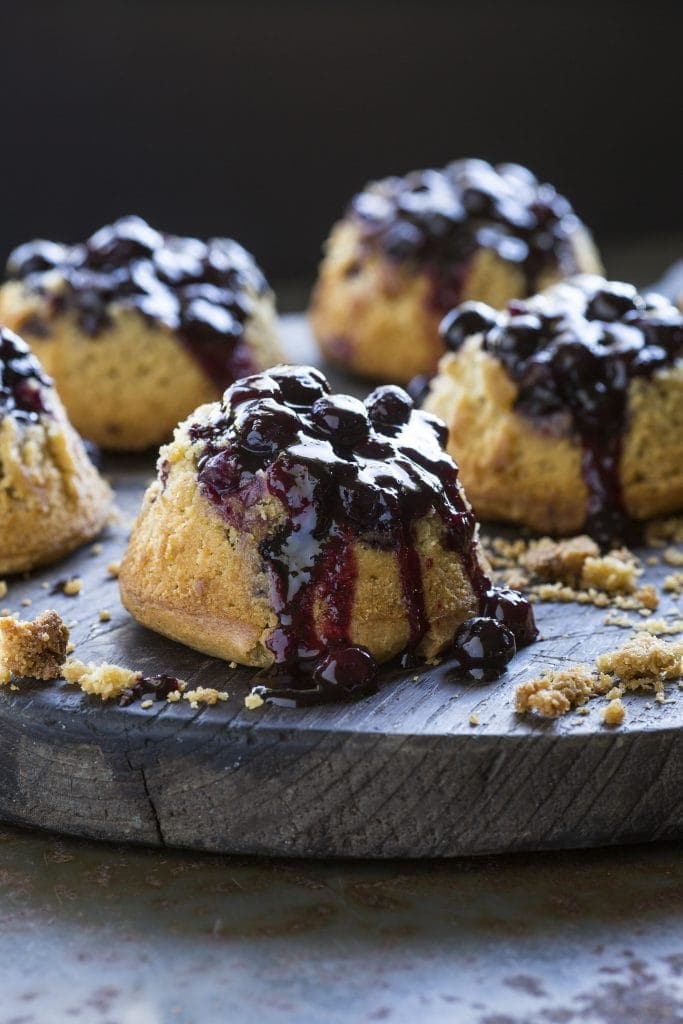 RECIPES IN SMITH & DAUGHTERS
This vegan cookbook is filled with so many mouth-watering recipes. I have bookmarked nearly half the book with recipes I can't wait to try. Some of the inspired recipes you'll find in this book include:
Spanish Meatballs
Jackfruit Carnitas
Tortilla Soup
 Mexican Corn & Blueberry Puddings
And, of course, these Corn and Jalapeño Pancakes
Which the publishers were kind enough to let me share with you! Let's take a look at the recipe below.
Corn Jalapeño Pancakes
We don't really eat breakfast foods or many sweets – give us a bowl of pho for breakfast any day! But this pancake recipe is the perfect combo of savoury, sweet and spicy. It's everything we love about cornbread, pancakes and the idea that breakfast is the most important meal of the day. But feel free to eat these at any time.
Course:
Breakfast
Cuisine:
American, Mexican
Keyword:
Corn Jalapeño Pancakes
Servings
:
4
servings
Calories
: 368 kcal
Ingredients
150

g 5 1/2 oz / 1 cup plain (all-purpose) flour

2

tablespoons caster superfine sugar

2

teaspoons no egg powder

1

teaspoon baking powder

1/2

teaspoon bicarbonate of soda (baking soda)

375

ml 12 1/2 fl oz / 1 1/2 cups soy milk

1

tablespoon lemon juice

3

tablespoons melted butter (plus a few knobs, to serve)

100

g 3 1/2 oz / 1/2 cup frozen or fresh corn kernels

1/2

1 jalapeño, finely chopped (add the whole chilli if you like it spicy!), plus extra thin slices, for garnish
olive oil spray
maple syrup, to serve
coconut bacon, if you can find it; optional
Instructions
Place the flour, polenta, sugar, no egg powder, baking powder, bicarbonate of soda and a pinch of salt in a large bowl, and stir well to combine.

In a separate bowl or jug, combine the soy milk, lemon juice and melted butter, and give it a quick stir. Set aside for 1 minute to allow the mixture to thicken.

Create a well in the dry ingredients and pour in the soy milk mixture. Whisk well until the batter is smooth. Fold in the corn and jalapeño.

If you can resist, let the pancake batter sit for at least 30 minutes before cooking.

Heat a large frying pan over medium heat and spray with olive oil. Pour in the batter to whatever size you like and cook until bubbles begin to appear on the surface. Flip and cook for a further 1 minute or until golden on the underside.

Serve with maple syrup and a knob of butter and garnish with a few thin slices of fresh jalapeño. If you can get your hands on some coconut bacon, scatter it over the pancakes, just like we do at the restaurant!
Nutrition Facts
Corn Jalapeño Pancakes
Amount Per Serving
Calories 368
Calories from Fat 99
% Daily Value*
Fat 11g17%
Cholesterol 22mg7%
Sodium 307mg13%
Potassium 333mg10%
Carbohydrates 57g19%
Protein 9g18%
Vitamin A 670IU13%
Vitamin C 8.6mg10%
Calcium 183mg18%
Iron 2.6mg14%
* Percent Daily Values are based on a 2000 calorie diet.
But wait, there's more!
Smith & Daughers publisher, Hardie Grant Books, has offer me the chance to run a giveaway for you! One lucky reader will win a FREE copy of Smith & Daughters: A Cookbook (that happens to be vegan). Enter below for a chance to win.
Giveaway open to U.S. residents.
If you give this recipe recipe a try, snap a photo and share it on Instagram. Make sure to tag
@mydarlingvegan
so I can see your creations!