Flourless Cookies with Cacao & Goji Berries
Vegan Flourless Cookies with Cacao Nibs and Goji Berries filled with superfoods, nuts, and sweetened with maple syrup for a healthy snack.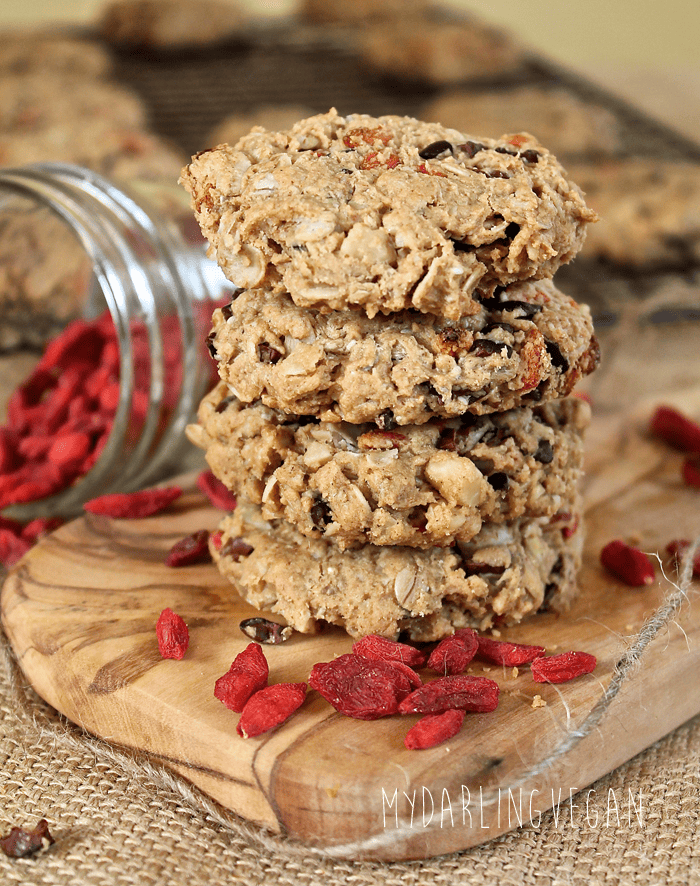 For many there is still a lot of mystery behind what vegans eat. I have been offered fish more than once yet asked, "can vegans eat peanut butter?" just as many times.  There actually isn't much secret behind what we eat, and preparing food is really quite easy – you just leave out the animals. 
I'm using Vegan MoFo to take an A-Z trip through my pantry to bring you 26 easy recipes to show you that anyone can cook vegan. Eating vegan, well, it's as easy as ABC.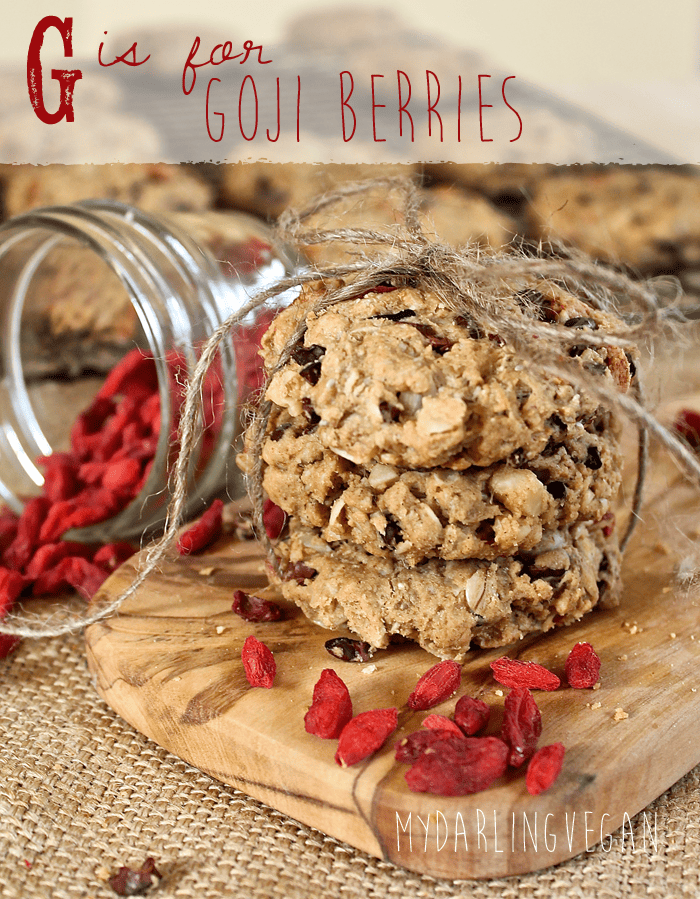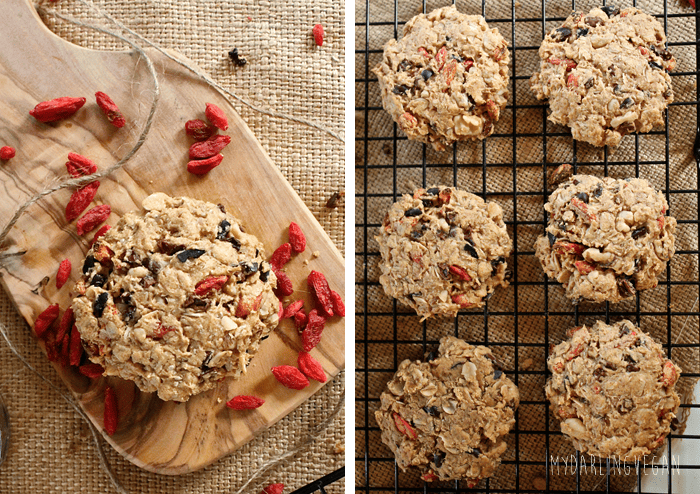 By the time I finally got around to trying them I thought I was the last person on earth. When I had my first bite and found myself wanting to spit out the potent, slightly sour, herb-y tasting berry I thought I was the craziest person on earth. Everyone was raving about these things. What was I missing?  Unfortunately (or so I thought at the time) I had bought myself a large bag on iherb and I was pretty certain I was a goji berry hater, so they sat in my pantry, untouched, for quite some time.
Then last year around Valentines Day I was looking for something red and unique to put on my salted chocolate bar and I found that old bag of goji berries in the pantry.  Milky dark chocolate and fancy Himalayan salt – that surely would mask the flavor of the goji berry (I was going for look, not taste). Turns out goji berry mixed with milky dark chocolate and fancy Himalayan is amazing. A perfect combination of sweet, salty, sour & bitter.
My mind was changed as I discovered that the goji berry, beyond being a powerful superfood that has one of the highest amounts of antioxidants of any food and a significant source of vitamin C, are AMAZING combined with other flavors. Since then I have been enjoying goji berries in abundance. I put them in my smoothie bowls, over granola & oatmeal, baked in muffins, and now in cookies.
Filled with chia seeds, cacao nibs, walnuts, almonds, and of course, goji berries these Flourless Cookies are like the superhero of cookies. With lots of protein and energy-giving nutrients, they make a great breakfast, snack, or sneaky dessert for the picky toddler.
Let's check out these Flourless Cookies.
Flourless Cookies with Goji Berries and Cacao
Vegan Flourless Cookies with Cacao Nibs and Goji Berries filled with superfoods, nuts, and sweetened with maple syrup for a healthy snack.
Course:
Snack
Cuisine:
Vegan
Keyword:
Flourless Cookies
Servings
:
12
cookies
Calories
: 203 kcal
Author
:
Sarah McMinn
Ingredients
Instructions
Preheat the oven to 350F and line a baking sheet with parchment paper or a silicone baking mat.
In a small bowl combine oats, baking powder and salt.
In a larger bowl whisk together almond butter, maple syrup, vanilla extract, and the 2 chia eggs.
Add the dry ingredients to wet and mix until just combined. Fold in the goji berries, cacao nibs, and walnut pieces.
Roll about 2 tbsp of dough into a ball, place on the parchment paper, and flatten down to about 1/2 inch thick. Bake for 8-10 minutes until the edges start to brown. They will seem slightly underdone but the cookies will continue to set up as they cool
Recipe Notes
To make 1 chia egg combine 1 tbsp of chia seeds with 3 tbsp of water. Mix and let sit for 10 minutes until thick and gelatinous.
Nutrition Facts
Flourless Cookies with Goji Berries and Cacao
Amount Per Serving
Calories 203
Calories from Fat 126
% Daily Value*
Fat 14g22%
Sodium 51mg2%
Potassium 248mg7%
Carbohydrates 14g5%
Protein 5g10%
Calcium 105mg11%
Iron 1.1mg6%
* Percent Daily Values are based on a 2000 calorie diet.
This post contains affiliate links.
new to my darling vegan?
sign up for email updates
and find me on facebook, twitter, & instagram
If you give this recipe recipe a try, snap a photo and share it on Instagram. Make sure to tag
@mydarlingvegan
so I can see your creations!