This post contains affiliate links. For more information read my privacy policy.
In just a couple days 2018 will come to an end.
What a year it has been! Over the past decade I have learned that the years that end far from where they began are ones we will remember forever. This was the case in 2015 when I survived an incredibly painful divorce; a year I started off married and oblivious and ended as a single parent in silent shock. And that is the case in 2018; a year I started off as a struggling single parent that ends with a successful business and a house full of boxes as I prepare to move the kids and I into the house I will share with my partner.
2018 has been a good year.
This December, rather than writing my traditional monthly reflects, I am pausing and reflecting on the fullness of 2018, sharing with you some of my highlights of the past year, what I've been doing throughout the year, your favorite recipes, and a little preview of what's to come.
So let's get started.
2018 Highlights
2018 was many things.
For one, it was a year of travel.
From January to November, my partner and I took 7 camping trips to the ocean, including a road trip down highway 101, a trip to England, followed by a mini trip to New England. I also had the chance to visit girl friends both in NYC and Minneapolis and take a short trip to Los Angeles to see the Cubs play with my dad. Travel is deeply important to me but the circumstances of the past 5 years have made that very difficult. It was with sweet relief that this was the year I got to experience my deepest desires lived out.
If you want to follow along on my travels in 2019, make sure to check out my personal IG page.
It was also a year of growth
Both in my professional and personal life I saw incredible amounts of growth. A year and a half ago I made the decision to drop out of grad school to pursue full time blogging, and friends, it's' one of the BEST decisions I have made in my life. This blog continues to give me joy and meaning while also giving me the freedom to live my best life.
On a person level, I also grew leaps and bounds. In the past few months, I have spent time mediating on my weaknesses. In that practice I am finding ways to embrace who I am while continuing to grow into a better me. Every day I am learning how to be more present, more gracious, and more trusting.
And it was a year of change.
And it was good change. As I mentioned earlier, this is a year that is ending wildly differently than where it started. It was a year of falling in love and transitioning from being a single parent to a partnered parent. Until this year, I had no idea parenting could be anything more than thankless work and unmeasurable stress. this year I learned that parenting can actually be fun sometimes! As I enter into a season of big transitions, I couldn't be more excited about what's to come!
But that's not all I've been up to.
What I've been…
Doing – Working less and enjoying my family. Early in 2018 I made a conscious decision to lay down some of the projects I had in store for MDV so that I could enjoy part time work and spend more time with my kids. After working so hard to make this blog a source of income, I realized this was the year I could ease up a little. And so I did.
Eating –Recently it's been all the Christmas Cookies in the world but I cannot wait for January when I start my annual 30 day cleanse. I could use some green smoothies and detox salads in my life right about now!
Dreaming –My partner and I have been dreaming of a beach house. The dream is that eventually I will sell my house and start looking for property on the Oregon Coast. As I've been dreaming about it, I'm enjoying looking through The Seaside House for ideas and inspirations.
Anticipating – My favorite holiday of the year is New Years Day. The year starts off with endless possibilities, unknown adventure, and unanticipated surprises. I love this moment in time to hit reset on bad habits and start with a fresh clean slate. And so I anticipate the new year with excitement. What newness awaits?
Loving – Life. It continues to be so rich and full. This year was one that I got closer to myself as I stepped away from work and explored the inner makings of me, closer to my children as they blossomed into delightful and thoughtful people, and closer to my partner – the person I am moving forward with in this wildly unpredictable world.
As the sun sets on 2018, I am filled with gratitude, hope, and anticipation.
Your favorite recipes from 2018
Get all the recipes from this past year here.
What's Coming Next?
2019 is going to be a good year. Like always, I will be starting the year off with my 30 day cleanse. That means plenty of healthy, vegan, gluten-free, low carb recipes coming your way! What better way to start the year off than with getting healthy from the inside out? If you don't already have a copy of my Clean Eating Vegan ebook, you can get yourself a FREE copy by signing up for my newsletter below.
Also, if you're feeling stuck on the vegan diet, check out my 4 Week Vegan Meal Plan to get you ready for healthy and creative meals in the new year. This meal planner ebook is filled with 50+ pages of recipes, weekly meal plans, shopping lists, and more all to help you get your new year started off right with the tools you need for success.
Take a closer look inside the book.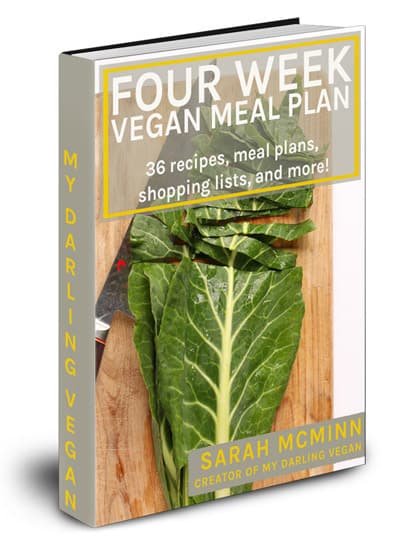 Get a copy of my FREE Clean Eating Vegan ebook and make sure never to miss a recipe by signing up for my newsletter and getting weekly recipes straight to your inbox!
Thanks for being part of this lovely year!
xo, Sarah