Baked Sweet Potato Fries with Sriracha Aioli
Crispy, spicy, and cooked to perfection, these baked sweet potato fries with Sriracha aioli are a perfect delicious and healthy snack. Easy and tasty!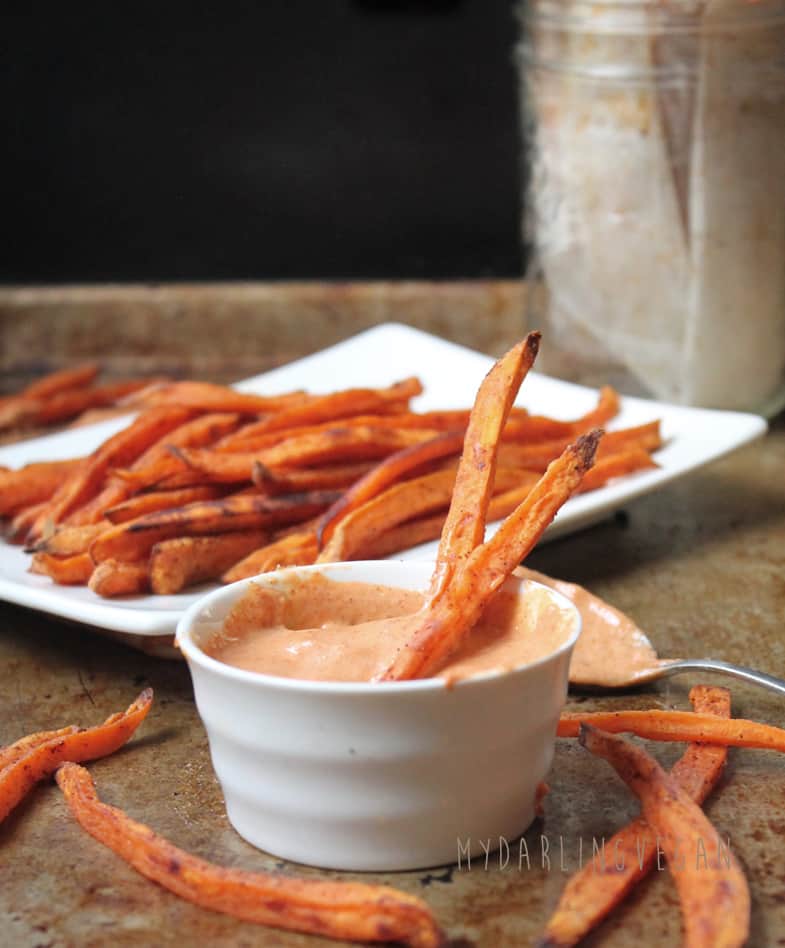 If you live on the west coast and are familiar with Veggie Grill then I imagine you are also familiar with their Sweetheart Fries. These particular sweet potato fries (and their chipotle ranch counterpart) are possibly one (or is it two?) of the best thing(s) I've ever eaten. But, as delicious as Veggie Grill is (and for those of you who don't know, it's REALLY delicious), it's also pretty pricey and so sadly, enjoying those Sweetheart Fries is a pretty rare thing indeed.
Until now.
Today I bring you Copycat(ish) Baked Sweet Potato Fries with Sriracha Aioli Sauce. And friends, these might now be the best thing I've ever eaten.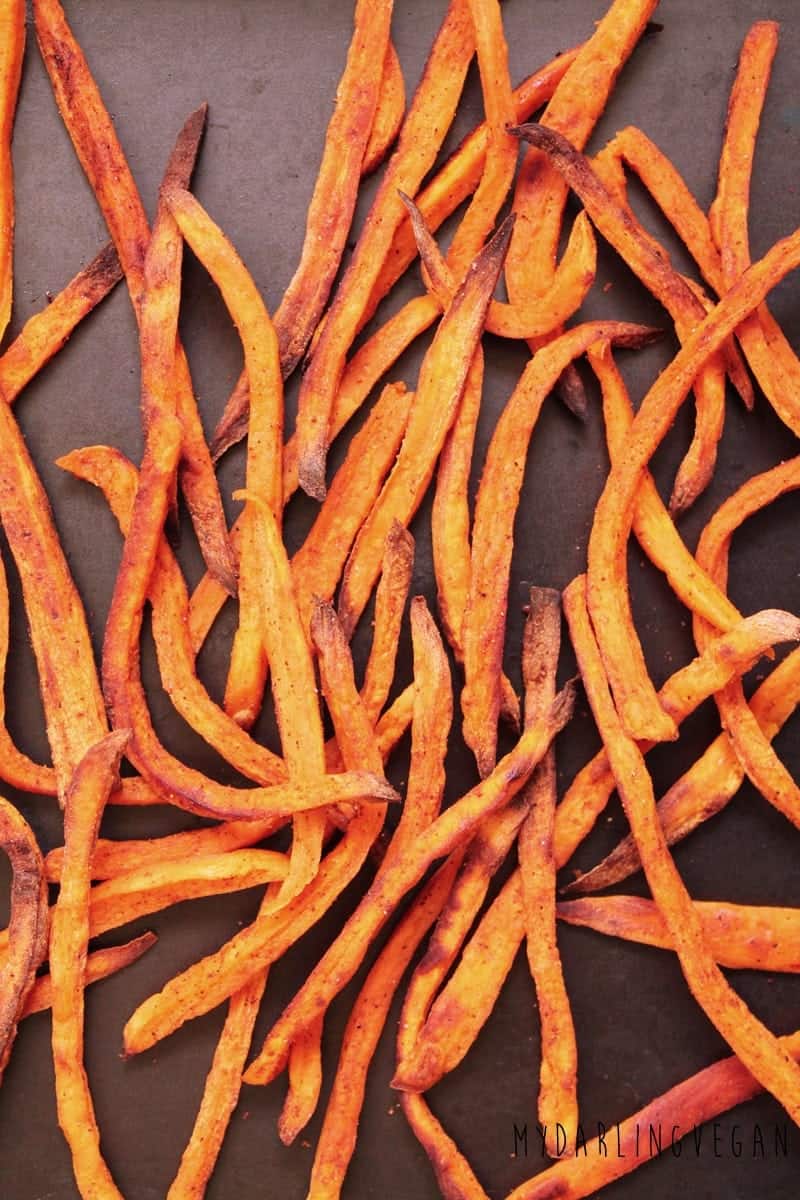 I still remember the first time I tried baked sweet potato fries.
It was my 21st birthday and I was visiting my sister in Missoula, Montana. Earlier that day we had gone out to a brewery where I had my first (legal) beers. After a couple of hours my sister, being the wise older sibling that she is, decided that it would be smart to get some food. She suggested a nearby restaurant that had, "the most amazing sweet potato fries that I just had to try."
There's not a lot I remember about my 21st birthday, but I do remember those Baked Sweet Potato Fries.
They might have been the best thing I've ever eaten (this phrase might be losing meaning…). After finishing off the first order, we order another and from that moment on, I was hooked on sweet potato fries.
---
INGREDIENTS FOR SWEET POTATO FRIES
For the sweet potato fries, you will need: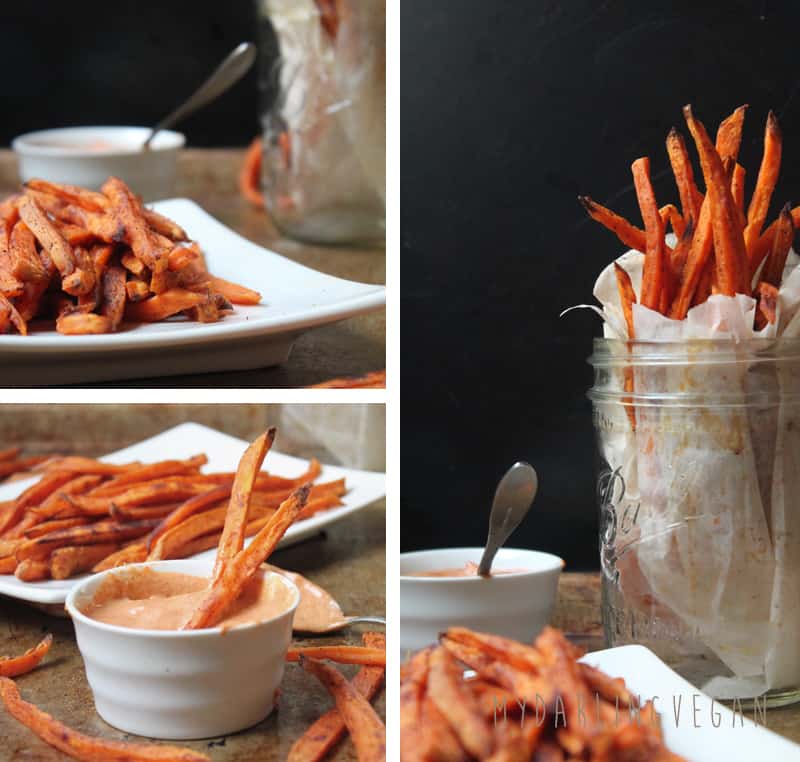 How to make Vegan Sweet Potato Fries
Preheat the oven to 450 degrees F. Line two baking sheets with parchment paper and set aside.
Cut sweet potatoes into matchsticks between 1/4″ and 1/2″ thick. Place in a big bowl or large ziplock bag. Add the oil and spices and mix until potatoes are well coated.
Spread onto the baking sheets in a single layer, fries should not touch one another. Bake for 30 minutes, flipping halfway through. Remove from the oven and let cool for a few minutes.
---
Serving and Storing Sweet Potato Fries
These fries should be stored immediately. If they sit out too long they will start to get soggy. Serve with Sriracha Aioli or dipping sauce of choice.
---
Can these be made in an air fryer?
Yes. They can! To make air fryer french fries, follow the instructions below.
HOW TO MAKE AIR FRYER FRENCH FRIES
To make these incredible air fryer french fries we just need to follow a few steps.
Using a sharp knife, evenly slice the potatoes into thin fries, about 1/2″ inch around. Soak the sliced potatoes in cold water for 20 minutes. This removes excess starch and allows the fries to crisp up nicely.
Drain and rinse the potatoes. Transfer them into a medium-size bowl and toss with coconut oil, rosemary, salt, and pepper.
Place the potatoes into your air fryer basket and cook at 400F for 20-25 minutes until golden brown and crispy.
And you won't believe how crispy they are when they come out! My friends, it was incredible! 20 minutes later I had golden, crispy air-fried rosemary french fries. They tasted as close as you could imagine to deep-fried french fries but far better because knowing the entire batch had only 1 tablespoon of coconut oil. I could enjoy them without the slightest guilt.
Either way, you're gonna love them. Let's take a look at the recipe below.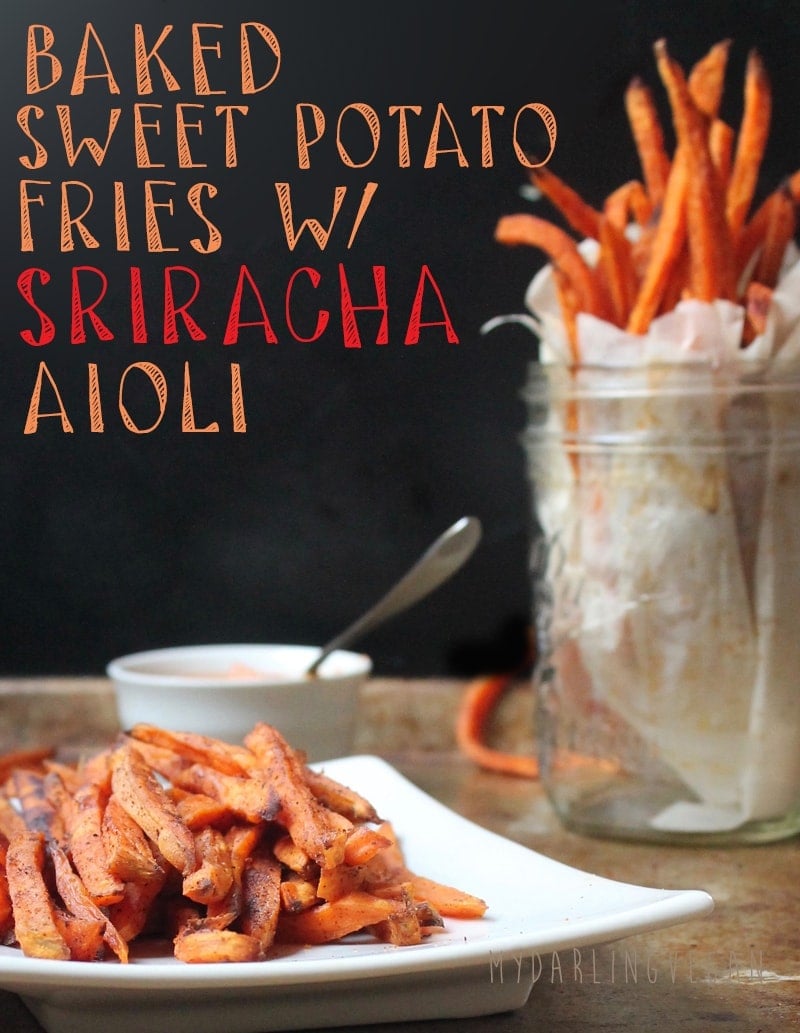 This post contains affiliate links.