Vegan Cashew Cheese and Asparagus Tart
Make any holiday special with this Vegan Cashew Cream and Asparagus Tart. Made with puff pastry for a delicious and decadent side dish for your holiday table.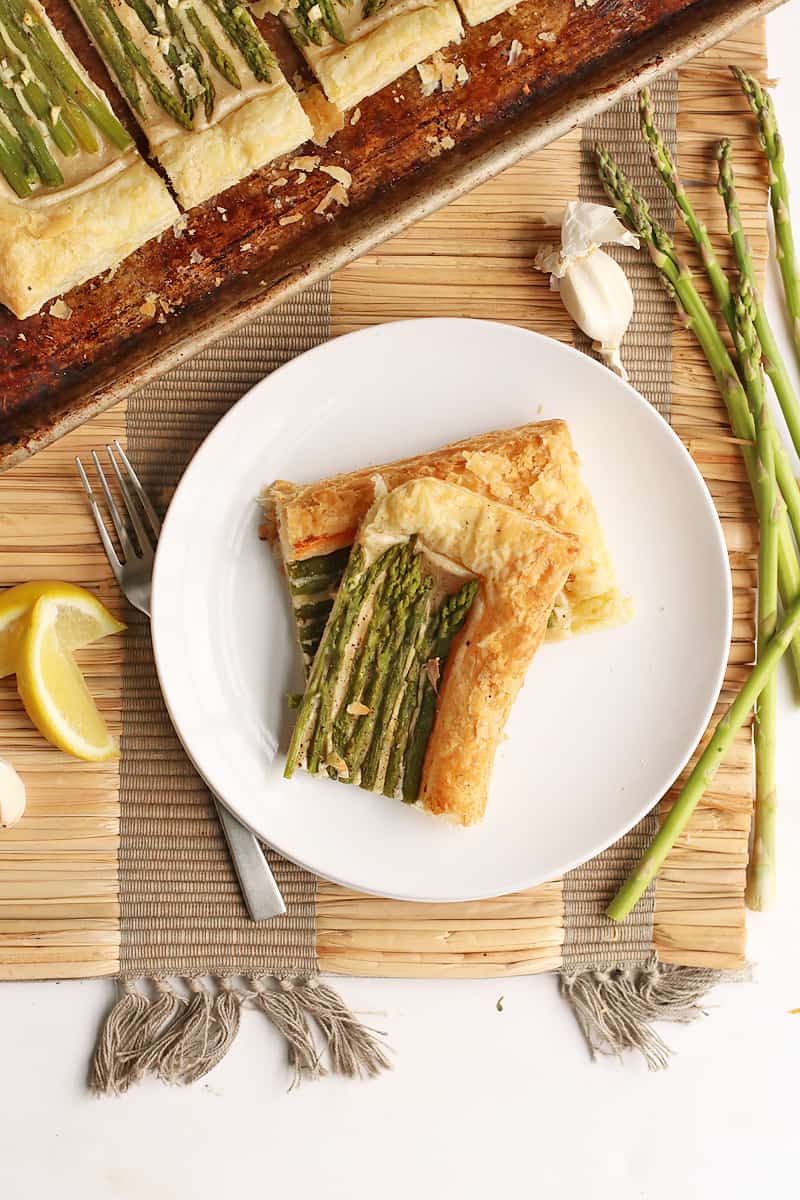 This post contains affiliate links. For more information read my privacy policy.
I've been working with food nearly my entire life.
With, that is, the exception of a short stint as a law firm receptionist – please, let's not talk about that again – and an even shorter stint as a photography darkroom assistant – you know, before they had digital photography and stuff. While the food service is a very difficult profession, one whose workers are ridiculously under-appreciated, overworked, and underpaid, I do love the work itself. Using my hands and creativity to make something that will bring substance, joy, and celebration to others is truly satisfying.
Especially when I get to do it in my own kitchen wearing sweat pants while listening to Ani Difranco. It really doesn't get better than that.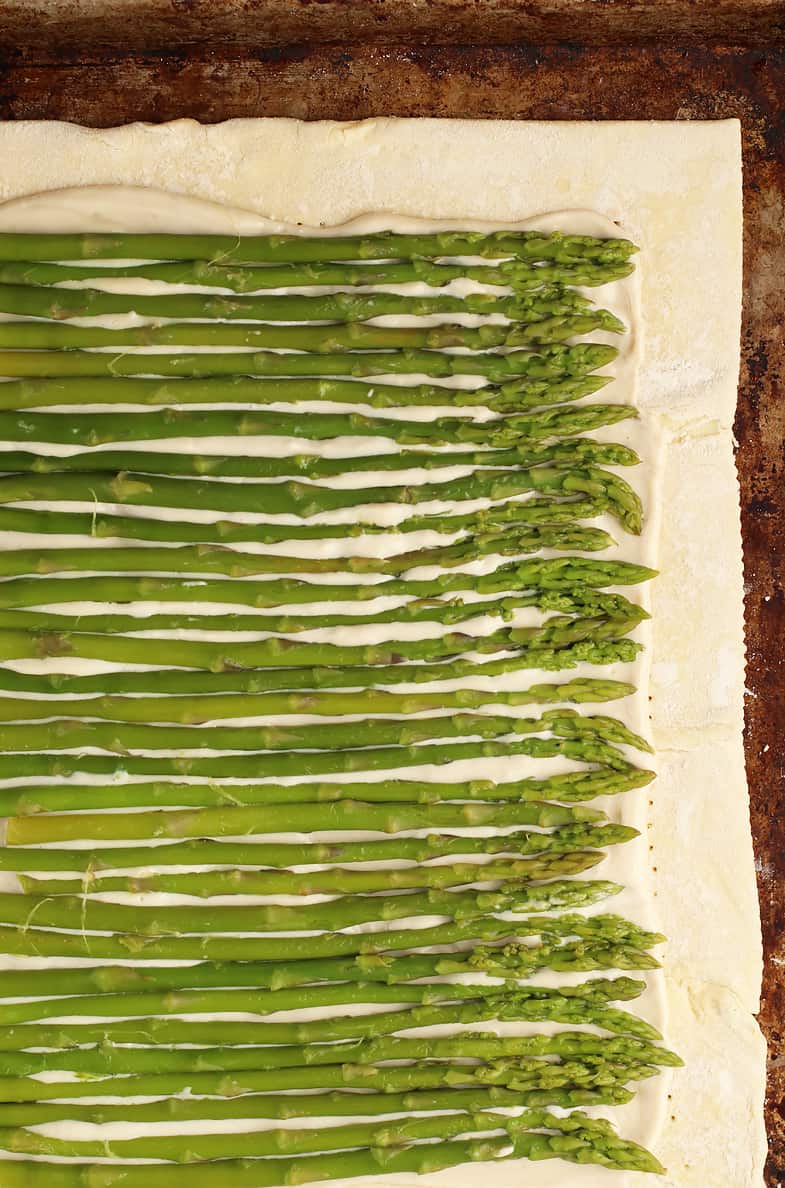 Even before I started working on this blog, I appreciated aspects of the food service industry during the decade and a half I spent there. It was social, creative, interactive, and there was always a reason to party. By that I mean that every holiday was celebrated as we would change up our bakery to honor whichever holiday was on the horizon with the best way we knew how – food! Halloween candy, Thanksgiving pie, Christmas cookies, Valentine's chocolates – every few weeks there was another reason to celebrate.
Those little reminders from the bakery helped me remember that there are special occasions all the time, even in the doldrums of routine.
For the next couple of weeks, we will be celebrating Easter and the arrival of spring just as we would in the bakery – with food.
I've already been sharing several springtime recipes like my Green Goddess Pizza and Gluten-Free Carrot Cake. Today I've got another one for you: a Vegan Cashew Cream and Asparagus Tart, which would make a perfect appetizer or side dish to your Easter dinner.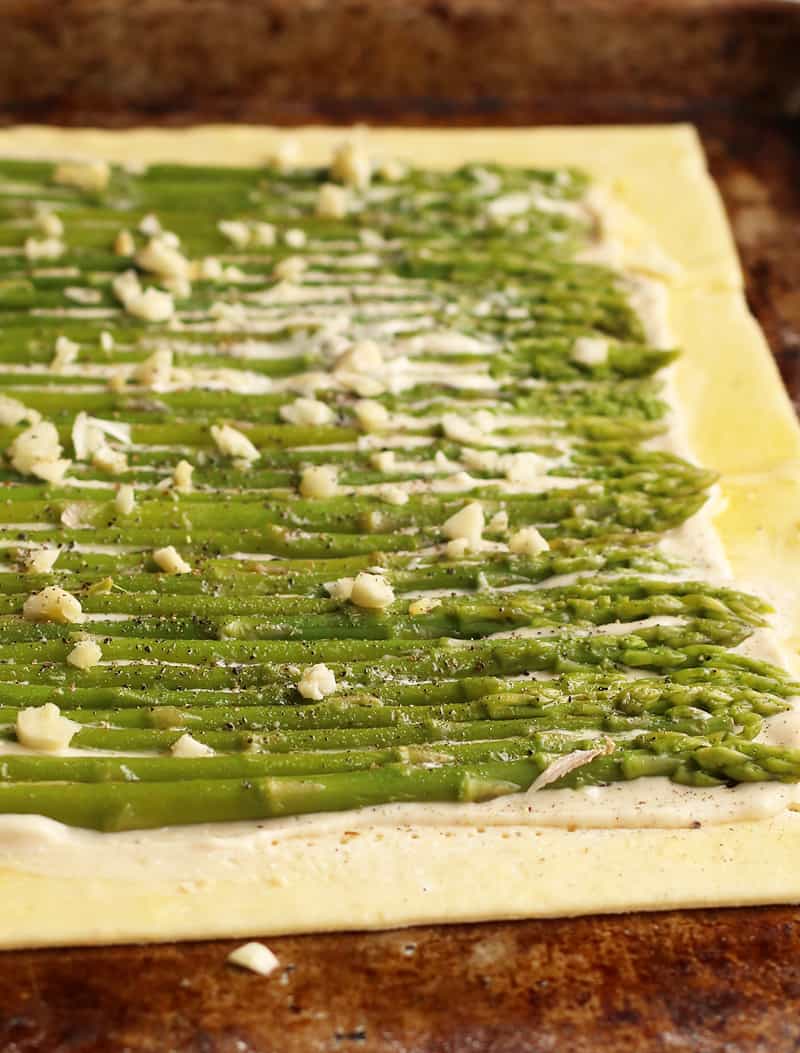 INGREDIENTS FOR VEGAN ASPARAGUS TART
For this recipe, you will need just a handful of ingredients. Those ingredients are:
vegan puff pastry
asparagus
lemon cashew cream
garlic
olive oil
salt and pepper
Begin by making the cashew cream. When it comes to cashew cream, you really should use a high-powered blender. I recommend a Vitamix, which is what I use.
These blenders can be pricy, but my Vitamix is, by far, the most used gadget in my kitchen. Most other blenders are simply not powerful enough to create a cream out of cashews and you'll end up with gritty cashew cream. However, if you don't have a high-powered blender, you can soak the cashews for about 6 hours ahead of time and they will blend up fairly well.
With a Vitamix, you can just throw your ingredients into the blender and blend for about 30 seconds until you have a smooth, delicious cream. So easy! This cashew cream can be used immediately or stored in your refrigerator for up to 5 days.
---
Vegan Puff Pastry
For this vegan Cashew Cream and Asparagus Tart, you will also need vegan puff pastry. You should be able to find vegan puff pastry in the freezer section of your local grocery store.
Make sure to thaw the puff pastry thoroughly before assembling the asparagus tart.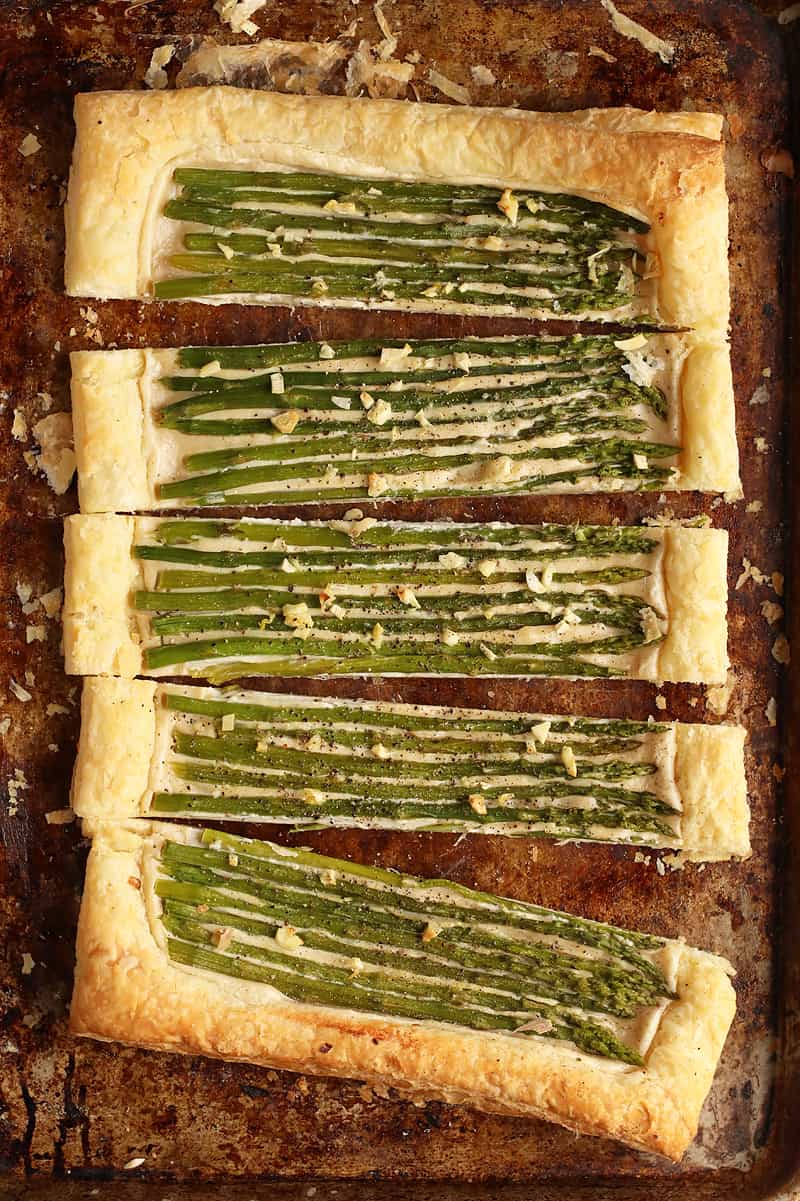 TIPS FOR MAKING A PERFECT VEGAN ASPARAGUS TART
Use a high-powered blender when making cashew cream. Otherwise, your cashew cream will be grainy. If you don't have a high-powered blender, soak the cashews in water for at least 6 hours before preparing the tart.
Thaw your puff pastry. Don't start assembling your asparagus tart until your puff pastry is thawed. If it's too cold, the pastry might break apart.
Do not overcook your asparagus. You want your asparagus to still have a bite to it. It should still snap when it's broken in two.
Bake at a higher temperature. Puff pastry is filled with (vegan) butter and needs high baking temperatures so that it doesn't melt out.
Do not overbake. Once those edges have just begun browning pull them out. The pastry will continue to harden as it cools.
Eat it the same day. The best puff pastry should be eaten the same day it's made. Pretty quickly the tart will lose it's flaky, heavenly goodness.
SERVING AND STORING VEGAN ASPARAGUS TART
This vegan asparagus tart is best eaten the same day. If you do want to make them in advance, you can make the crust and cashew cream filling up to two days in advance. Store them separately. The filling should be stored in an airtight container in the refrigerator. The tart shells should be covered and stored at room temperature. When ready to eat, just assemble and serve!
Ready to get started? Let's get baking!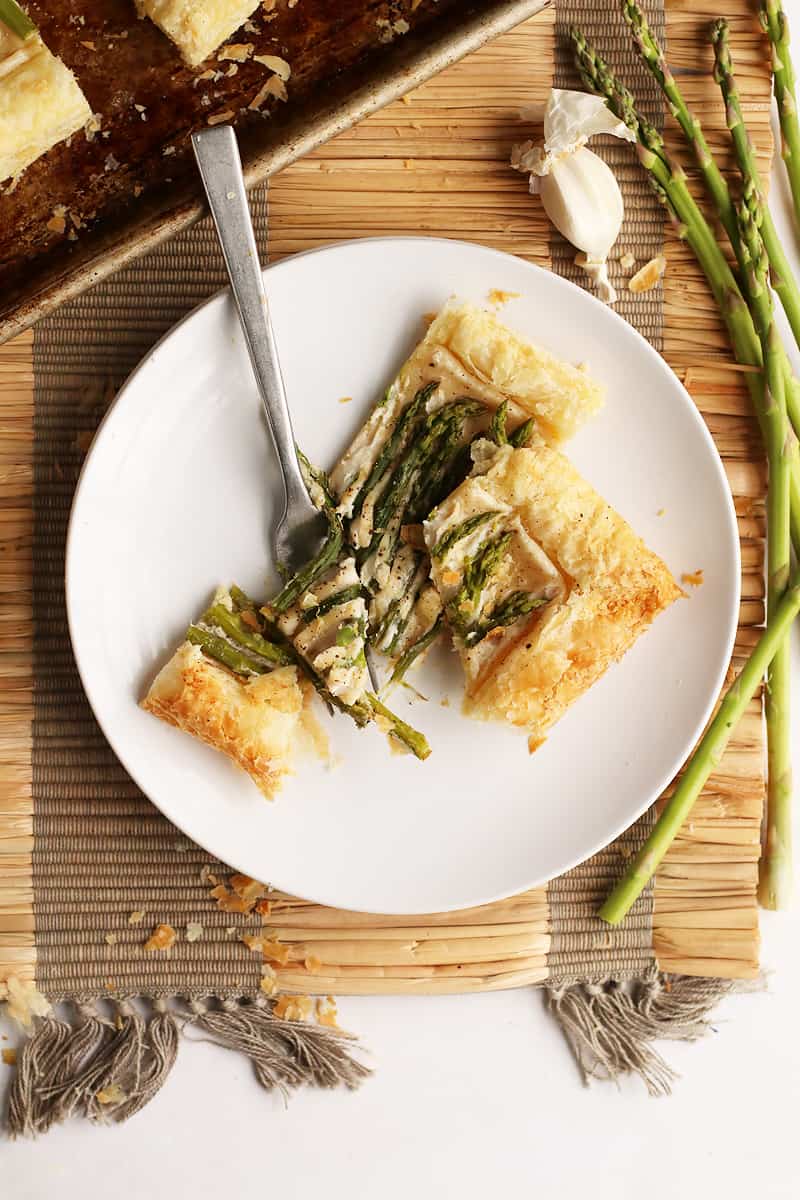 Cashew Cream and Asparagus Tart
Make any holiday special with this Vegan Cashew Cream and Asparagus Tart. Made with puff pastry for a delicious and decadent side dish for your holiday table.
Did you make this recipe? Leave a comment and rate it below.
If you made any substitutions, let us know how it turned out!
Course:
Side Dish
Cuisine:
American
Keyword:
Asparagus Tart
Servings
:
8
people
Calories
: 235 kcal
Author
:
Sarah McMinn
Ingredients
Asparagus Tart
1

sheet vegan puff pastry
about 30 stalks of asparagus

1/2

cup

lemon cashew cream, recipe to follow

4-5

cloves garlic

1

tablespoon olive oil
salt and pepper
Lemon Cashew Cream
1/4

cup

water

1/2

cup

raw cashews

1

teaspoon apple cider vinegar

1

teaspoon agave nectar
juice of 1/2 lemon
salt
Instructions
Preheat the oven to 400 degrees F. Remove the puff pastry from packaging and let thaw for 30 minutes. Once it's thawed enough to move, gently open up the pastry so that it's laid flat. Gently mark a 1" border around the entire pastry. With a fork, poke holes around the bottom of pastry leaving the border untouched.
While the puff pastry is thawing, snap off the bottom 1" of asparagus stocks and boil for 7 minutes, until slightly tender. Remove from water and let cool.

In a high powered blender mix together the ingredients for the lemon cashew cream until it's thick, creamy, and smooth. Pour into puff pastry and spread evenly over the bottom, leaving the borders clean.

Lay the asparagus over the cashew cream. Brush tops and sides with olive oil then top with minced garlic, fresh-squeezed lemon juice, salt, and pepper.

Bake for 15-20 minutes until the border is golden brown.
Let cool 10 minutes before serving.
Nutrition Facts
Calories Per Serving:
235
% Daily Value
If you give this recipe recipe a try, snap a photo and share it on Instagram. Make sure to tag
@mydarlingvegan
so I can see your creations!