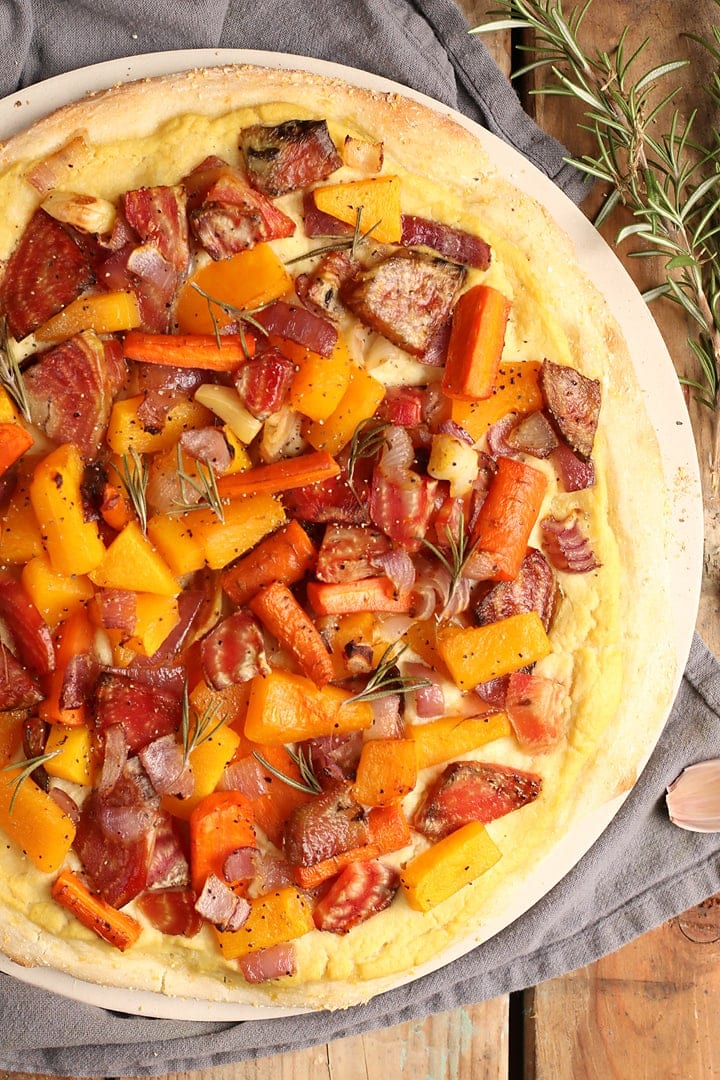 I think we could all use a little more pizza in our lives, right?
And so today, I bring you my fall Roasted Vegetable Pizza with Cauliflower Alfredo Sauce – a wonderful blend of autumn's sweet vegetables – carrots, beets, butternut squash, and onions mixed with my healthy Cauliflower Alfredo Sauce all baked on top of a cornmeal crust for a delicious blend of hearty vegetables and seasonal flavors.
Wanna take a closer look?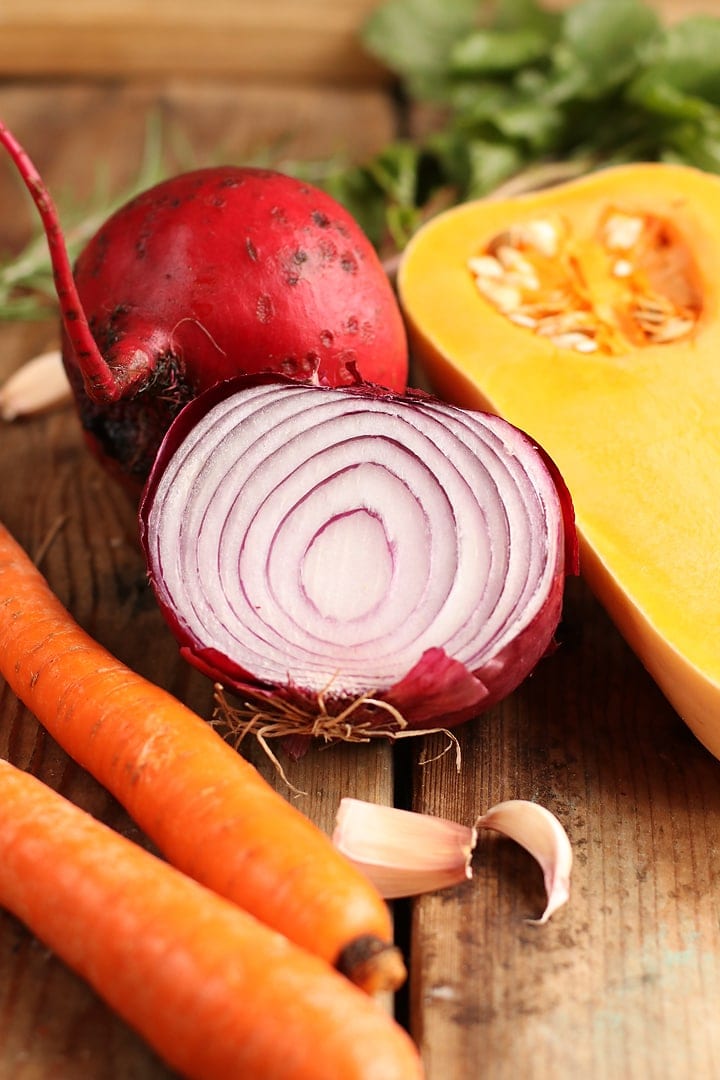 This was one of those recipes, like my BBQ Chickpea Pizza with Homemade Ranch, that was inspired by the food in my refrigerator. After having leftover sauce from the Healthy Fettuccine Alfredo I made a few nights back and with my refrigerator full of my favorite root vegetables: onions, carrots, and beets, plus a beautiful butternut squash sitting on my counter because I just can't help myself, I got the idea to combine it all into a pizza.
The first step in making this pizza is roasting all those beautiful October vegetables. I roast them at 450 degrees F for about 40 minutes until they are melt-in-your-mouth tender and deliciously aromatic.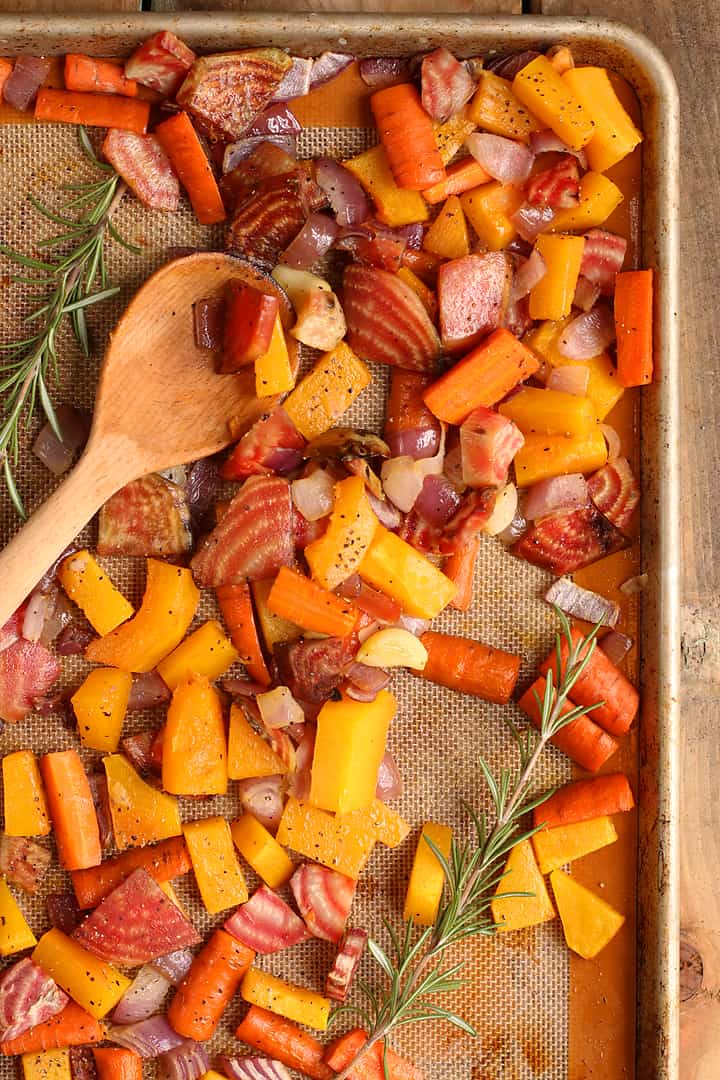 While the vegetables are roasting, you can whipped up a batch of the Cauliflower Alfredo Sauce which takes about 15 minutes from start to finish. Then you can start prepping your pizza.
Now let's talk about pizza crust.
When it comes to crusts, you might prefer to make your own but often feeling short on time, I always prefer to buy pizza dough pre-made. You can find pre-made/pre-baked pizza dough in the refrigerated section of well-stocked grocery stores. This dough is made and packaged after its first rise but requires one more rise when you get home before shaping it into a crust. I love this option because it's freshly baked and can be shaped however you'd like but takes out a big step in the pizza making process. If you do prefer homemade, you can follow this recipe.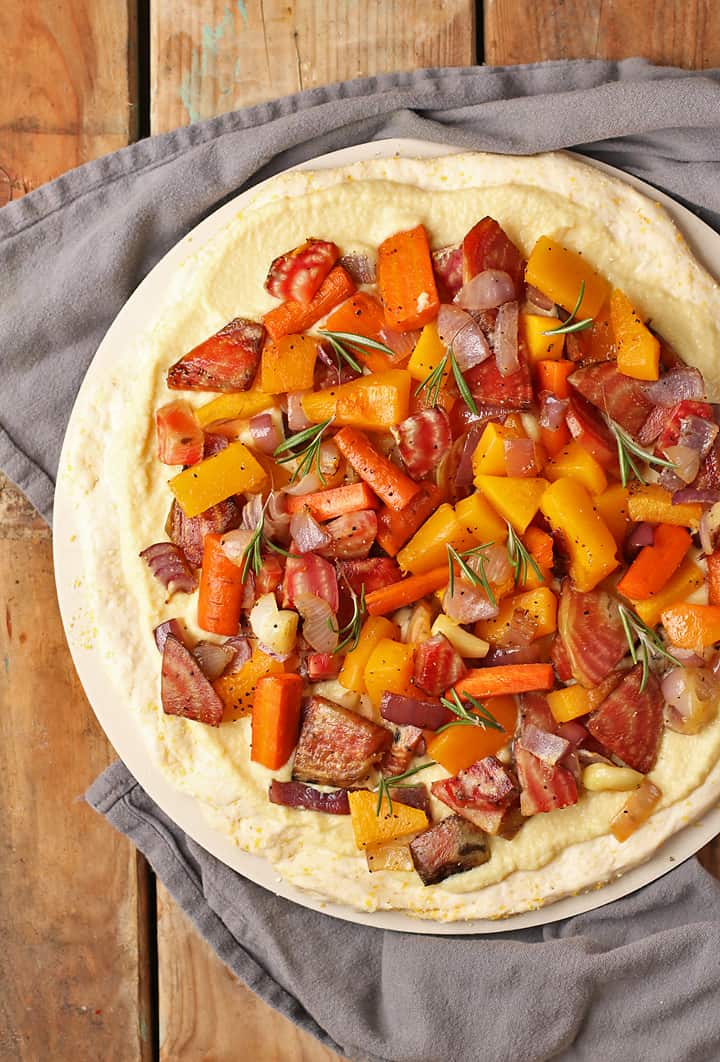 Once the dough is formed, top it with a thick layer of Cauliflower Alfredo Sauce followed by the sweet roasted root vegetables. Finish with fresh rosemary and cracked pepper and throw it in the oven for about 18 minutes, until crust is golden brown. Remove from oven and serve!
There you have it. An easy, homemade, roasted vegetable pizza that you can make tonight.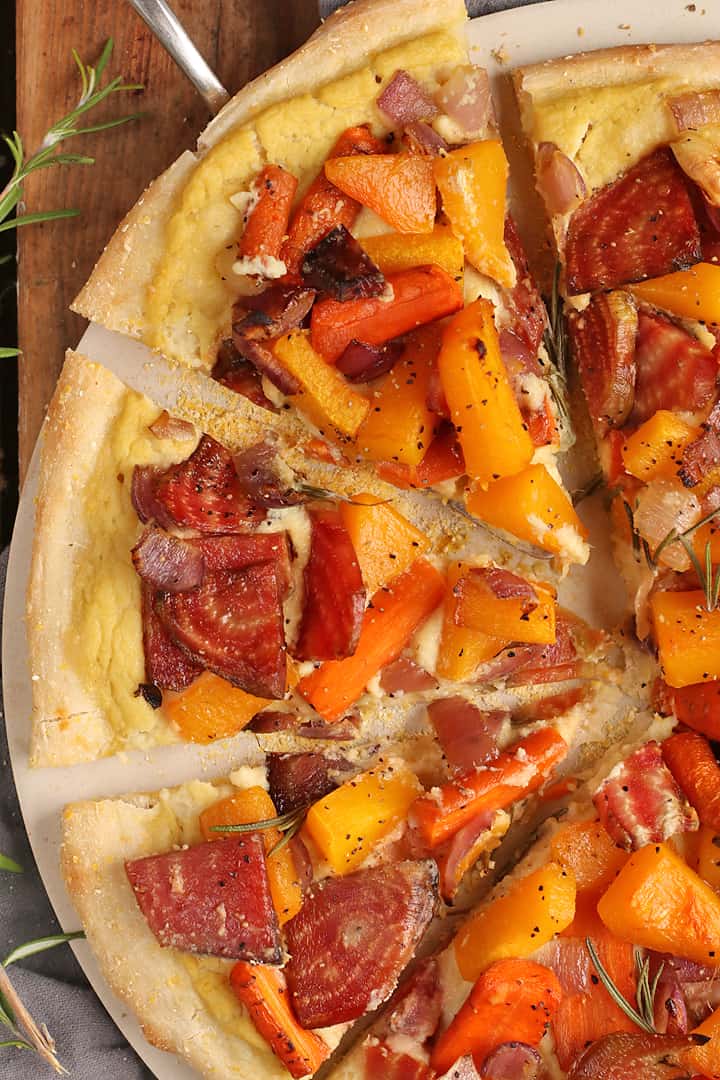 Roasted Vegetable Pizza with Cauliflower Alfredo Sauce
Ingredients
1

pizza crust,

homemade or store bought

1/2

small

butternut squash

peeled and chopped into 1" pieces

2

large

carrots,

cut lengthwise into 1" pieces

2

medium

beets

peeled and chopped into 1" pieces

1/2

red

onion

coarsely chopped

6-8

cloves

garlic

peeled

1

tbsp

olive oil

2-3

fresh sprigs

rosemary

freshly cracked pepper,

to taste
Instructions
Preheat the oven to 450 degrees.

Peel and cut the vegetables and garlic. Combine them in a large bowl and toss with olive oil. Spread onto a single layer of a parchment-lined baking sheet and bake for 35-40 minutes, until tender and fragrant. Once done, turn down oven to 425 degrees F.

While vegetables are roasting, make the Cauliflower Alfredo Sauce according to these instructions.

Flour a pizza stone or baking sheet. Shape the pizza dough over the stone. Top with Cauliflower Alfredo Sauce and roasted vegetables. Finish with rosemary and pepper.

Bake pizza for 18-20 minutes until crust is golden brown. Remove from oven and let cool 10 minutes before slicing and serving.
Recipe Notes
Follow this recipe for a homemade pizza crust.
If using a pizza stone, place it in the oven while it's preheating to prevent stone from cracking.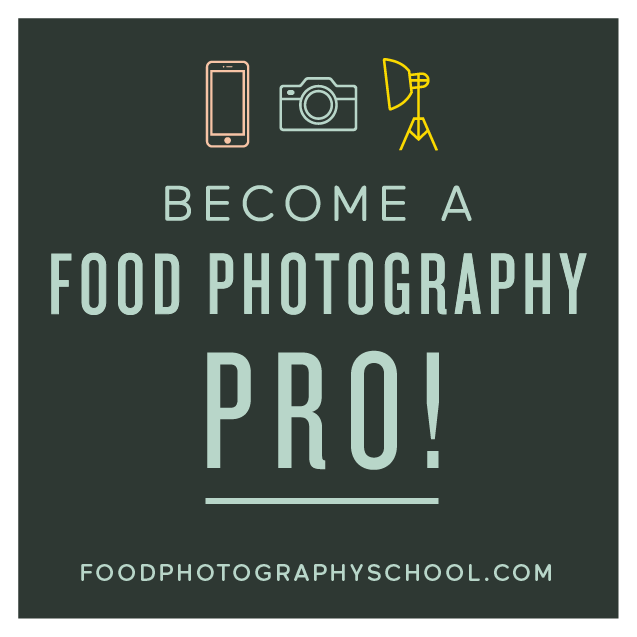 Sign up for
My Darling Vegan Newsletter
get a FREE copy of my Clean Eating Vegan ebook
Advertise Here