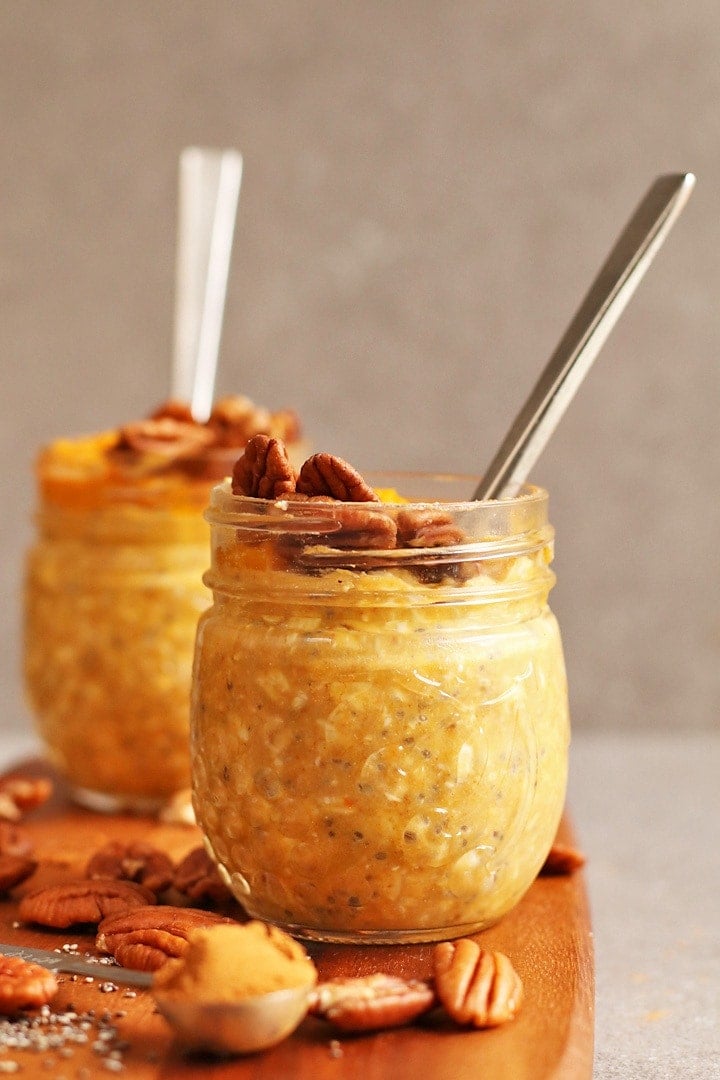 This September I've been starting my days off with a wonderful routine.
I wake up early, an inevitable result of years of bread baking and child raising, and start my day with 30 minutes of yoga. I've been enjoying the app, Yoga Studio, which allows me to choose the skills I want to improve on at whatever level I'm at. This practice helps center my mind, focus my energies for the day, and gets my body sweating and my blood flowing.
Once I wrap up yoga I take a quick shower and then sit down to enjoy my new favorite Golden Chai Latte and breakfast which is either my breakfast tofu & kale bowl or overnight oats.
Because life is full and busy (in the best ways possible), I try and keep several servings of overnight oats in the refrigerator. And ever since last week when I kicked off pumpkin season, I've been a huge fan of these Pumpkin Pie Overnight Oats. Creamy, spicy, and filled with the flavor of the season, they have become an essential part of my morning routine.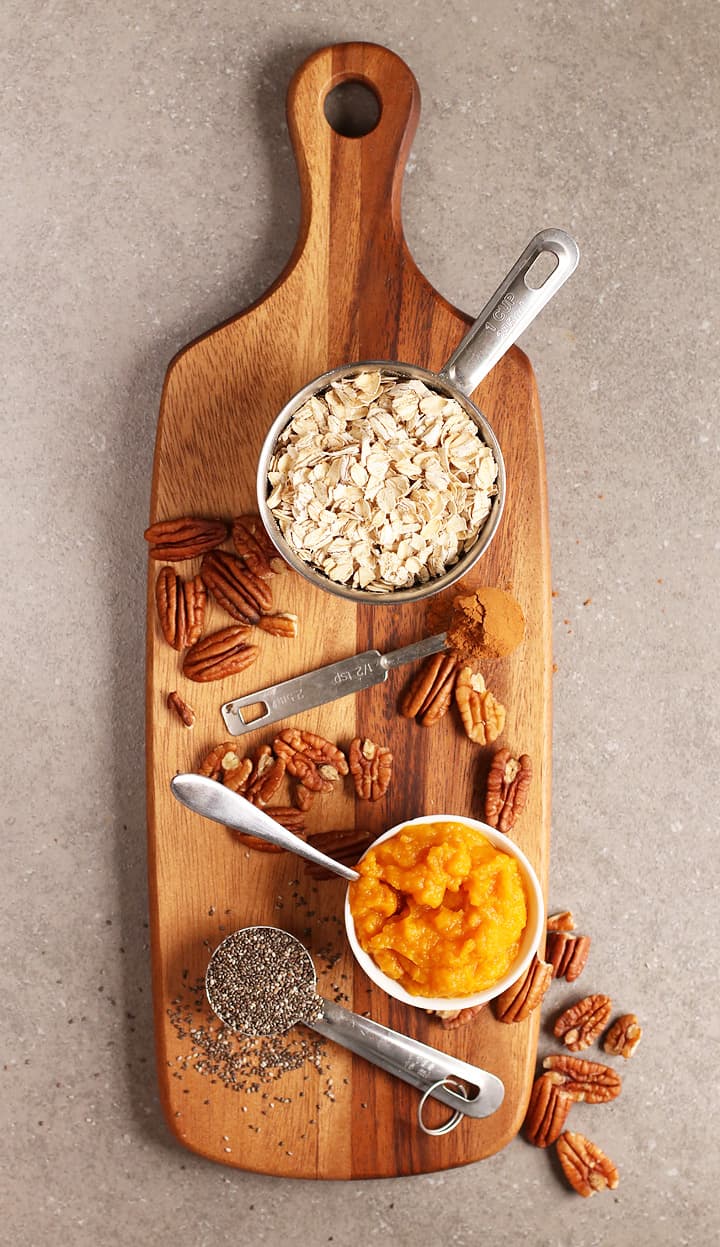 If you haven't jumped on the overnight oats wagon yet, I highly recommend you do so.
Not only do overnight oats save a ton of time in the morning – seriously, 3 minutes to throw together the night before for the quickest grab-n-go breakfast – they are actually better for you than regular oats. By letting the oats sit overnight, the starches break down becoming more digestible and easier on the body. This means your body is absorbing more of the nutrients while providing a satisfying and hearty meal that will keep you full all morning long.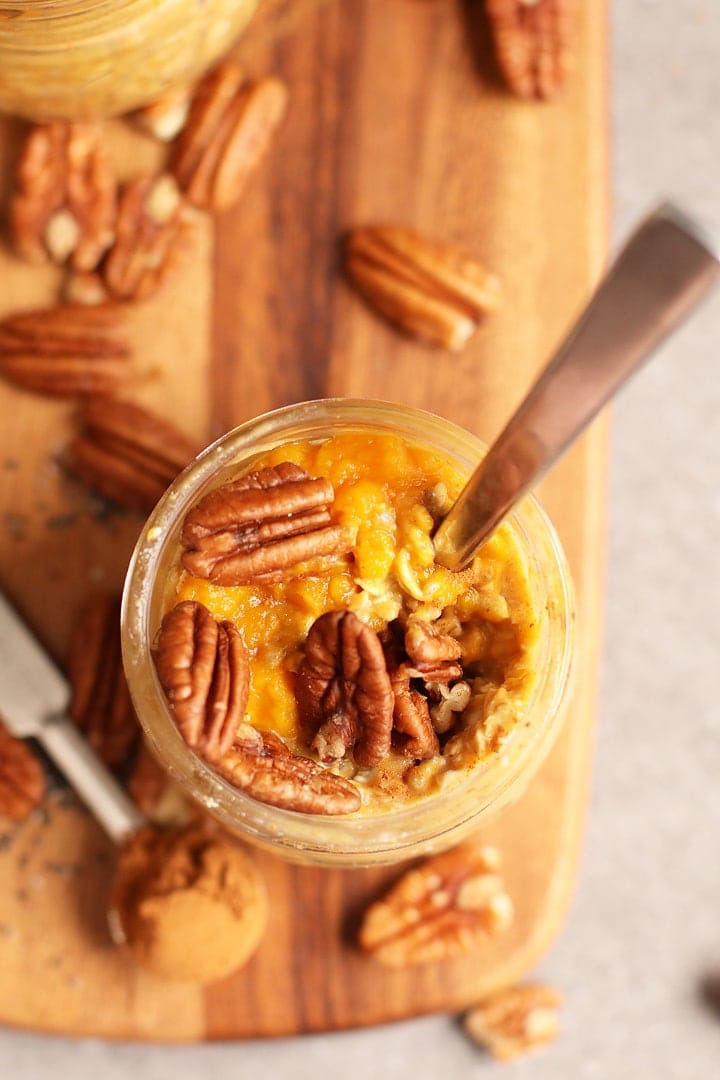 Beyond that, overnight oat are incredible versatile.
Besides these pumpkin pie overnight oats, some of the other flavors you'll find on the blog are Blueberry Coconut and Strawberry & Cream. I've also experimented with Carrot Cake, Banana Bread, and Oatmeal Raisin Cookie. Stay tuned! It's very hard to mess up overnight oats. Just combine oats with non-dairy milk, a fruit or vegetable puree (or vegan yogurt), your desired spices, fruits, veggies, nuts and/or seeds and you've got yourself a simple, yet different breakfast every time.
But don't take my word for it. Try these pumpkin pie overnight oats yourself.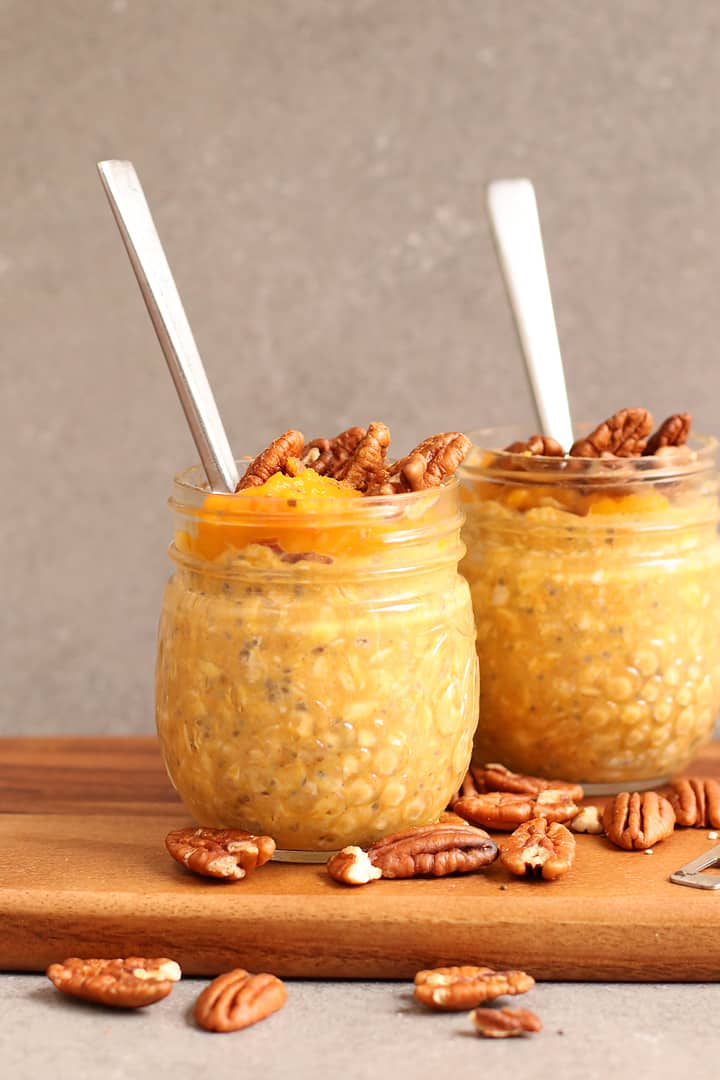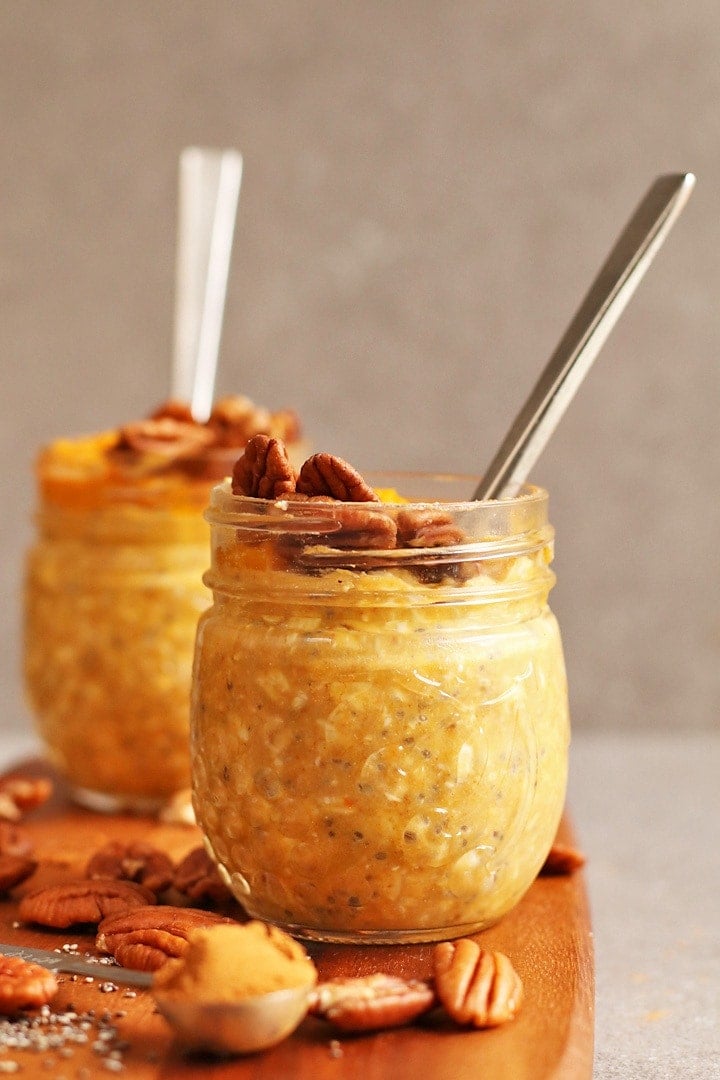 Vegan Pumpkin Pie Overnight Oats
Ingredients
1

cup

rolled oats

½

cup

light coconut milk

½

cup

almond milk

1/2

cup

pumpkin puree

2

tablespoon

maple syrup

1

tablespoon

chia seeds

1

teaspoon

vanilla extract

1/2

teaspoon

cinnamon

1/4

teaspoon

nutmeg

1/8

teaspoon

ground cloves

pinch

of salt

pecans

for topping
Instructions
Combine oats, milk, pumpkin, chia seeds, maple syrup vanilla extract, spices and salt in a large bowl. Stir together until well combined.

Transfer to two

8 ounce mason jars

, cover, and the refrigerator at least 4 hours or overnight.

When ready, top with pecans and enjoy. Oats can stay refrigerated for up to 3 days.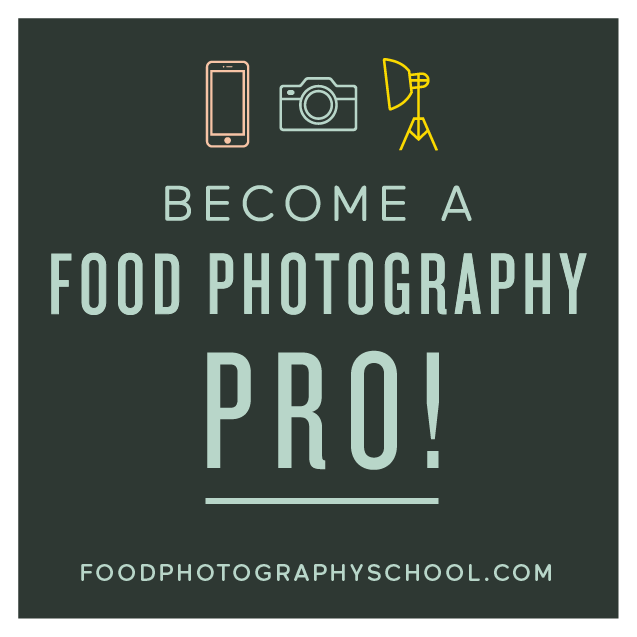 Sign up for
My Darling Vegan Newsletter
get a FREE copy of my Clean Eating Vegan ebook
Advertise Here