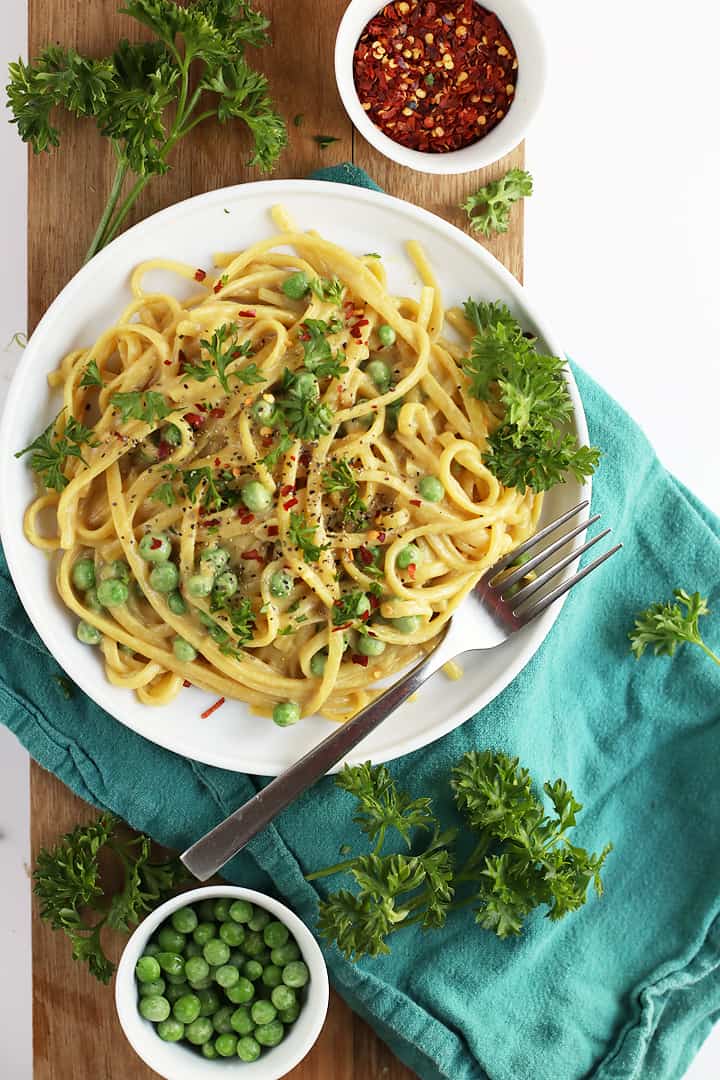 Hey friends! Happy Friday!
I am super excited about this weekend. A beautiful fall weekend with no work and all play. This past month has been about finding a healthy work/play/parenting balance, which as a business owner and single parent, is no easy task. In the past I have always been inclined to use every spare moment to work. It got to the point where working for myself lost all the build-in and hidden treasures of flexibility, adventure, and passion. To counter that, this month I have challenged myself to take a half day off from work each week to be present to the changing season, relationships, and my own self care. And that is exactly what I'm dedicating this weekend to as well.
But I'm getting ahead of myself. Before I head out for the weekend, I have one more recipe to share with you; a perfect recipe for this Friday night.
Why, you ask?
Because it's simple (one pot and under 30 minutes) and totally decadent. Let me introduce to you this Roasted Garlic White Wine Pasta.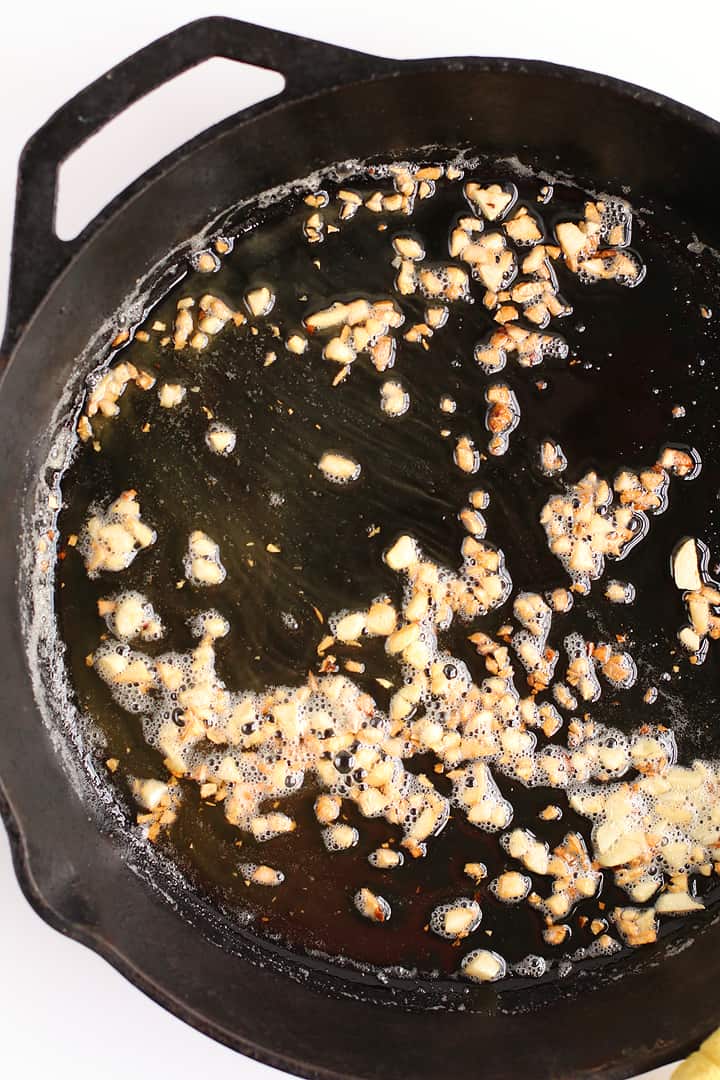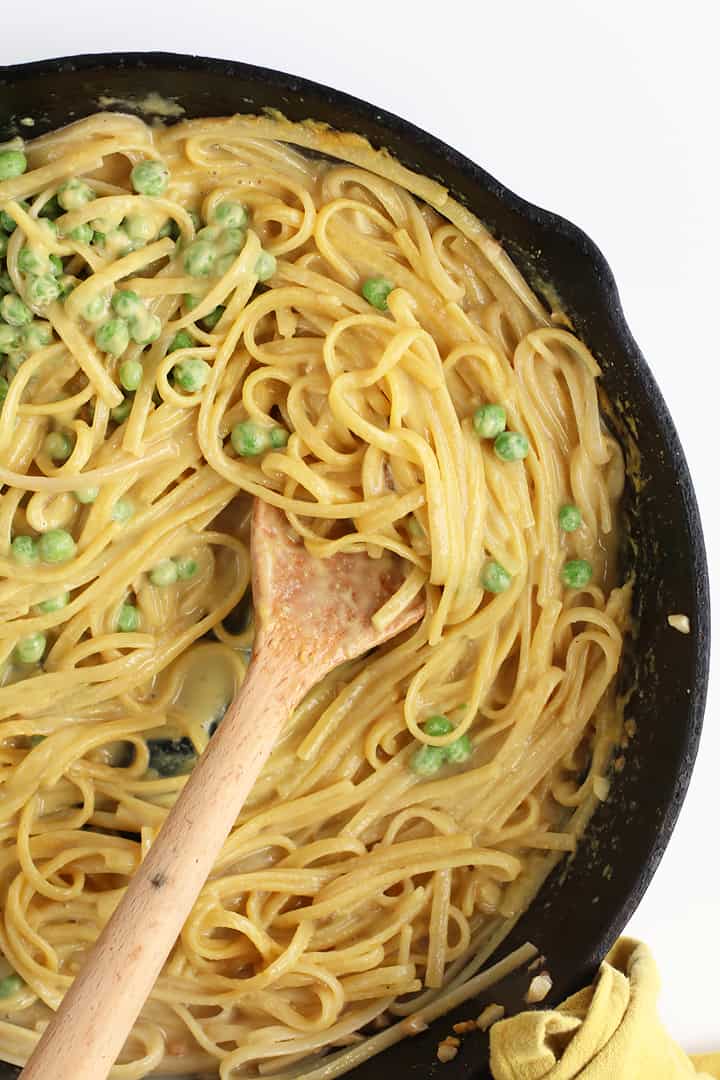 This Roasted Garlic White Wine Pasta is so incredibly simple and can be made in just one single cast iron skillet. The noodles are cooked in the roasted garlic, vegetable broth, and white wine. This is both for added convenience and flavor. As the noodles cook they absorbs the flavors of garlic and wine which creates complex and delicate flavors for this very simple dish.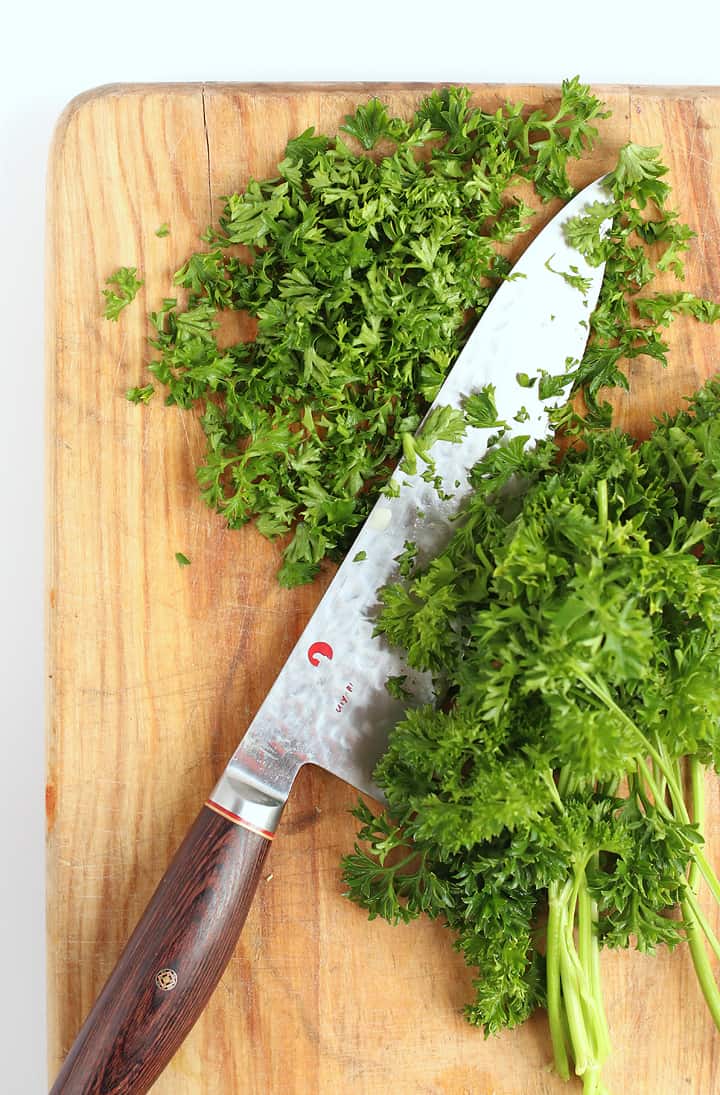 After the noodles are tender and most of the liquid is absorbed I add unsweetened soy milk and nutritional yeast for creamy, cheesy taste and texture. Nutritional yeast is a natural thickener. Once it's stirred it, the sauce becomes rich and thick.
See what I mean? Ease + Decadence.
If you want (and I recommend it) stir in your favorite vegetable. I went with peas for these photographs but I have also made the recipe with asparagus, spinach, and mushrooms. Anything goes!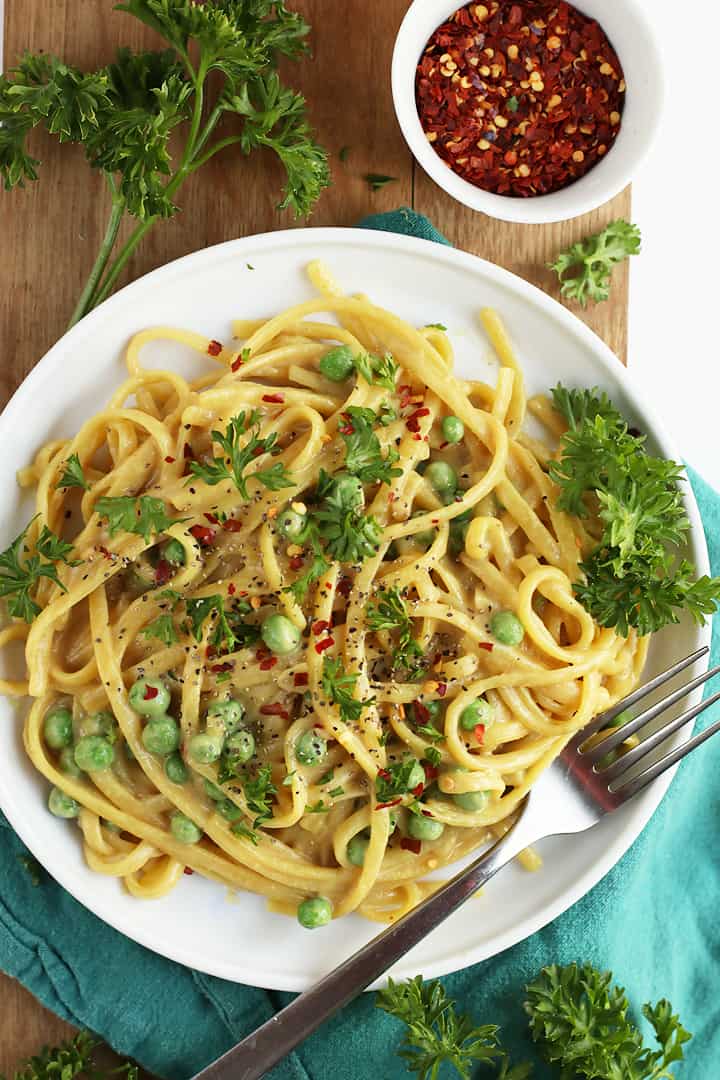 From start to finish, this recipe can be made in just under 30 minutes and in one single pot for a family dinner that everyone will love. Go ahead and start this weekend off with a simple yet decadent Friday night pasta. Then kick back and enjoy your weekend.
I know I will.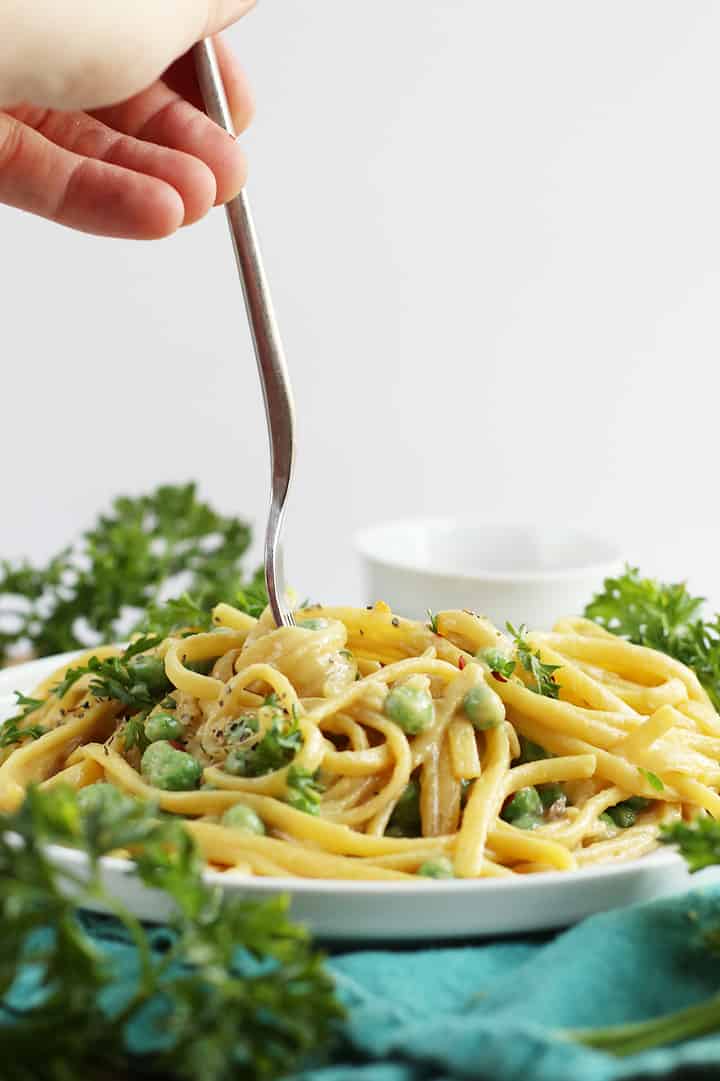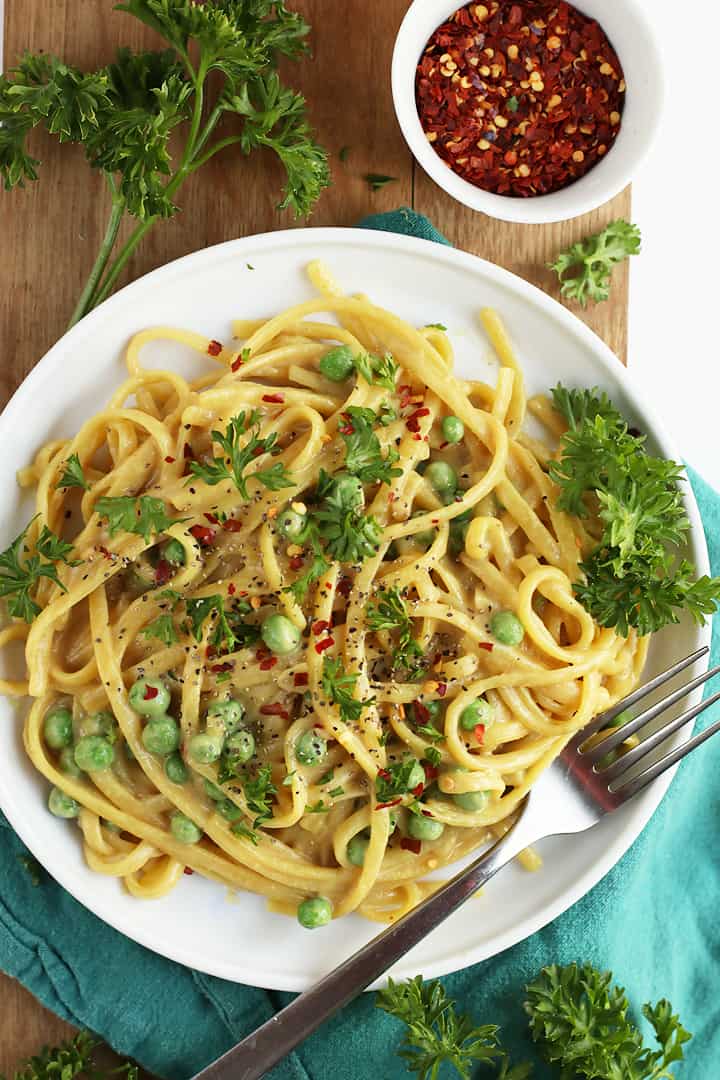 One Pot Garlic White Wine Pasta
Ingredients
4

tbsp

vegan butter

6

cloves

garlic

minced

1

cup

dry white wine

2

cups

vegetable broth

8

ounces

fettuccine noodles

1/2

tsp

salt

1/2

cup

unsweetened non-dairy milk (I use soy)

1/4

cup

nutritional yeast

1

cup

peas,

or vegetable of choice

1/4

cup

fresh parsley

minced

red pepper flakes,

optional

freshly ground pepper,

optional
Instructions
Heat the vegan butter in a large cast iron skillet over medium heat. Once melted, add garlic and sauté for 1-2 minutes, until garlic is lightly browned and fragrant.

Add white wine and vegetable broth to garlic and stir to combine.

Stir in fettuccine noodles and bring to a boil. Reduce heat to a simmer, cover, and cook for 10 minutes, stirring occasionally, until noodles are tender and most of the liquid has absorbed.

Add non-dairy milk and nutritional yeast, stirring to combine. Once thick and creamy, stir in frozen peas, or vegetable of choice. Cook over low heat until heated all the way through.

Remove from heat top with parsley, red pepper flakes, and fresh ground pepper. Serve immediately.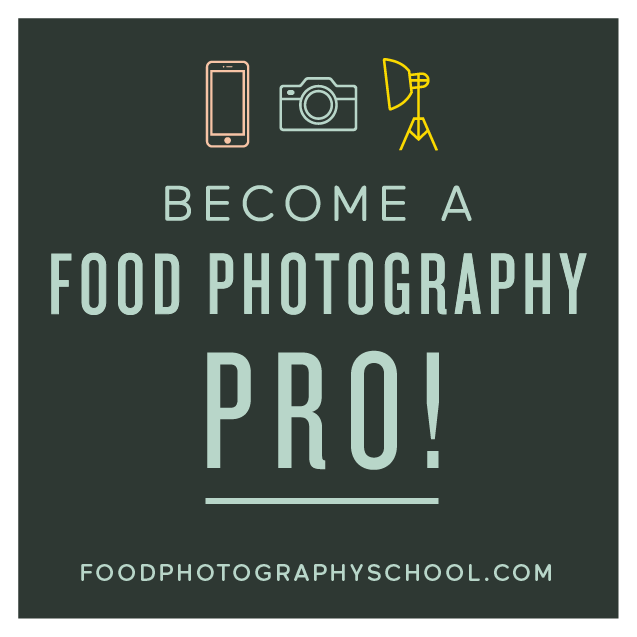 Sign up for
My Darling Vegan Newsletter
get a FREE copy of my Clean Eating Vegan ebook
Advertise Here