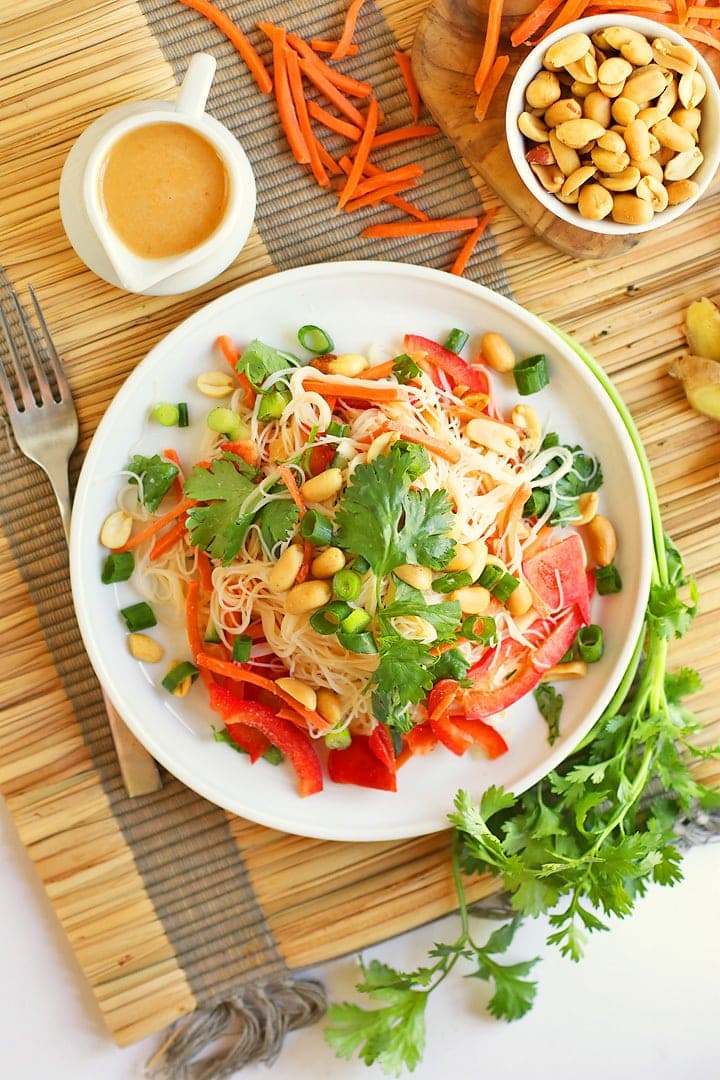 I have been on a salad kick recently.
How can you not be in 90 degree weather? Living in an old house without air conditioning makes turning on the oven the last thing I'm going to be doing at dinner time. Which, turns out, is great for both you and me. I get to be making (and eating) all these refreshing summer salads and you get the recipes for each and every one! It's going to get real light and refreshing up in here for the next several weeks.
First up: Asian Vermicelli Noodle Salad, a hearty and refreshing salad made with vermicelli rice noodles, filled with fresh vegetables, and slathered in spicy gingery peanut sauce. I've got two words for you:
So. Good.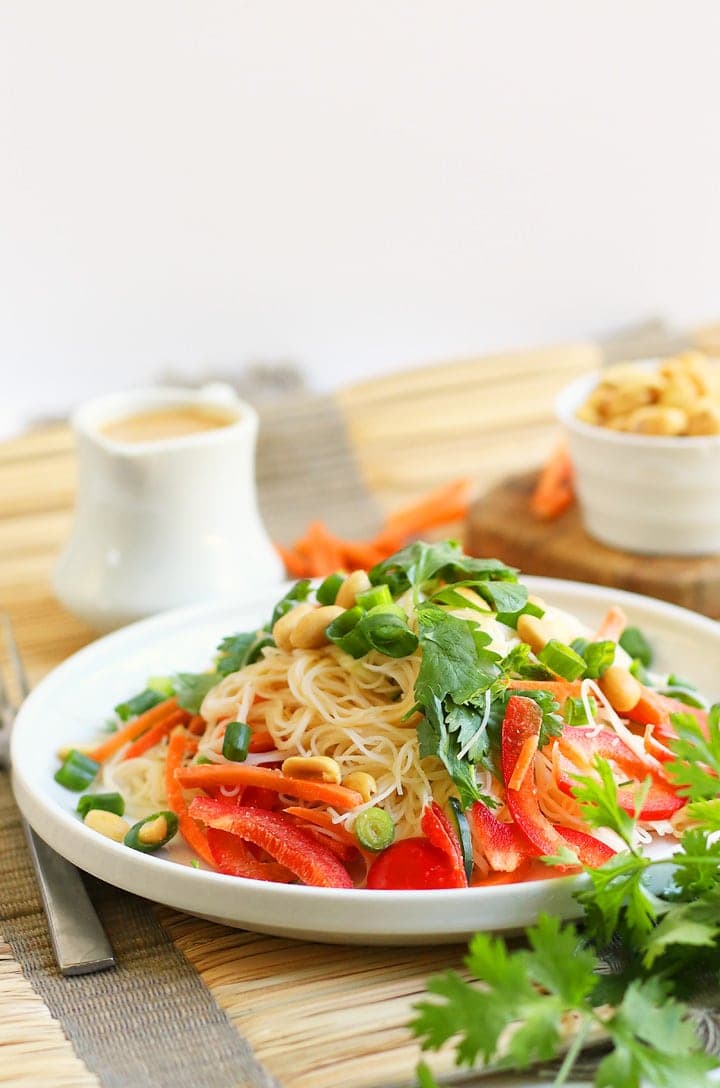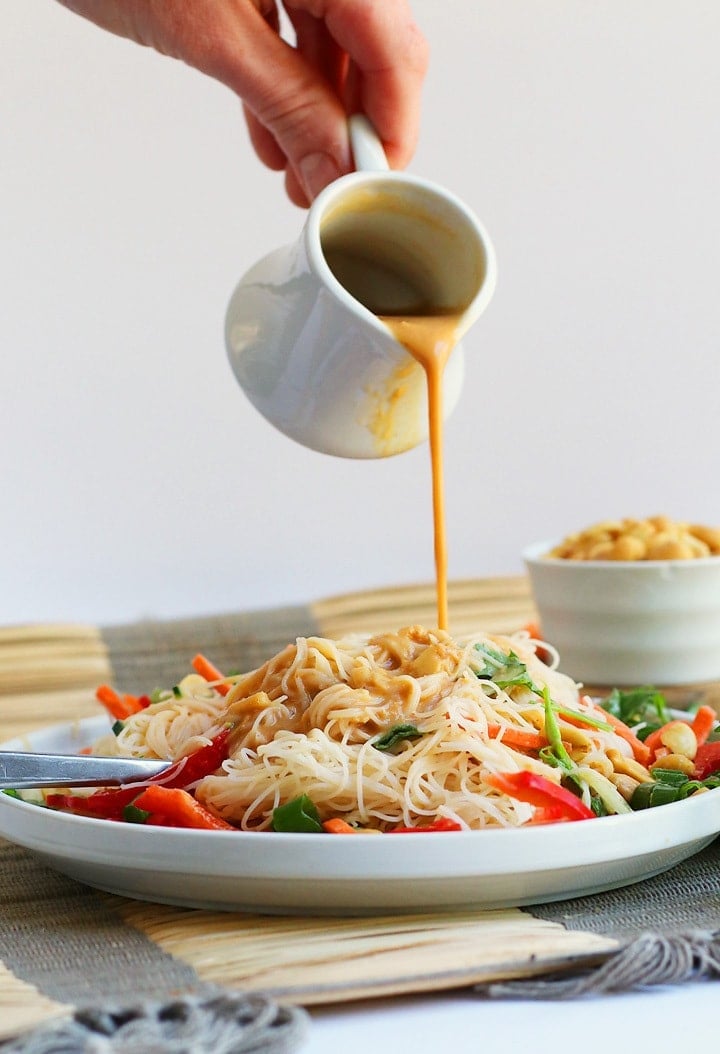 A few weeks back A Taste of Thai sent me a box of their products to sample. You may remember me featuring their red curry paste in this Thai Curry Bowl. Among the goodies were a few packages of vermicelli noodles. I haven't done much with vermicelli in the past, so this seemed like the perfect time to do some experimenting.
I took one of my very first recipes I made for the blog (please, head over here and check out what things looked like back in the old days; it will surely give you a laugh) adapted it, freshened it up, and voila!
Asian Vermicelli Noodle Salad
This salad is refreshing and light, perfect for any hot summer day yet hearty enough to fill you up for hours. It also makes a fantastic side for your next summer potluck. But make sure to grab some for yourself.
It won't last long!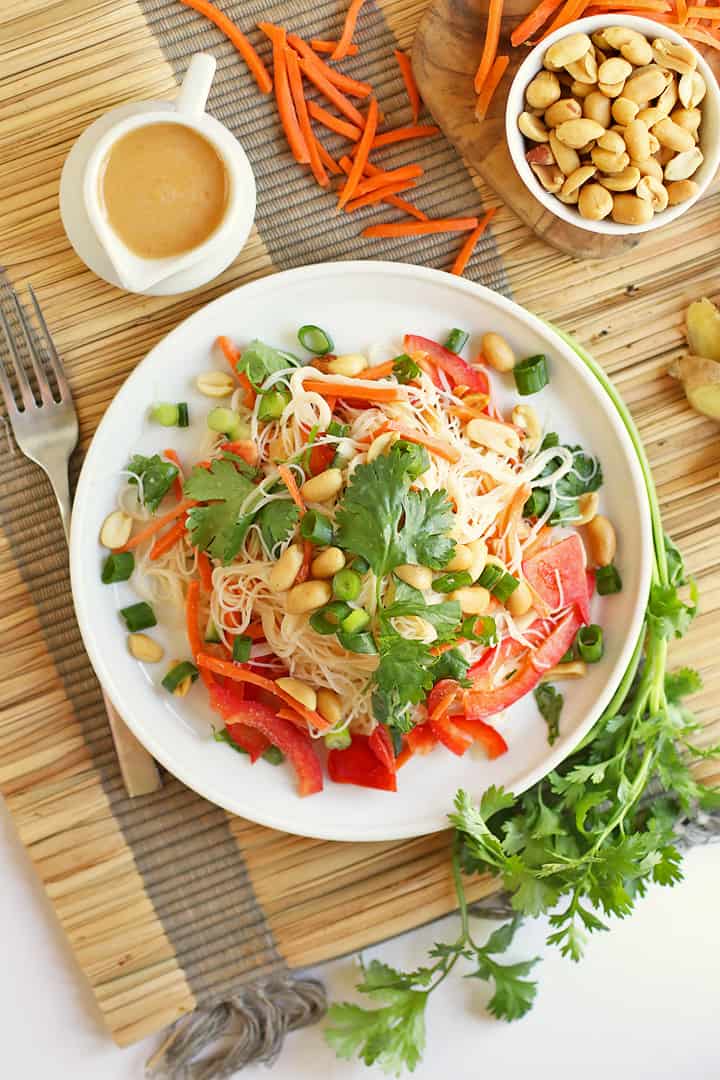 Asian Vermicelli Salad
2017-06-30 20:14:56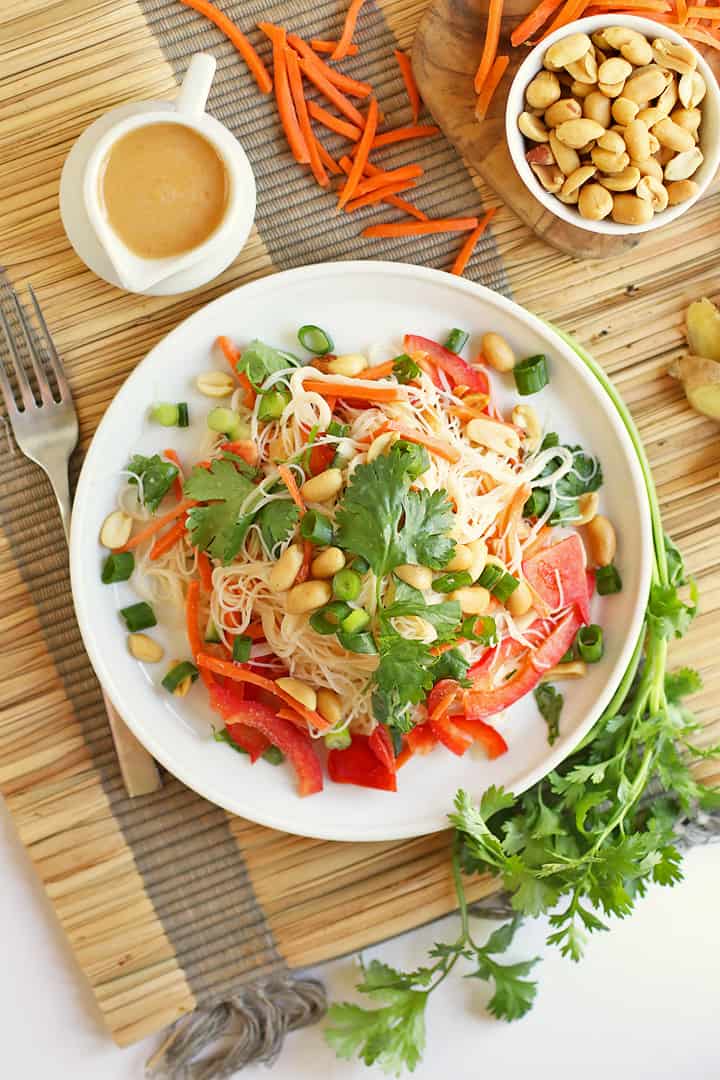 Serves 4
Vermicelli Salad
8 ounces vermicelli noodles
1 cup shredded carrots
1/2 cucumber, thinly sliced
1 red bell pepper, seeded and thinly sliced
1/2 cup cilantro, loosely packed
1/4 cup dry roasted peanuts
3 scallions, chopped
Peanut Sauce
3 tablespoons natural peanut butter
2 tablespoons soy sauce
1 tablespoon rice vinegar
2 clovers garlic
1 tablespoon fresh ginger
1 teaspoon Sriracha (or similar hot sauce)
1/4 cup water
Instructions
Chop and prepare the carrots, cucumber, and bell pepper. Set aside.
Bring 4 cups of salted water to a boil and add noodles, stirring to break up any clumps. Cook for 2-3 minutes. Remove from heat and strain. Rinse noodles in cold water and set aside.
Combine the ingredients for the peanut sauce in a blender or food processor. Blend until smooth.
Toss the cooled noodles in the peanut sauce. Stir in prepared vegetables, peanuts, cilantro, and scallions. Mix to combine.
Refrigerate until ready to serve.
My Darling Vegan https://www.mydarlingvegan.com/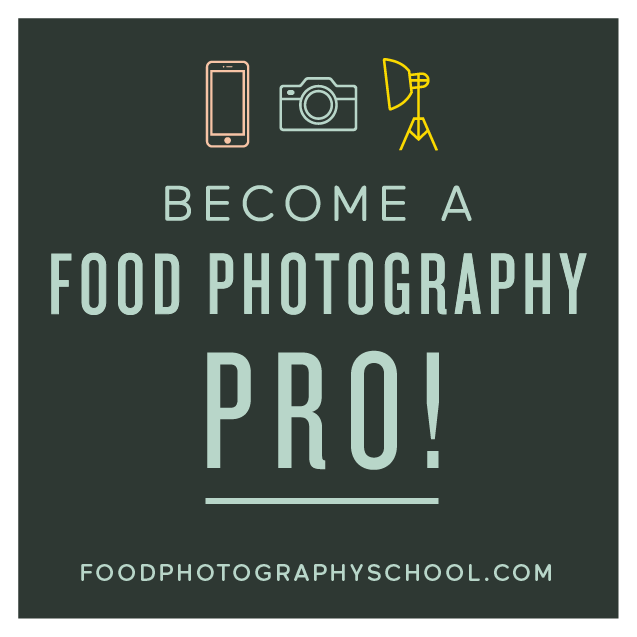 Sign up for
My Darling Vegan Newsletter
get a FREE copy of my Clean Eating Vegan ebook
Advertise Here