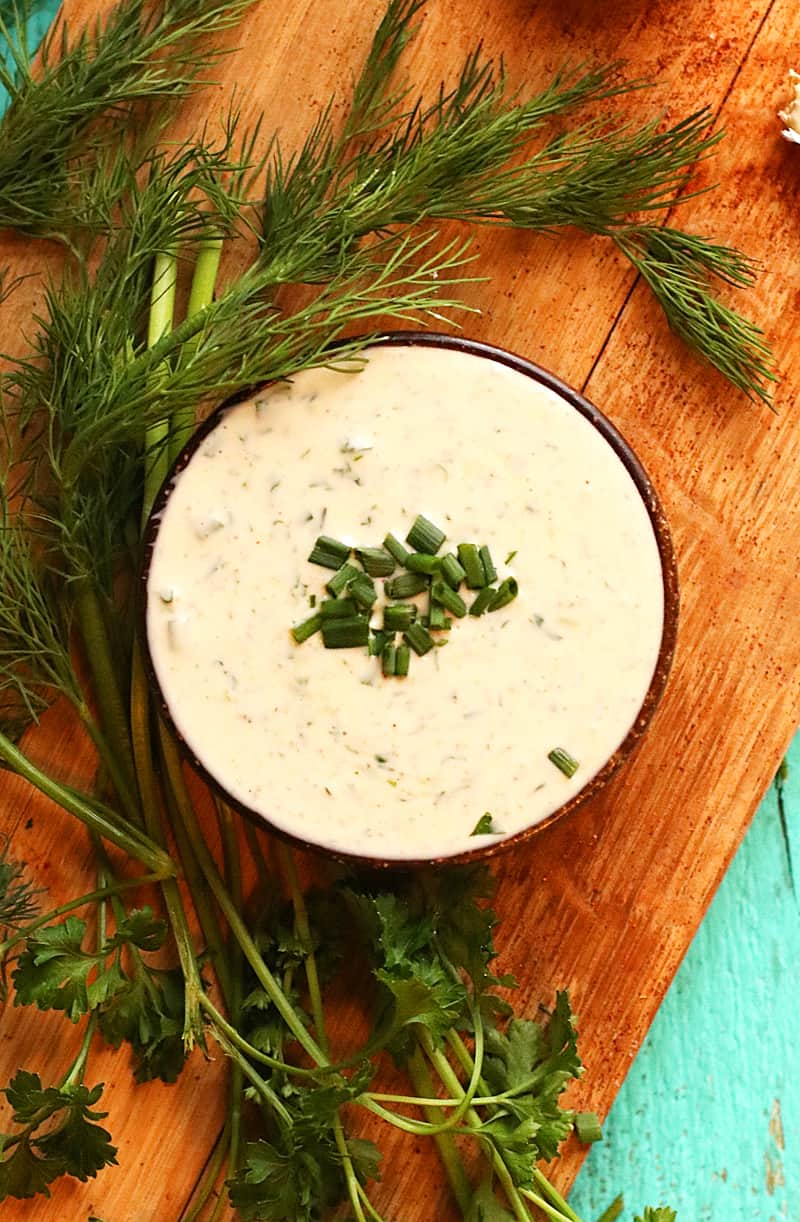 Portland has this thing that I totally of love: February Fake-out
Yeah, it's a thing. For a few glorious weeks in the middle of February the sun come back from it's loooong absence, the temperatures rise into the mid 50s, and, if you look closely, you can see flowers budding all around you. You can even start to convince yourself that spring has arrived early this year. You dust off those sunglasses, shed a layer, and breathe a deep sigh of relief. Spring is here.
But beware, as soon as you utter those words that bright glowing orbit in the sky (the sun, I think they call it) will be covered up by endless gray and the rain pours down for the next four months.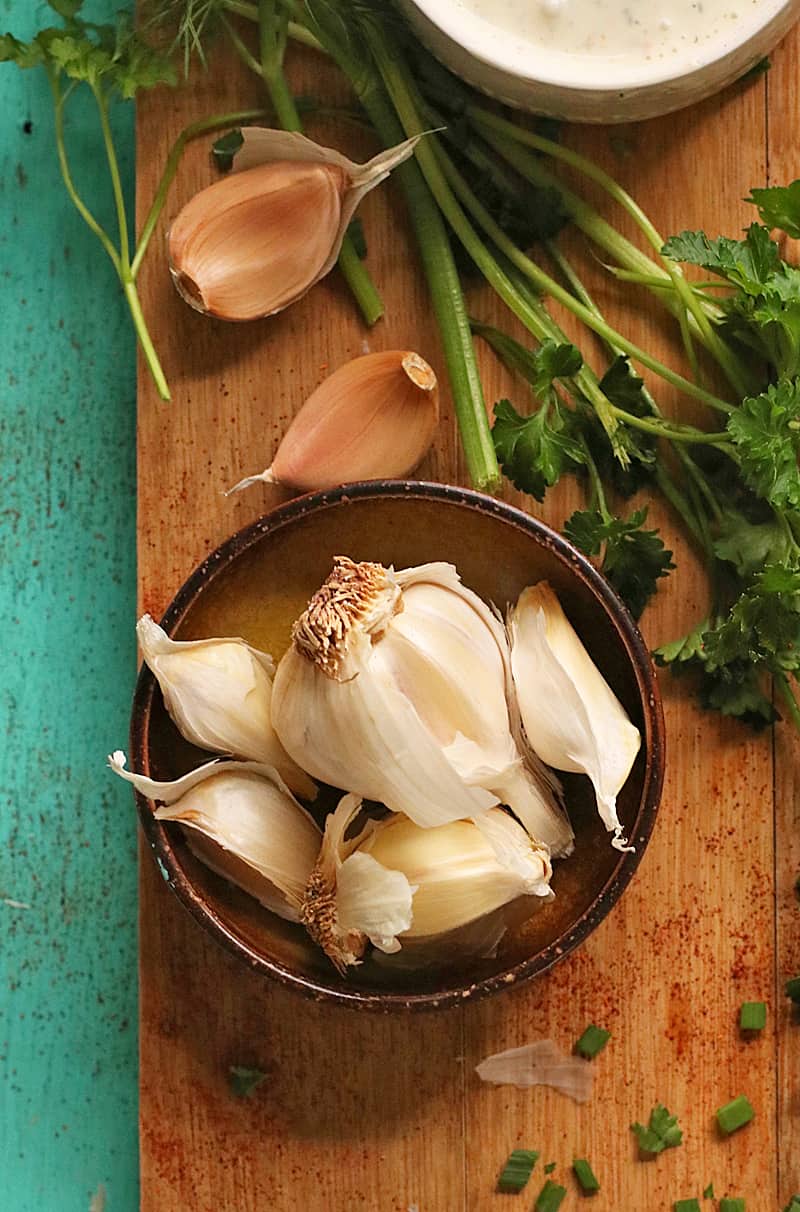 At first, I resented February Fake-out. How dare you give us a taste of spring just to take it away moments later, cruel universe! But after many years in Oregon, I've come to not only accept the disappointment of The Fake-out, but whole-heartedly embrace those two beautiful and glorious weeks of early spring.
I live it up, friends!
I pull out my sandals, get outside, take a hike, and most importantly eat all the springtime salads. And what goes best with all the springtime salads? Why, I'm glad you asked! This 5 minute vegan ranch dressing, of course!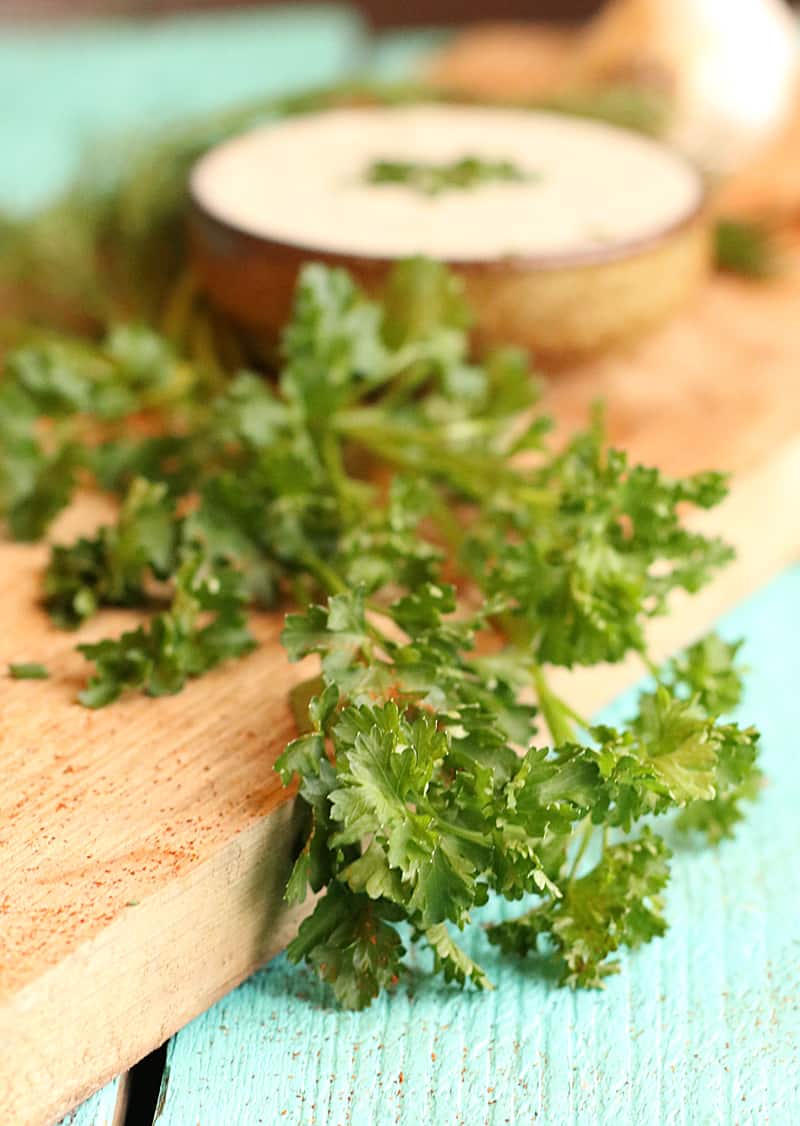 I have always loved ranch dressing. In fact – this might be weird – when going vegan, ranch dressing was one of the things I feared I would miss the most. Oh, I had so much to learn! But there weren't many store-bought options for vegan ranch dressing and those that did exist weren't very good.
And so, I had to learn how to make it myself.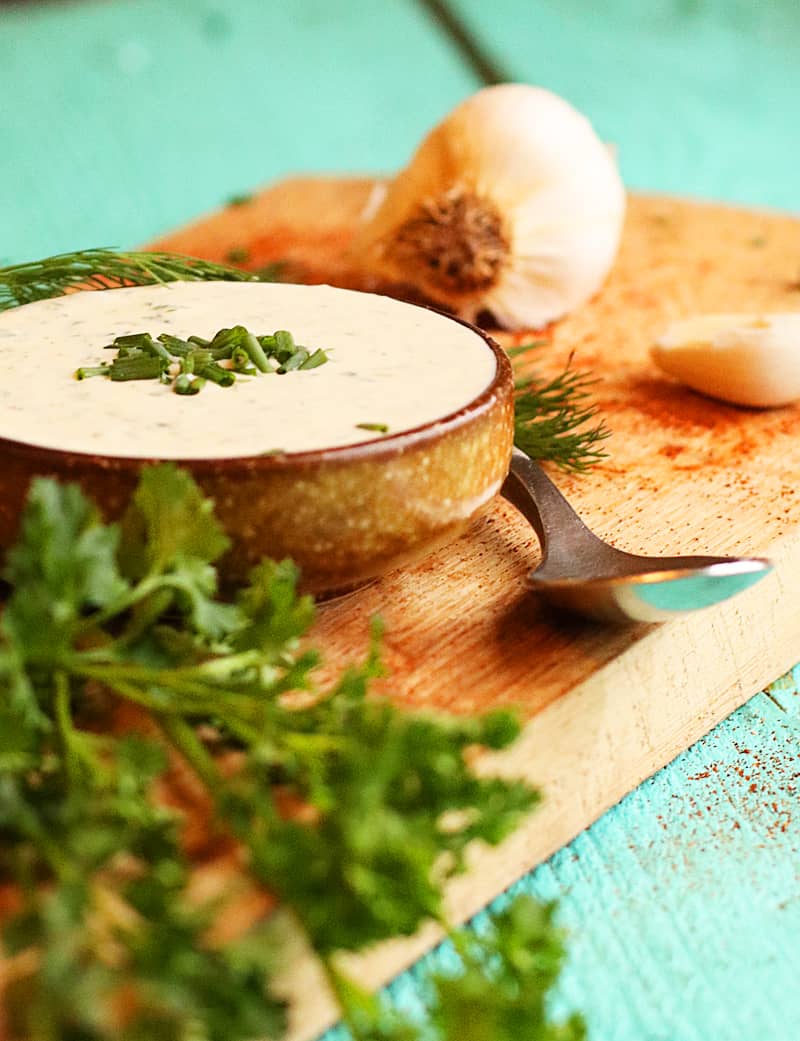 This vegan ranch dressing recipe uses soy milk combined with apple cider vinegar for it's sours taste and texture similar to buttermilk. While other non-dairy milks might work, soy milk is really the best option. I use vegan mayonnaise and I recommend Just Mayo because, I gotta say it, they've got the best products out there. This combined with all the freshness of the herbs and spices make, what I believe to be, the very best vegan ranch dressing available.
So, if you wanna pretend spring is here and dig into some salads with me, start with this 5 minutes vegan ranch dressing. And remember, even if it's just a fake-out, every day we are one day closer to real spring.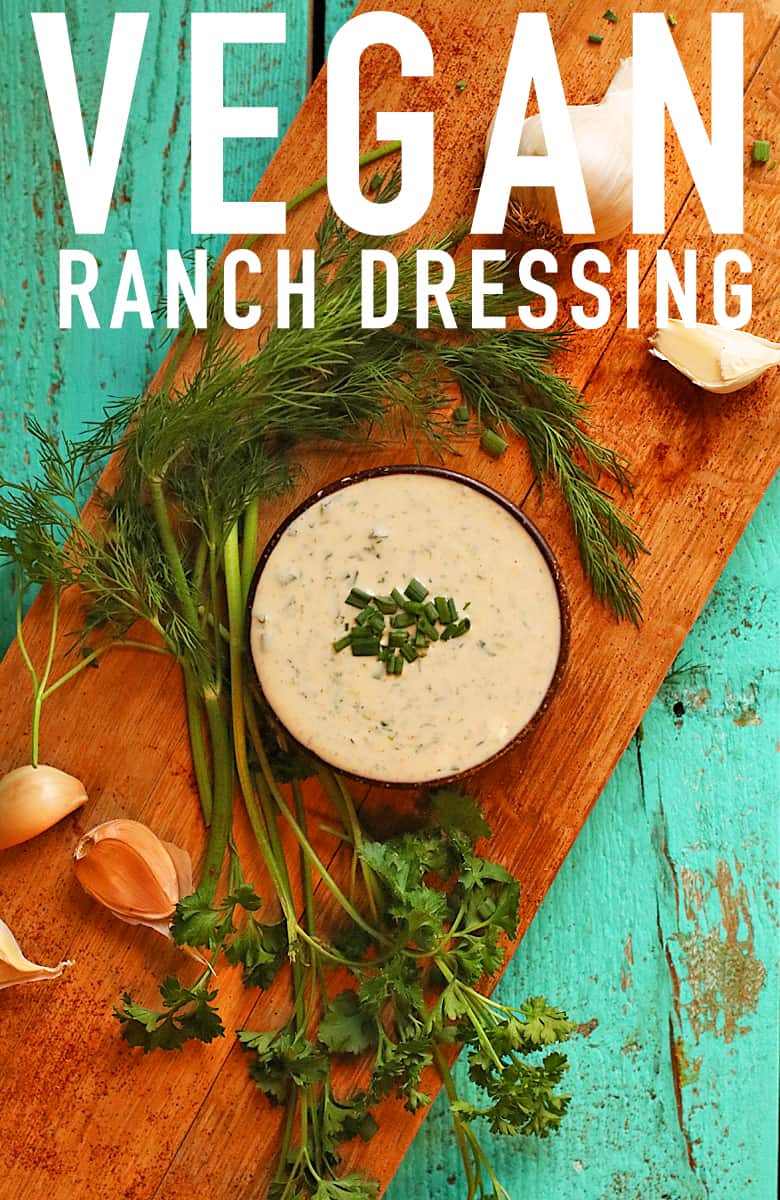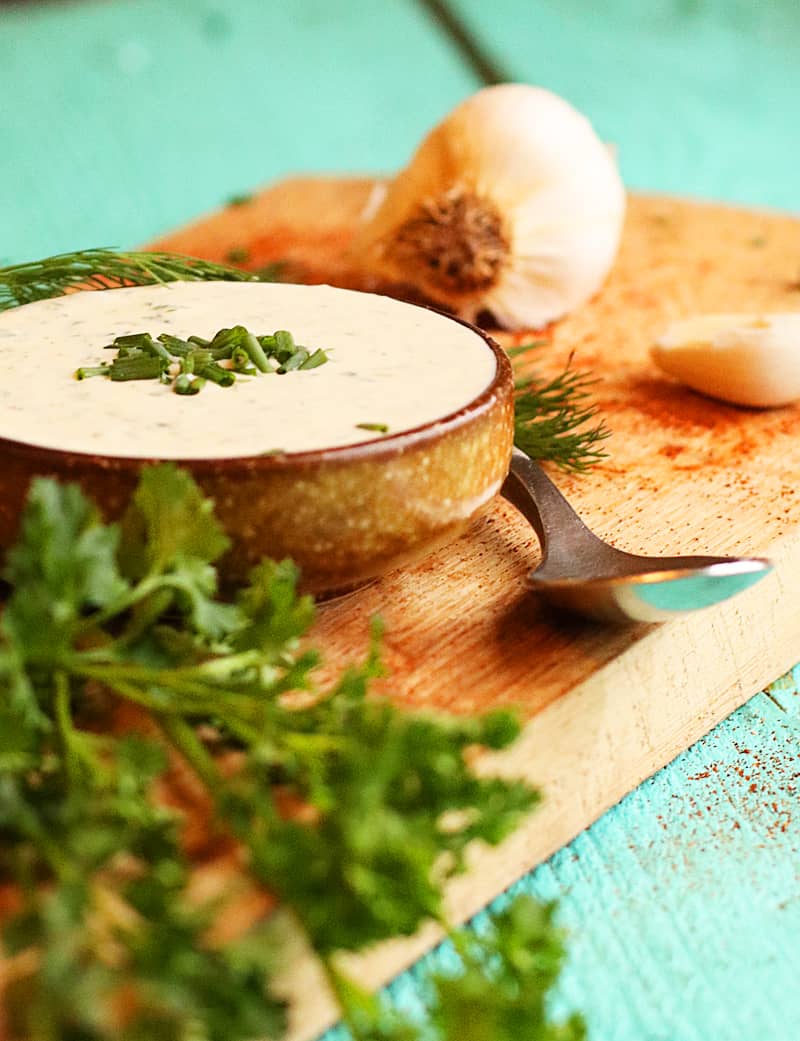 Easy Vegan Ranch Dressing
2017-02-13 19:04:13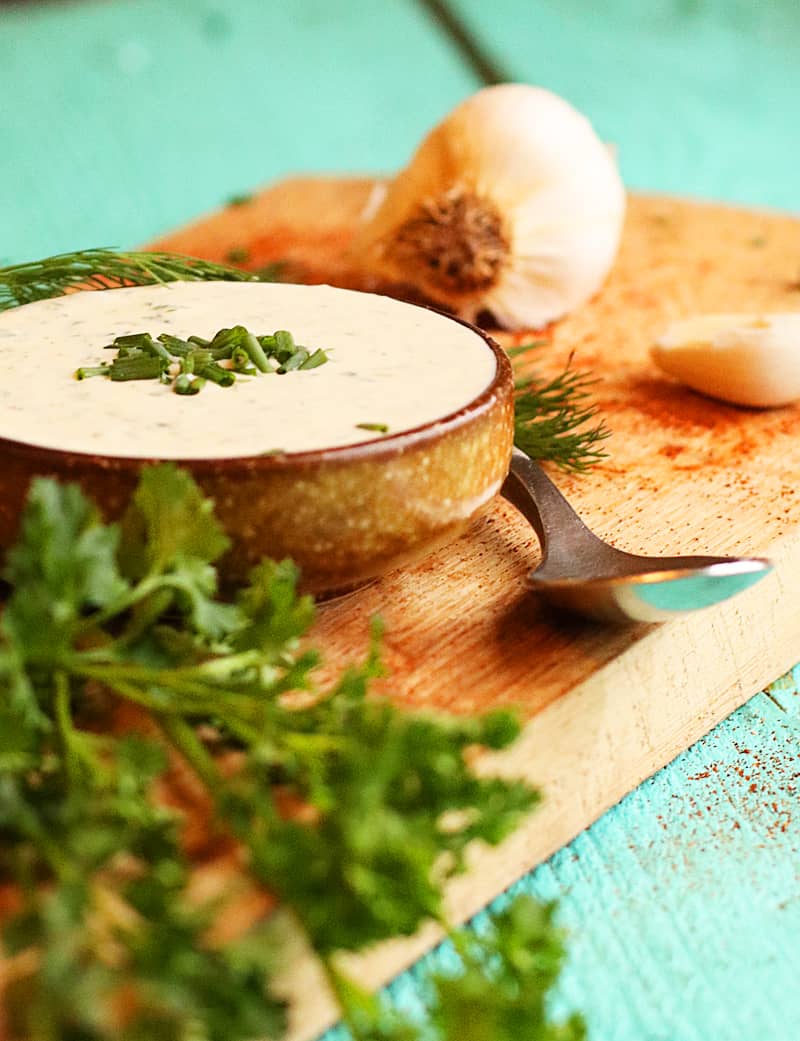 Ingredients
1/4 cup soy milk
1 teaspoon apple cider vinegar
5-6 cloves garlic
2 tablespoons fresh chives
2 tablespoons fresh dill
1/4 cup Italian parsley
1 cup vegan mayonnaise
1/4 teaspoon paprika
pinch of cayenne
salt, to taste
Instructions
Whisk together soy milk and apple cider vinegar and set aside to allow milk to curdle.
In a food processor, blend garlic, chives, dill, and parsley until uniformly chopped.
Mix together mayonnaise and soy milk mixture then add chopped herbs and spices.
Store in a refrigerator until ready to use.
My Darling Vegan https://www.mydarlingvegan.com/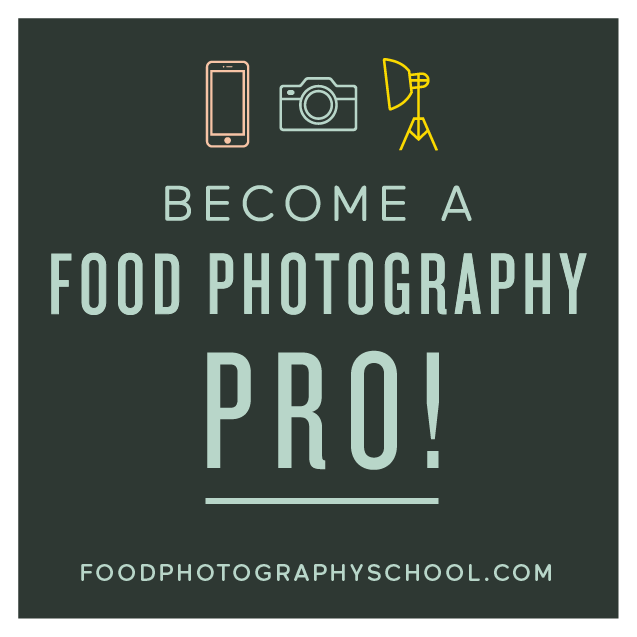 Sign up for
My Darling Vegan Newsletter
get a FREE copy of my Clean Eating Vegan ebook
Advertise Here