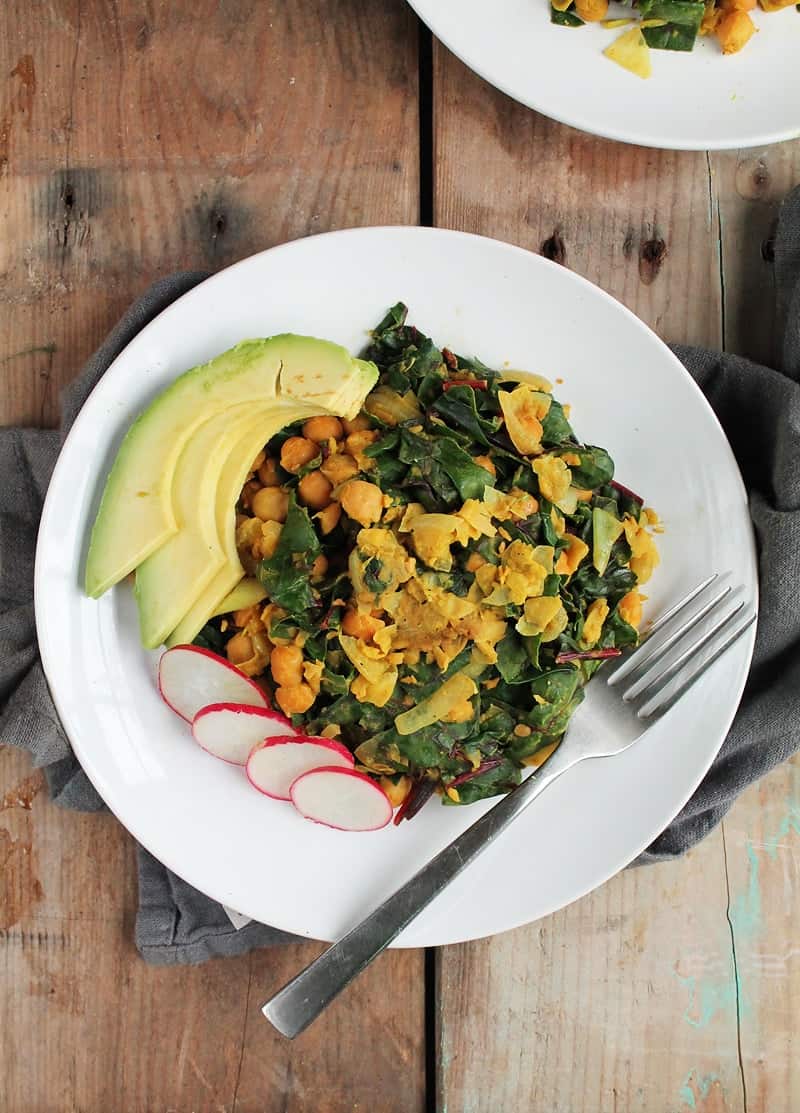 Hey there!
How's the cleanse going? If you are just joining along, make sure to check out my round up of 100 cleanse approved recipes as well as grab a FREE copy of my Clean Eating ebook so that you can be part of the 2017 clean eating revolution.
And even if you're not interested in joining along on the 30 day cleanse, I think you'll be interested in what I've got for you today: a delicious, hearty, and simple vegan Chickpea Breakfast Scramble.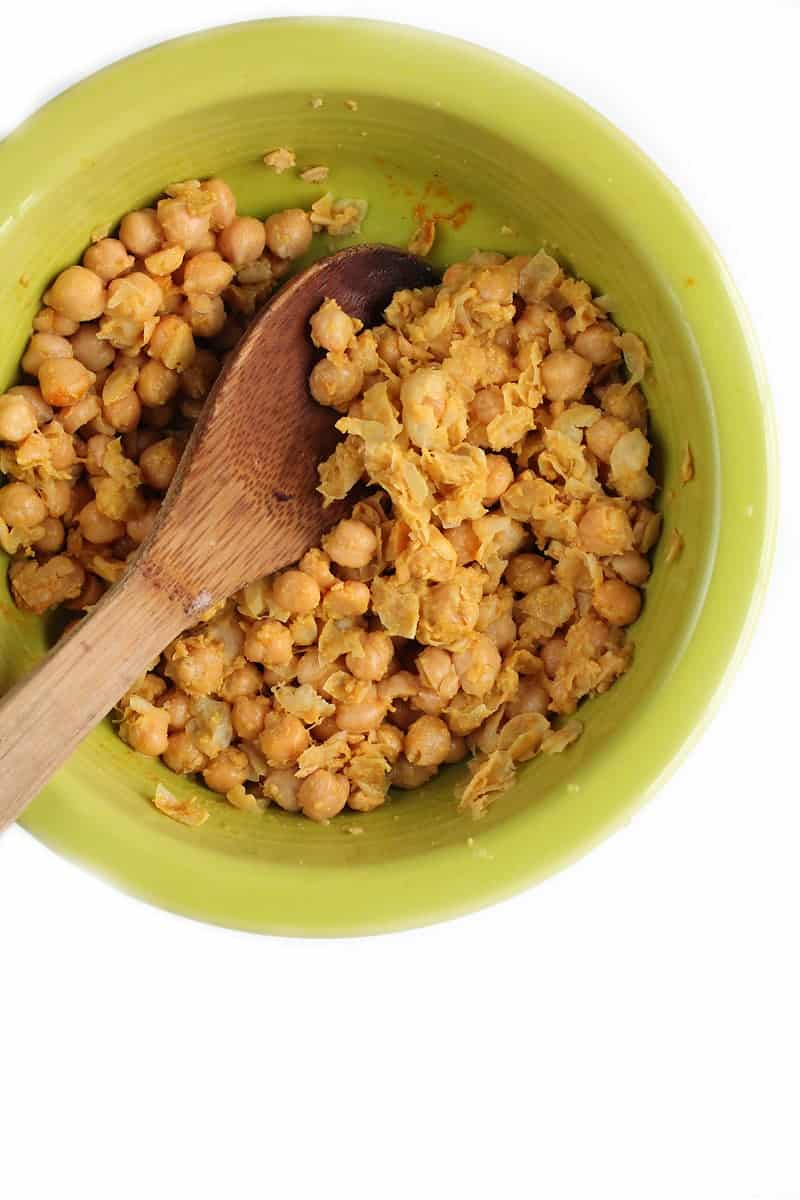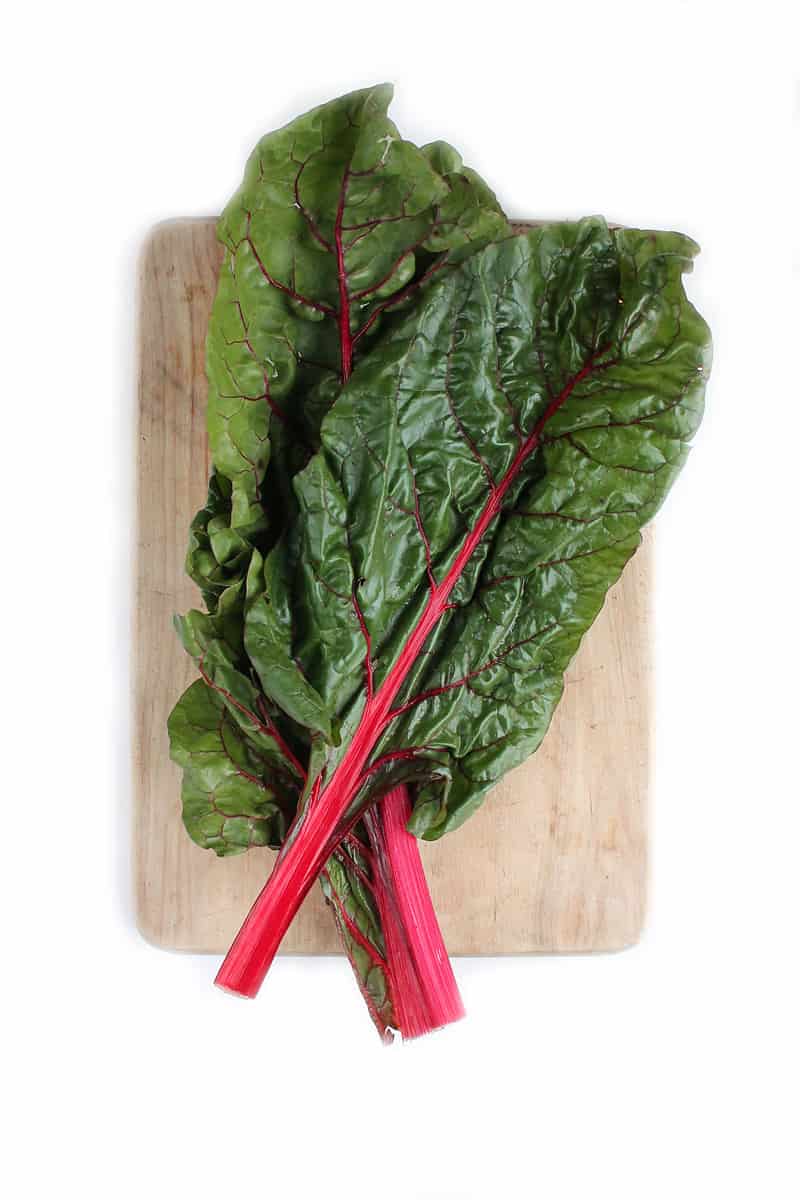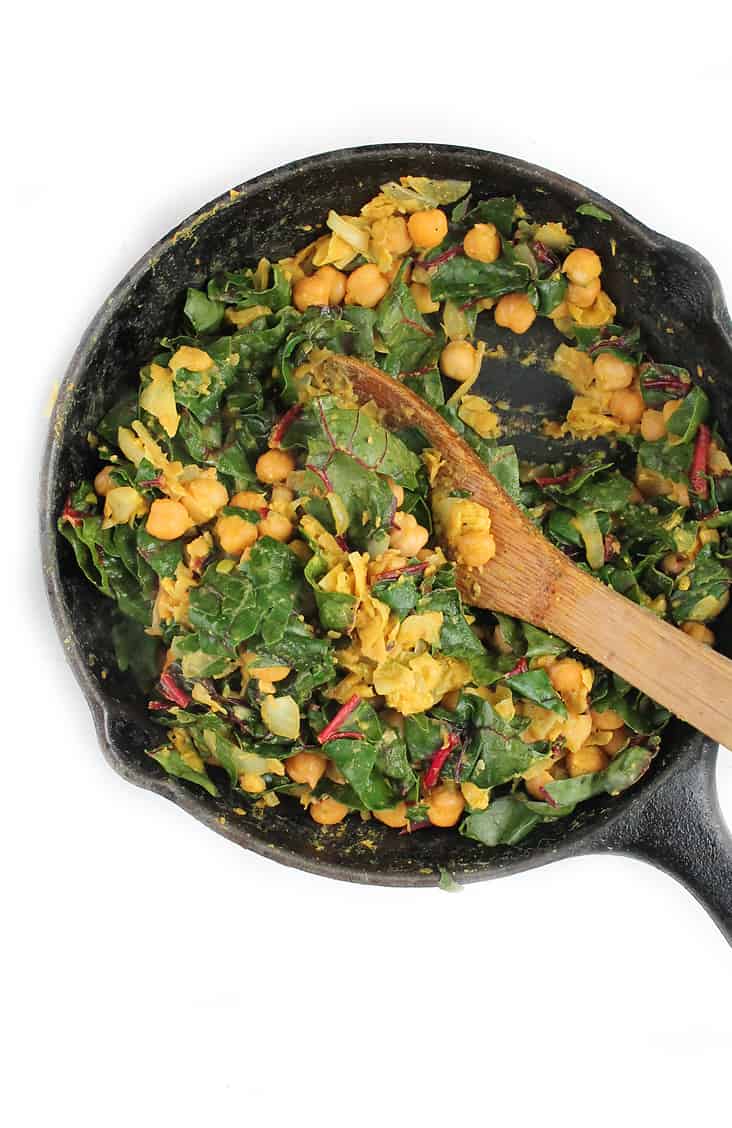 Traditionally, I am a tofu scramble kind of girl.
A tofu scramble is a quick, easy breakfast that fills me up for hours and satisfies all my tastebuds. But, as always, cutting out soy is part of my new year's cleanse. In past years this has meant a lot of smoothies and gluten-free oats for breakfast and, truth be told, I kinda miss my tofu scramble. This year, rather than feeling deprived, I decided to attempt a chickpea breakfast scramble to see if it could replace my tofu.
Friends, it worked! It's got everything I love about a tofu scramble: super quick to throw together, hearty, delicious, and tasty. Additionally, this chickpea breakfast scramble is cleanse-approved. That means it's vegan, gluten-free, and made exclusively with whole, unprocessed foods.
Chickpea, I think I'm going to be sticking with you for awhile.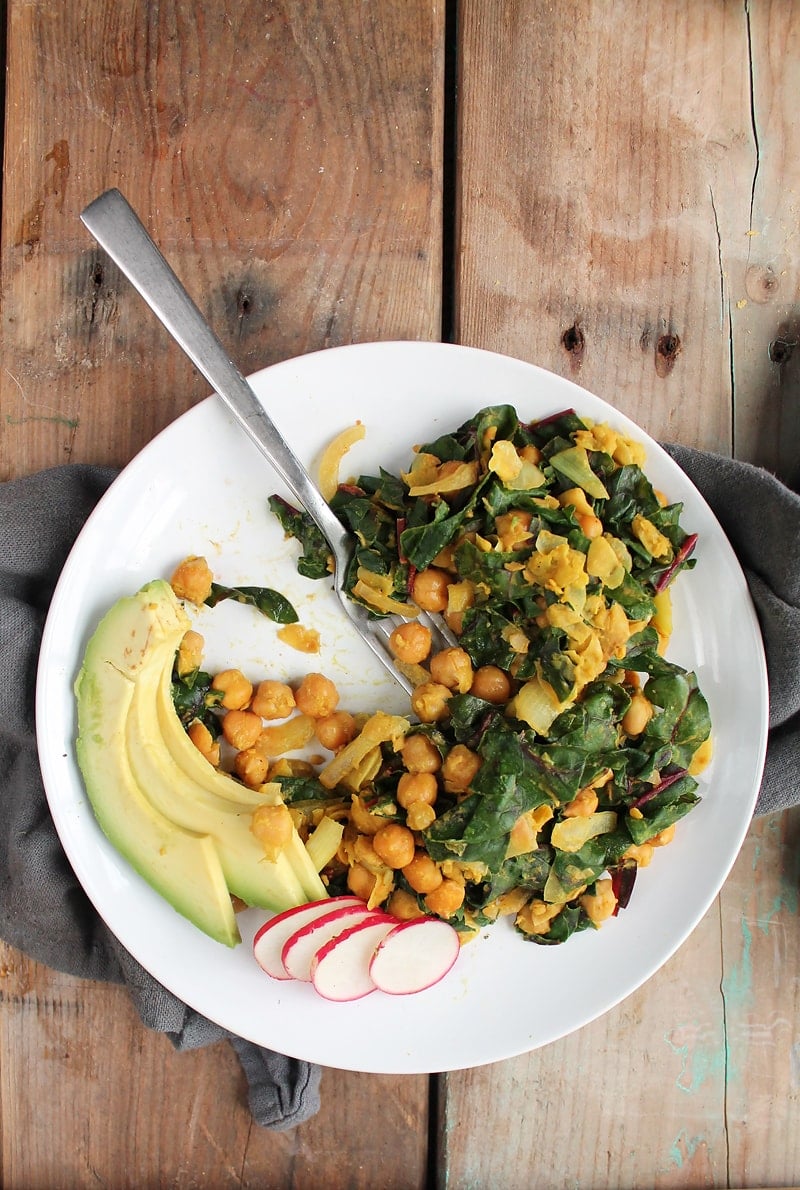 This chickpea breakfast scramble can be made with all kinds of variation. Throw in any type of vegetable you want for a variety of breakfasts. Top with superfoods such as with hemp hearts, nutritional yeast, chia or flax seeds for some extra bonus points. There's really no way to go wrong with this chickpea breakfast scramble.
So start your day off right!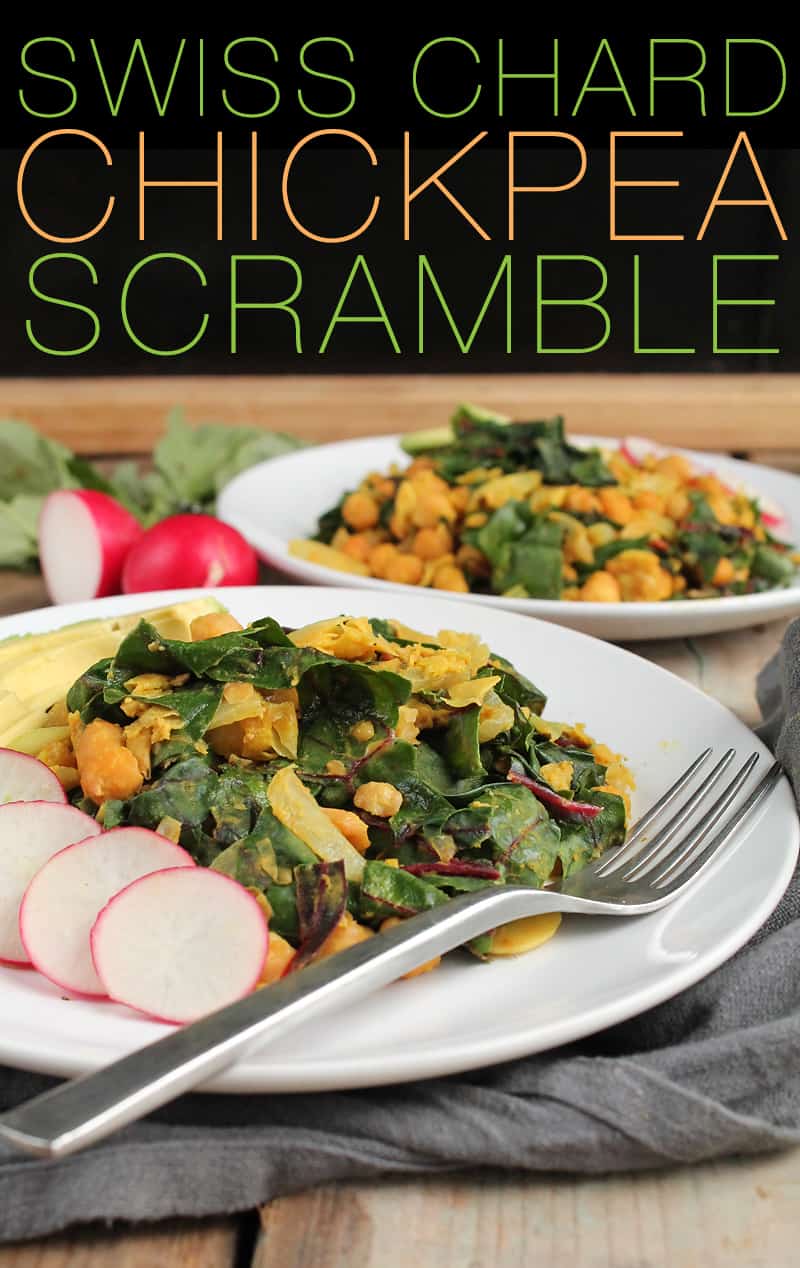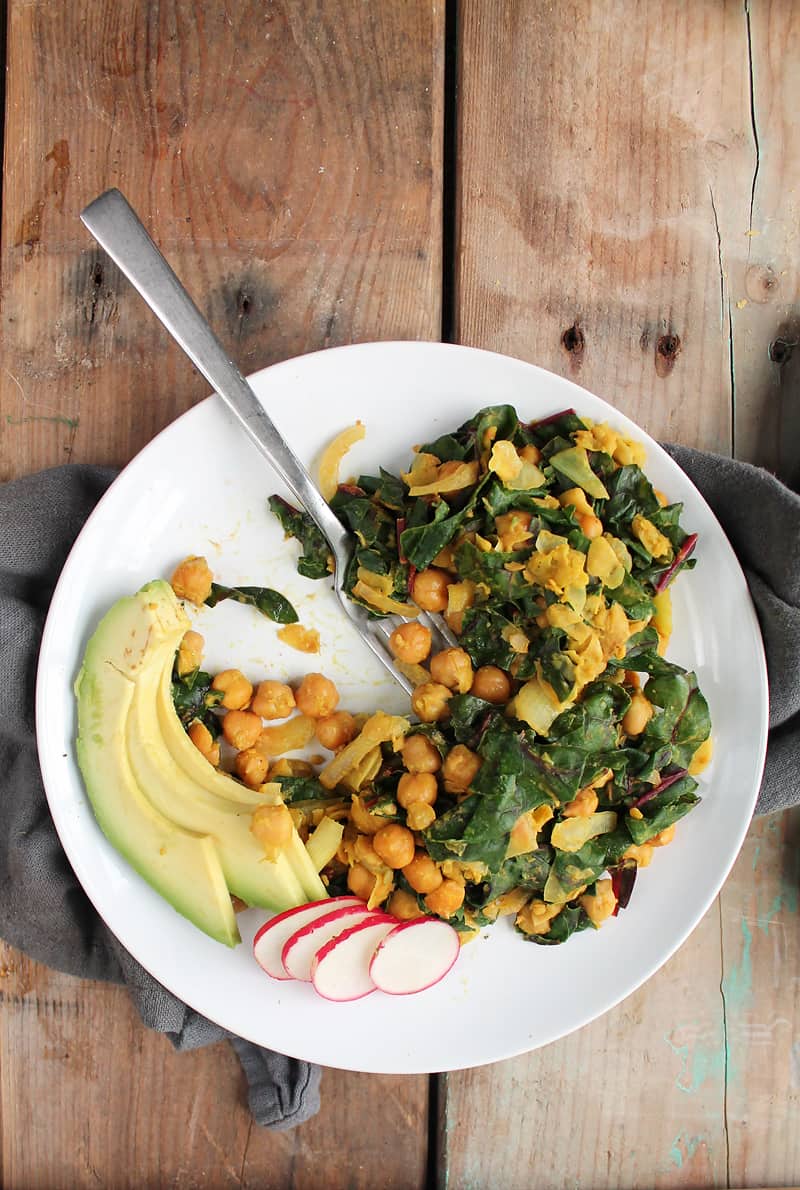 Swiss Chard Chickpea Breakfast Scramble
Ingredients
CHICKPEA SCRAMBLE
1

tablespoon

coconut oil

1/2

white onion,

thinly sliced

4-5

cloves

garlic,

minced

1

can chickpeas,

drained and rinsed

2

tablespoons

nutritional yeast

juice from 1/2 lemon

1

teaspoon

turmeric

1/2

teaspoon

salt

3

large leaves of Swiss Chard,

stems removed and roughly chopped
Instructions
Heat oil in a skillet over medium heat. Once melted, add onions and garlic and sauté for 5-7 minutes until onions are fragrant and translucent.

While onions are cooking, place chickpeas in a small bowl along with nutritional yeast, fresh lemon juice, turmeric, and salt. Stir together, partially mashing chickpeas as your stir but leaving most of them whole.

Transfer seasoned chickpeas to the skillet and cook for 3-4 minutes. Stir in Swiss Chard until soft and slightly wilted.

Serve immediately with toppings of your choice.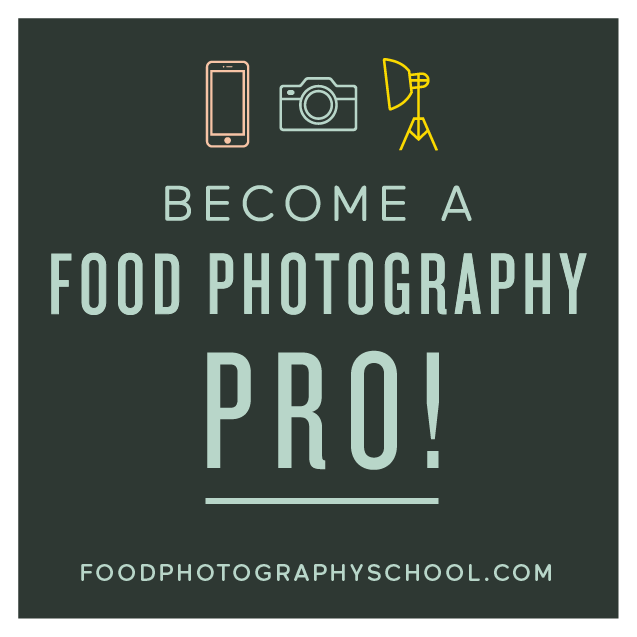 Sign up for
My Darling Vegan Newsletter
get a FREE copy of my Clean Eating Vegan ebook
Advertise Here