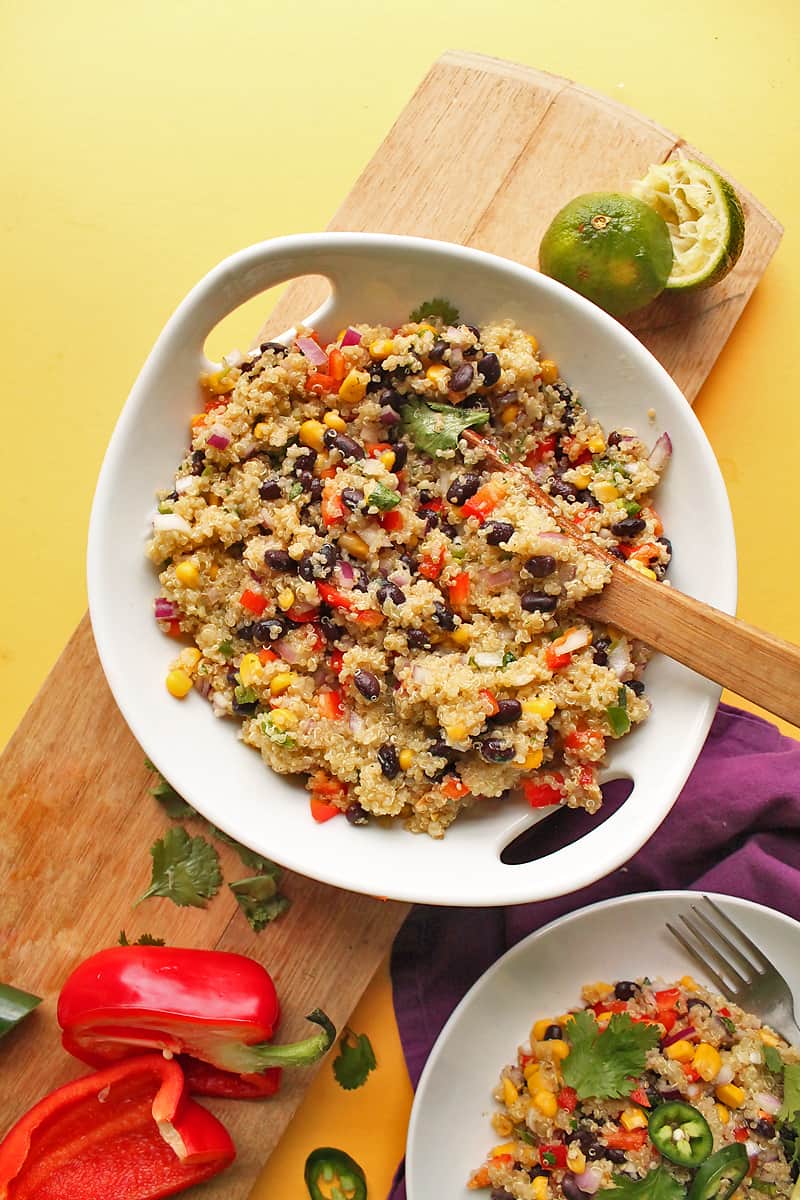 What do you get when you combine quinoa, black beans, red bell pepper, and lots of fresh herbs in a Cumin Lime dressing? Why, this delicious and refreshing Southwest Quinoa Salad! This wholesome salad is filled with proteins, nutrients, healthy fats, and tons of vegetables for a satisfying side or a light, refreshing mid-day meal.
So, let's finish up this 30 day cleanse in flavorful style and brilliant colors.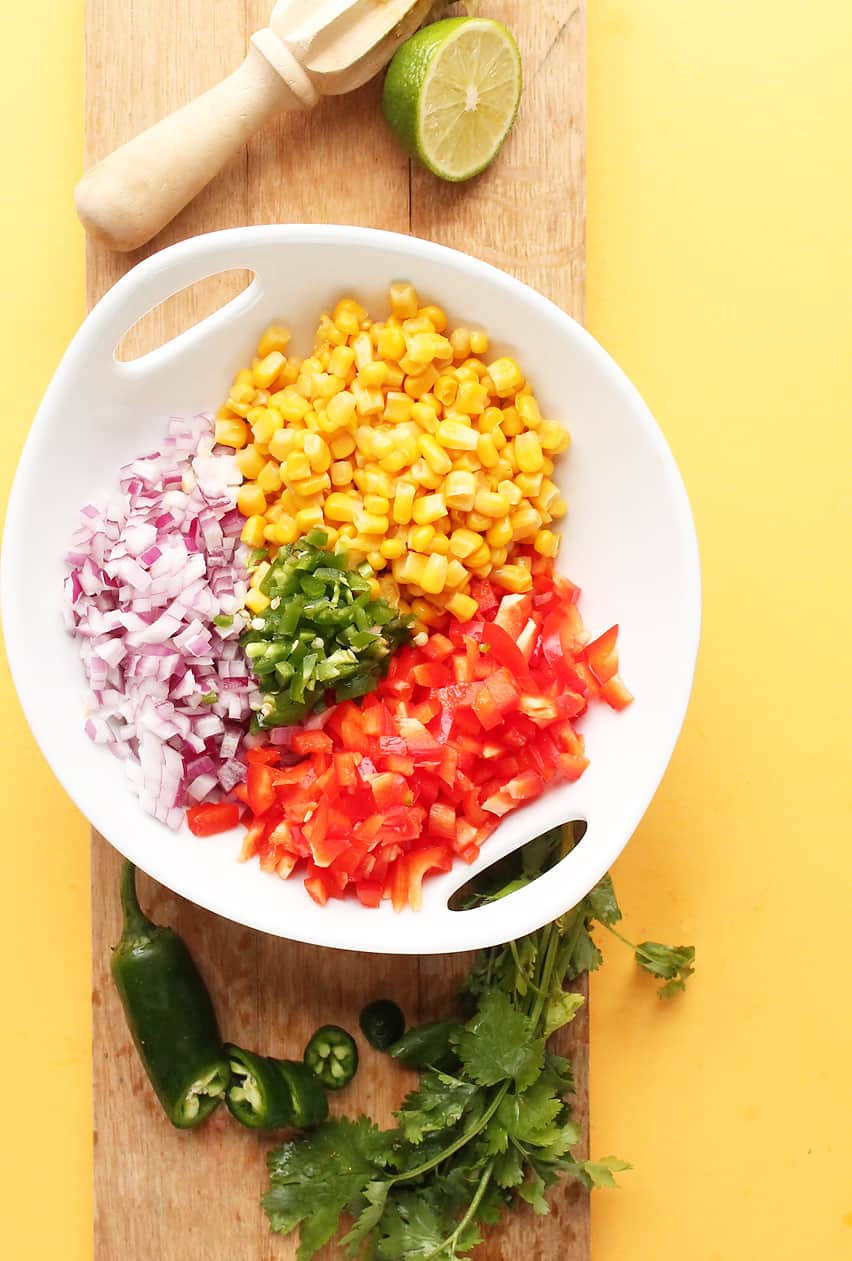 With this recipe, I am wrapping up my 30 day cleanse. It was a great month with some of the best sleep I've had in over a year, lots of extra energy, and, of course, some amazing food.
My favorite recipes I shared with you this month were:
If you've been cleansing this month, what have been your favorite clean-eating snacks and meals?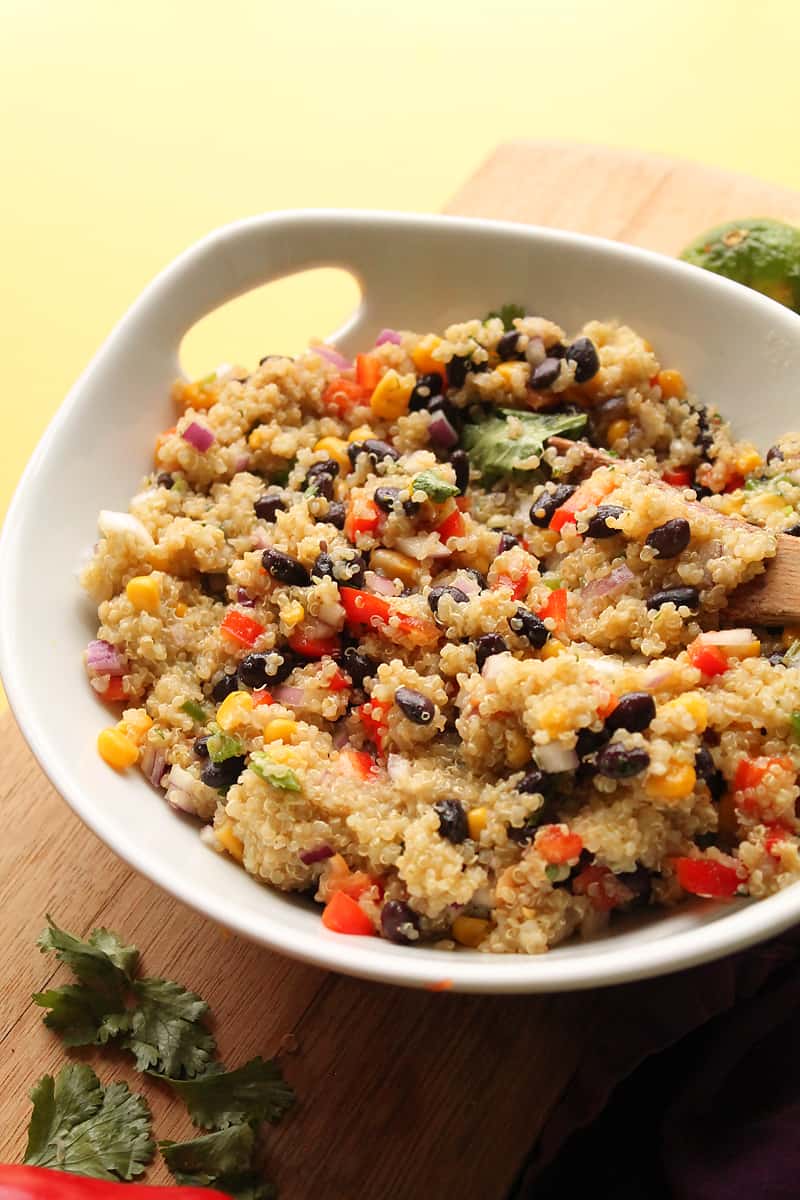 With January coming to an end, I look forward to a continued clean-eating lifestyle with some moderate changes. However, that's not going to be very evident around here for the next couple of weeks. After this I am switching to full on decadence as we turn to the holiday that celebrates love. And if you know me at all, you know that my favorite way to celebrate is with food; lots of decadent, chocolatey, and super rich food. Wanna sneak peak?
Next month you will see recipes for:
Chocolate Martinis
Chocolate Fudge Cake for two
Pasta alla Vodka
Vegan Chocolate Chip Pancakes
A month of clean eating and I've gotta say, I'm pretty excited about the next couple of weeks!
But, let's not get too ahead of ourselves. Back to this Southwest Quinoa Salad.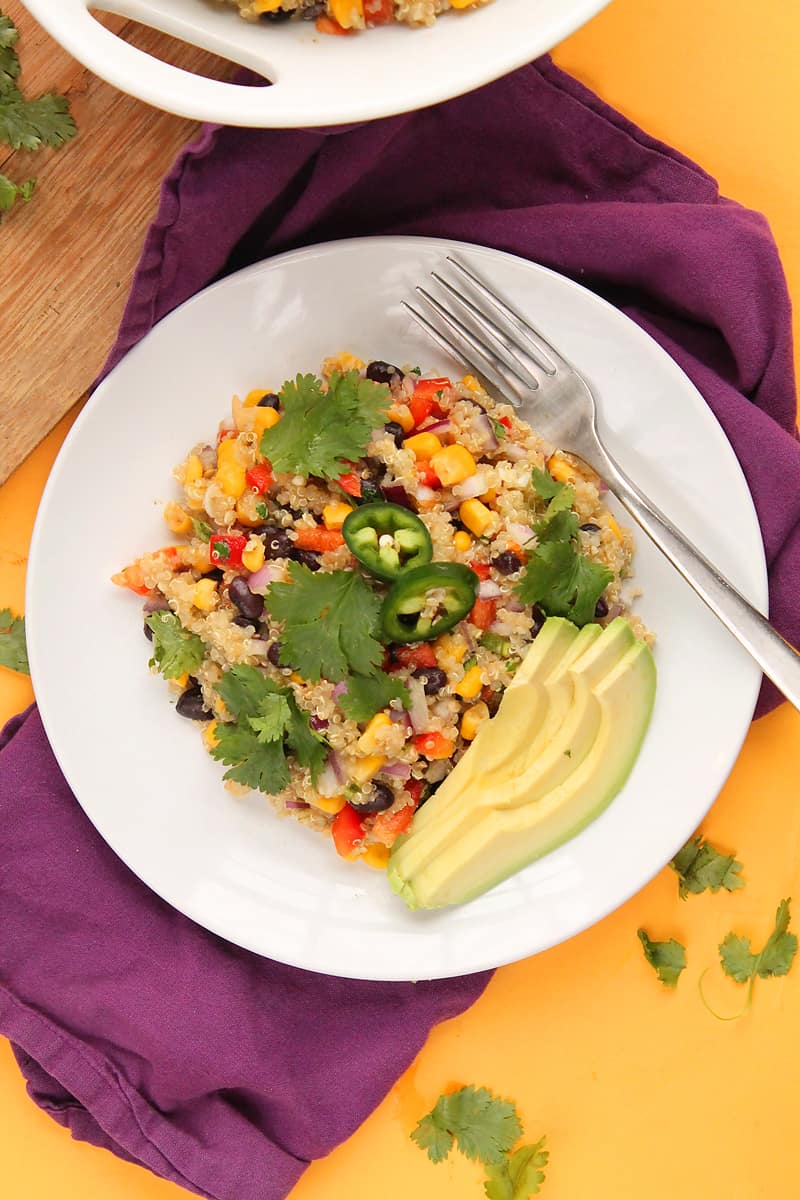 This salad is filled with protein from the quinoa and refreshing flavor and nutrients from the herbs, spices, and fresh vegetables. It's hearty and wholesome and can be made in just 30 minutes for a quick, healthy, filling, and totally satisfying meal.
So lets celebrate a successful cleanse and the start to 2017!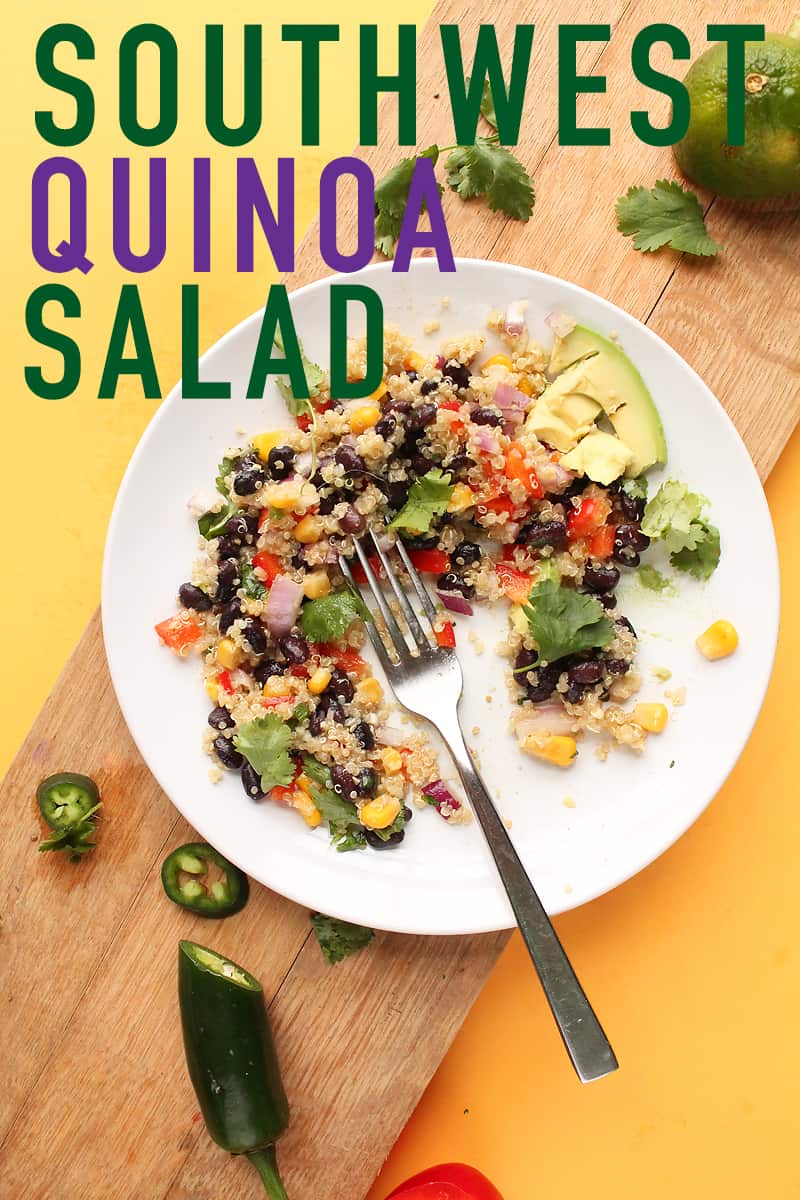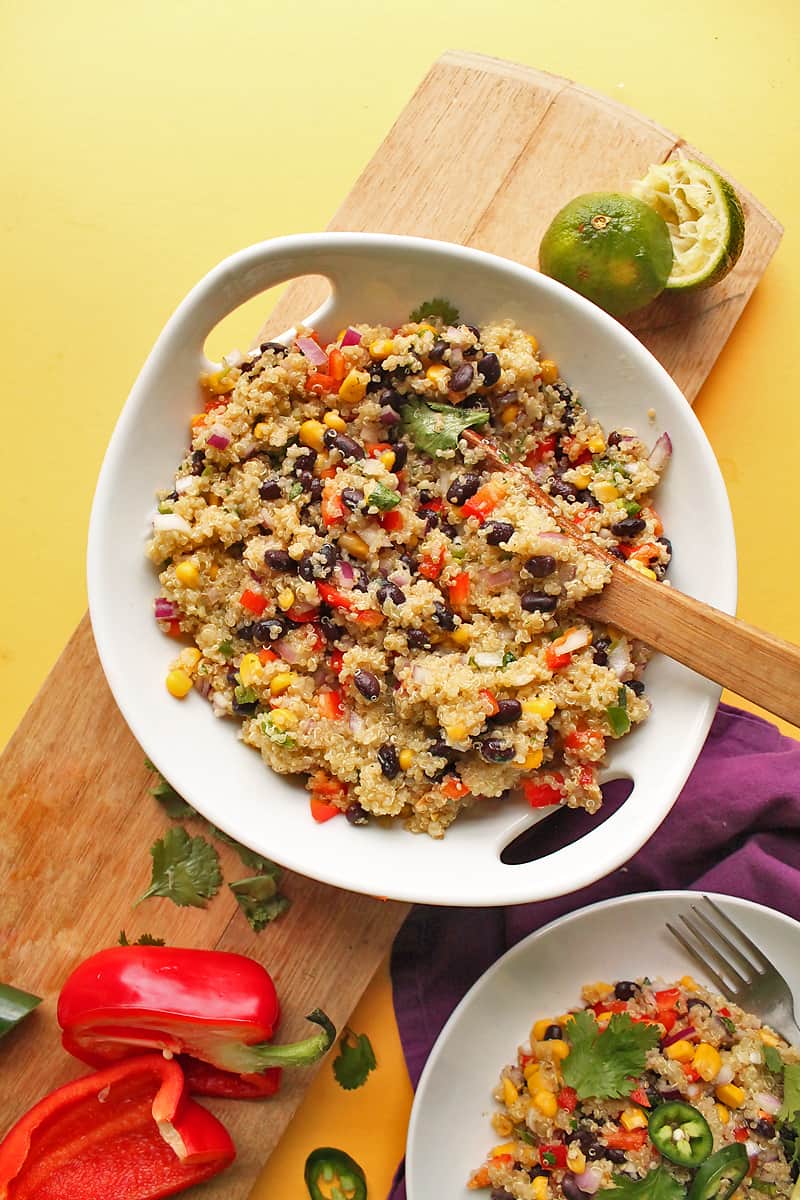 Southwest Quinoa Salad
2017-01-20 22:35:42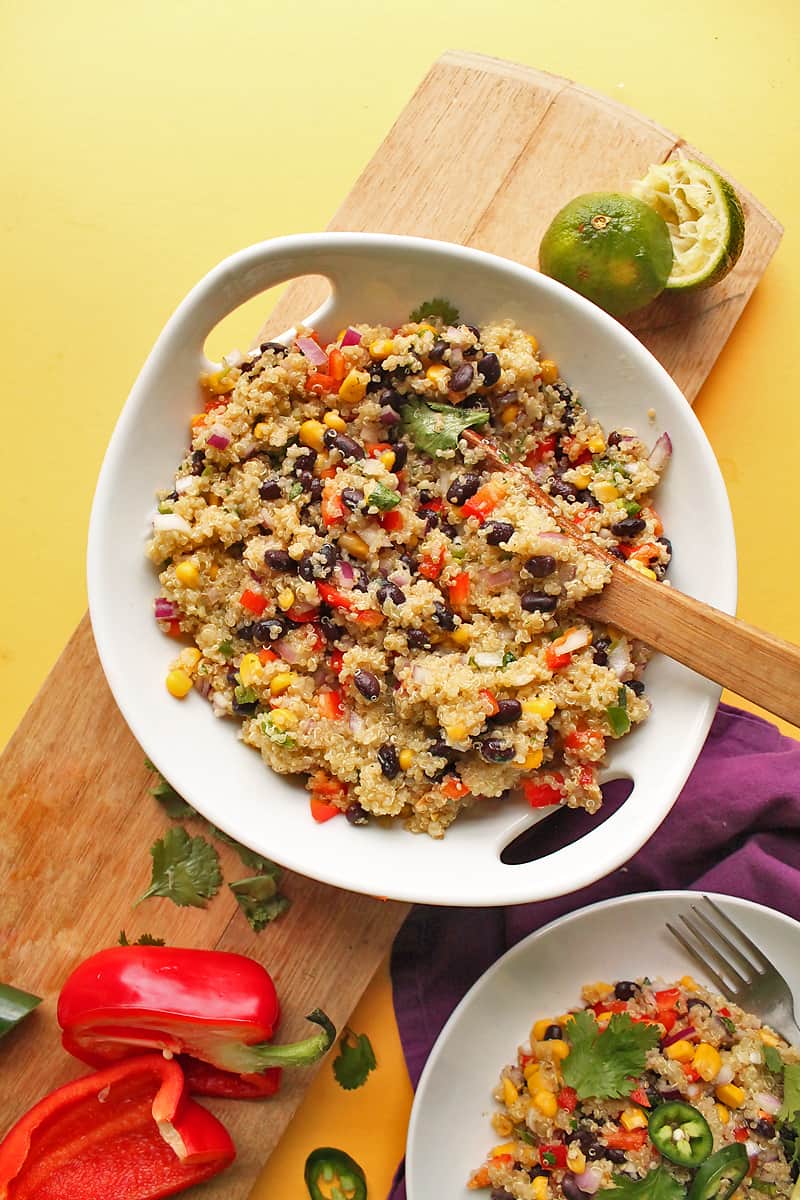 Serves 4
Quinoa Salad
1 1/2 cup dried quinoa
1 cup fresh corn
1 cup black beans, drained and rinsed
1 red bell pepper, diced
1 cup red onions, diced
1 jalapeño, seeded and sliced
Dressing
1/4 cup olive oil
1/4 cup cilantro, minced
juice of 2 limes
2 teaspoon cumin
salt, to taste
Toppings (optional)
fresh cilantro
avocado
jalapeño, sliced
Instructions
Rinse quinoa and set aside. Bring 2 3/4 cups water to a boil. Add quinoa and reduce heat to a simmer. Simmer for about 20 minutes, until water has evaporated and quinoa is cooked. Transfer to a large bowl and fluff with a fork.
While quinoa is cooking, mix together salad dressing ingredients and set aside.
Slice and chop the vegetables.
Once quinoa has cooled, stir in vegetables, black beans, and dressing. Cover and place in refrigerator until ready to serve.
Serve chilled with desired toppings.
My Darling Vegan https://www.mydarlingvegan.com/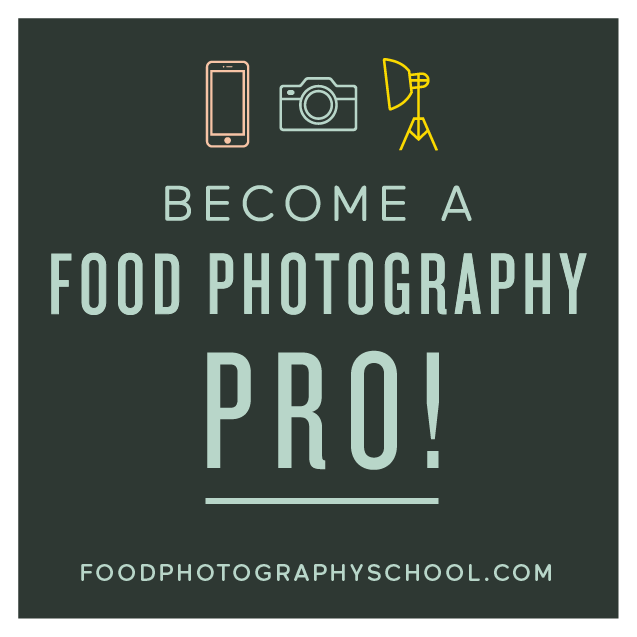 Sign up for
My Darling Vegan Newsletter
get a FREE copy of my Clean Eating Vegan ebook
Advertise Here